Is It Still FUD? Report Reveals Binance Internal Plan To Evade US Authorities
It has long been a question of interdependence, but many have theorized that international crypto exchange Binance and its supposedly independent US counterpart, Binance.US, are commingling its assets and thereby circumventing American regulations. A recent Wall Street Journal report revealed that this conjecture might be more than just a theory.
Binance reportedly devised a strategy to escape prosecution by regulatory authorities when it established its US entity in 2019, according to the report which cites internal messages and documents from 2018 to 2020 and interviews with former employees.
In a nutshell, the plan was to create a bare-bones American platform, Binance.US, that would license Binance's technology and name but appear to be completely independent of Binance.com. That would hide the larger Binance.com exchange from investigation by US regulations, which would exclude US users.
Binance was banned in the United States in 2019 due to regulatory concerns as some lawmakers believe the crypto assets that the trading platform offers were essentially securities. Binance and other investors responded by launching Binance.US, a separate exchange meant to comply with all applicable US federal regulations, but which is nonetheless prohibited in six states: Hawaii, Idaho, Louisiana, New York, Texas, and Vermont.
In many instances, Binance has maintained that the US counterpart shares the name and license for the brand, but is essentially managed independently of the global parent firm.
Rumors of Binance and Binance.US commingling its funds intensified after a piece written by Dirty Bubble Media–whose report on FTX and Alameda was instrumental in exposing the crypto firms–claimed that the exchange is freely exchanging assets with the US counterpart in an attempt to skirt American regulatory laws.
"We can now report that based on blockchain transfers, market data, and company disclosures, it appears that there is no meaningful separation between the two firms. In fact, we show that Binance.US both transfers customer deposits to Binance and pays customer withdrawals using transfers back from the offshore exchange's wallets," the report said.
Binance chief Changpeng Zhao, however, disputed the claim as merely "FUD"–a shorthand for fear, uncertainty, and doubt.
However, in a Twitter space "ask me anything" (AMA) just days after, Zhao admitted that Binance.US accepts international clients, shedding some light on whether the American counterpart's assets are commingled with the global exchange.
"The recent [Binance] US to Binance.com international transactions… Binance.US accepts international clients," said Zhao. "They are market makers that work on both, they transfer funds."
Intertwined
Binance burst onto the crypto scene in 2017 and quickly evolved to become the world's largest digital-currency exchange. Yet, one-fifth of its consumers were in the United States, where regulators have worked to crackdown on unregulated offshore crypto players.
A lawsuit from US regulators would be akin to "nuclear fall out" for Binance's business and executives, the exchange's then compliance chief Samuel Lim warned his colleagues in a private chat in 2019.
According to private conversations acquired by the Journal, Binance executives believed that if they did not take safeguards to anticipate regulatory scrutiny, the company could face lawsuits from US officials.
In late 2018, Harry Zhou, an employee of a Binance-funded bitcoin trading company, floated a proposal to Binance management to establish an American business that would attract US enforcement and regulatory-agency inquiries, shielding Binance from scrutiny.
The section titled "Insulate Binance from US Enforcement" proposed Binance have a "purely contractual" connection with the US entity, implying that the latter would be positioned as a separate organization with its own management and personnel. Another section, "Regulator Engagement Plans," recommended that Binance launch "major PR efforts demonstrating US operation's willingness to exceed [Securities and Exchange Commission (SEC)] expectations and serve as an industry resource for the SEC."
According to a Binance spokesperson, the presentation was rejected and never deployed.
Zhou established a Delaware corporation, BAM Trading Services Inc., in February 2019, which quickly became the operator of a business called Binance.US. Binance's then-chief financial officer, Wei Zhou, said in a Telegram discussion that BAM Trading Services Inc. had been founded, along with BAM Management US Holdings Inc. and BAM Technological Services Inc.
Binance announced the launch of Binance.US in June of that year, in collaboration with BAM Trading, a business that will license Binance's technology and brand. Binance.US is a company registered in the US Treasury's Financial Crimes Enforcement Network as a money-services company.
According to records seen by the Journal, Zhao controls the BAM firms through a layer of entities incorporated in the Cayman Islands and the British Virgin Islands, a piece of information that wasn't disclosed at that time.
In one case, an employee attempted to construct a Google Form for new Binance.US customers, but he was using a worldwide exchange account and was unable to change the form's author from Binance.com to Binance.US.
"It is particularly concerning here because this form has to do with opening client accounts," Zhou wrote in the Binance Telegram chat. "If I were an [attorney general], I would cite this as evidence that it is in fact Binance, an 'unregistered foreign-based [money services business],' onboarding the US clients."
When composing material for the Binance.US website, Zhou also instructed employees to avoid writing in the Binance tone.
VPN
Binance.US would only provide basic cryptocurrency trading, with no leverage or complicated derivatives available on Binance.com. This is because platforms that trade derivatives in the United States must register with the Commodities Futures Trading Commission or the SEC.
Following that, Binance declared that it would no longer allow US users on its platform. But, an internal Binance discussion focused on how Binance could keep US consumers on the larger exchange–by then, an employee noted that more than 18% of page views on Binance.com were still from US users–where they could also trade crypto derivatives, a hugely popular and profitable sector.
"Have them be creative and VPN," Lin, then compliance chief, said in a Telegram chat in June 2019. A VPN, or virtual private network, makes it possible for a computer user to pretend to be in another nation.
Binance Academy, which teaches users how to trade, also issued a guide to utilizing a VPN in 2020. It was afterwards removed.
Mistake operation
Binance's tight participation with the supposedly independent Binance.US was highlighted in September 2019 when a Binance staffer in Shanghai activated trading for the US platform just minutes before it was scheduled to launch.
In a Binance internal Telegram chat, a Binance software developer said: "Why did trading start???? It's not time yet!!! Who started trading? We had the trading timers set? Who started trading?"
CEO Zhao then answered "a guy here in Shanghai, mistake operation."
Essential software features of Binance.US were maintained by developers in Shanghai at least until the summer of 2021. According to a person familiar with the deals, the Shanghai developers' contracts were with Binance rather than the US platform.
Meanwhile, Binance.US's first chief executive, Catherine Coley, has long maintained that the US exchange is "a very separate entity" from Binance and is merely "simply licensing software."
An internal Telegram chat would reveal later that she instructed the team to provide progress updates to Binance's then-CFO Wei Zhou and CEO Zhao, known as CZ.
"Everyone please post your weeklies before tonight 7 pm est/4 pm pst so we can be in the good graces of Wei. Saturday is for the Weekly Updates! Send me 2-5 bullet points of what we think CZ/Wei should know about your work this past week," Coley wrote.
FUD
Binance and Binance.US spokeswomen said the companies' connection is governed by license agreements, which include Binance's technology. The Binance.US representative also added that US client data is stored in the US, and it and Binance never commingled user data.
"We acknowledge that we did not have adequate compliance and controls in place during those early years. We are a very different company today when it comes to compliance," a Binance spokeswoman said.
A Binance.US spokeswoman also reiterated that the US exchange "was founded specifically to serve US customers with products and services that adhere to US rules and regulations."
Zhao, for his part, seems to be unfazed by the development, retweeting favorable posts about the company's expansion in other countries.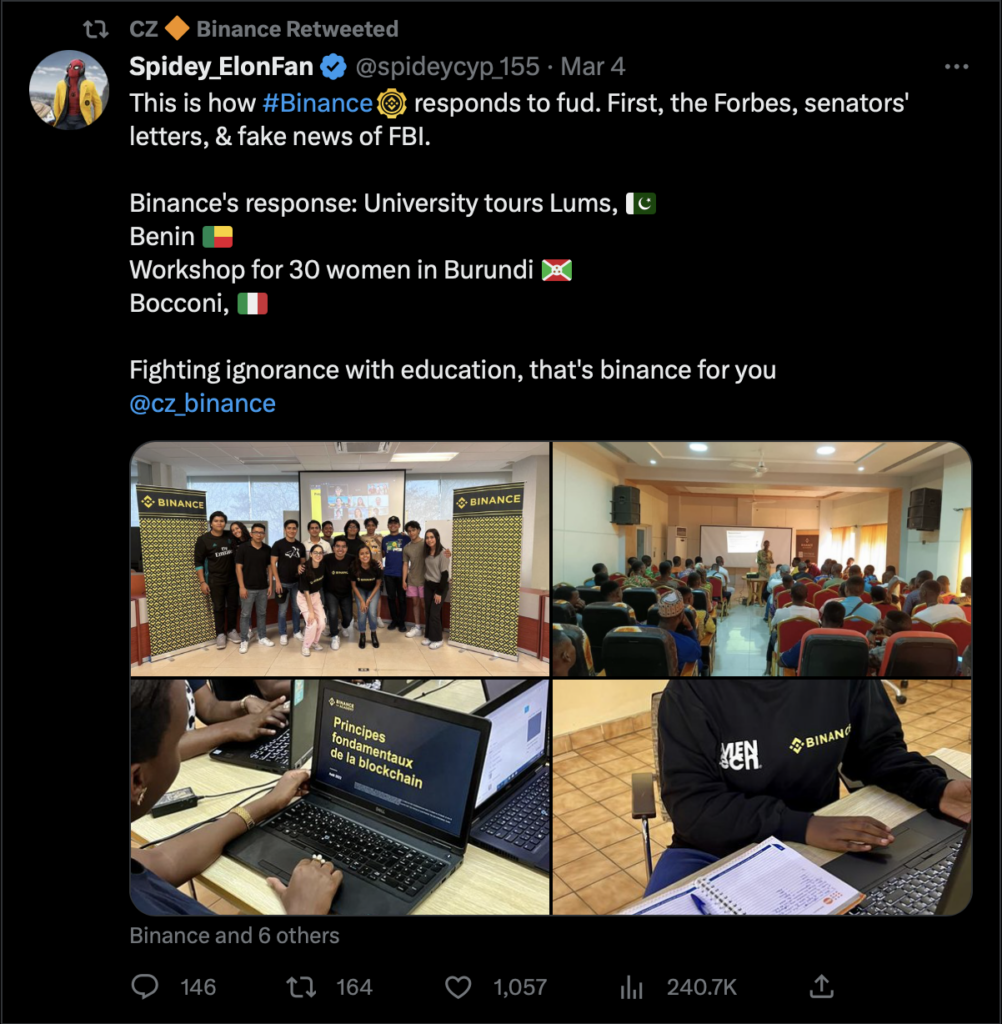 The firm also said it recently partnered with "law enforcement agencies" to launch an anti-scam campaign.
The Department of Justice and the Securities and Exchange Commission have been examining Binance's relationship with Binance.US since 2020, with The Journal citing subpoenas and people familiar with the situation. If US regulators conclude that Binance has control over its US entity, they may assert authority over Binance's whole business.
---
Information for this briefing was found via The Wall Street Journal and the sources mentioned. The author has no securities or affiliations related to this organization. Not a recommendation to buy or sell. Always do additional research and consult a professional before purchasing a security. The author holds no licenses.