Is Royal Bank Of Canada Hurting From Office Lease Rates?
Royal Bank of Canada (TSX: RY) has asked employees to return to the office three to four days per week as corporations struggle to persuade employees to abandon their work-from-home arrangements.
RBC announced in an internal message to staff on Tuesday that from May 1, employees will be able to work from home one or two days each week, depending on the needs of their team. According to the bank, without frequent in-person involvement, its long-term competitiveness is at risk.
"When our teams come together on-site more frequently, we are solving complex problems faster, learning and growing more effectively, and ultimately building deeper connections with one another," RBC said in an email from its executive team.
The bank added that it wants to continue "to encourage these healthy and positive face-to-face moments while ensuring a level of flexibility that [it knows] is important."
"For this reason, we are shifting toward a more consistent approach to in-person routines that will double down on our culture and lay the foundation to protect our competitive edge in the years ahead," the bank said.
Senior leaders from various businesses will complete strategies and offer an update to specific teams on how they are expected to return to the office more frequently, according to the bank.
"This adjustment may not be simple for everyone, but it is the best thing to do for Team RBC," it added.
RBC is the first of the major banks to impose stricter return to office requirements. According to an emailed statement, TD staff operating in a hybrid model are expected to be in the office at least two days per week as of the beginning of March. Meanwhile, National Bank of Canada stated that while "there is no 'one size fits all' model" the bank is committed to flexible work arrangements, and the firm has set a target for workers to spend 40% of their time in the office overall.
According to an email from the Canadian Imperial Bank of Commerce, the qualifications for working onsite vary based on the nature of a person's profession or business demands. Bank of Montreal and Bank of Nova Scotia also stated that their office work arrangements are defined by the function and business needs, but did not indicate whether workers are expected to work a minimum number of days per week.
The move comes after RBC CEO Dave McKay stated in early March that productivity and innovation had suffered as employees continue to work from home for the most of the week.
"We're in a discovery area and trying to find balance with employees and you hear a lot of commentary about it," McKay said in an earnings call. "I think most CEOs would tell you that there is a productivity loss."
He went on to say that productivity gains and losses are determined by the department and the nature of the task. McKay added that CEOs around the world have been focused on how hybrid work models can evolve and the influence it might have on the efficiency and creativity of their employees.
The Toronto-based bank is one of the major employers in the country, employing 97,000 employees across Canada and the United States, as well as in locations in Europe, Asia, and Australia.
But is it just all about commercial space?
Employees have resisted demands for teams to return to the office, causing companies to struggle. While traffic in Toronto's once-bustling financial district has increased from epidemic levels, the rate at which workers return to the downtown core varies greatly depending on the day of the week. Tuesday through Thursday are the busiest days of the week, with most workplaces and retailers closed on Monday and Friday.
According to statistics from consulting firm Strategic Regional Research Alliance, the percentage of employees in the financial district was at an average of 43% of prepandemic occupancy levels in early March.
In a PwC Canada survey, 78% of employers who had yet to return to work intended to do so to some extent in the next three months. When we surveyed employees about their ideal work environment, 34% stated they prefer to work largely or fully remotely, 37% want to be in the office most or all of the time, and the remaining 29% want an equal mix of the two.
However, lease rates for commercial spaces are rising. In Q4 2022, the average industrial leasing rate was $18.04, up from $13.74 in Q4 2021. The average office lease rate increased year over year to $20.43 in Q4 2022, up from $18.60 in Q4 2021.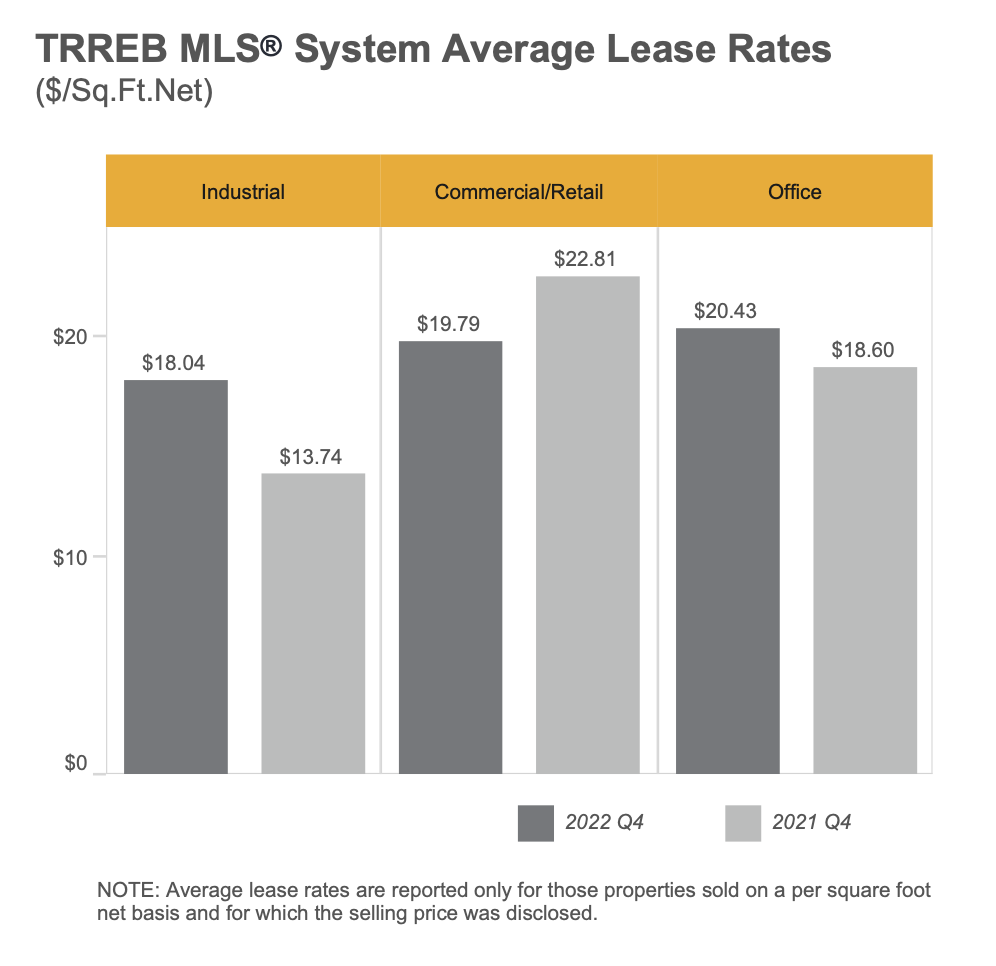 The Toronto-based firm said that net income fell to $3.2 billion, or $2.29 per share in the third quarter, down from $3.88 billion in the fourth quarter.
Provisions for credit losses meanwhile increased $427 million versus year ago levels, which is "mainly reflecting higher provisions in Personal & Commercial Banking." Such provisions increased $151 million from the fourth quarter of 2022.
Gross impaired loans also increased by $400 million, an increase of 18% on a quarter over quarter basis, which was due to higher impaired loans in Personal & Commercial Banking among other segments. Impaired loans in this segment alone increased by 11%, or $155 million, of which impairments in the real estate sector of its Canadian Banking commercial portfolios was said to contribute to the increase.
---
Information for this briefing was found via The Globe And Mail and the sources mentioned. The author has no securities or affiliations related to this organization. Not a recommendation to buy or sell. Always do additional research and consult a professional before purchasing a security. The author holds no licenses.