It's Bond, Russia's Bond: Will Creditors Be Paid?
A looming debt crisis adds a dark cloud to the ongoing war in Ukraine. Russia's state-controlled energy firms Gazprom and Rosneft have reportedly paid their matured bonds in dollars even after President Vladimir Putin's decree to only allow ruble payments to foreign creditors.
What does this spell for future debt obligations by Russia?
The Kremlin initially banned foreign exchange transfers abroad in response to the mounting economic sanctions by the global community on the country, effectively freezing out its financial system to the world. The ban also included coupon payments to foreign investors, including Russia's own foreign debt.
However, on Sunday, Putin shifted this policy to now allow foreign payments but only if it would be in rubles–an attempt to breathe life into the Russian currency. The ruble has seen a sharp decline since the invasion on Ukraine, losing around 40% of its value.
It is still quite unreassuring if payments through the weakened currency would be enough to satisfy debt obligations but the softer foreign payment policy measures came at an opportune time. Rosneft had a US$2.0 billion bond that matured on Sunday while Gazprom had a US$1.3 billion bond that reached maturity on Monday.
Holders of the Gazprom bonds said the Russian energy firm has already paid its dollar-dominated bond. But prior to the payment, the bonds crashed following the announcement of Russia's ruble-only payment policy.
On the other hand, Rosneft bondholders still haven't been paid but sources said the company made the transfer on Thursday last week and still hasn't cleared through given that Monday and Tuesday were public holidays in Russia.
March 8, in celebration of International Women's Day, is a public holiday in Russia, while March 7, being a Monday, is considered a bridge holiday.
Rosneft was said to have confirmed that the payment will be made on Wednesday.
On Thursday last week, French authorities confiscated a luxury yacht belonging to Rosneft CEO Igor Sechin as the vehicle attempted to leave through a French Riviera port. Sechin said he was unaware that the yacht's ownership is linked to any of his companies.
Sechin, nicknamed Darth Vader of the Kremlin, served as one of Putin's deputy prime ministers from 2008 to 2012, as deputy chief of staff during his first presidential term, and was his chief of staff during his mayorship of St. Petersburg in 1994. A Bloomberg op-ed piece has said that while oligarchs are losing political power in Russia, Sechin seems to be an exception.
The earlier ban on foreign exchange transfers spurred indications of Russia's first default since the 1998 Russian financial crisis. On Wednesday last week, the country made an ₽11.2 billion coupon payment but since the ban was still in place then, the payment remained in the country's National Settlement Depository and bondholders weren't paid.
The ruble-only payment policy seems to be spelling trouble for the Russian debtors for the weakened currency but also for creditors caught in a bind of accepting the payments given the sanctions. Settlement firms that are channels for bond payments like Clearstream and Euroclear have announced they would stop accepting payments in rubles.
The country's credit ratings by Moody's Investors Service and Fitch Ratings have also been initially downgraded to B3 and B, respectively.
The effect is unfortunately not just contained within Russia. Indian refinery Nayara Energy, in which Rosneft holds a 49.13% equity, has been placed on "credit watch with negative implications" by the country's own rating agency.
All eyes are now on the upcoming debt maturities, including Russia's own–specifically a coupon payment owed on March 16.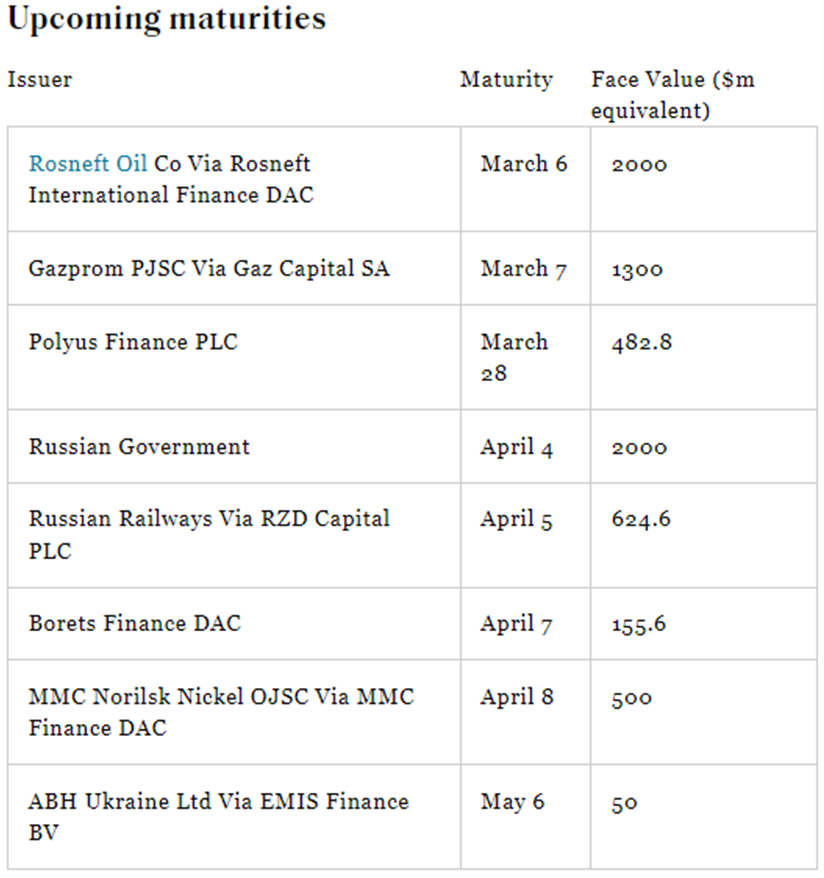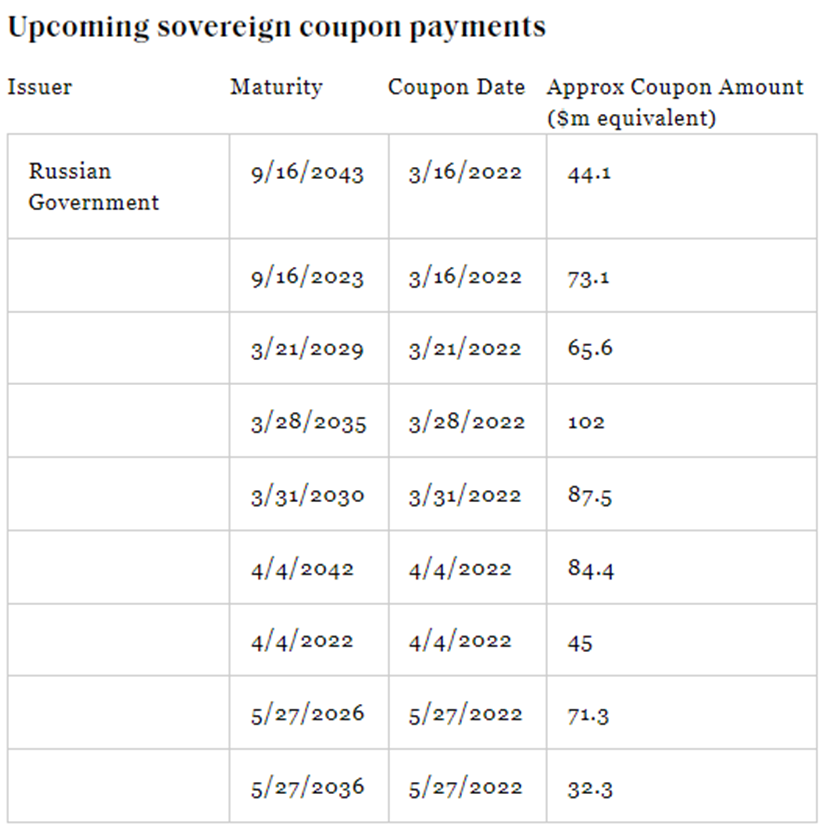 In a The Wall Street Journal interview, Capital Economics Chief Emerging-market Economist William Jackson said that potential credit default by Russia would be "out of unwillingness to pay, in retaliation to sanctions."
"The impact would likely be longer because of lack of trust in the regime… That could mean Russia would be locked out of capital markets for a very long time," he added.
Russia's shift in policy on foreign payments isn't a clear indication that the sanctions are weighing down on the country's economy. But the level of its dependence on foreign currency is linked to the global dependence on Russia's energy exports, as the country supplies half of the European Union's energy demand.
Gazprom, for instance, still continues to supply Ukraine with natural gas exports at the same level of 109.5 million cubic metres per day.
"What is Russia's incentive to keep sending natural gas and oil to Europe and the United States if we're freezing all their assets?" said r/WallStreetSilver Co-founder Jim Lewis in an interview with The Deep Dive. "Yes, we're technically sending them dollars and euros for energy but we've immobilized their ability to spend those dollars and euros."
Lewis also commented that weaponizing the SWIFT payment system "undermines the world reserve currency of the US dollar".
"If we weaponize [SWIFT], how many other countries are going to rethink their dependence upon the US dollar… We're pushing everyone towards China," he further said.
Beyond the energy firms, the bond problem is also hitting Russian search engine Yandex NV (Nasdaq: YNDX). The firm announced today that an ad hoc group of bondholders representing 72% of the principal amount has enlisted the services of financial and legal advisers.
On Friday last week, the firm expressed concern about its outstanding US$1.25 billion in 0.75% convertible notes due 2025 which bondholders can demand redemption of following a continuous five-day suspension of trading on the Nasdaq–which was satisfied on March 4. It said that it holds US$615.0 million in cash, with around US$370 million of which is located outside of Russia.
"To date, we have started engaging with [financial adviser of the bondholders] Houlihan and we ask other holders of the notes to make themselves known to Houlihan so that orderly discussions between Yandex N.V. and holders of the notes can take place with a view to finding a fair and sustainable solution for all parties," said the company statement.
---
Information for this briefing was found via The Wall Street Journal, Bloomberg, Reuters, Fortune, Financial Express. The author has no securities or affiliations related to this organization. Not a recommendation to buy or sell. Always do additional research and consult a professional before purchasing a security. The author holds no licenses.