Justin Trudeau Clings to Power: Liberals and NDP Form Alliance to Keep Trudeau Government in Office Until 2025
Prime Minister Justin Trudeau formed an unconventional alliance with the opposition NDP, In yet another instance of what is perhaps gradual political overreach that will keep the Liberal party in office until 2025.
Despite growing discontent for Justin Trudeau's Liberal party both at home and abroad, the prime minister on Tuesday surprisingly announced he has reached a "supply-and-confidence" deal with the NDP, in an effort to bring "stability" to Canada's political scene. Under the new agreement, Trudeau will not only maintain his grip on power for the entire duration of his four-year term, but will also receive backing from the NDP on confidence votes and the next four budgets.
In exchange, the Liberals promised to work on the NDP's main policies, including nationalized dental care for low-income families, pharmacare, additional climate change initiatives, and withdrawing public financial support for Canada's fossil fuel industry. Such an alliance certainly has many Canadians worried, particularly the opposition Conservative party, which referred to the pact as "little more than backdoor socialism." But don't worry— the NDP promised to not let the "Liberal government off the hook," ensuring that Trudeau will not get a free ride!
Trudeau's latest Hail Mary attempt at firmly holding political power comes as an increasing number of Canadians and world leaders express unfavourable opinions about the prime minister, particularly following his totalitarian approach to the Freedom Convoy trucker protest. His excessive flex of government power saw him invoke the never-before-used Emergencies Act to seize assets and freeze bank accounts of protesters, and impose a draconian police presence to disperse crowds from Ottawa and key border crossings.
However, it isn't just the public ridicule that Liberals will now have to face in wake of their new "marriage," as Singh refers to it: the cost of the alliance will likely further expand the budget deficit during a time of rising interest rates, particularly in face of the NDP's ambitions public spending plans. "No question there will be spending challenges and you layer onto that our security challenges," said MP Peter McKay. "We need some pretty serious refreshment of military funding and so yeah, I don't envy the finance minister trying to reconcile all of these."
If materialized, the NDP's dental care plan alone will be the most profound big ticket item, which will cost about $1.5 billion annually accompanied with an initial down payment of at least $3 billion, as estimated by the Parliamentary Budget Office. In addition to the that, the government is committing $600 million to top up housing benefits for 1.2 million Canadian households, as well as immediately begin spending on Indigenous housing. But, that is likely not going to be the straw that breaks the camel's back in terms of the budget.
With the ongoing conflict in Ukraine, the Liberals face a significant funding constraint when it comes to defence, with NATO allies pressuring the prime minister to boost the country's contributions to the military alliance. To make matters worse, though, Canada's budget has fundamentally changed over the past two years in wake of inflation that turned out to be anything but transitory, making it even more difficult for parties to meet their campaign promises.
Such an unsettling scenario undoubtedly needs to be met with fiscal prudence, but given the NDP's thirst for social spending, the Liberals will embark on anything but austerity. For the Trudeau government, any opposition to its reckless spending is met with the argument that economic growth will pay for everything in the long run, so to hell with balancing budgets! However, the true reality is rather quite different, because Canada's economic growth has pivoted into stagnation territory, and is becoming an unreliable source for government spending.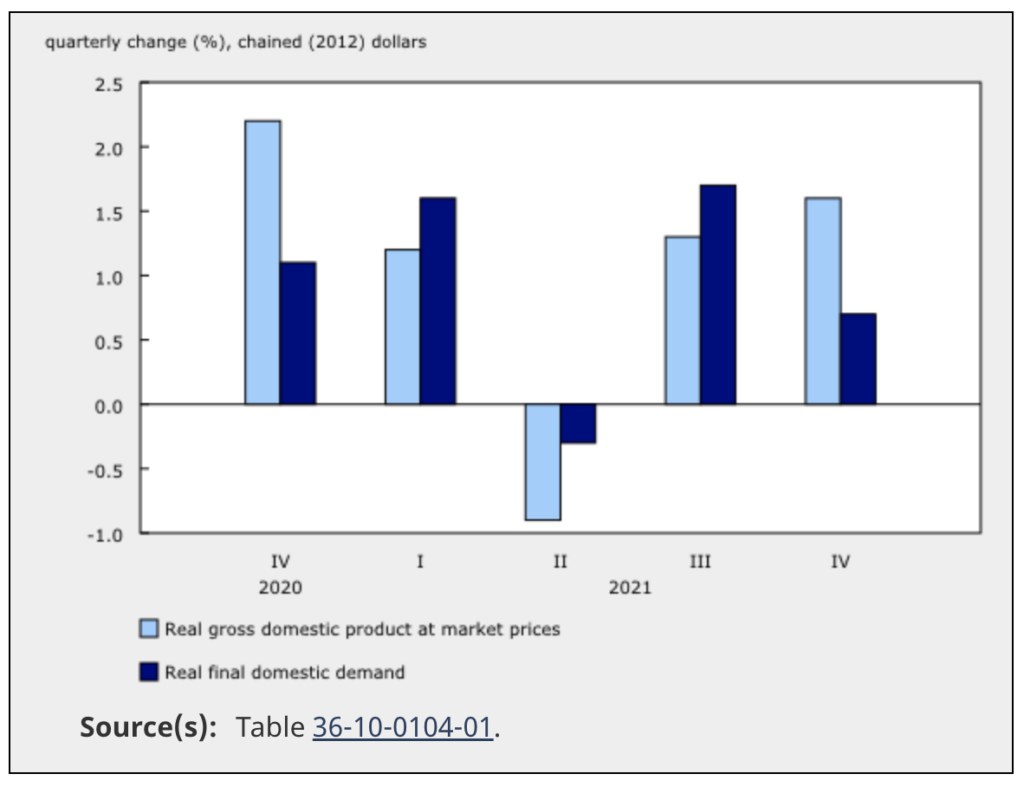 But nonetheless, let the wedding bells ring! Only the long-run will tell how long the "marriage" will last.
---
Information for this briefing was found via the sources mentioned. The author has no securities or affiliations related to this organization. Not a recommendation to buy or sell. Always do additional research and consult a professional before purchasing a security. The author holds no licenses.