Justin Trudeau Concludes Europe Visit, Imposes Even More Sanctions Against Russia
Canadian Prime Minister Justin Trudeau finally completed his Europe visit, and it appears that Russia's sanction sandwich is about to get a whole lot bigger.
Trudeau on Friday concluded his diplomatic photo-op trip to Europe, just as the crisis in Ukraine takes a dismal turn for the worse. Satellite imagery depicting the area surrounding Kyiv shows the Russian military convoy that since last week has been situated outside the capital city disperse into rural areas and small towns, suggesting that a potential ground assault may ensue.
Trudeau, in the interim, capped off his weeklong Europe trip visiting the UK, Latvia, Germany, and Poland, followed by a speech on Friday before departing Warsaw. After meeting with various prime ministers, presidents, and leaders, he announced an onslaught of new sanctions against Russia, as well as earmarked additional military and humanitarian aid for Ukraine. "Russia's ongoing illegal and unjustifiable war against Ukraine is not going unpunished. Canada will continue to stand alongside our European allies and partners to advance our shared commitments to support Ukraine and its people, and defend democracy against authoritarianism everywhere," he said.
This time, the latest round of sanctions target 5 prominent Russian nationals who are/or have worked with Russian President Vladimir Putin, as well as various entities working alongside the country's defence sector. Among the Russian oligarchs just sanctioned and had their assets frozen is Chelsea Football Club owner and major Evraz shareholder Roman Abramovich, who has been a significant supporter of Putin's military operation in Ukraine.

The Trudeau government also targeted 32 major military entities in Russia that have aided in the country's invasion of Ukraine.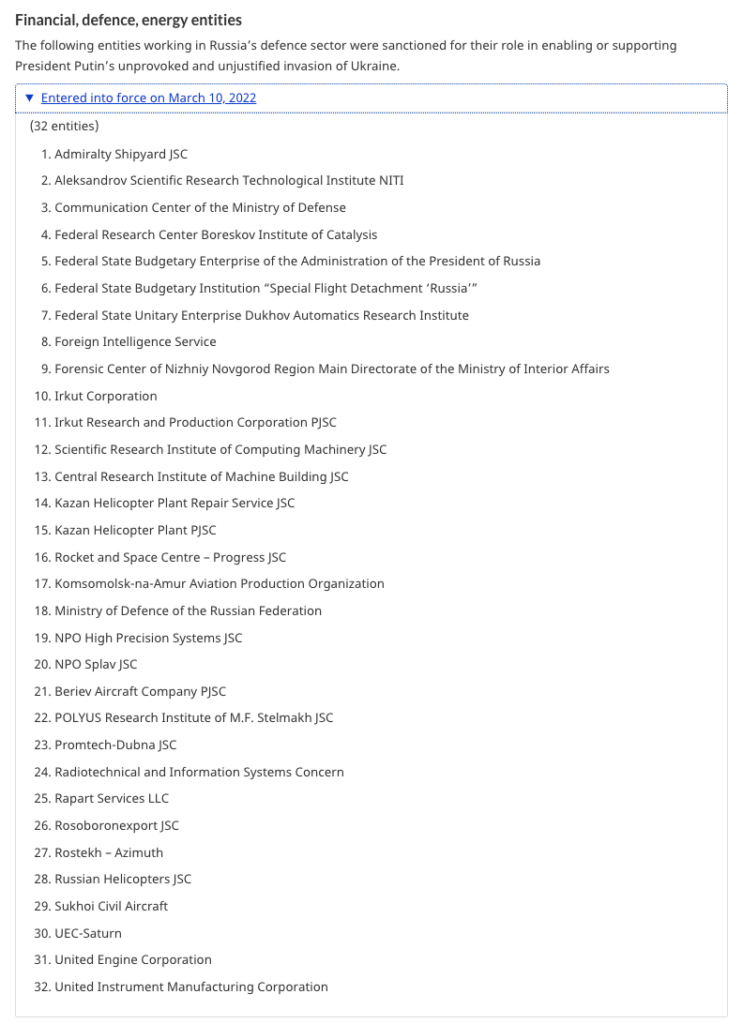 In addition, the prime minister earmarked another $50 million in military aid for Ukraine including highly specialized military equipment, while providing $13.4 million over a duration of five years toward the G7 Rapid Response Mechanism (RRM) in an effort to better identify and respond to threats to democracy around the globe. The Liberal government also plans to invest $3 million towards the Ukraine government's efforts in combatting disinformation and Russian influence in the country.
With respect to humanitarian aid, Trudeau pledged another $20 million to the Canadian Red Cross for a total of $30 million in relief efforts for Ukraine. In addition, $50 million will be earmarked to various humanitarian charities, including the World Food Programme, the UN Refugee Agency, the World Health Organization, and Save the Children. The Liberal government also plans to invest $117 million towards creating new immigration measures to help accelerate the pathway into Canada for Ukrainian refugees and newcomers.
Also during his trip in Europe, Trudeau discussed the need for decarbonizing economies and implementing more secure renewable energy sources, as well as securing energy supply chains for countries looking to cut their dependence on Russian oil and gas. Canada's government agreed to cooperate with Germany on pollution pricing, energy, and critical minerals, while agreeing to advance climate ambitions (maybe no one has told the prime minister yet about Germany's failed dependence on solar and wind energy, and subsequent plans to keep its coal power plants on standby— but I digress).
Most importantly, though, lets not forget to give an honourable mention to the numerous taxpayer-funded photo-op moments the Europe trip presented for Trudeau to paint himself as a leader on the world stage.
---