Satellite Photos Suggest Russia Has Deployed Navy-Trained Dolphins To Protect Black Sea Naval Base
Yes, dolphins.
These military-trained dolphins are likely tasked to prevent Ukrainian special operations forces from infiltrating the Black Sea naval base underwater to sabotage the high-value warships docked at the Sevastopol harbor.
Two sets of floating figures that appear to be dolphin pens were first spotted by H I Sutton, a writer for the US Naval Institute, using satellite images.
Satellite images show that the mobile pens have been by the entrance of the Sevastopol harbor, just behind the sea wall, since February, around the time that Russia launched its invasion of Ukraine.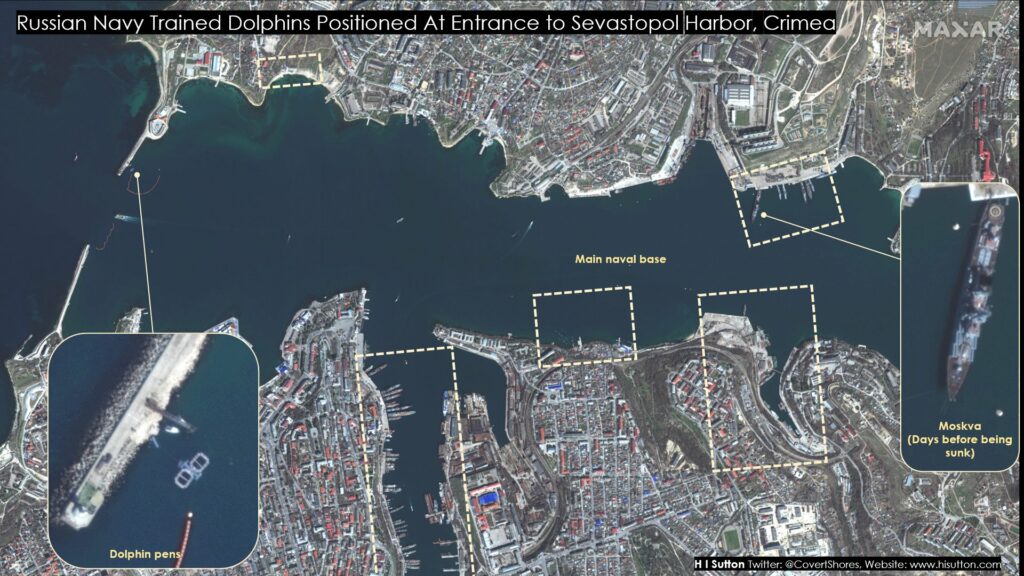 There is also evidence that suggests that the country's military also deployed trained dolphins at the Tartus naval base in 2018 to support its war in Syria.
Russia is known to have been involved in marine mammal programs since the Cold War. These programs included dolphin training in the Black Sea. Russia still has the Soviet Navy's Black Sea marine mammal unit based in Kazachya Bukhta near Sevastopol. While the operation was handed over to Ukraine post-Soviet break-up, following the 2014 war that saw Russia take Crimea the unit was taken back under the control of Russia.
According to USNI, the Black Sea unit, along with a separate operation in the Arctic, is included in the country's military's wider reinvestments in marine mammal programs in the last decade.
In the Arctic unit, Russia's Northern Fleet are believed to be training beluga whales and seals, as they are better equipped for the cold climate. In April 2019, a beluga whale, nicknamed "Hvaldimir" appeared off the coast in Norway. The whale, which seemed to be asking for help, had a Russian harness attached tightly around its body.
Russia is not the only country with a marine mammal program. The US Navy has been training bottlenose dolphins and California sea lions since 1959. They make the program sound less sinister, though, by comparing it to the more ubiquitous canine unit, where service dogs are trained to assist in detecting explosives and other threats on land.
Sutton also wrote an interesting piece on other nations that may have a marine mammal program and listed the main missions that may be assigned to these units. The list ranges from retrieving objects from the seafloor to attaching mines to enemy vessels.
---
Information for this briefing was found via the US Naval Institute, Twitter, and the sources mentioned. The author has no securities or affiliations related to this organization. Views expressed within are solely that of the author. Not a recommendation to buy or sell. Always do additional research and consult a professional before purchasing a security. The author holds no licenses.