Kingman Initiates NI 43-101 Process for the Mohave Project in Arizona
Kingman Minerals Ltd. (TSXV: KGS) is engaged in acquiring and advancing non-grass roots precious metal mineral properties located in mining friendly jurisdictions in North America. The Company's flagship operation is the Mohave Project, which is located 35 miles from the town of Kingman in the Music Mountains in Mohave County, Arizona, towards the border with Nevada.
The project can easily be reached by car via the fabled Route 66 Highway. Arizona has a rich history of gold and silver mining. High-grade gold and silver veins were discovered in the area in the 1880's and were mined mainly in the late 1920's and 1930's. Activity in the area ceased for several decades as interest in gold mining waned.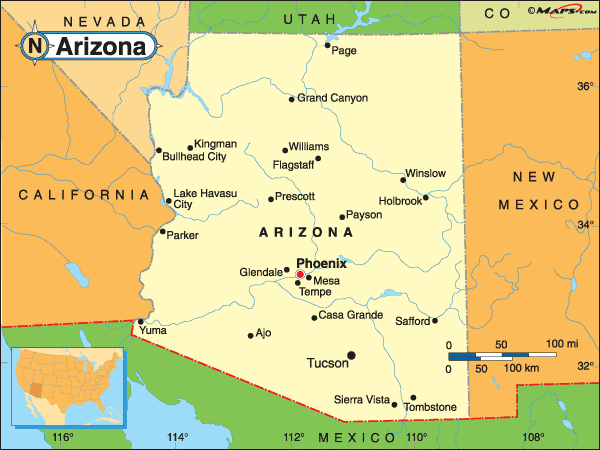 The Rosebud Mine
The Mojave Project is comprised of 20 lode claims, which include the past producing historic Rosebud Mine, eight separate veins, and one prominent double vein, which extend from the northwest corner to nearly the southeast corner of the claims block. Underground development on the Rosebud property included a 400-foot shaft and approximately 2,300 feet of drifts, raises and crosscuts. Mining took place predominantly at the 100-foot level during the early 20th century. Two major stopes are present from which approximately 3,000 tons of ore was removed.
Interest was resurrected in 1995 when Kinntaki Resources, in which 135 surface samples were collected with significant gold and silver results near the Rosebud Mine, conducted an exploration program.
The most recent mapping of the Rosebud mineralization zones took place in 1984, with mapping occuring both above and below surface. Assay result of 139 samples from the program, in addition to data from an October 1983 sampling program were used to identify ore zones in the Rosebud Mine area.
According to this data, probable ore amounts to a total of 15,560 tons. Possible (Inferred) ore consists of 176,000 tons and additional possible ore across 8 parallel to sub parallel veins on the Rosebud Property total slightly over 1,100,000 tons. Total gold ounces for all categories are estimated at 664,000 ounces and contained silver at 2,600,000 ounces however none of this data is 43-101 or JORC compliant as per Kingman.
It should be noted that this data has been pulled from reports for past work that was conducted on the property and is thereby historic in nature. Kingman has not yet reproduced these results and therefore cannot verify how valid they are. Kingman intends to twin these results in order to confirm the veracity of the data.
What makes the Mojave Project compelling is that the Rosebud Mine has existing infrastructure, and surface sampling has shown attractive gold and silver showings. Historical mining was done mainly down to the 100-foot level. Surface material can easily be milled very cost-effectively to generate immediate cash flow, which could help fund operations while more extensive work on the property is conducted.
In early spring 2020, Burgex Mining Consultants were contracted to determine the accessibility of the main production shaft at the Rosebud Mine. Burgex used ropes and ladders to assess the safety and stability of the shaft and were able to lower themselves down to the 100-foot level of the abandoned mine. The conditions were not optimal for spending long periods of time in the mine, but they were able to collect 17 rock samples from the 100-foot level. Below the 100ft level the shaft was blocked by debris, so no attempt was made to access the lower portions of the mine during this reconnaissance program. Sampling results showed 252 g/t Au and 341 g/t Ag over interval of 0.46m.
In late spring 2020, Burgex was contracted to conduct a second reconnaissance of the 100 and 200-foot levels of the Rosebud Mine. This time Burgex was able to clear enough debris from the 200-foot level to get some chip samples from this study, which showed 688 g/t Au & 468 g/t Ag on 100ft level over interval of 0.18m. They were unable to get to the 250-foot level due to debris.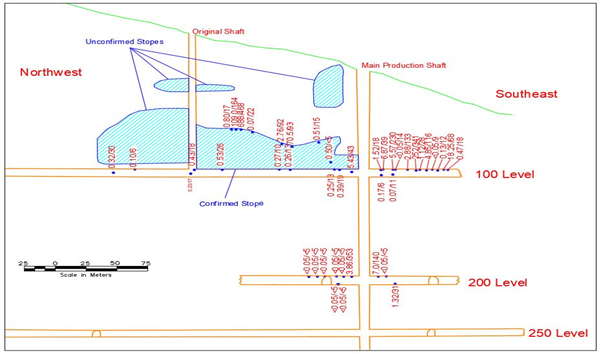 NI 43-101
The company is planning to conduct a number of on-ground geophysics methods to strengthen the existing database and create a 43-101 report confirming much of the historical data. A NI 43-101 report is very important for a company's credibility. It is a set of rules and guidelines for reporting and displaying information related to mineral properties owned or explored by companies which report these results on stock exchanges within Canada.
Essentially, the purpose of the reporting standard is to prevent any misleading data related to mineral properties from being pushed to investors that don't know better. Data contained within 43-101 technical reports must be prepared by, or at a minimum under the supervision of, a qualified person whom is also responsible for any information contained within the report. It also provides guidance on reporting historical mineral resource estimates, which is important to Kingman, since much of its analysis will be based on historical data.
The management team consists of seasoned executives who have financed numerous mining ventures, have the ability to raise capital and have access to top-tier industry experts.
With only 39,209,607 shares outstanding (fully diluted), Kingman has a modest $6.2 million market capitalization. The fact that management is planning to prepare a 43-101 indicates that they believe the Mojave Project could have some significant near-term economic potential, particularly considering that they could easily monetize the surface materials they collect.
The indicated gold grades certainly warrant more work to be done on the property to improve the resource calculations. The initial work can be conducted fairly inexpensively, so it should not cost that much to determine the project's potential.
---
FULL DISCLOSURE: Kingman Minerals Ltd is a client of Canacom Group, the parent company of The Deep Dive. The author has been compensated to cover Kingman Minerals Ltd on The Deep Dive, with The Deep Dive having full editorial control. Not a recommendation to buy or sell. Always do additional research and consult a professional before purchasing a security.