Lucid Motors Makes Grandiose Nasdaq Debut, But Faces Uphill Battle as Tesla's Closest Imitator
With Tesla wannabe Lucid Motors (NASDAQ: LCID) officially making its public debut yesterday, the most difficult part still lies ahead.
After finalizing its merger with special-purpose acquisition company (SPAC) Churchill Capital IV on Friday, the EV startup made its debut on the NASDAQ on Monday, under the ticker symbol LCID. With a price of $24 per share as of closing on Friday, which jumped by an additional 10% on Monday morning to over $26 per share, the company is slated to begin its initiation into the public EV space with a market value of more than $43 billion.
However, the climb to a fruitful future following Lucid's public launch may be a steep one. Indeed, a valuation of over $40 billion is quite significant for a company, not to mention a company that has yet to sell anything. Moreover, Lucid, which is positioning itself to become the next Tesla, does not benefit from a first-mover advantage in the EV space, especially given that its target customer base is confined to the luxury portion of the market.
Lucid has ambitious plans to become the next leading company in the EV space, and carve out a new meaning to the definition of 'luxury.' The company has gained notable attention as direct competition to Tesla's Model S and Model S Plaid, which does not come as a surprise given that Licid's CEO Peter Rawlinson was previously the head of Tesla's Model S engineering team. The company has been closely mimicking a variety of Tesla's other products, including a prototype for both home and commercial Energy Storage Systems applications, as well as potentially becoming a large-scale battery pack producer and supplier to original equipment manufacturers.
Lucid's first major vehicle slated for commercial production is the Air, which boasts a range of over 500 miles, a 0 to 60 mph of 2.5 seconds, more than 1,000 horsepower, and a charge time of 20 minutes for 300 miles. The EV manufacturer's batteries are also allegedly the most economical, with 4.5 miles/kWh— which exceeds the 4.0 miles/kWh offered by the Model S Plaid. However, with a steep price tag beginning at $77,400 excluding purchase subsidies, Lucid may face a tight consumer base in the already-saturated luxury car market.
Although Tesla was able to prosper from a first-mover advantage by enticing consumers with the creation of a new type of luxury that surpassed the market's current expectations at the time, Lucid likely does not face such benefits. Since Tesla first made its entrance into the EV market, a number of new participants have saturated the market, tightening competition even further. When Tesla's vehicles first made their way to consumers, the company faced a market share in the double-digits; Lucid, on the other hand, anticipates a sub-1% market share for its Air until at least 2025.
Lucid faces steep competition across the luxury car segment, not only from Tesla, but also from BMW, Mercedes, Audi, Volkswagen, and Lexus, among others. With SUVs and sedans facing high demand, electrification startups are expected to concentrate on these segments, which will heighten competition for Lucid even more, especially if it debuts additional vehicle models in the near future. Moreover, by competing against established luxury automakers, Lucid also confines itself to a limited consumer base, which are EV enthusiasts that can afford its vehicles.
Lucid is also grouped into the category of SPACs that have set out significant delivery targets, but have yet to bring a product to market. As of current, Lucid's delivery forecasts are merely arbitrary; the company has yet to amass a meaningful delivery history to back up its optimistic claims. Lucid is slated to produce a volume of 577 units in 2021, with a delivery goalpost of 49,000 units come 2023; however, if any production disruptions should arise, it would certainly be viewed negatively across the market.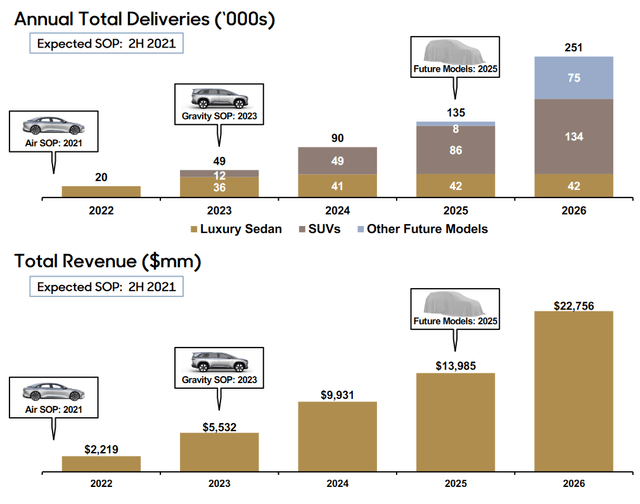 Moreover, Lucid also asserts its entry valuation is more attractive compared to its peers. However, that is not the case; the EV maker actually has the highest entry valuation compared to other automakers, including Tesla, Fisker, NIO, Canoo, and even XPeng. According to calculations from Lucid, its enterprise value sits at 5.3x 2022 revenue and 2.1x 2023 revenue— but, as the fine print states, the figures are derived from an equity valuation of $11.75 billion, which is based on an original SPAC share price of $10. With shares now trading at above $26, the multiples are no longer an accurate representation of the enterprise value investors are paying for in the market today.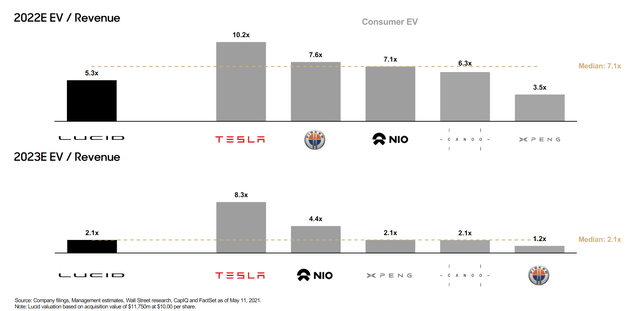 With investors expecting strong growth for SPACs, particularly those in the EV space, and with Lucid facing such a premium valuation compared to its peers, the automaker will have large shoes to fill as it looks to meet its delivery targets in a saturated, luxury car market.
---
Information for this briefing was found via Lucid Motors. The author has no securities or affiliations related to this organization. Not a recommendation to buy or sell. Always do additional research and consult a professional before purchasing a security. The author holds no licenses.