Market Movers: Bluestone Resources
Bluestone Resources (TSXV: BSR) was a low-volume gold stock until Friday January 24th, when it did 938,000 shares in volume – more than it had traded the rest of the month put together – to close up $0.05 at $1.52. Relatively speaking, it's still a low-volume gold stock, but it's one that's sprung to life, so The Dive is going in for a closer look.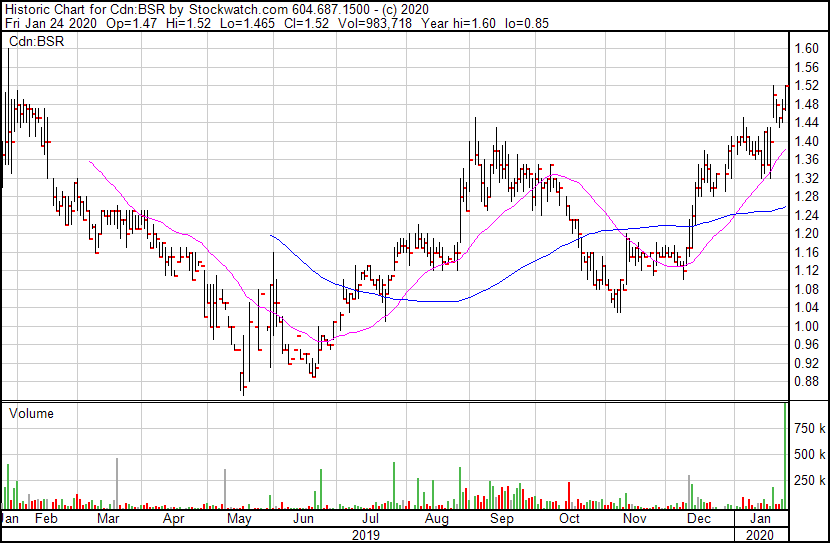 The high-volume Friday that took Bluestone to a 52 week high is the most recent part of a +30% six week run that started December 11th. The company published no news during that period. We last heard from Bluestone November 6, when they announced an updated resource estimate at their Cerro Blanco property, taking it further over the all important million-ounce of gold mark.
The work shows Cerro Blanco at 1.4 million ounces of gold and 5 million ounces of silver on a measured-and-indicated resources basis at a 3.5 g/t gold cutoff. In gold stock circles, heads love high grade, and this deposit is weighing in at 10.3 g/t gold and 36.8 g/t silver, so one can expect attention to be sustained.
Bluestone's resource estimate came following the completion of an infill drilling campaign designed to expand the North zone of the Guatemalan resource within its existing perimeter. Drilling continues on the South zone.
President David Cass talked up the "continuity and predictability" of the hydrothermal vein system, a rarity in gold exploration, but perhaps not among deposits that companies are able to successfully add resources to. Bluestone's strong price performance, predictably, follows strong price performance of spot gold in a news landscape that includes fears of a global super-virus pandemic and a US war with Iran. Gold is well above its moving averages, trying to test its September highs.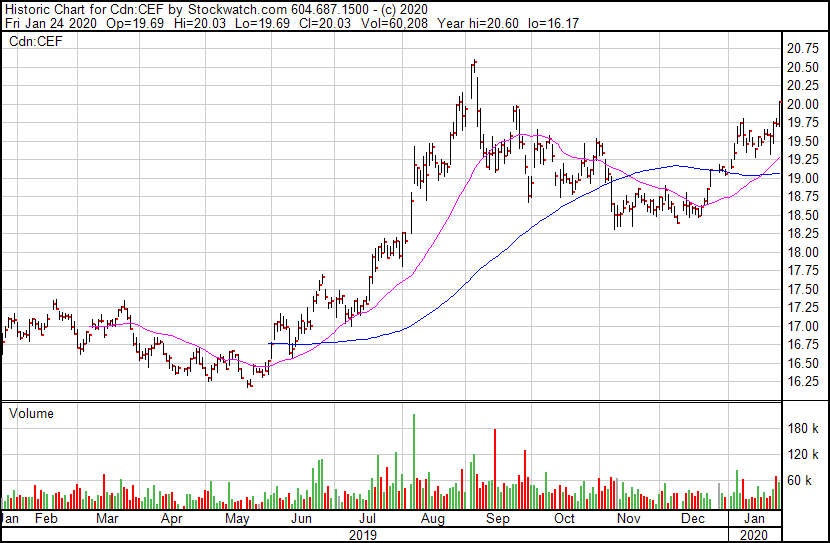 Investors in gold equities have been known to advocate for advanced stage exploration companies like Bluestone as gold-exposure vehicles with higher potential than that of bullion, the theory being that competition among larger producers to increase their reserves as the bull trend continues adds upward price pressure. For that paradigm to stay grounded, investors need to keep a close eye on the cap table, often in the context of the trading volume. Any amplification one might have expected in an equity over a metal that it tracks could easily be lost to the slack in a sloppy share structure.
$124 million market cap Bluestone last raised money in March of 2019. Of the $17 million they raised, there was $7 million left at the end of September. 5.1 million outstanding warrants at $0.84 have been in the money since July without causing a drag on the low-volume stock. Until Friday, BSR averaged 51,358 shares in daily volume for the trailing 12 months. The volume's high-water mark was 324,682 shares on July 26, 2019. That type of action is indicative of a strong float with a great deal of institutional support, something the company illustrates for observers on page two of their pitch deck.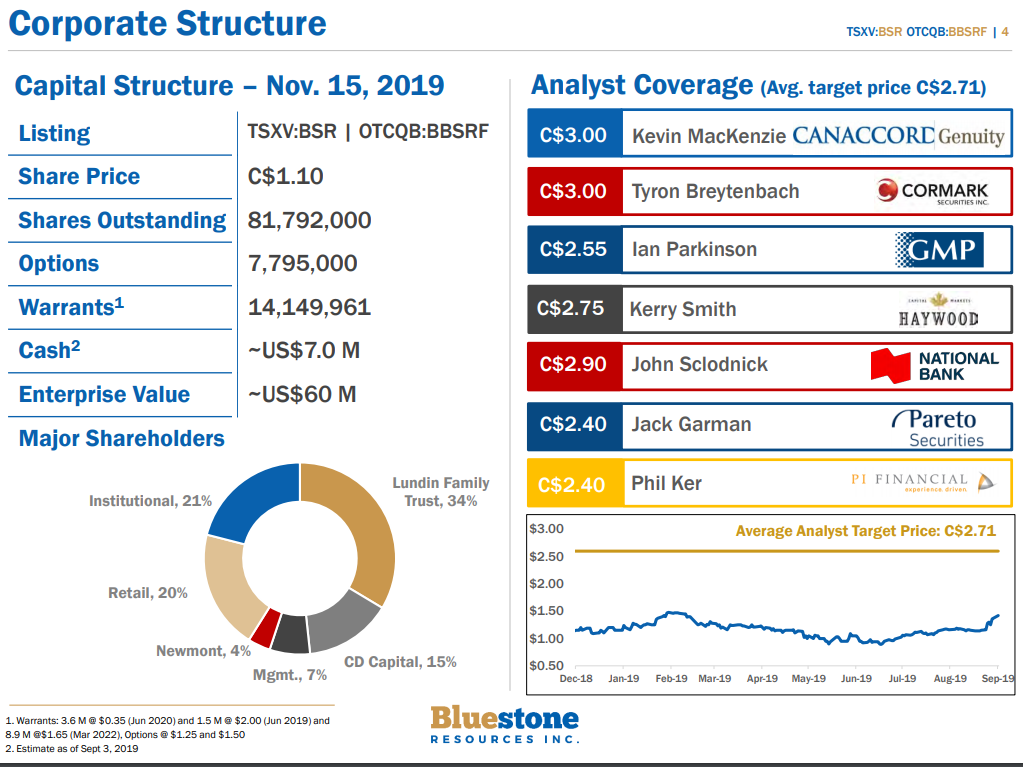 Clearly, BSR doesn't lack for sell-side support, and boasts a decent mix of institutional and retail shareholders, with brand names like Lundin and Newmont (TSX: NGT) among them.
As the drilling on the South zone continues, the company has planned to raise money through project financing and begin a construction phase this year. If the gold price continues apace, they should have an easy time of that while still being able to protect their strong cap table. The orderly structure also makes it reasonable to speculate about interest from majors, which might be the one thing gold bugs love more than high-grade.
The Vancouver-based operation also owns an undeveloped geothermal project in Guatemala that a 2013 feasibility study described as feasible.
---
The author has no securities or affiliations related to any organization mentioned. Not a recommendation to buy or sell. Always do additional research and consult a professional before purchasing a security. The author holds no licenses.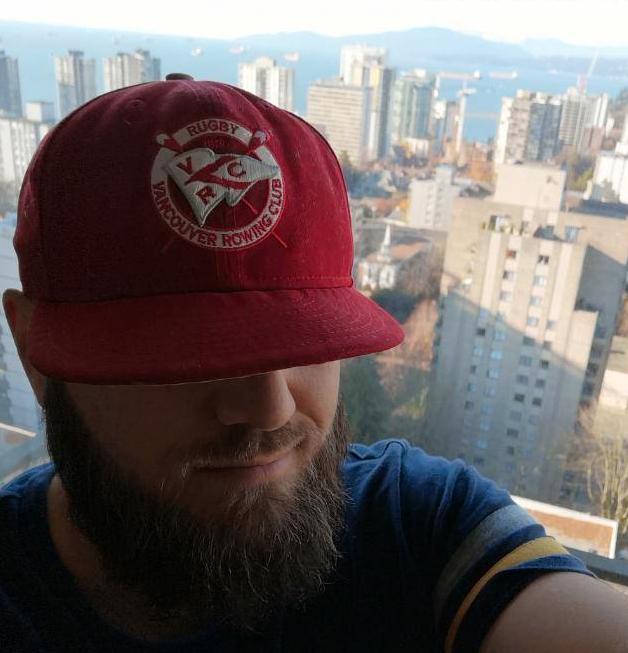 Braden Maccke is a freelance writer from Vancouver, B.C.
You can read all of his Deep Dive articles here.
He can be reached at braden@fundamentalhype.com.