Market Movers Resurrection Edition – MedMira Inc.
MedMira Inc. (TSXV: MIR) rose out of obscurity Thursday, trading 14 million shares worth of volume and closing at $0.385 to make the Halifax, Nova Scotia-based biotech company number one in volume on the TSX. It traded another 8 million shares today to close the week out strong at $0.405, following an announcement that it had completed the registration process that allows it to affix the CE mark to its REVEALCOVID-19 rapid antibody test, which is exactly what it sounds like, adapted from a similar test for HIV.
The action started picking up in April for the medical test maker as, suddenly, years and dollars spent developing products for the relatively obscure rapid medical testing sector became very relevant, very quickly, and brought the long-buried name back to life.
The last time this issue saw any real action was 2008, when the company went through a successful US patenting process for its rapid HIV testing kit. The 2008 version of MedMira had a full NASDAQ listing and a pro IR shop, and blew its top at $1.40 just ahead of the (previous) financial crisis but appears to have been successful, technically speaking. MedMira developed the skeletons for several tests that can be and are adapted to be used for HIV, hepatitis and syphilis.
But revenue peaked at $4 million in 2015, when the end of the last earnest capital markets push printed the most recent 100 million shares. At that time, MedMira was backed by a European syndicate led by controlling shareholder Onsite AG, whose 2012 name change from Andruja-Beteiligungen AG was announced via MedMira press release.
Onsite AG appears to have since folded and it isn't clear whether or not MedMira AG, listed as a $1 million secured creditor and the benefactor of a 10% royalty on the hepetitis C version of MedMira Inc.'s rapid testing kits, is part of what is left over, or how many of MedMira Inc.'s 658 million shares it owns, but the entity is listed as a "controlling shareholder" at the end of January 2020, so we feel confident it's the same outfit.
SEDI filings indicate that all of the entities presently disclosing themselves as 3-10% shareholders of MedMira Inc. bought their positions in 2008. None de-listed themselves as filing insiders, suggesting they still owned the position at the time of their last filings. Nine different entities are listed as 3% – 10% holders holding 16.9 million shares each, and that adds up to 135 million shares, which is roughly equivalent to MedMira's total volume over the past month. MedMira AG is not listed on SEDI as a controlling shareholder or insider of any kind, but a Mr. Urs Meile is listed as the beneficial owner of 352.4 million shares, through an entity that, in 2013, was called "Andurja."
How much of this thing is Rich Uncle Urs going to let the shareholders keep?
A google search for Urs Meile turned up mostly evidence of Mr. Meile's work as a patron of the arts. Mr. Meile related to Ran Dian in 2012 that his father told him not to get into contemporary art, because it didn't earn any money, but that it didn't stop him. MedMira is the only public company Meile is publicly associated with, and the extended loan suggest he's been reliably committed to its success.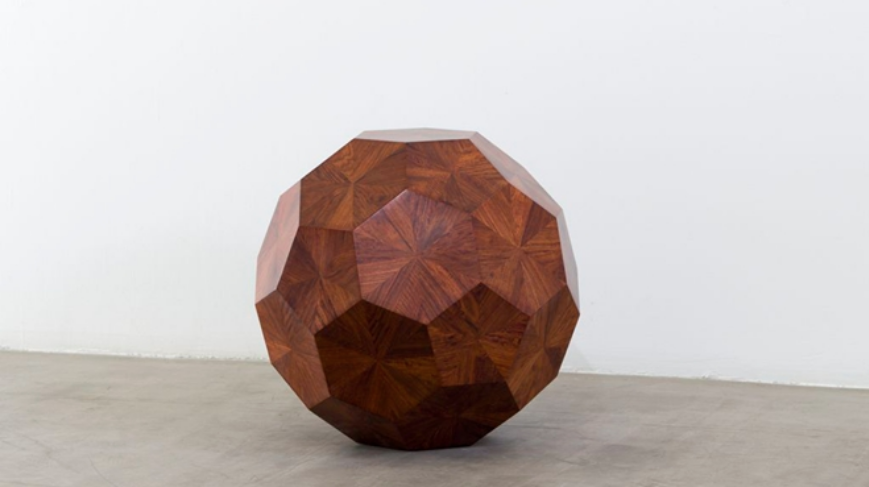 The company is financed through loans from shareholders, employees, royalty-holders (including MedMira AG), and the Government of Nova Scotia, none of whom seem too particular about being paid back. At the end of January, the company was in default on all $9.3 million of its debt. A year ago, in January 2019, it was in default on all $8.2 million of its debt. MedMira almost never has any cash.
MedMira's oldest loan bears 5% interest on $1 million in principal, is secured by "interest on intellectual property and on the step-up technology," and has been in default since 2016. The disclosures don't say who the money is owed to, and whether or not the intellectual property (and step-up technology) it's being secured against is instrumental to the COVID test that brought the stock back from the dead, but "controlling shareholder" MedMira AG is all over this thing, lending MedMira Inc. whatever portion of its operating budget isn't borrowed from the Nova Scotia government or Ritec AG, a MedMira AG subsidiary.
News of a CE mark having been secured for the company's REVEALCOVID-19 test included news that the FDA and EUA are reviewing the test. Should one or both agencies make the anti-body test a CLIA-waived testing product approved for sale, Ritec AG will own a 12.5% royalty on the test kits as soon as MedMira sells $10,000 worth of them. Presumably, that royalty would survive any expropriation of the IP attempted by a MedMira creditor.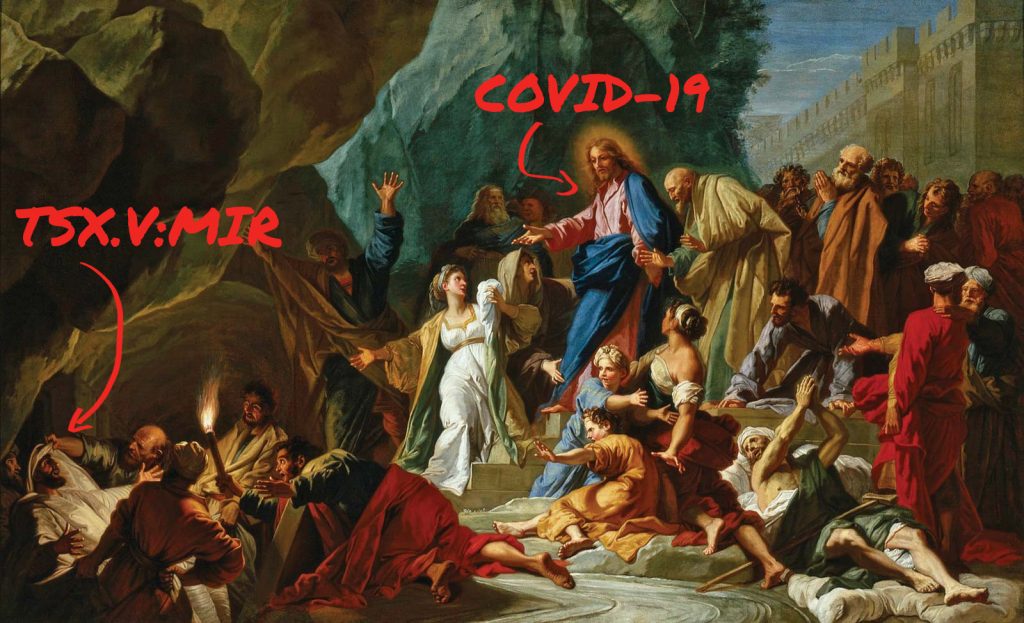 MedMira Inc. has had the same CEO for at least 15 years, and the loan defaults haven't prevented it from borrowing more money, much of it from related parties – even the CFO is listed as a creditor. Most of the executives take no salary.
This all suggests an opaque and even tangential relationship between the company itself and its assets. The commercial promise being shown by the REVEALCOVID-19 test can only be fully realized in this public equity once investors get a better look at what it is they actually own. Anyone buying MIR out of the market here is functionally a subordinate to the debtholders and royalty holders. MedMira Inc. is due to file its quarterlies for the period ending April, and we'll be watching to see if it can use the recent equities market success to clean up the balance sheet and cap table.
CORRECTION: An eagle-eyed commenter has alerted us to the fact that this post originally used an incorrect spelling of Urs Meile's last name. It's since been corrected.
There is further discussion that financier Urs Meile, who appears to control a majority stake in MedMira Inc., potentially through MedMira AG, which in turn is the holder of Medmira Inc.'s secured debt (presently in default), may not be the art dealer turned up in our google search. The Deep Dive would like to point out that the article does not positively identify Art Dealer Urs as Financier Urs, but that Arts Urs is the only one turned up by standard internet search tools.
---
Information for this briefing was found via Sedar and MedMira. The author has no securities or affiliations related to this organization. Not a recommendation to buy or sell. Always do additional research and consult a professional before purchasing a security. The author holds no licenses.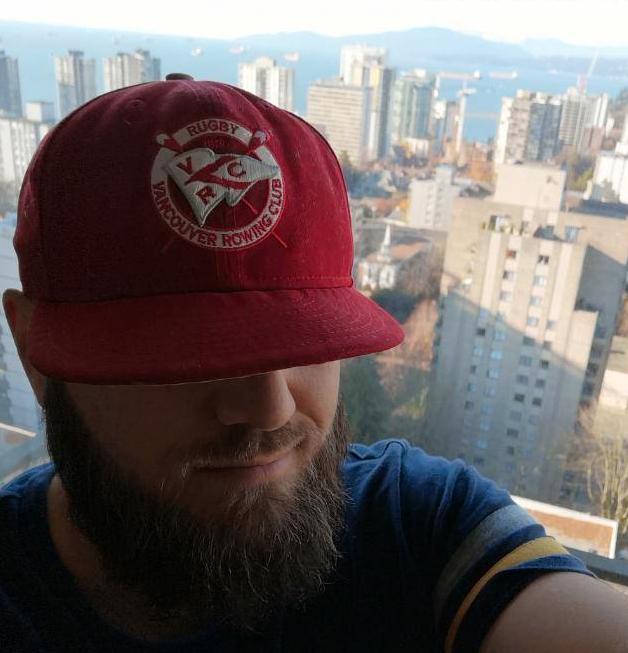 Braden Maccke is a freelance writer from Vancouver, B.C.
You can read all of his Deep Dive articles here.
He can be reached at braden@fundamentalhype.com.