Market Movers: The Green Organic Dutchman
Following an announcement that it had inked a deal to supply Loblaws (TSX: L) owned drug store chain Shoppers Drug Mart with weed high-quality certified organic medical cannabis products, The Green Organic Dutchman (TSX: TGOD) traded 53.8 million shares Tuesday and another 30 million shares Wednesday to close at $0.46, a gain of +67% over the two day period. The move put it among the volume traders on the TSX and forced the name back into relevance.
This column avoids TGOD, because it's only ever been interesting as a promotion, and the elements of financial media with a suspicious habit of gushing over the grower-on-paper have a habit of getting positively vicious towards writers who point out the absurdity that, three years into cannabis legalization, TGOD isn't yet shipping commercial volume. It isn't that we're sensitive, just that deconstructing such an obvious disaster isn't worth the headache of the blowback.
But we don't determine relevance, the market does, so it's time to have another look at TGOD. We'll start with an abridged backstory.
"EST. 2012"
In April of 2016, TGOD had completed construction on its Ancaster, ON facility, just outside of Hamilton. There was still various licensing processes to be completed, but it was an operational facility, with an indoor cultivation space that that the company and its surrogates talked up as a developing organic cannabis cultivation machine.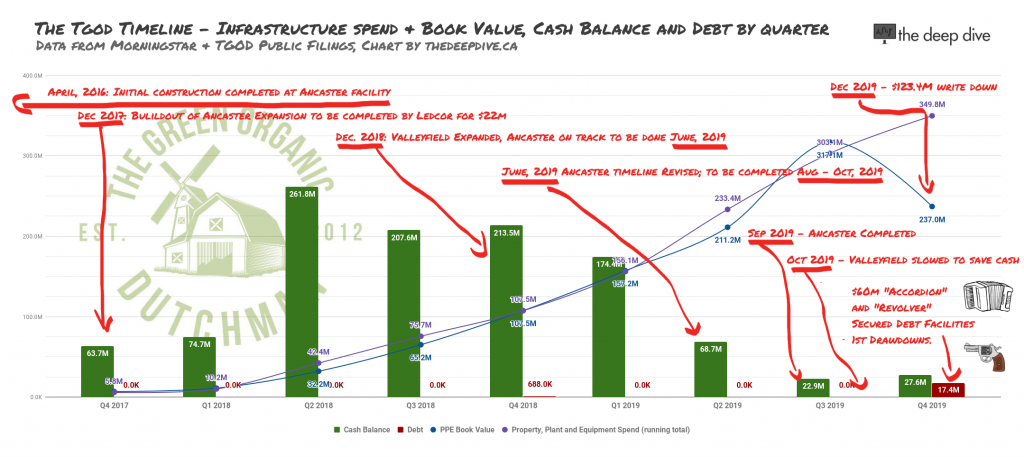 By December of 2017, the company had inked an agreement with Canadian construction firm Ledcor to get the Southern Ontario facility fully built out for an all-in cost of $22 million. TGOD's cash balance at the time was $63 million. It had bought a property in Valleyfield, Quebec to build a similar facility. The company carried no debt.
By December of 2018, the Ancaster facility was on-track to be completed by June of 2019, when it would have an annual capacity of 17,500 kg of high-quality, organic cannabis. The Valleyfield plan had been expanded to become capable of 185,000 kgs/ year of high quality, organic, made-in-Canada medical cannabis. $107 million had been spent on construction so far between the two projects, and the company had a cash balance of $213 million.
In February, 2019. Some final revisions to the Hamilton facility gave it a planned final dimension of 166,000 square feet, kept the capacity the same. TGOD had spent $156 million on construction, and had a cash balance of $176 million.
In June of 2019, the timeline was revised. Hamilton would be fully complete between August and October of the same year. The company had spent $233 million on construction, and had a cash balance of $68 million.
At long last, on September 3, 2019, the Hamilton greenhouse was ready. Valleyfield still had a ways to go. $288.8 million had been spent on construction to date, and the company still had $22 million in the bank.
On October 18th, TGOD slowed construction at Valleyfield to save cash.
At the end of 2019, TGOD was forced to write down $123 million in capital expenditures from the not-yet-performing facilities. Should they live up to projections, that value can come back. All told, the company has burned through $317 million in shareholder money to build two facilities and some enormous expectations.
Plenty of room to grow…
We'll find out what TGOD sold in the first three months of 2020 when it releases its Q1 financial statements May 26th. TGOD presently lists one strain of dried flower in BC and two strains in Ontario. Prices range from $39.75/ 3.5 grams to $47.95/ 3.5 grams. Its peers, who have been supplying this market for three years, have already responded to a consumer base more interested in value than quality.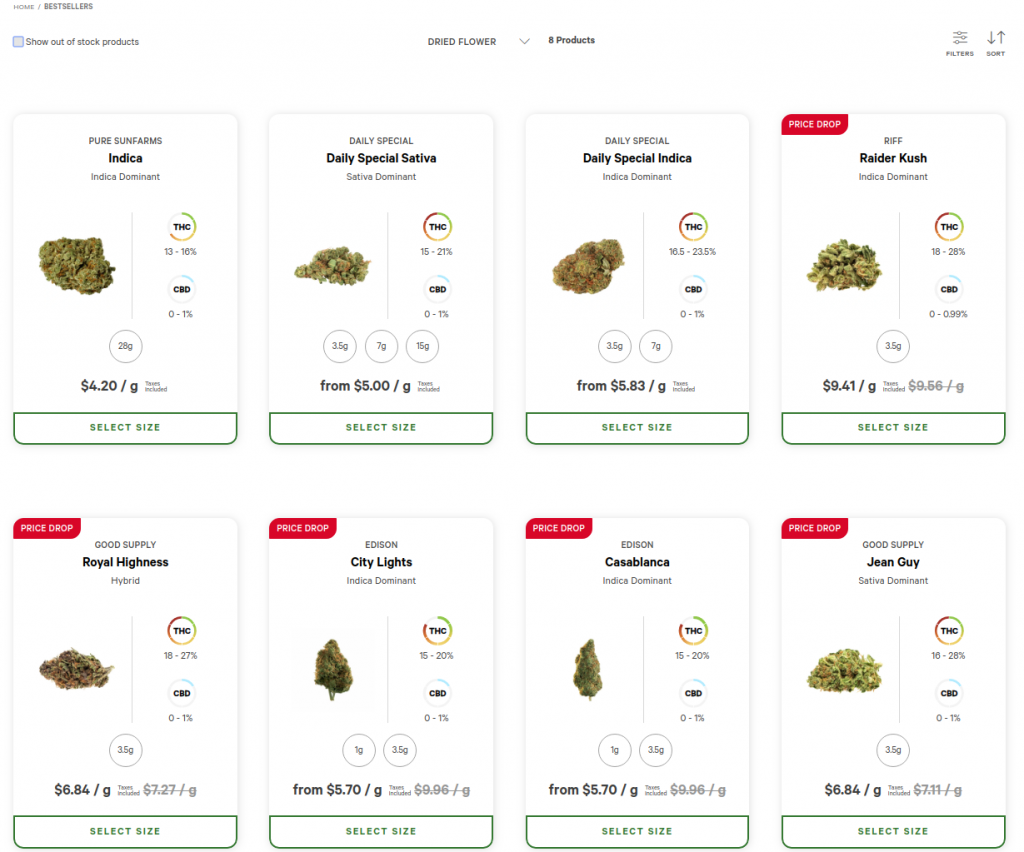 The Ontario Cannabis Store's "best selling" tab includes two Aurora "daily special" products priced under $20/ eighth ounce, and five of the top eight have been discounted.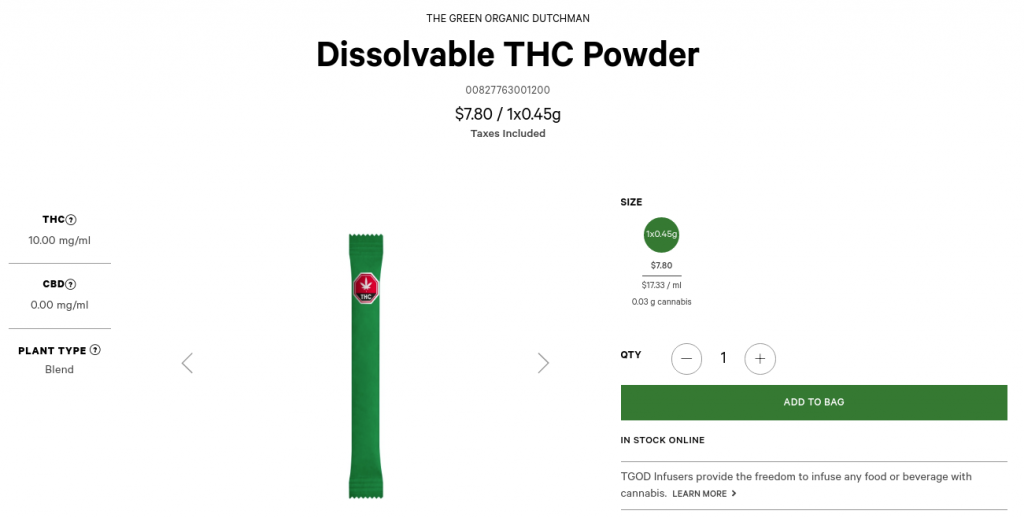 It's unclear what threshold puts a product in the OSCs top sellers, but TGOD's "Dissolvable THC Powder" is listed among the OCS' top selling products when the scope is expanded beyond flower. A .45 gram pouch of the stuff, meant to be mixed with water and drank like Metamucil, costs $7.80. If anyone's tried it, please sound off in the comments. We want to know if the organic certification makes a difference.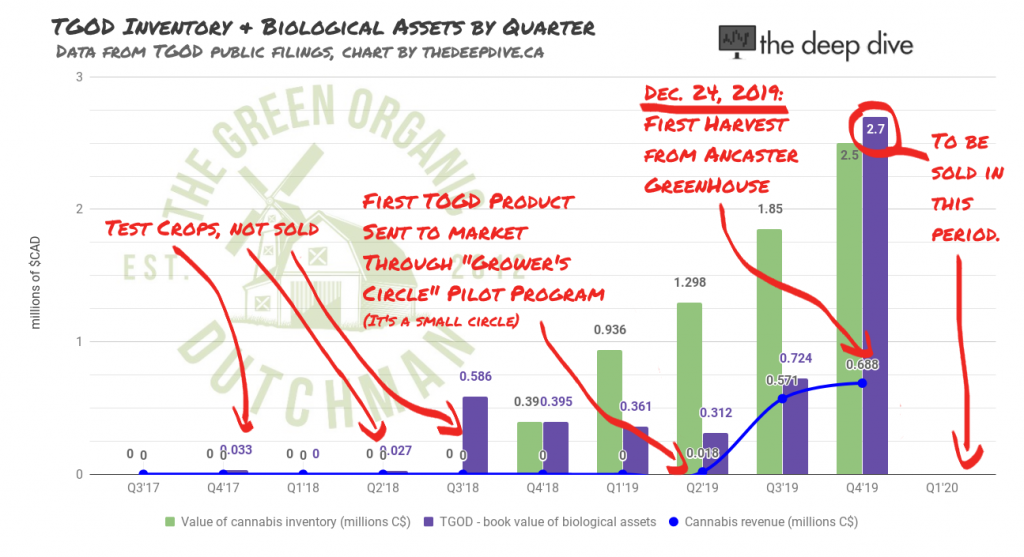 At the end of December, the company showed $2.5 million in cannabis inventory and $2.7 million in biological assets. It held more packaging supplies, by dollar value, than it did finished goods.
As of December, 2019, the TGOD equity has sucked in $428 million from the public markets to create a present day market cap of $156.8 million. Not one to waste perfectly good market momentum that might go away after they file the Q1, TGOD announced another $15 million bought-deal financing yesterday (Wednesday). It will create another 86 million shares, including the warrants and over-allotment. Maddeningly, the aggressive dilution is absolutely necessary, following secured debt issuance that the company did to stay afloat in December and April.
TGOD costs $12.8M/Q (cash) to run before significant cannabis production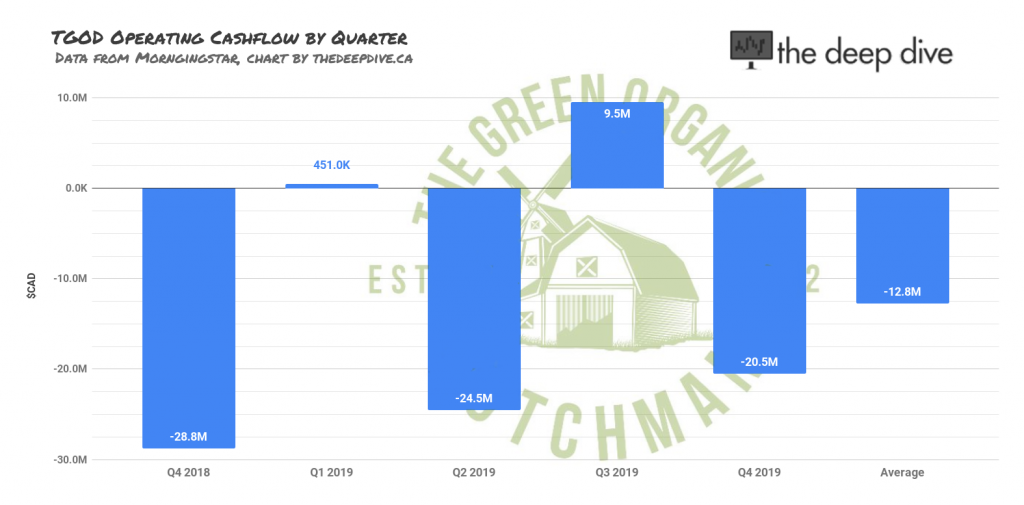 Some sort of accounting reversal gave TGOD on-paper positive cashflow for the September quarter but, we assure you, it's a trick of the light. TGOD is averaging -$12.8 million in operating cashflow over the past five quarters, which is a considerable amount of overhead for an operation that isn't yet commercial. As the market softened through the fall and winter, TGOD needed to do those secured debt rounds to keep the lights on. The credit facilities are high-yield notes that come with "accordions" and "revolvers" like it's a Vaudeville act. Crucially, the debt is secured by the recently completed Health Canada licensed facilities.
Plainly, Q1, 2020 is make or break for TGOD. A decent output that sells and looks like it will scale could put it in a position to pay down the debt, either through its income or by going back to the equity markets for yet another round of dilution at a price that might not make a joke of the equity. If not, the lenders will be in position to get a hell of a deal on two low-mileage cannabis facilities.
---
Information for this briefing was found via Sedar and The Green Organic Dutchman. The author has no securities or affiliations related to this organization. Not a recommendation to buy or sell. Always do additional research and consult a professional before purchasing a security. The author holds no licenses.