Mexico: The World's Leading Silver Producer
There is a saying in the mining industry that miners go where the minerals are. Another says that the best place to find a new mine is near an existing mine. Exploration investors might be mindful of these expressions when considering which companies to invest in. North American investors are fortunate that there are many opportunities in their own backyard.
Canada and the United States are blessed with an abundance of natural resources, enabling investors to focus on opportunities closer to home. Mining companies are in a constant search for new opportunities and often find them in faraway lands. Developing countries often seek help from developed countries to boost their economies, and often the best mechanism to unlock a country's economic viability is by exploiting its resources.
Exploration companies often receive favourable incentives such as tax deferrals to prospect in underexplored jurisdictions, and it can often result in higher profitability for mining operations. Fortunately for North American investors, Mexico is in the vicinity and it is one of the world's premier mining jurisdictions, while being an economic powerhouse in its own right.
Mineral Production In Mexico
The arrival of Spanish Conquistadors in Mexico 500 years ago was marked by an intense search for gold and silver to provide the capital Spain required for its global adventures and expansion abroad. Gold and silver were sent home on ships. As the territory evolved into present-day Mexico, mining became one of the principal contributors to the Mexican economy and helped transform the country into the economic giant it is now. In addition to gold and silver, copper, zinc, tin, and other metals are actively mined.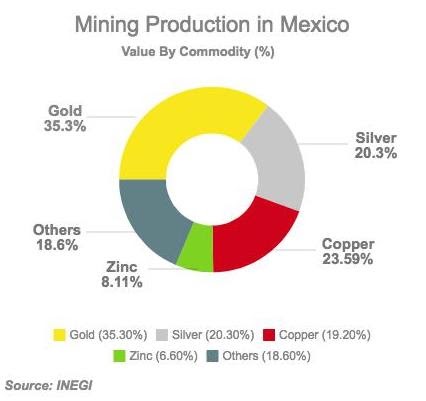 Today Mexico is the world's largest silver producer with 17% of the world's silver production and the worlds 8th largest gold producer. While mining occurs throughout Mexico, this article will focus on the two primary mining regions in Mexico, Sonora and Zacatecas.
The states of Sonora and Zacatecas collectively account for roughly 55% of Mexico's mining GDP. In 2019, the state of Zacatecas produced 2,124.48 metric tonnes of Silver, accounting for 36.4% of Mexico's silver production, followed by Chihuahua, which produced 1.2 million metric tonnes, Sonora state accounted for one third of Mexico's gold production in 2019 with 36.2 metric tonnes produced, followed by Guerrero state with 18.7% from 20.4 metric tonnes of gold. 
Sonora has a climate that enables year-long operations, well established infrastructure and a skilled workforce to support the mining industry, including an abundant supply of water and power, and an excellent road system. The Mexican government is very mining friendly as the industry employs hundreds of thousands of workers, and it collects a steady stream of royalty payments from producers.
The Regulatory Framework
Mining is enshrined in Mexico's constitution, with mineral exploration and exploitation having a preference over any other land use. Laws exist to provide a well defined mining regime which operates under a concession system, whereby concessions are required for exploration or extraction.
Once a concession is granted, the holder must negotiate with the surface landowners to be able to conduct subsurface exploration. Exploration concessions have a 6 year timespan and are not renewable. However, mining concessions run for 50 years and are renewable for another 50 years. This encourages active and efficient exploration activity geared toward development and mineral production.
Concessions commonly have specified expenditure requirements as well as provisions for conforming to established standards for health, safety and environmental protection. Mexico has stringent environmental laws and all mining companies must meet environmental impact permitting regulations that include tailings and water remediation plans before being allowed to commence operations. The duties for mining companies are 7.5% tied to a form of EBITDA and 0.5% of gold and silver sales.
The Geology
A key feature of Mexico's geology is the Sierra Madre Occidental, a high plateau which is part of a mountain range system that runs from western Antarctica, up through South America, Central America, through Mexico and into the western United States. The plateau was formed through volcanic activity, and sits atop a sedimentary basement composed of metamorphic rocks.
The basement is considered to be part of the Older North American basement, which itself sits atop the Precambrian basement and is intertwined with Paleozoic-era sedimentary layers. The Sierra Occidental runs from the northern part of Sonora state and south where it intersects the Trans-Mexican Volcanic Belt that stretches from east to west across central and southern Mexico. This belt consists of mineral-rich high-sulphidation epithermal deposits that host eleven mines with reserves of over 563 million ounces of silver, and several copper-lead-zinc mines.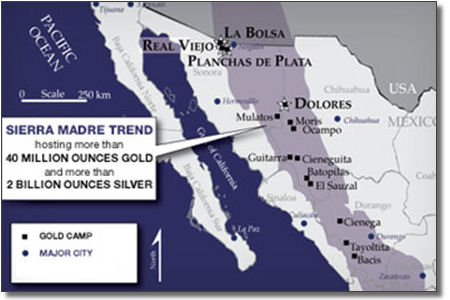 Geology in the state of Zacatecas in north-central Mexico comprises a number of marine beds of the Lower Cretaceous era and Upper Triassic greenstones, lava, and sedimentary rocks. Silver mineralization occurs mainly in epithermal veins, which are prime targets for precious metal exploration.
Zacatecas is located within the Mexican Silver Belt, which is considered to be the world's largest silver region. The Fresnillo area in Zacatecas state has seen significant mining activity since the 1500's, having produced more than 12 tons of gold, 775 tons of silver, and approximately 1,000,000 tons of lead and zinc. 
Mexico's Mining Activity
Zacatecas is host to two of the world's largest silver mines that have collectively produced over 1.5 billion ounces of silver, the Zacatecas Silver Mine operated by London-based Fresnillo Plc, (LSE: FRES) with reserves of 277.6 million ounces of silver and 677,000 ounces of gold, and Mexico's largest open-pit mine, the Penasquito Polymetallic Mine operated by Goldcorp, now Newmont Corp (TSX: NGT).
Other notable mines in the region are:
Sonora is home to Mexico's oldest and largest open-pit mine, the Cananea copper mine operated by Grupo Mexico, which is also considered to be one of the world's largest with reserves estimated at 4.52 billion tonnes of copper with a grade of 0.42% copper. It began production in 1899, but operations were suspended in 2007 due to a strike by workers seeking better and safer working conditions, and legal battles are continuing.
The Sonora Lithium Project operated by Sonora Lithium Ltd, a joint venture between Ganfeng Lithium Ltd. (22.5%) and Bacanora Lithium Plc (LSE: BCN)(77.5%), is considered to be one of the world's largest clay lithium deposits.
The Mulatos Gold Mine operated by Alamos Gold Inc. (TSX: AGI) has produced over 2 million ounces of gold since 2005 and according to the company's financial report, has proven and probable reserves of 1.56 million ounces of gold, and measured and indicated resources of 2.6 million ounces of gold.
Exploration Activity In Mexico
There are a number of companies actively exploring in Sonora. Sonoro Gold Corp. (TSXV: SGO) is a Vancouver-based junior gold exploration and development company which is advancing its flagship Cerro Caliche gold project to early stage production. It is initiating a heap-leaching pilot operation which it hopes will generate cash flow to fund continuing exploration and development work on the project. 
Magna Gold Corp (TSXV: MGR) is a Canadian gold exploration company with operations in Sonora, Mexico. The company's flagship asset is the past-producing San Francisco property, which consists of two previously mined open pits, the San Francisco and Chicharra, located 1000 km west of the San Francisco pit, and associated heap leaching facilities.
The project is located 150 km north of Hermosillo, Sonora's state capital. It has reserves of 611,000 ounces of gold at an average grade of 0.84 g/t, and Magna is planning to reopen the pits in the near future. Magna also has several exploration stage projects in Sonora; the San Judas, La Pima and Mercedes projects. 
Canuc Resources Corporation (TSXV: CDA) is developing its flagship San Javier Silver-Gold Project in Sonora State, located within the prolific Sierra Madre Silver Belt. The San Javier mineral deposits have been identified as Iron-Oxide-Copper-Gold (IOCG) deposit type and these deposits typically contain high grades of copper, gold and silver and are known to contain substantial mineralization. They can be very valuable deposits and create very profitable, low cost, long life mines.
The goal of Canuc's work programs is to uncover more silver-gold bearing breccias, building upon earlier discoveries from work undertaken in 2017 and 2018. This is to help delineate the size and scope of the mineralized zones and will build upon the discovery of three silver-gold bearing breccia bodies.
On January 7, 2021, Canuc announced that a recent magnetic survey identified 3 large magnetic high features measuring 1,000 by 600 m, 800 by 600 m, and 600 by 600 m, respectively. The data suggests that stronger magnetic features within the larger target areas could be areas of higher-grade mineralization. The company is currently conducting detailed ground magnetic surveys on these targets and results could be forthcoming in the near future.
The San Javier area has also been the subject of activity by another junior exploration company, Barksdale Resources (TSXV: BRO). Barksdale has some noteworthy shareholders such as Eric Sprott, US Global Investors and Teck Corporation. Barksdale announced on August 6th that they were acquiring ground at San Javier and raising $4M for exploration. On September 1st Barksdale announced that the financing had been increased to $6.35M and that Teck Resources would be exercising its full rights to equity participation. 
Colibri Resource Corporation (TSXV:CBI) has several gold exploration projects in the Sonora region from grassroots exploration to advanced development. These include the Evelyn, Pilar, El Mezquite, Jackie, and Pitaya projects. On November 30, 2020, Colibri entered into an agreement with Silver Spruce Resources Inc. (TSXV: SSE) enabling Silver Spruce to earn a 50% interest in the Jackie property by completing USD$100,000 in exploration and drilling expenses including a minimum of USD$50,000 within 12 months and pay to Colibri total cash payments of USD$50,000 and CAD$50,000 in common shares within 12 months.
Once these terms are completed, the project becomes a 50/50 joint venture between Silver Spruce and Colibri. On January 18, 2021 it was announced that Silver Spruce has started its planned Phase 1 exploration program on the Jackie Property.
Toronto-based gold miner Agnico Eagle Mines Limited (TSX: AEM) meanwhile is developing its advanced stage Santa Gertrudis Project located in the Magdalena Mining District in Sonora, 180 km north of Hermosillo. The 44,145 hectare property's heap-leaching operations produced 565,000 ounces of gold from 1991 until 2000, and has infrastructure in place with buildings, pre-stripped pits, roads, and water sources.
Previous exploration work determined initial open-pit indicated mineral resources of 5.1 million tonnes grading 0.64 g/t gold or 104,000 ounces of gold, as well as inferred open-pit and underground mineral resources of 22.1 million tonnes grading 1.64 g/t gold or 1.2 million ounces of gold.
In addition, Agnico Eagle reported that the high-grade Amelia deposit, located in the northern portion of the property, continues to grow with an inferred mineral resource of 70,000 ounces of gold or 1.6 million tonnes grading 1.38 g/t gold in oxides at open pit depth, as well as an initial underground inferred mineral resource of 451,000 ounces of gold or 3.1 million tonnes grading 4.58 g/t gold) in the high-grade sulphide mineralization.
The high-grade gold and silver discovery at Espiritu Santo, which is 500 metres east-southeast of Amelia, shows high-grade gold and silver mineralized structures at shallow depth. The company is currently considering a production strategy that will use heap leaching for low grade ore and building a mill to process the high-grade ores.
Advance Gold Corp (TSXV: AAX) is actively exploring its 100% owned Tabasquena Silver Mine in Zacatecas that it acquired in 2017. It recently initiated an exploration program on a 3500 metre long continuous high chargeability Induced Polarization (IP) anomaly., as well a 2000 by 400 metre section where a number of high-grade gold bearing epithermal veins were discovered. The past-producing Tabasquena Mine is in close proximity to the and shares the same geology with the nearby Milagros Silver Mine. On December 29, 2020, Advance Gold announced that assay results showed 240 g/t Silver over 2.30 metres in Hole 18 and 383 g/t Silver over 0.80 metres in Hole 19 at the Tabasquena Mine.
Defiance Silver Corp (TSXV: DEF) is exploring its San Acacio Silver Deposit that is found within the historic San Acacio mine located within the Zacatecas Silver District. Consisting of 24 mineral concessions, the project appears to be on trend of the Veta Grande vein structure, with historic workings located on a 1,200 metre strike length, and also 4.4 km along strike to the southeast with no exploration to date. The company created an initial resource estimate from 10,200 metres of drilling over 44 holes that indicates 6.9 million ounces of Silver. 
On December 15, 2020, Silver Viper Minerals Corp (TSXV:VIPR) announced results from exploration drilling at its flagship La Virginia project in Sonora state. Drilling from the El Rubi discovery zone returned assays of 38 g/t Silver and 20.7 g/t gold. Indications are that the main mineralized structure shows thin, high-grade structures mixed in with lower grade ores. To date, 27,000 metres have been drilled over 100 holes on the La Virginia property, and work at the El Rubi discovery zones have totaled 15,408 metres from 54 drill holes. Silver Viper continues to actively work the project to expand the mineralized zones and look to build a resources estimate.
The Social Aspects
While Mexico is a very mining-friendly jurisdiction, Mexico has serious crime and violence issues related to the drug cartels throughout the country, but particularly in the northern parts closer to the US border. The federal government has ramped up its enforcement capabilities, but rampant poverty in many parts of the country makes it difficult to eradicate the cartels, who often recruit the poor into their operations.
Mining companies have to be particularly vigilant and security is a high priority at most mining projects. Like in any country with an active mining sector, Mexico experiences rising energy costs as well as variable pricing from milling operators that can impact operating costs and profitability. 
In Conclusion
Mexico is a prime exploration destination for the mining industry. Minerals can be found throughout the country and the mineral-bearing geological structures that run through the country make exploration success a reasonably high probability. Mexico's mining laws encourage focus on projects that can be quickly developed into operating mines. With today's near record high gold prices and demand for gold and silver, it makes sense to re-examine past producing mines that were abandoned due to low metals prices and poor extraction technologies.
Mining and exploration techniques today help reduce exploration risks and can provide for a more efficient path to production. This makes it compelling for exploration companies to aggressively develop properties to a pre-production stage so that they can generate an exit opportunity by selling the developed properties to larger producers and creating a windfall for their shareholders in the process.
Therefore it may be beneficial for junior exploration investors to keep a watchful eye on what is happening in Mexico, especially companies that appear to be rapidly positioning their projects for an exit.
---
Information for this briefing was found via Sedar and the companies mentioned. The author has no securities or affiliations related to this organization. Not a recommendation to buy or sell. Always do additional research and consult a professional before purchasing a security. The author holds no licenses.