Monterey Minerals, Drill Ready and Elephant Hunting
With spot gold now trading over USD $1700 an ounce, it definitely seems a good time to have a look at Monterey Minerals (CSE: MREY), a microcap gold play that is progressing quickly.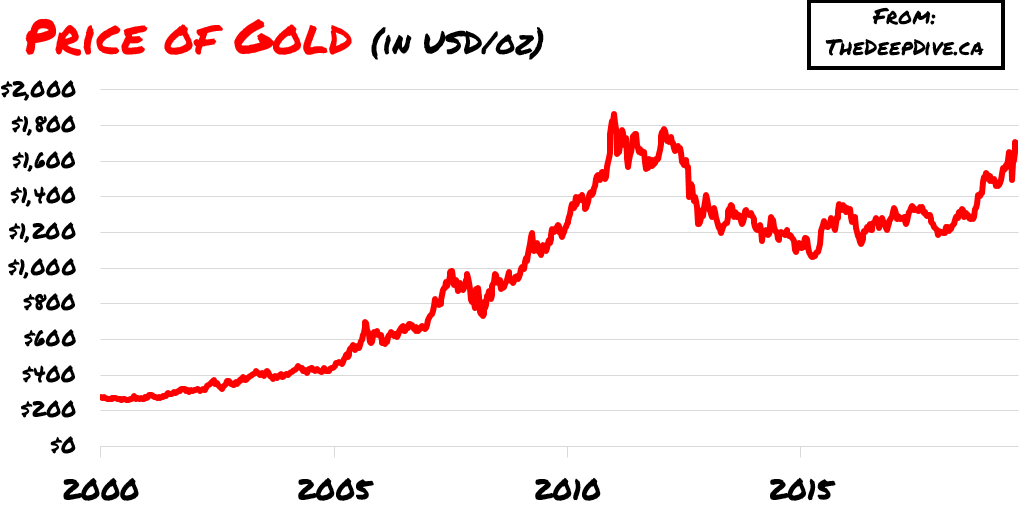 Monterey Minerals is a mineral exploration company that trades on both the CSE under the ticker symbol MREY and the Frankfurt Stock Exchange under the symbol 2DK. It closed Friday at 5 ½ cents and is a strong trader that has been moving up in price.
The Cap Structure
A breakdown of the company's current capital structure can be found here: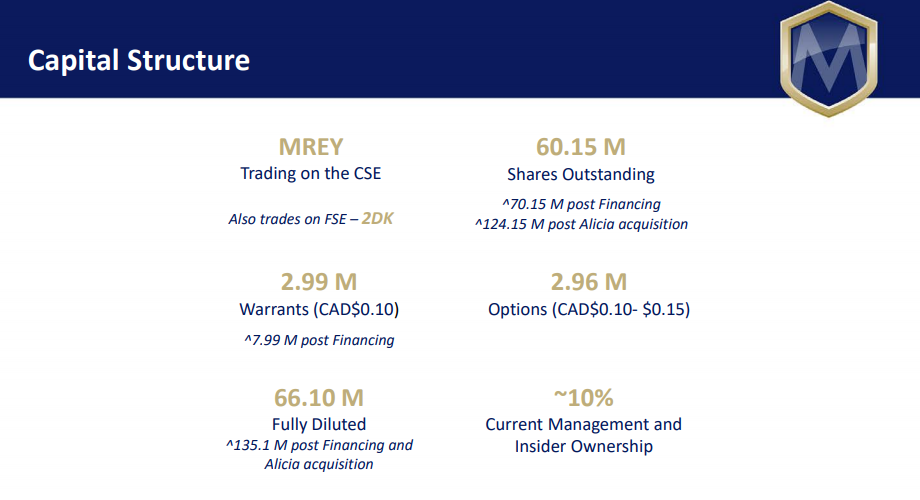 Strong, dedicated Management, Insiders and "Friends of the deal" hold quite a bit of Monterey's company shares.
What looks to have been a 'cleaning out' during a pre-PP (see below) period, may have run its course.
An Open Private Placement
A Private Placement was announced on January 29 of this year, but has yet to be closed. A few thoughts on this:
The PP was announced pre-Covid19. The PP units were priced at 8 cents, with a half-warrant at 15 cents (good for 18 months).
The PP unit price was well above where MREY was trading at the time of announcement. Like most stocks, the stock price fell when the market tanked, but it has since recovered and moved up.
From mid-April on, volume has been excellent and the stock price is now trading in the 5 cent to 6 cent range.
An open PP usually creates a ceiling on a company's share price. My educated guess is that with the strong Management, BOD and backers this company enjoys, the PP is closed shortly. Conventional wisdom says that should be good for the stock price action.
Monterey Has Three Projects:
The company can be broken down into the Alicia Project in the Philippines, the Pilbara Region properties in Australia, and Cobalt Mountain in Canada.
This piece's main coverage will be given to the Alicia Project in the Philippines, as it is Monterey's obvious flagship project. I will give some information on both the second and third projects mentioned, but for the purposes of brevity, will keep it short.
Alicia Project
The Alicia Project is presently under a non-binding Letter of Intent, but to all appearances it looks like a Defined Agreement will be signed quite shortly.
The Alicia Project has drill intersections of serious grade (Copper, Gold, Silver, Lead, Zinc) – and has what can be termed as "swarming veins." This asset is drill ready and has an in-country team of top geos and operations people. It is crystal clear to this writer that with the Alicia Project, Monterey is 'elephant hunting.'
The Alicia Project Acquisition Cost
Greater Arc Pty Ltd owns the Alicia high-grade gold and base metals project in Alicia Municipality, Philippines. It is proposed in the non-binding LOI that it is acquired in exchange for 54 million common shares of Monterey Minerals.
The Numbers
A picture sometimes says things better than words. Here is a picture of a high grade grab sample from the Baloy Vein at Dacula, which graded 116g/t Gold, 1,263g/t Silver, 6.27% Copper, 47.9% Lead and 6.5% Zinc.
Samples on the Alicia Project have been found with up to 1299 g/t Gold (41 oz/ton) and 332 g/t Silver (10 oz/ton)
High grade samples from shallow drilling into the Baloy Vein include:
1.2 m of 116 g/t Au, 1,263 g/t Ag, 6.3 % Cu, 6.5 % Zn, and 47.9 % Pb
1.5 m of 40 g/t Au, 437 g/t Ag, 1.1 % Cu, 3.6 % Zn, and 62.9 % Pb
Field work on the Pamaraw-Sumihig Vein Yielded:
A drill intersection of 1.5 m of 13.86 g/t Au, 181 g/t Ag and 4.8 % Cu
A grab sample returning 7.51 g/t Au, 55.2 g/t Ag, and 1.76 % Cu
Overall thoughts on the program thus far:
There is a strong possibility of high grade with scale.
There is high grade gold in quartz veins with ultra high grade base metal sulphides.
To date, over 10 veins, with high grade gold and base metals have been identified over a combined strike length of greater than 10 km.
There is significant potential for a large scale, gold/copper porphyry discovery.
Areas of brecciation and alteration are evident within the tenement. This, together with the presence of the high grade sulphide and various accessory minerals within the veins, highlight what is a likely porphyry source nearby.
Geophysics indicate that a potential porphyry would be at a shallow depth of 200 m – 300 m below surface.
A small number of deep drill holes within the area of interest should provide the geologic profile. Combined with an IP survey (ground/downhole), they could define the possible extent of mineralization.
Alicia Project: Vein Sampling northern area, high grade mineralization identified to date
In their public statements, Monterey is confidently bullish. Says President and CEO, James Macintosh, "The Alicia Project is a transformative addition to our property portfolio. The project is attractive for several reasons: it has near-surface, high-grade gold, silver and base metal mineralization; and, the potential for a much larger, deeper porphyry system that could have been the fluid source for high-grade near-surface veins."
Experienced In-Country Management Team In Place:
With the Alicia Project comes an experienced Philippines-based management team, with a history of adding shareholder value and delivering mines in the region into production. This team was previously responsible for the development of Medusa Mining Ltd's (ASX: MML) Philippines Co-O Mine, which has produced over 800,000 ounces of gold and generated a peak market capitalization of over A$1.5 billion dollars (CAD $1.3725B) for shareholders.
The In-Country Technical Advisor, Bill Phillips, was Operations Director for Medusa Mining's (ASX:MML) Co-O Gold Mine. He has developed 17 mines over the past 35 yrs.
The In-Country Team will be led by Jerry Baguio, ex. Chief Geologist & Mine Manager. of the Co-O Mine, with an experienced Philippines'-based technical team.
The Philippines, as it Pertains to Mining:
The Philippines has a favourable political regime that is open to foreign investment. Mining companies need only play it smart and be sure the government is on board every step of the way.
The Philippines is #30 of world's fast-growing economies and #11 in Asia.
Mindanao (the southern Philippines, which is the country's second largest island and the islands surrounding it) has a mining-friendly culture. The government has been strongly supportive of Australian/Canadian ventures in the region, including Tribune Resources' (ASX:TBR) operations.
The Alicia Project Within the Philippines:
Alicia has been granted an Exploration Permit within a Designated Mineral Reserve (priority use of land) .
Infrastructure is excellent.
There is road access, an established port and a supportive local labour force.
They are within 10 km of a port.
They are within 8 km of an army base.
The community engagement program has been quite successful.
The Pilbara Region – Australia
Monterey has a strategic position in the Pilbara region of Western Australia. This gives them significant upside exposure to conglomerate gold and traditional gold discovery potential.
The Pilbara Properties are located on the eastern flank of the Pilbara Basin in Western Australia. Although relatively under-explored, historic work included some geochemical sampling and mapping.
The Pilbara Region properties include the Sherlock River Property, the CCTR Mining Tenements and the Gold River Tenements.
Gold River
Highly prospective tenements in the Pilbara Basin covering 243km2.
Sherlock River Property
It lies approximately 15 km to the west of Novo Resources' Station Creek Gold Project and 17 km to the west of Novo Resources' Egina Gold Project. To the east of the Property, Pacton Gold, Novo Resources and Pioneer Resources all hold significant tenement packages focusing on the gold-bearing conglomerates.
CTTR Mining
These are highly prospective tenements in the Pilbara Basin covering 490 km2.
Writes the company, "Strategic tenement portfolio in the Pilbara – Significant upside exposure to conglomerate gold and traditional gold discovery potential."
Cobalt Mountain
Cobalt Mountain provides Monterey the opportunity to participate in exploration for large-scale copper, gold and cobalt mineralization.
The property/s are wholly-owned by MREY.
It is made up of 136 km2 in NW B.C. near Smithers, B.C.
It is adjacent to the former Rocher Deboule Mine, which had historic production of 23 tonnes at a grade of 3.76% cobalt.
There is historic regional production of high-grade Gold-Silver-Copper, with associated veins of cobalt and zinc.
There are numerous showings with copper blooms (Erythrite) on the property and other evidence of cobalt mineralization.
There is widespread mineralization.
The Pilbara Gold Properties are located on the eastern flank of the Pilbara Basin in Western Australia.
Overall Thoughts
It is this author's belief that things will be moving very quickly for Monterey Minerals in terms of moving the Alicia Project in the Philippines, forward. They have an exciting gold exploration play that is drill ready, top shelf in-country pros for the mining work, and should soon have a full treasury to see them through a first round of drilling. For anyone interested in a gold microcap that is worthy of your due diligence hours, this is one for careful study.
---
FULL DISCLOSURE: The Canacom Group is long the equity of Monterey Minerals. The company has been compensated to cover Monterey on The Deep Dive, with The Deep Dive having full editorial control. Not a recommendation to buy or sell. Always do additional research and consult a professional before purchasing a security.