NG Energy: Fueling Colombia's Future With Natural Gas
NG Energy International Corp. (TSXV: GASX) is a Vancouver-based exploration company that is developing several natural gas fields in the South American country of Colombia. The company is headed by a seasoned Colombia-based management team that has worked in Colombia for many years, with executives having come from the likes of Gran Colombia Gold, Caldas Gold, and Pacific Exploration & Production.
Last month, NG Energy announced an $8.5 million bought deal private placement financing, signifying the interest from investors in the company. The unit offering was done at $1.15 per common share with investors also receiving a one-half warrant to purchase common shares, exercisable at $1.75 for a period of 36 months from the closing date of the offering. 
Like the rest of the world, Colombia has been hard hit by the Covid-19 pandemic that caused the country to effectively lock down. This came in the wake of already depressed oil and gas prices that were exacerbated by a slowdown in the global economy.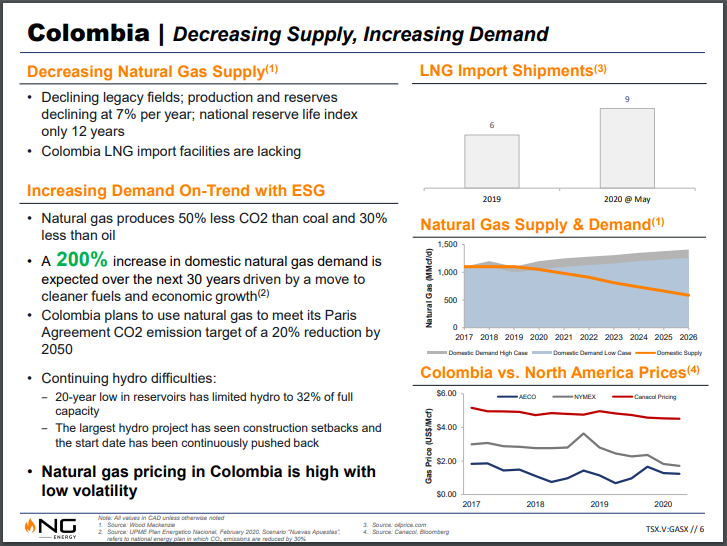 However, recent Colombian government policies have committed to reducing emissions 20% by 2030 and replacing coal and oil fired power plants with natural gas-fired electricity, and encouraging the widespread general use of natural gas throughout the country. Continuing rising gas demand and declining gas reserves in Columbia have created a great opportunity for NG Energy to help fill the void. 
The Colombian government has a mechanism to attract investment into its natural gas sector by enabling producers to lock in prices that are significantly higher than most North American producer price points. Therefore there is an incentive to bring a gas field on stream as quickly as possible. The Colombian market as a result features some of the highest natural gas prices in the world, making production in the region very economical.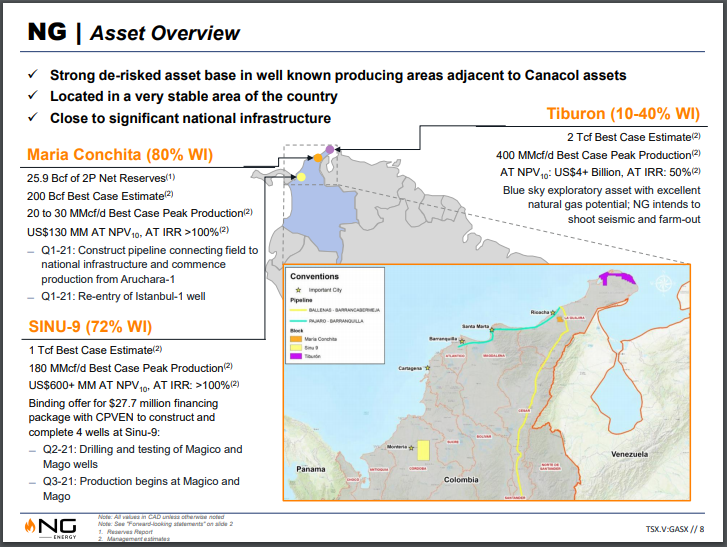 On Oct. 2, 2020, NGX Energy released its gas reserves evaluation report prepared following the discovery of gas after the repair of the Aruchara-1 well at its Maria Conchita Block in the Guajira Basin in Colombia. Total Proven and Probable (2P) Undeveloped Reserves of 34,582 MMcf were reported, with net Proved Undeveloped Reserves of 11,727 MMcf, and net Probable Undeveloped Reserves of 14,131 MMcf for a total of net Proven and Probable Undeveloped (2P) Reserves of 25,859 MMcf.
NG Energy's Maria Conchita field is located in the Guajira basin near the Caribbean Coast, and borders on the Chuchupa field, one of Colombia's largest natural gas deposits that accounts for 40% of Colombia's gas production and has estimated reserves of 900MMboe (Barrels of oil equivalent).
NG is planning to commence production in the spring of 2021 after having secured the financing and permits to build a 14 km pipeline from the Maria Conchita property to connect with the Ballena-Barrancabermeja pipeline. It is one of a number of TGI Networks (Transportadora de Gas Internacional), a pipelines system that transports natural gas throughout Colombia.
Meanwhile, the 311,353 acre Sinu-9 Block is located in the northern part of Colombia and shares an area in the Lower Magdalena and San Jacinto basins that host Colombia's potentially largest gas and light oil fields. This region has excellent infrastructure, with open access to TGI oil and gas pipelines, a reliable electricity grid, and is 50km to port.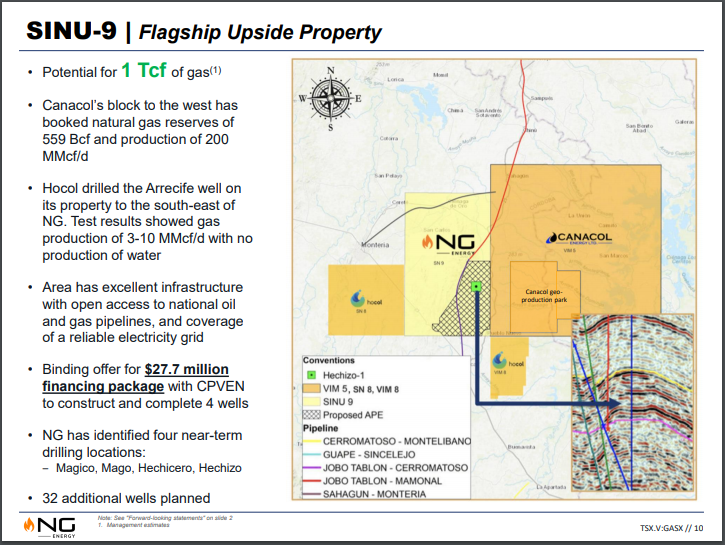 Management estimates the property may contain as much as 1TCF of natural gas, similar to Canacol Energy's (TSX:CNE) Nelson field located adjacent to the east, which has reserves of 559 Bcf and a production rate of 200 MMcf/d. The company has secured financing for its 2021 spring and summer drilling program on four identified high-probability drill targets. 
NG Energy International has 89.6 million shares outstanding and a market capitalization of $134.63 million, and a significant increase in market cap has come since mid-December. This rise in valuation follows the company acquiring the funds required to build the connector pipeline from the Maria Conchita property to Colombia's main gas transmission network, which will enable NG Energy to go into production in the spring of 2021. 
If investors consider that NG Energy could have production rivalling Canacol's, a case can be made that NG Energy is significantly undervalued compared to Canacol, which has 179.52 million shares outstanding and a market cap of $653.44 million. It would appear that NG is at the cusp of becoming a major producer in Colombia, marking a bright future for the company.
---
FULL DISCLOSURE: Canacom Group, the parent company of The Deep Dive has been compensated to provide coverage on this company. The company has been compensated to cover this story on The Deep Dive, with The Deep Dive having full editorial control. Not a recommendation to buy or sell. Always do additional research and consult a professional before purchasing a security.