Numinus Wellness: Hot Damn! I've Never Invested In A Psychedelics Company Before!
The marijuana trade hadn't even fully fallen apart yet when the first mushroom companies started showing up in Canada, and the continuing abject failure of every single public cannabis company as a business isn't liable to deter the finance industry from making and slinging mushroom product. Nobody gets anywhere in microcap drug stocks without giving the people what they want.
The latest development in the fungal stocks saga is a license having been granted by Health Canada to Numinus Wellness (TSXV: NUMI), allowing for the cultivation, extraction, and sale of hallucinogenic mushrooms "naturally sourced, sustainable psilocybin." The company says that it's the only publicly traded company in Canada that is allowed to do so (BNN Bloomberg and Market One Media make it "one of the only…"), but that's just the beginning.
The company is also the owner of a dealer's license under which it's allowed to "import, export, possess, test and distribute MDMA, psilocybin, psilocin, DMT, and mescalin." Not that they need all that for the trial therapies, but…
"…once you get locked into a serious drug collection, the tendency is to push it as far as you can."
After starting last week with a three million share Monday, Numinus came on strong and didn't look back, closing at $0.71 Friday. Another 3.7 million share Monday as it consolidated down to $0.69 to kick off the week of the 30th has us on the lookout for patterns. Fractals, man. All that's come before is destined to come again, because time is a flat circle.
When well-adjusted people who aren't compulsive gamblers call to ask about a venture stock, it indicates that the promotion has gained enough traction to cross over into the Normie realm, and this one is making the phone ring down here at The Deep Dive's West Coast HQ. That can happen for all kinds of reasons, but NUMI likely owes its crossover traction to the same premise early pot stocks did: this is a legal drug dealer, and that sounds like the sort of thing that makes money.
Labs need a plug
Who it will sell them to remains an open question. NUMI's literature is big on the potential of psychedelics in psychology, and it has assembled both a clinical advisory counsel, AND a general advisory counsel to look into it. The dozen people on those two teams include one naturopathic doctor, four real doctors, and a few PhD's for good measure. Between them and the eight people on the "leadership team," there's the makings of one HELL of a nerd rager down at the lab once COVID's over, but the actual research is still in its infancy.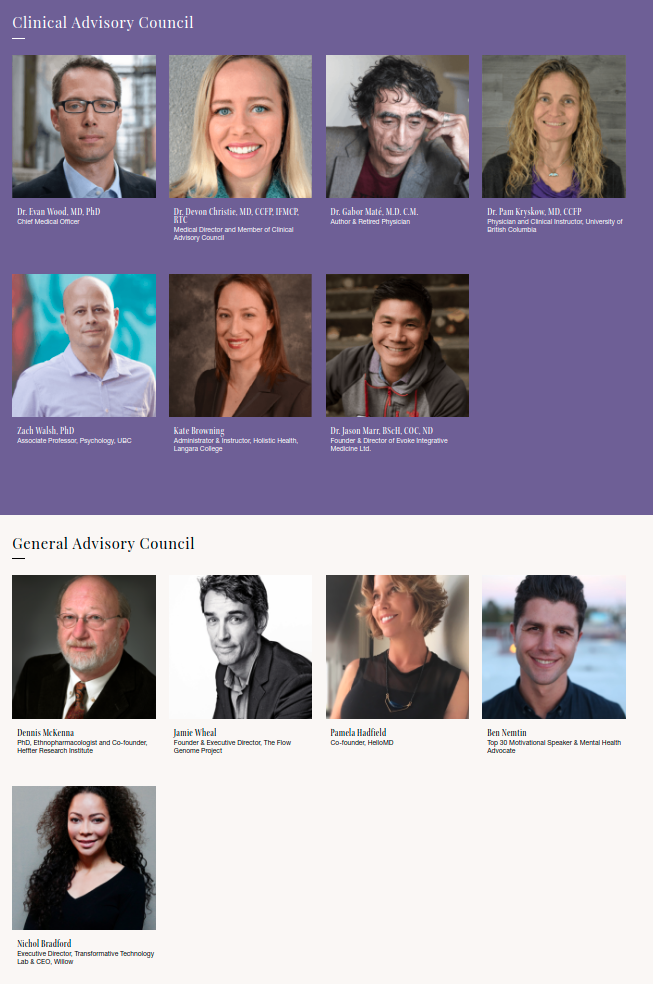 The company announced November 18th an intention to, "undertake a compassionate access clinical trial of psilocybin-assisted psychotherapy for substance abuse disorders." The release says that the work will be contracted out, include 20 initial participants, but is light on details about when it will begin. It does go into the ways in which the evolving regulatory landscape has opened the door to accessibility of psilocybin-assisted therapy, using language that deliberately includes the prospect of the therapy being licensed in the United States.
The company references the recent successful ballot initiative in Oregon, allowing for the supervised manufacture, delivery and administration of psilocybin at licensed facilities, and Health Canada provisions for similar access as a thawing of the longstanding legal freeze on magic mushrooms, but we can't find a whole lot in terms of specifics. Everything Health Canada has to say publicly about the the fungus is condensed into what amounts to a half-way decent blog post.
The case for this company as a business is that, through its own work or the work of its peers, it will be able to create and sell therapies that are commercial, or use drugs that it can create and supply commercially. The case for NUMI as a trade is that it will be able to make the street believe in the near term commercialization of psychedelic medicines, and that it can do so at a pace that will absorb its stock overhang.
Tale of the tape
NUMI's compliance department stumbled out of the blocks, the May 2020 financials requiring a re-filing for what looks mostly to have been a mis-classification of management compensation as intangibles in the RTO transaction. The adjustments only affect the company's quarterly bottom-line, assets, and deficit, which means they won't move the needle with smallcap punters. It's not like it changed the share count.
Somehow, between May 31st, 2019 and August 31, 2019, this company lost 18 million shares, and had another 7.5 million returned to treasury for unspecified reasons and for no compensation. Between August, 2019 and May 2020, it produced another 41 million shares and had $4 million in cash to show for it. It banged off another million shares in debt settlement and option exercise after the period, then raised another $4.6 million in July at $0.25 share, with a half warrant at $0.35 that's since been listed for trading (TSXV: NUMI.WT). The financing amounted to 18.4 million units and 1.4 million broker warrants.
The total count at last check was 114.2 million shares, including 12.6 million shares issued since August at little or no cash cost, and 51 million shares left over from this company's last incarnation. That puts it at a $78 million market cap, for whatever it matters.
There is a cannabis lab and testing service of some sort that wasn't important enough to be featured in the company's investor deck and generated $216k in revenue in the quarter ending May, contributing to a $1.1 million loss from operations.
The business is too new and changing too rapidly for us to say what it burns on a cash basis, per quarter. Clinical trials aren't cheap, but they do create news items, and NUMI is going to do its best to use them to create enough popular attention to suck the stock into a demand vacuum, and raise enough money to keep it coming. Our next look at the balance sheet and statement of equity figures is to come before December 29th, when Numinus is due to file its audited annual financial statements.
---
Information for this briefing was found via Sedar and the companies mentioned. The author has no securities or affiliations related to this organization. Not a recommendation to buy or sell. Always do additional research and consult a professional before purchasing a security. The author holds no licenses.