Pegging Oil To Gold Begins In Ghana: What Does This Mean For The Petrodollar?
Ghana is set to change course in its economic trade with its novel Gold for Oil (G4O) program, essentially attempting to use existing gold reserves in the central bank to support the import of petroleum products.
The primary goal of the program is to leverage additional foreign exchange resources from the Bank of Ghana's Domestic Gold Purchase (DGP) program to supply foreign currency for the country's purchase of petroleum products, which is currently estimated to be around $350 million per month.
The program is also aimed at procuring "petroleum products at very competitive prices" via government-to-government transactions, potentially ensuring a lower import cost from international oil traders.
"The consequent reduction in foreign exchange pressures, the reduction in premiums charged by international oil traders as well as efficiency gains from the value chain will translate to lower ex-pump prices in the country," the government's framework said.
The Ghanaian government said it has "begun the implementation" of the program by buying gold, mainly through the Precious Minerals and Marketing Company (PMMC) and other aggregators and mining firms. PMMC is the state's authorized body that is legally permitted to grade, assay, value, process, buy and sell precious minerals and to license agents in Ghana.
The gold purchased will be used to pay for Ghana's oil supplies via either of the two channels: barter trade or broker channel.
In a barter trade, the central bank will supply an equivalent volume of gold to oil suppliers willing to accept gold in direct return for petroleum products. Both will open gold metal accounts in a mutually agreed gold refinery.
On the other hand, if it's via broker channel, the Bank of Ghana will execute a supply agreement with a gold broker which will provide foreign exchange cover to pay for petroleum products. The broker deposits the equivalent proceeds to the central bank's holding account from which the state will transfer funds to an escrow account for its petroleum purchases.
As an off taker for petroleum products, the state's Bulk Oil Storage and Transport Company (BOST) enters into agreements with international oil trading organizations to import petroleum products to Ghana, for onward sale to licensed bulk import, distribution, and export companies (BDCs).
The BDCs are then expected to buy directly from BOST with cash and or a letter of credit from a reputable financial institution.
The National Petroleum Authority (NPA) and BOST will work together to ensure that the revenues in Ghana's local currency from the sale of imported petroleum products are collected and deposited with a collection bank in the name of Bank of Ghana. The collection bank is obligated to deposit cash gathered within 48 hours into G4O profits account, which is then used to fund the next cycle of gold purchases.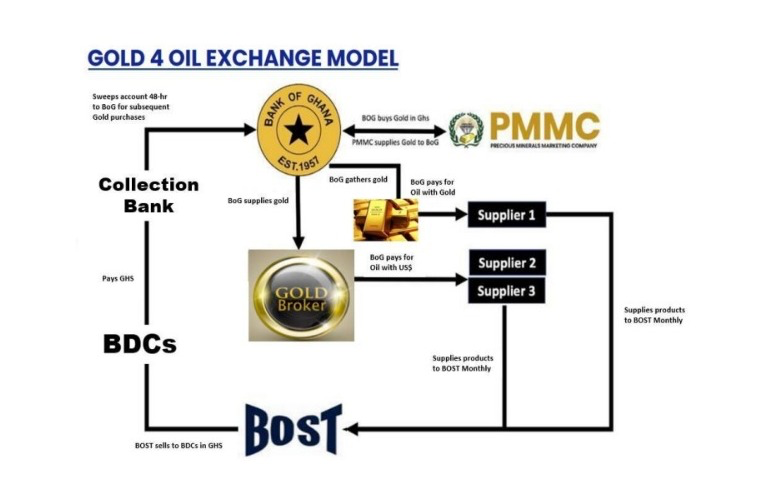 Ghana's gold vs. the petrodollar
The cedi has been weakening against the dollar, with the government saying this stems from the pressure on the local currency caused by large fuel importers' perennial search for US dollars to bring in fuel from overseas. The G4O program aims to reduce that by going straight from gold to oil.
By removing the dollar from local pricing, it hopes to counterbalance the effects of the cedi's worrisome devaluation on retail fuel costs, hence limiting price increases at the pump.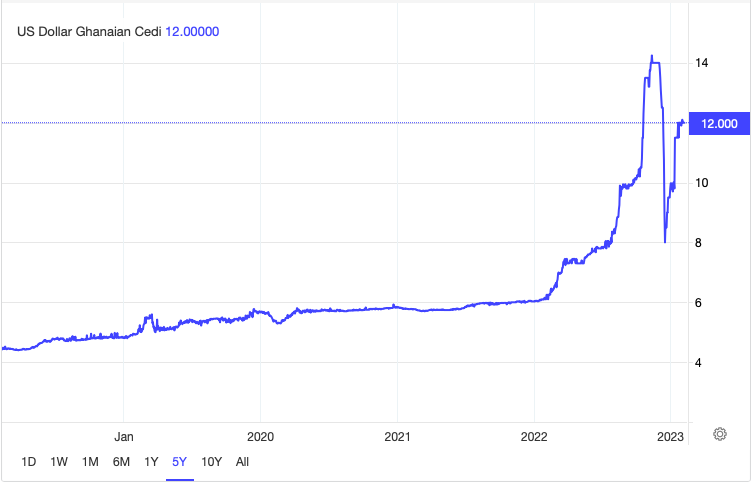 The government said that the "applicable exchange rate for pricing the products supplied under G4O will be based on the average rate at which the gold was purchased from the licensed gold exporters by [Bank of Ghana]."
The government chooses to forecast prices using the World Bank's Commodities Market Outlook database. The average gold price in this analysis' 2023 timeframe is around $1700.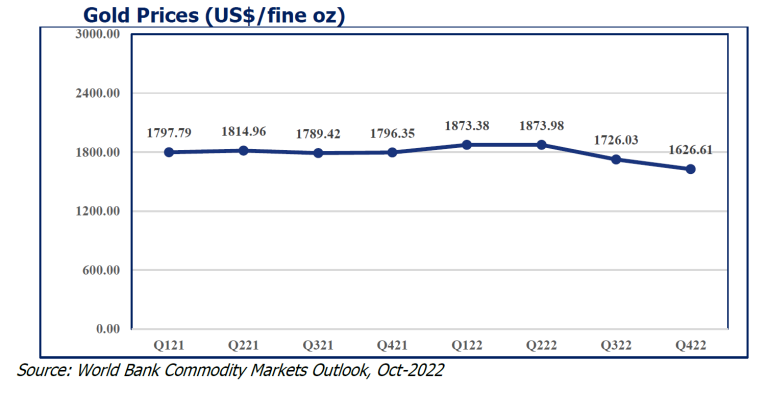 Ghana's gold reserves are reportedly unchanged at 8.74 tonnes, or around 308,000 ounces, as of the latest quarter.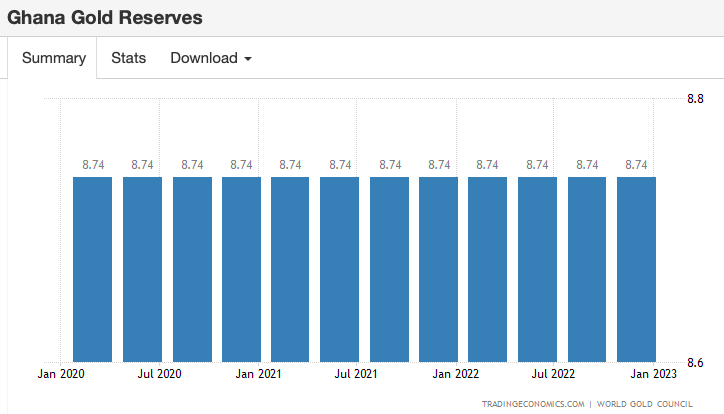 According to industry figures, Ghana's gold production by large scale miners is around 2.8 million ounces per year. The government's plan reportedly asks for big scale miners to spend 20% of Ghana's yearly gold production to offset a portion of the oil import bill.
At 560,000 gold ounces–and projecting that gold prices will hover around $1,700–the country's funding for G4O is around $952 million.
Ghana is expected to utilize around 2 million metric tons of imported refined gasoline in 2023. Using an unweighted average price reported by Ghana's 23 largest fuel importers of $4.62 per gallon, one might estimate a yearly petroleum import expense of $2.9 billion to $3.3 billion.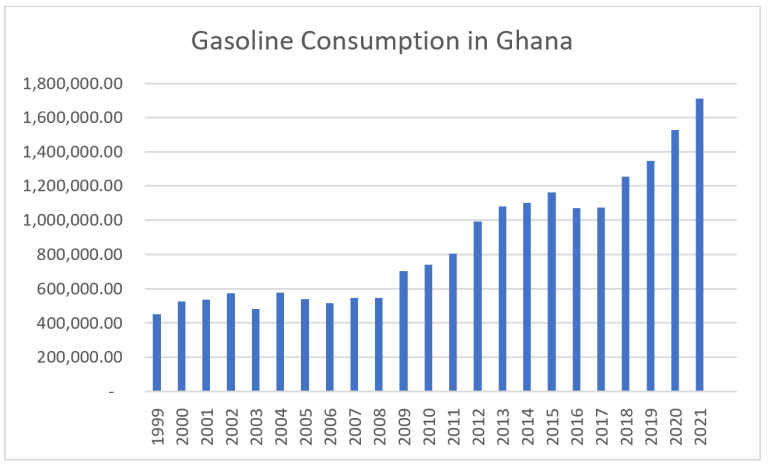 Does anyone want to actually exchange oil for gold?
The key to making sense of the program is how much oil traders are willing to accept gold as payment–and at what exchange rate. Between 2011 and 2012, India and Iran investigated the use of gold as payment for sanctioned Iranian oil. Iran attempted to scale up the program abroad but did not find enough participants.
However, Ghana's petroleum needs are dwarfed by the global trade volume which are still mostly paid in US dollars. Nevertheless, pegging oil to gold–if successful–might push the value of the resource on a global scale. Credit Suisse strategist Zoltan Pozsar theorized earlier that given there's a price cap for Russian oil, "if Russia countered the price peg of $60 with offering two barrels of oil at the peg for a gram of gold, gold prices double."
"And most important [sic], gold going from $1,800 to close to $3,600 would increase the value of Russia's gold reserves and its gold output at home and in a range of countries in Africa. Crazy? Yes. Improbable? No," Pozsar added.
READ: Zoltan Pozsar: Gold At $3,600 Is Not Improbable If US Refill Reserves With Russian Oil
Essentially, a barter-like system could be the start of edging out the reigning petrodollar. According to data provided by the World Gold Council, demand for gold has outstripped any annual quantity in the previous 55 years. Central banks are buying the resource at the quickest rate since 1967–setting a more conducive stage for a possible gold-for-oil scheme globally.
READ: Gold Rush: Volume Bought By Central Banks At A 5-Decade High
Observers note that the program still lacks clarity in major aspects. Energy policy analyst Ben Nsiah said that while G4O is a good policy, he is "worried over how the government [has] failed to at least come out with a formalized document."
"The deal is shrouded in complete secrecy since only government officials who were involved in the transaction knew the details," he added.
---
Information for this briefing was found via The Scarab, Modern Ghana, and the sources mentioned. The author has no securities or affiliations related to this organization. Not a recommendation to buy or sell. Always do additional research and consult a professional before purchasing a security. The author holds no licenses.