Peloton CEO Defends Disappointing Fiscal Q4 2022 Financials: "It's Like A Cargo Ship… We've Sounded The Alarm"
Peloton Interactive (Nasdaq: PTON) fell 18% on Thursday after the firm reported its fiscal Q4 2022 financials. The results highlighted a quarterly revenue of US$678.7 million, down from Q3 2022's US$964.3 million and Q4 2021's US$936.9 million.

However, for newly installed CEO Barry McCarthy, the financials "will be a function of where you sit."
"The naysayers will look at our Q4 financial performance and see a melting pot of declining revenue, negative gross margin, and deeper operating losses," McCarthy wrote in a letter to shareholders. "They will say these threaten the viability of the business. But what I see is significant progress driving our comeback and Peloton's long-term resilience."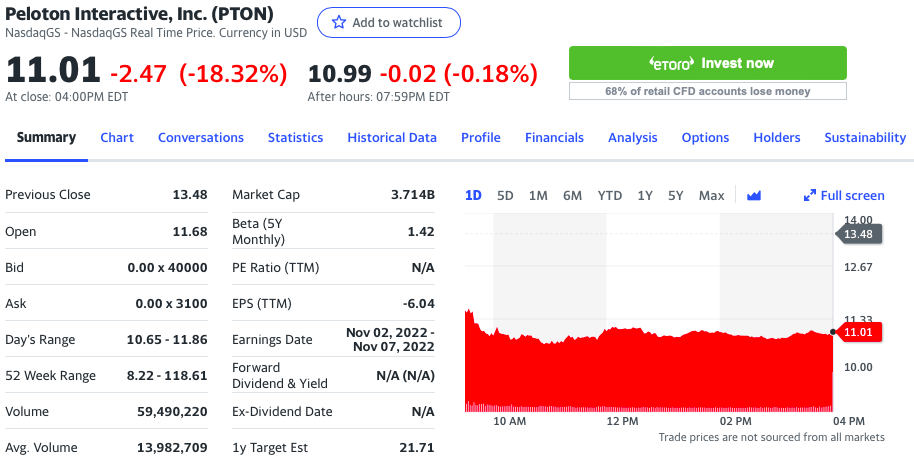 The company blames the year-on-year revenue decline to "a reduction in consumer demand exiting the pandemic's peak"–the same reason it cited for the annual revenue drop last quarter.
Gross margin also declined to a negative 4.4%, mostly driven by the gross loss contributed by the firm's connected fitness division–itself driven by a significant increase in inventory reserves. This compares to the margins of last quarter and last year at 19.1% and 27.2%, respectively.
Operating losses got deeper, ending at US$1.20 billion for the quarter compared to US$735.8 million loss last quarter and US$301.5 million loss last year. This also led to a wider net loss of US$1.24 billion, down from the US$757.1 million loss in the past quarter and the US$313.2 million loss for the same comparable period last year. The bottomline figure translates to US$3.68 loss per share.
On an adjusted basis, adjusted EBITDA came in at a loss of US$288.7 million, a decline from last quarter's US$194.0 million and last year's $45.1 million losses.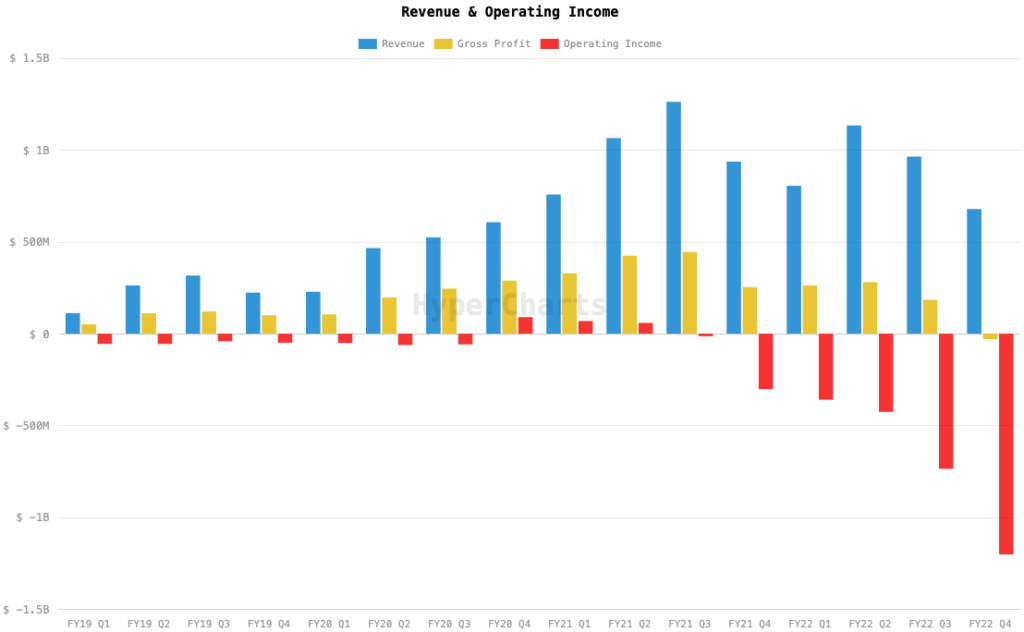 McCarthy, however, pointed the loss mainly to one-time major expenses, including US$415 million "related to restructuring charges."
"The loss reflects the substantial progress we made this last quarter re-architecting the business to reduce the current and future inventory overhang, converting fixed to variable costs, and addressing numerous supply chain issues," the chief added.
Total operating expenses jumped to US$1.17 billion for the quarter from US$920.0 million last quarter and US$556.3 million last year. A huge chunk of the quarterly expenses came from US$337.2 million of non-cash impairment expense for fixed and intangible assets, US$22.2 million of restructuring expense, and US$337.6 million "in settlement agreements with various third-party suppliers to absolve the company of adverse future component purchase commitments."
"This progress, plus the reduced cash flow burn, is the positive story behind the headline loss," McCarthy reasoned.
In terms of cash flow, the quarter burned operating cash flow at US$359.9 million and ended free cash at an outflow of US$411.9 million. These compare to cash burns and outflows of US$670.1 million and US$746.7 million last quarter, and US$599.0 million and US$678.4 million last year, respectively.
"In the six months leading up to Q4'22, we averaged negative free cash flow of approximately US$650 million per quarter. We reduced that outflow to US$412 million in Q4. Our goal is to reach breakeven cash flow on a quarterly basis in the second half of FY23. We continue to make steady progress, but we still have work to do," McCarthy explained.
The firm ended the quarter–and the fiscal year–with US$1.25 billion in cash and cash equivalents and US$1.10 billion in inventories, compared to fiscal 2021's US$1.13 billion and US$937.1 million, respectively.
McCarthy also announced his former Netflix colleague Liz Coddington as the firm's new CFO. Coddington is joining the company following a stint at Amazon's AWS business.
In contextualizing the quarterly results, McCarthy likened the situation to his experience back in high school working on a cargo ship.
"After midnight on my second voyage, I was asleep when the alarm for general quarters woke me. My reporting station was on the bridge. Fear is a great motivator," he wrote.
He added that the captain of the ship tried to turn it around and they eventually saved two mens' lives that night, which he characterized as "a fortunate, happy ending."
"Peloton is like that cargo ship. We've sounded the alarm for general quarters. Everyone's at their station. We continue to add new inputs to evolve our go to market strategy to restore growth. When will the ship respond is the question. Our goal is FY23," McCarthy said.
For fiscal year 2023, the company said it will be restricting guidances of its revenue, gross margin, adjusted EBITDA, and net subscriber addition metrics to one quarter in advance. The firm will also stop reporting quarterly engagement metrics.
Given that, the firm is looking at a quarterly revenue for fiscal Q1 2023 at US$625 – US$650 million compared to Q1 2022's US$805.1 million, while adjusted EBITDA is expected to jump to a loss of US$90 – US$115 million vis-a-vis US$234 million loss for the comparable period last year.
Peloton Interactive last traded at US$10.50 on the Nasdaq.
---
Information for this briefing was found via the companies mentioned. The author has no securities or affiliations related to this organization. Not a recommendation to buy or sell. Always do additional research and consult a professional before purchasing a security. The author holds no licenses.