The SBF Interview Tour, Condensed
It's been just hours since Sam Bankman-Fried last spoke with the press or public. The November 30 SBF interview at the New York Times Dealbook summit, where SBF was interviewed by Andrew Ross Sorkin, had everyone glued to the set for the audacity alone.
Usually, if someone who was the last one to touch eight billion dollars that isn't there anymore can be located at all, they're on a boat headed somewhere with no extradition treaty. But this guy wanted to have a frank discussion about it with the world, and that was sure something.
Before we even had a chance to process the hour-long SBF interview, he was on Good Morning America with George Stephanopoulos the next day, then did a twitter spaces livestream where the crypto nerds really let him have it. Then he either ran out of brain drugs or the lawyers figured out that if they swipe the pill bottle for long enough that the stuff wears off, he'll crash and shut up.
(UPDATE: Bloomberg just published the results of Zeke Faux following him around a week after the collapse.)
At no time in the SBF interview blitz of the past few days did the former FTX CEO answer any questions about where any of the depositors' money went, because he either doesn't know, or won't say. But it did make two things very clear.
Sam very much believes that US clients of FTX, whose money was entrusted to the Delaware-domiciled cryptocurrency exchange FTX-US, were not exposed to the massive failure, because those deposits were not lent to Alameda Research – the trading and investment portion of his former empire – or anyone else, and;

To the extent that Bankman-Fried is running a con, he's so good at it that he's managed to con himself.
The best cons are always like that.
SBF & FTX-US
Sam is repeating the idea that FTX-US depositors are still whole, because he desperately needs it to be that way. Like most of what he's saying, it's being delivered with the conviction of a true believer. It's an easy thing for Sam to believe in because, if it isn't true, and the US depositors' money isn't ultimately available to them, then it's going to be very easy to send him to an American jail.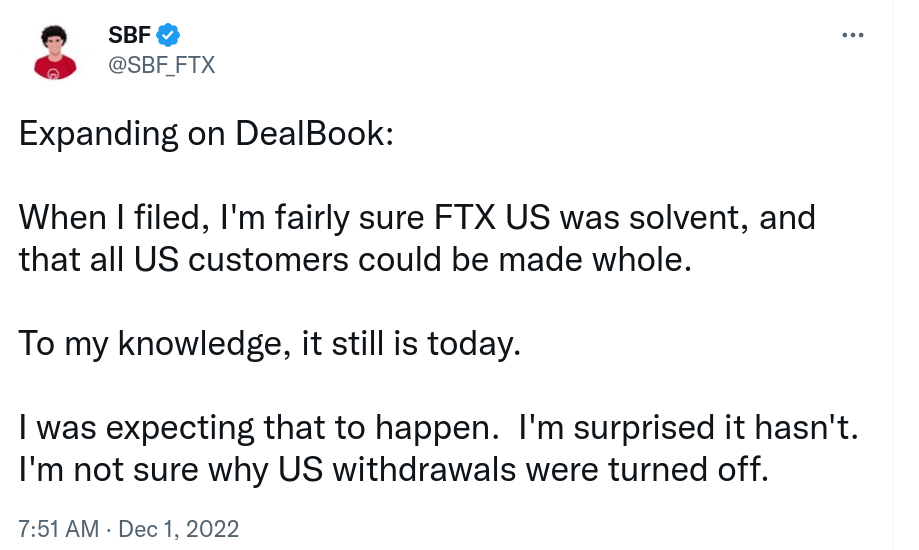 He can insist on the availability of those US deposits as much as he wants, as often as he wants, as loudly as he wants, but he doesn't get to say. John J. Ray III does.
That's the guy in charge of turning the smoldering mess that used to be the FTX exchanges, Alameda Research and FTX Ventures into a tidy, wound-up bankruptcy in which everyone knows exactly how much they got ripped off for. John III became one of the best characters on this show without speaking to the media or sending a single tweet, when he filed a declaration to kick off the FTX chapter 11 bankruptcy that's better and funnier than anything us hacks in the press could ever come up with in a hundred years.
The most widely quoted portions have him having never seen such a "complete failure of corporate controls and such a complete absence of financial information as occurred [at FTX]," and you can tell he's holding back a bit. Everyone likes to bring up that he's the guy they brought in to sift through the Enron wreckage, including Johnny J. Ray Trey himself, because it's comforting to feel like someone is doing something right.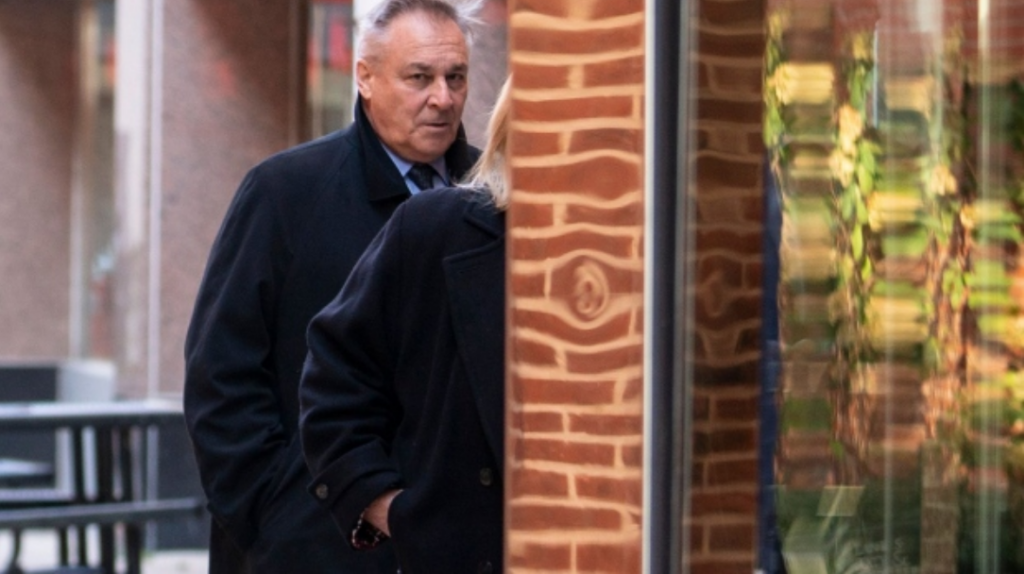 As per the November 17th filing, Ray doesn't know if the money held in trust for FTX US clients is available to be dispensed into their accounts, or even where it is, and he explicitly does not trust Sam Bankman-Fried to tell him. Ray's initial assessment has the rubble in the blast zone segregated into four silos: The WRS Silo, containing the US assets, including FTX-US, the Dotcom Silo, containing the assets of FTX proper, various international subsidiaries, etc., the Alameda Silo, containing the assets of the hedge fund, and the Ventures Silo. That one's for various tech investments that the company made, and it's looking pretty thin, because the SBF era at FTX wasn't a time anyone liked to write anything down.
The section of the declaration that describes the WRS Silo, including FTX-US, uses boldface and underline to let the world know that "Balances of customer crypto assets deposited were not recorded as assets on the balance sheet, and are not presented."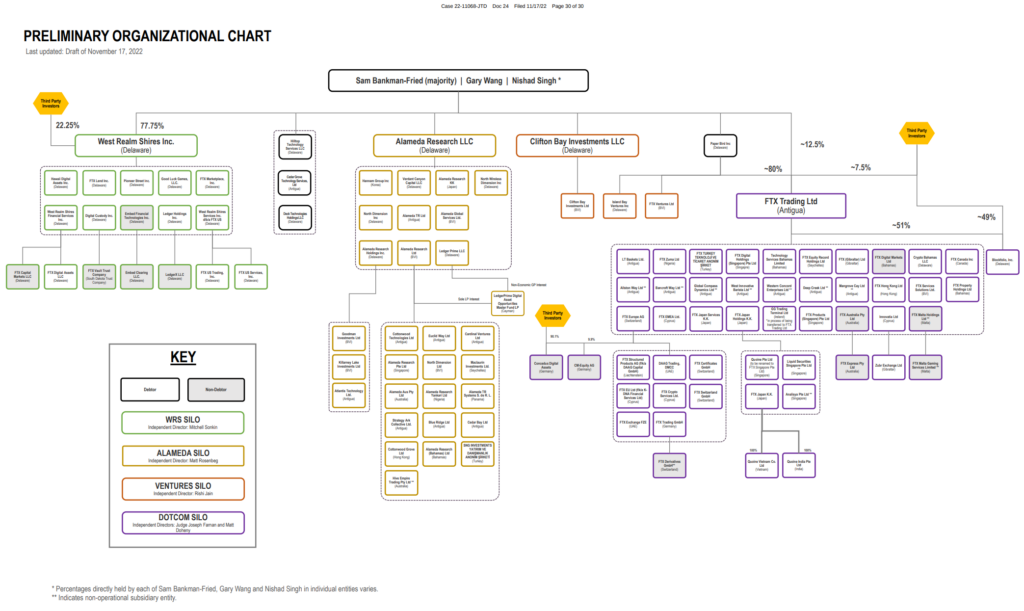 The WRS Silo contains a number of non-debtor entities that are solvent, and were probably walled off from the rest of the enterprise because of their proximity to the US financial system and their direct obligations to its securities regulators. These include a custodial company, the derivatives and clearing platforms, etc. But the FTX-US exchange itself is certainly being handled as a debtor, certainly took customer money, certainly wasn't supposed to be lending it out, and certainly can't locate it at the moment.
There is no "off" position on the genius switch
A guy who is used to being able to make money appear wherever it's supposed to, whenever it's supposed to, is going to take some time getting used to not being able to do that. The best Sam can do right now is to try to speak it into existence, which has the net effect of showing the world, in real time, how little he understands any of this.
It appears to be Sam's reasonable (to him) assumption that admitting he was bad at the banking part of his CEO job at a shadow bank, showing contrition for it, and there ultimately being enough left over to cover the deposits in the un-leveraged US accounts will… balance the karmic ledger? The son of a Stanford Law professor ought to be able to work out that public confessions aren't any good to anyone until sentencing time, and might not even do any good then. The public defender could have told him that.
But objects in motion tend to stay in motion, and so do the habits and behaviours of human beings. Sam is about as good at self reflection as he is at accounting, and losing faith would amount to an identity crisis he just doesn't have the time for right now.
---
Information for this briefing was found via the New York Times, Twitter, Bloomberg, and the sources mentioned. The author has no securities or affiliations related to this organization. Not a recommendation to buy or sell. Always do additional research and consult a professional before purchasing a security. The author holds no licenses.