Stocks In The Time Of Recession
We're experiencing fear.
We're experiencing upheaval.
We're experiencing a collective uncertainty.
We're also experiencing a higher than normal call volume…
The red phone here at The Deep Dive's West Coast headquarters has been lighting up for the past two weeks with calls from well-meaning, upstanding citizens who, ordinarily, have more good sense than to get directly involved with the stock market. Provoked by the same kind of collective panic that causes massive downward moves in equities, these people, who have no known gambling compulsion, are calling anyone whose profession is stock-market-adjacent and asking what they should do about the ongoing market volatility we're experiencing as the economy goes through an existential crisis. Most commonly, they want to know if it's time to buy yet.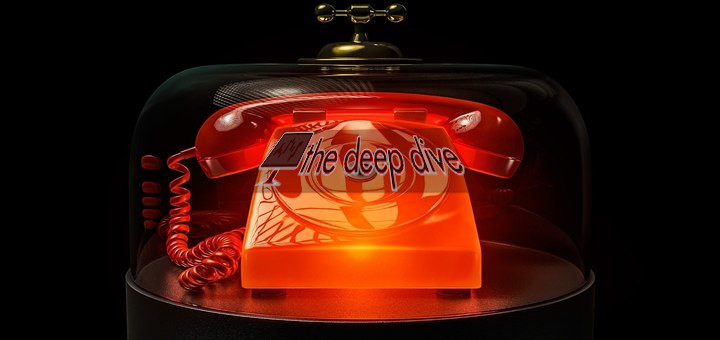 The answer, naturally, is that if we knew that we wouldn't be blogging for a living and, in any event, that's something these budding suckers ought to discuss with a qualified investment advisor. Not because the advisor will know. They certainly will not, because nobody does, and stock brokers are more about slinging company product and charging a commission but, before they do that, they're supposed to assess the client's risk tolerance, financial goals, etc. That type of thing has do be done, and we don't have the patience or incentive for it. We're busy writing about the markets, which are every bit as bad as they look.
The recession question
Technically speaking, a recession doesn't have anything to do with the stock market. The meaning of the word in an economic context is quite literal: the economy was growing, and now it isn't. It's receding. The various central banks who track these things are going to take a while to confirm that GDP has fallen all over the place, but it's academic at this point. With public officials all operating under a fear of being the ones who didn't do enough, they're assuming an aggressive virus-defense that has nobody doing anything. The basic mechanics of commerce require a gathering of 250 or more people, and those are out. There's a shelter-in-place order in New York City while we all watch news about rates of infection and become suddenly interested in calculus; curve-watching to figure out when we might get back to normal.
The market, in its capacity as a virtual horse track where bets are placed on the businesses that are presently closing their doors, hates this. It's acting like the horses all have coronavirus because, as far as anyone knows, they might as well.
The trend is your friend
No sense over-thinking this one. Markets continue to travel in the direction they're travelling in until they don't, and if that sounds useless, well, it is. Get used to it. That's how you reason when you're on this stuff.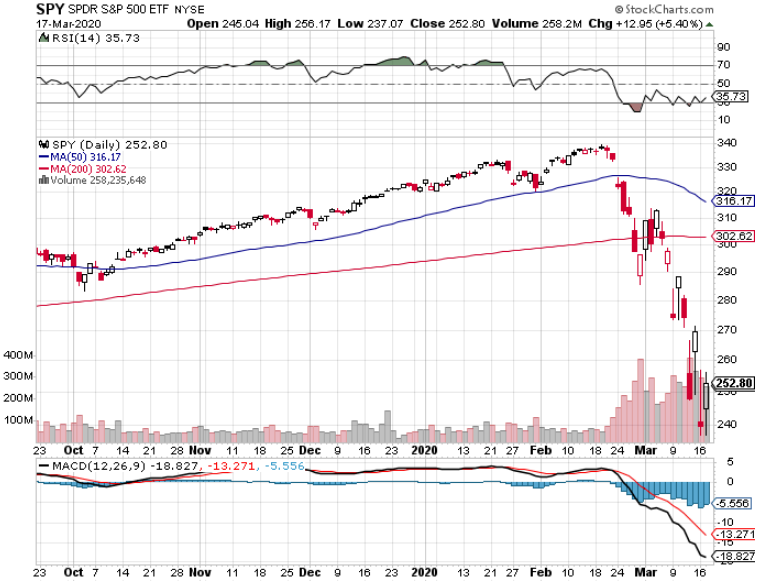 Today's 6% bounce in the S&P 500 probably caught the attention of those inclined towards hope. Those people should ask the nearest five year old if this chart of the S&P 500 is going up or down, because the kid is less inclined to optimism and contrarian thinking.
Presently, the trend in equities is distinctly bearish and, so far, promises of unprecedented amounts of central bank liquidity have been good for a bounce here and there, but a very ugly downward trend remains intact.
This space has been watching corporate bond ETFs, reasoning that an income disruption in large businesses, especially ones with lower margins, might cause a bond default or two that could get a massive snowball of junk bonds rolling down the hill. In cheap credit environments, shareholders tend to agitate for buybacks. Why would a company just have a bunch of money just laying around when it could borrow the cash it needs and give the CASH money to them?
Now, with all income practically gone, the same companies who were burning their free cashflow supporting their share price are lining up for some of that government money and, the bond market isn't convinced they're going to get it.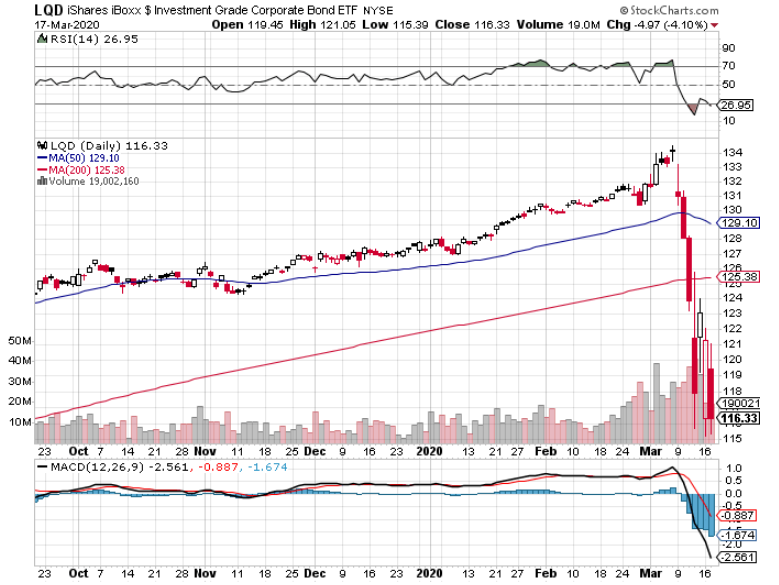 The iShares iBoxx Investment Grade Corporate Bonds ETF (NYSE: LQD) is the long term corporate bond ETF that we like to watch to gauge these things. It got hammered again today, a sharp 4% drawdown with volume receding, giving up every bit of the 5% recovery that it managed Friday over the course of Monday and Tuesday. This market does NOT believe in a bond recovery.
Costco: Stock up on stock-ups?
Some wise ass out there who just got done fighting a two hour grocery lineup is saying "buy Costco!", and that wise ass might be on to something. Costco (NASDAQ: COST) has seen the same wild action as the rest of the market, but hasn't broken down… yet.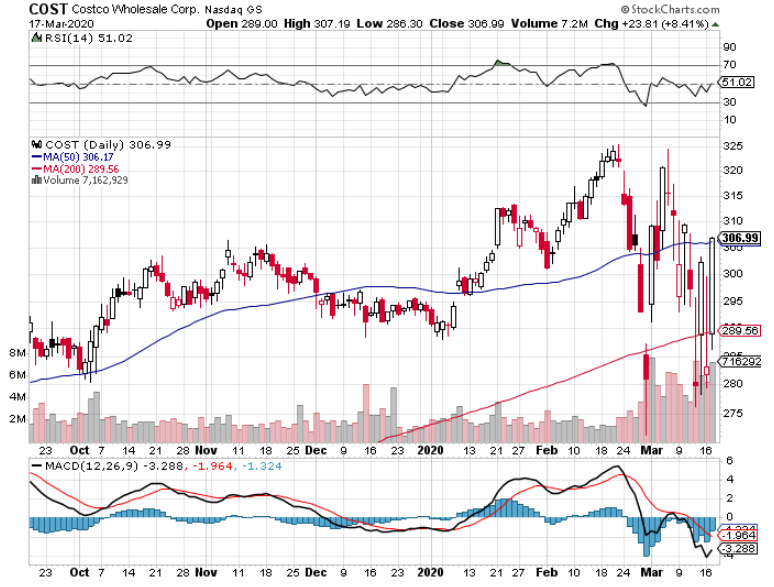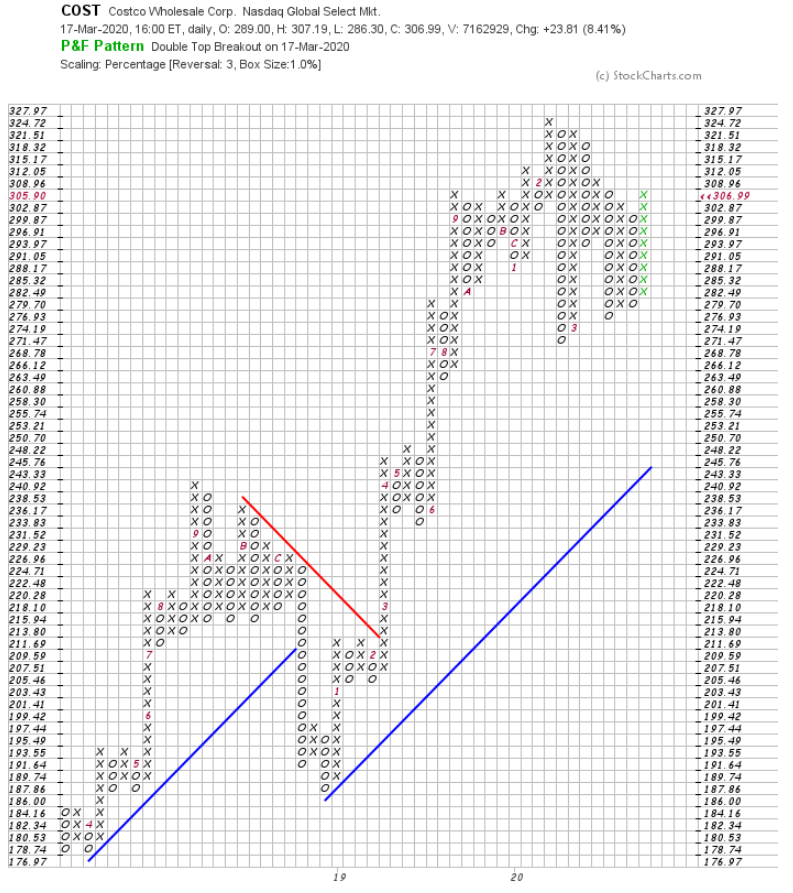 Costco's trend-bucking popularity could go away as soon as people out of work start finding a way to make their last haul last, or donate it to the food bank and head back to the Olive Garden when this thing blows over. More to the point: stocks that outperform bear markets end up being sold off to get even as often as they become the hot ticket.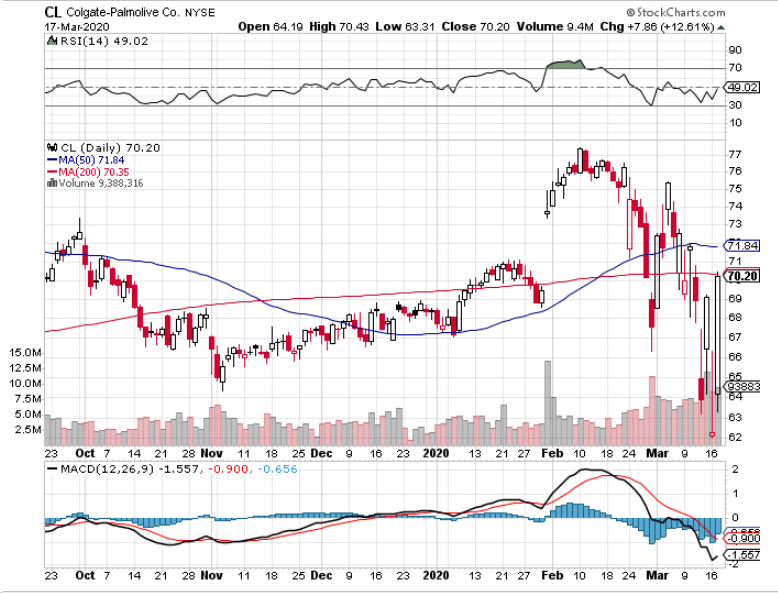 Colgate Palmolive Corp. (NYSE: CL) makes all manner of cleaning supplies and soap. The old-money consumer staple co. bumped their dividend today to telegraph to the market that they were doing just fine. It took the stock up 12%, but the move didn't break the trend.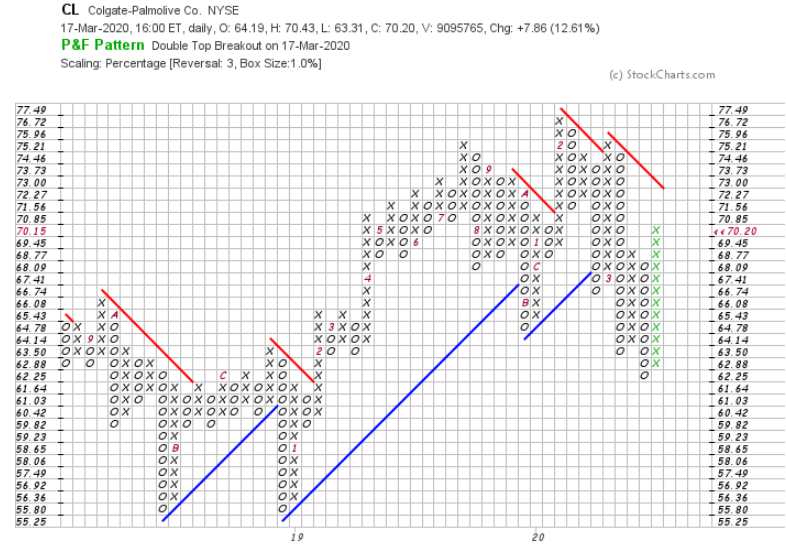 The point and figure chart still has CL in a bear pattern, because chaos reigns here. Nobody knows when someone or something holding CL will need sudden liquidity.
Big swings like this are money hot-potato'ing its way around, looking to catch a bounce. Looking for momentum and locking in profit when it shows up. It's managers white-knuckling it; using what they've got left to trade their way out of a jam.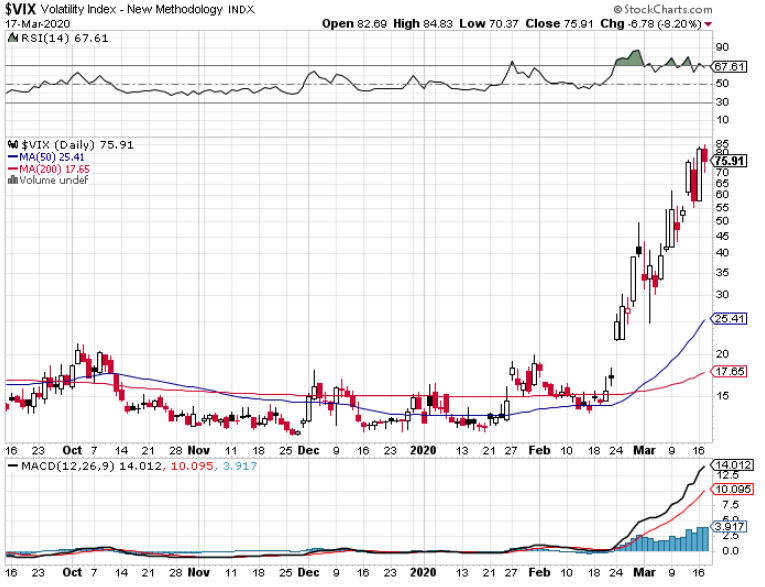 This is the VIX. The volatility index tracks the purchase of puts as an indication of demand for down-side protection. The VIX is nearly at its 2008 peak. It backed off today, but nothing this high above its moving averages can be trusted to stay put.
This is a trader's market. Since we don't have the time, patience or guts to sit in front of a screen and wrestle with the bear on the daily, we're mostly sticking with cash and gold until the storm is over… or until we change our mind.
---
The author has no securities or affiliations related to any organization mentioned. Not a recommendation to buy or sell. Always do additional research and consult a professional before purchasing a security. The author holds no licenses.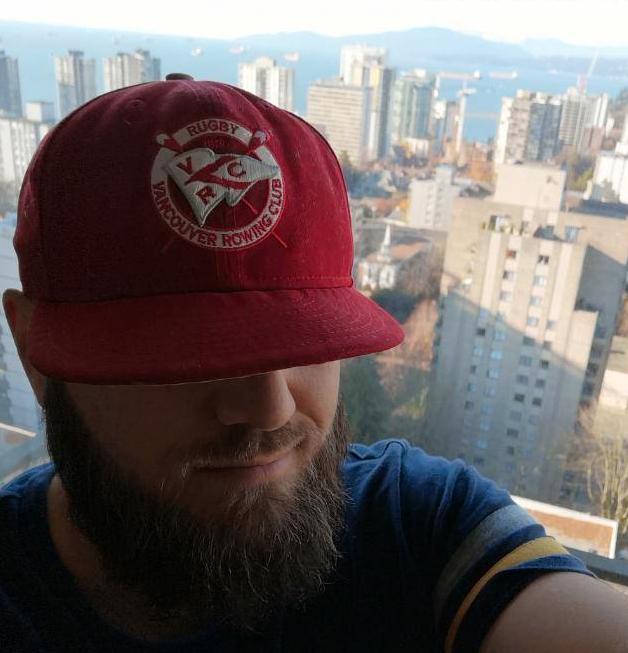 Braden Maccke is a freelance writer from Vancouver, B.C.
You can read all of his Deep Dive articles here.
He can be reached at braden@fundamentalhype.com.