Teslagate: 100GB Tesla Files Leaked To Media By Disgruntled Ex-Employee, Showed Thousands Of Autopilot Complaints
Struggling with Autopilot, employees' and customers' private information, and trade secrets–these are some of the details found in the leaked data out of Tesla (Nasdaq: TSLA), jeopardizing the company's standing.
A former Tesla employee allegedly stole approximately 100 GB of data from the firm and gave it to German media outlet Handelsblatt, which is now disclosing certain facts. The media firm released multiple articles detailing sensitive information derived from the leaked data, calling the series "Tesla Files"–an apparent dig on CEO Elon Musk's "Twitter Files."
"Informants have passed 100 gigabytes of data to Handelsblatt, which is said to come from the heart of the world's largest electric car manufacturer. The 'Tesla files' contain more than 23,000 files," the German outfit said.
Tesla believes that the leak was caused by a single former employee who downloaded the data before leaving. According to an email from Tesla managing counsel Joseph Alm, the company intends to sue that former employee.
Handelsblatt informed Tesla of the data leak, which includes confidential information of Tesla, its business partner's trade secrets and Tesla employees' personal data. In response, Alm said they are investigating the circumstance.
"To date, we have reason to believe that a disgruntled ex-employee (…) right before he left Tesla, misused his access as a service technician to exfiltrate information in violation of his signed non-disclosure agreement, Tesla's data management policies and practices, and EU and German law," Alm said in an email.
Tesla also reminded the German outfit that "use of illegally obtained data for media reporting is not allowed absent exceptional circumstances."
"Any such sensitive data in your possession also requires you to protect it carefully against further misappropriation. To this end, please send us a copy of this information, immediately delete all other copies, and confirm with us that you've done so," Alm added.
"My autopilot almost killed me"
While it isn't clear if Handelsblatt reported the entirety of the Twitter Files, the German outfit chose to publish some information from the data leak. Twitter user @maxrdlb chronicled the salient points in the disclosed leak.
The Tesla files allegedly contain over 2,400 complaints regarding self-accelerations and over 1,500 complaints about brake operations, including 139 examples of unplanned emergency braking and 383 reports of phantom braking caused by false collision warnings. Over 1,000 crashes have occurred.
There are over 3,000 items in a listing of occurrences involving driver assistance systems in which customers expressed safety concerns.
Handelsblatt has access to the earliest complaints, which extend back to 2015, and the most current, which date back to March 2022. During this time, Tesla shipped around 2.6 million vehicles outfitted with autopilot software.
In one of the examples, a doctor from California who prefers to remain anonymous told Handelsblatt about an occurrence that occurred in the fall of 2021, when her Tesla suddenly surged like a race vehicle in a parking lot, she wanted to make a U-turn.
"I tried to steer, but I crashed into a cement bollard," the customer said. "It fell over, but the car didn't stop. I drove into the next bollard. The airbag went off, and I was completely stunned."
A former Bosch employee also reported a similar incident, recalling his experience on the M14 highway in June 2019 when his Tesla "suddenly braked hard, as hard as one can imagine."
"I was pressed into the seatbelt, and the car nearly came to a halt. Then another car hit me from behind," he said.
Software engineer Vivek Wadhwa–one of Time Magazine's 40 most influential minds in tech in 2013–met Musk that year. He was then convinced to buy a Model S and upgraded to the Model X in 2016 to enjoy the latest version of the Autopilot.
Wadhwa was excited—that is, until the automobile drove into his garage without his permission.
Soon after, he wanted to show the Autopilot to a television channel. However, if Wadhwa hadn't engaged the brakes at the last second, the Tesla would have almost caused a rear-end crash.
"People are dying because of Tesla's faulty technology. And Elon is trying to get away with it," Wadha told Handelsblatt.
Recently, Musk has been compelled to give a deposition in a lawsuit accusing Tesla's driverless technology of causing a fatal collision, after the carmaker said the chief executive's public claims regarding autopilot could have been deepfaked.
Judge Evette Pennypacker of Santa Clara County Superior Court stated Tesla's case for why its wealthy CEO should not testify was "deeply troubling to the court."
Related, documents obtained under a Freedom of Information request disclosing email exchanges between Tesla and the California Department of Motor Vehicles show that the automaker said it expects full self-driving (FSD) functionality to "remain largely unchanged in a future, full release to the customer fleet."
"We are analyzing the data obtained in the pilot and using it to refine the feature's operation and customer experience," said Tesla in a December 2020 letter undersigned by Associate General Counsel Eric Williams addressing California DMV's Chief of Autonomous Vehicles Branch Miguel Acosta. "That said, we do not expect significant enhancements in OEDR or other changes to the feature that would shift the responsibility for the entire DDT to the system. As such, a final release of City Streets will continue to be an SAE Level 2, advanced driver-assistance feature."
Further on the Tesla files, some critics feel it is misleading to market the most expensive version of the autopilot as "Full Self-Driving." Tesla's founder Martin Eberhard considers it "dangerous" to put an autonomous vehicle "on the road before it is 100 percent safe and reliable."
Sensitive information
Handelsblatt claimed it created a tool that it says can determine whether or not the leak contains information about a specific Tesla owner by entering their VIN (vehicle identification number), based on the database from the leaked data.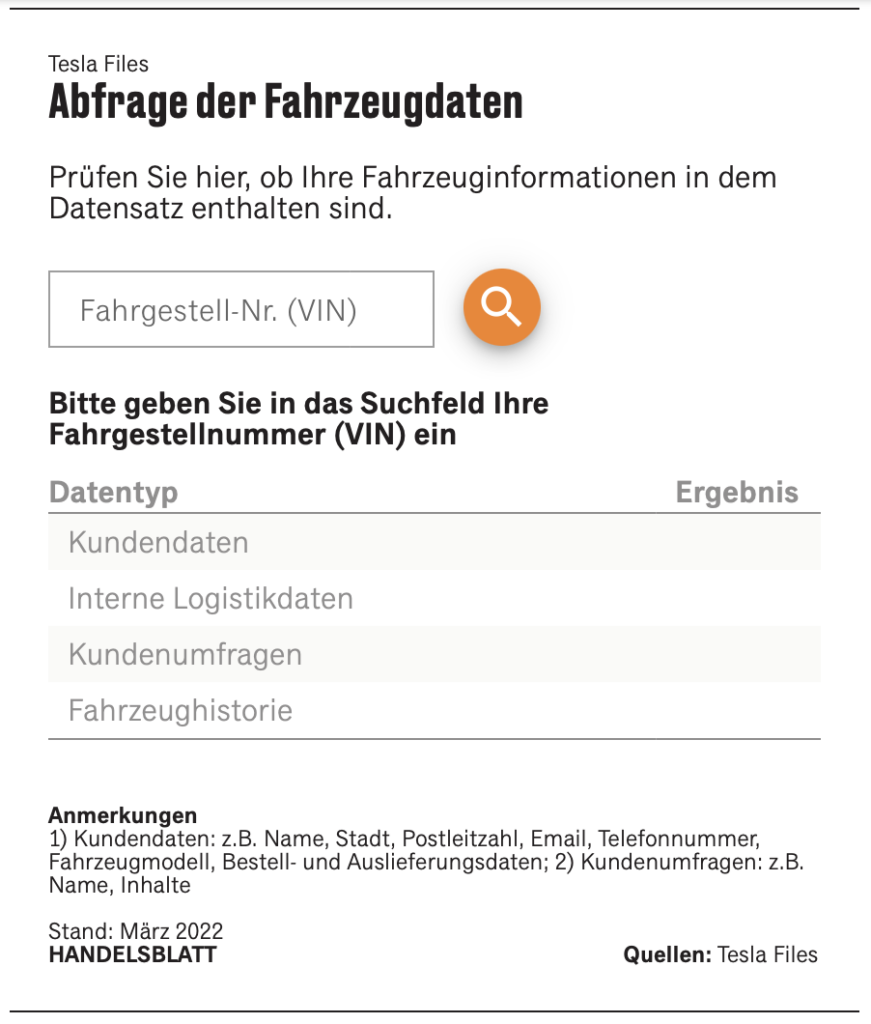 The Tesla files also allegedly reveal the wages and private residences of over 100,000 present and former employees. Others, presumably, list clients' private email addresses and phone numbers.
"Your data will not be disclosed. You will only receive an indication of which data types can be found for the respective ID or VIN. More detailed information is not possible from the point of view of data protection," the media firm wrote.
The requests' findings do not pretend to be exhaustive of all Tesla files, the German outfit said. Because of the sheer size and complexity of the data sets, the editors had to choose which of the over a thousand Excel tables could be used in the query tool.
---
Information for this briefing was found via Handelsblatt, Electrek, and the sources mentioned. The author has no securities or affiliations related to the organizations discussed. Not a recommendation to buy or sell. Always do additional research and consult a professional before purchasing a security. The author holds no licenses.