The Budding "Coal War" Between US And Saudi Arabia
What used to be a strategic alliance is fast becoming a sour tinderbox for a trade–or even worse, physical–war between the United States and the Kingdom of Saudi Arabia.
The situation was aggravated by the latest decision of Saudi-led OPEC+ to cut oil production by 2 million barrels per day come November, which amounts to about 2% of total global demand, marking the sharpest decline in output since the beginning of Covid-19 in 2020.
Apparently, US President Joe Biden was revealed by the Kingdom to have been–through continuous consultation–asking to delay the planned oil output cut by a month. However, OPEC+ seemingly thumbed down the request, citing the delay "would have had negative economic consequences."
The output cut is being viewed, mainly by the US, as "taking sides in international conflicts" and "politically motived against the United States of America." Saudi categorically denied this, saying the OPEC+ "unanimous" decision is based "purely on economic considerations."
OPEC+'s move to undercut supply is expected to increase global oil prices, which would push oil revenues for largest oil exporters like Russia.
US turns up the heat
Now backed into a corner, the US administration is frantically looking for ways to soften the blow on the anticipated oil price increase while also attempting to take a job at the group oil-exporting nations.
The US Senate has revived a proposal known as "NOPEC", defined as "no oil producing and exporting cartels"–an obtuse reference to the Saudi Arabia-led organization of oil-producing states. The measure was recently floated by Senate Majority Leader Chuck Schumer, seemingly a response to the organization's decision to cut back its monthly output.
"We are looking at all the legislative tools to best deal with this appalling and deeply cynical action, including the NOPEC bill," Schumer said in a statement.
If passed, the NOPEC measure would allow the Justice Department to sue OPEC+ countries and their state-owned oil firms under antitrust laws in the United States.
Biden also confirmed on Tuesday that 15 million barrels of oil will be released from the Strategic Petroleum Reserve (SPR), and that the government will begin replenishing the reserve only when petroleum prices decrease dramatically from current levels. The White House also urged the Energy Department to be prepared to conduct additional major SPR sales this winter if Russian or other activities disrupt global markets.
READ: Joe Biden Prepares to Frantically Sell Oil From Reserves After Snubbed by OPEC
Democratic Rep. Tom Malinowski, who backed Biden's controversial trip to Saudi Arabia in July as a way to "ensure our client states that rely on our security are on our side," led introducing a House legislation mandating the removal of US troops and missile systems stationed in OPEC members Saudi Arabia and the United Arab Emirates.
Administration officials are also reportedly discussing tactics to discourage American businesses from investing in Saudi Arabia. To start, the government will not send an official to the Future Investment Initiative in Riyadh, also known as "Davos in the Desert," an annual gathering of top executives and investors who rub shoulders with Saudi dignitaries.
Saudi doesn't care
As to the allusions of taking sides in the global conflicts, the Kingdom reiterated that it will not change its "principled position" regarding the Russia-Ukraine war, "including its vote to support UN resolutions" related to the crisis.
OPEC, for its part, reminded Washington that the group is a "technical organization" rather than a political one, and won't cater to Biden's demands even if it means damaging relations with the US.
But while it maintains it is not taking sides in global conflicts, it seems to have just taken a side as far as trade relations is concerned. On a visit to Riyadh, South African President Cyril Ramaphosa revealed that Saudi Crown Prince Mohammed bin Salman (MBS) had indicated interest in joining the BRICS nations, an economic alliance of large rising economies that includes Russia.
According to former US diplomat Aaron David Miller, the situation has devolved to "the fraying of this essential trade-off." The US no longer requires Saudi oil imports (though it remains vulnerable to Saudi influence over global energy prices), while MBS and his cohort have made it clear that the kingdom will diversify its geopolitical portfolio in the long run, cultivating closer ties to countries elsewhere from China to Brazil.
Saudi officials have expressed amusement at the American reaction in public.
"When you are in the election season, what some call 'the funny season,' a lot of things are said and a lot of things are done that may not make sense at another period of time," Adel al-Jubeir, minister of state for foreign affairs, told CNN. "I hope this is what we're dealing with here."
Twitter user @quanyi_li2 provides a more grim prognosis on the US-Saudi situation, saying that the kingdom's decision to join BRICS and move away from Washington, DC will be a prelude to moving away from the US dollar. This could potentially be "the most dangerous period in [Saudi's] history."
"It is in fear of this [moving from USD], US will do whatever in their power to prevent it from happening including war, exampled by invasion of Iraq, Libya, etc. The transition from USD has to be accompanied by security(military) arrangement with either China or Russia," the user tweeted.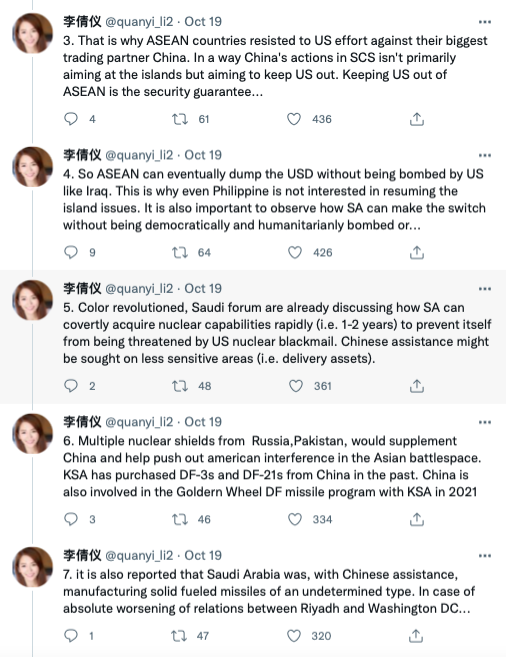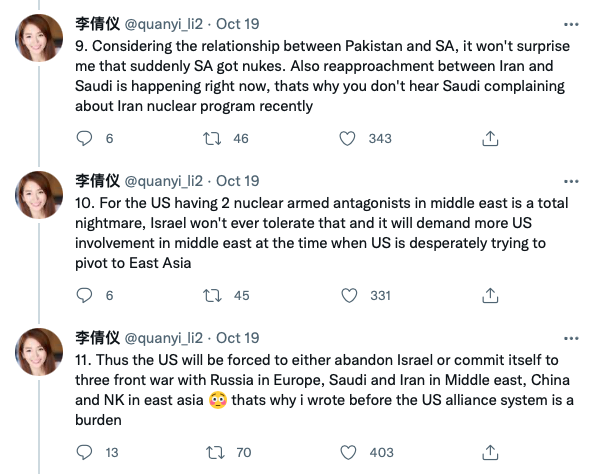 The user concluded that "the US will be forced to either abandon Israel or commit itself to three front war with Russia in Europe, Saudi and Iran in Middle east, China and [North Korea] in East Asia."
Either that, or MBS just waits for a resurgence of Republicans in US government–as he has previously enjoyed with former President Donald Trump.
"The bottom line is that MBS doesn't care," said Miller, "and that he really does believe he has enormous leverage over the United States and is dealing with a president who is in his eyes an inconvenient speed bump."
---
Information for this briefing was found via the Daily Mail, The Washington Post, and the sources mentioned. The author has no securities or affiliations related to this organization. Not a recommendation to buy or sell. Always do additional research and consult a professional before purchasing a security. The author holds no licenses.