Tighter Lumber In 2023: Canfor Announces 750 Million Board Feet Reduction
Chicago lumber futures rose above the $450 per thousand feet mark, approaching its highest level since October 2022, boosted by tight supplies and the prospect of a demand recovery. This follows after the commodity hit its two-year low as demand for housebuilding drops stemming from the heated interest rate environment.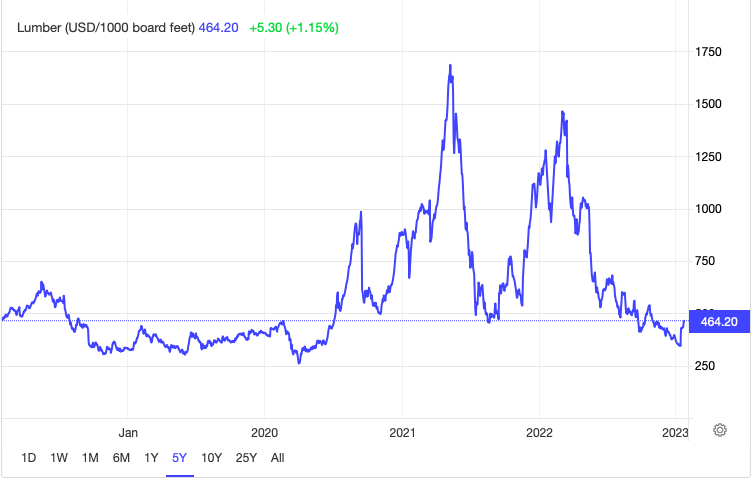 The tightening of the lumber market is manifesting in key producers reducing their production. British Columbia-based lumber producer Canfor Corporation (TSX: CFP) announced last night that it would be permanently closing its Chetwynd sawmill and pellet plant and temporarily closing its Houston sawmill.
Both facilities will be closed after an orderly wind down of operations, which is expected to end in early 2023, removing approximately 750 million board feet (MBF) of annual production capacity, which essentially equates to 1% of North American softwood lumber capacity.
"Our goal is to match our mill capacity with the economically available fibre for harvest to enhance our ability to compete and to operate throughout the market cycles," CEO Don Kayne said.
The move is said to be part of a major restructuring, with the company intending to build a new manufacturing facility that employs technology to produce high value products from the region.
This follows the lumber producer's earlier reduction in December where it removed approximately 150 MBF "due to the significant decrease in demand for solid wood products and challenging economic conditions." The firm also removed an additional 21 MBF after it had to extend that curtailment.
Its pulp and paper producing subsidiary Canfor Pulp Products (TSX: CFX) also recently announced its decision to permanently close the pulp line at its Prince George Pulp and Paper Mill, a reduction of 280,000 tonnes of market kraft pulp annually.
Other lumber producers like West Fraser Timber, Interfor, and Western Forest Products have all announced sizable cut downs from their respective productions. Russ Taylor, president of global wood market consultant Russ Taylor Global in Vancouver, said that the curtailments are "all a function of a high-cost producing region at a point where prices are way too low."
New York-based forest company Mercer International (Nasdaq: MERC) also added to the list, announcing a three-week temporary closure of its Celgar mill in British Columbia.
"We are disappointed that the current fiber supply situation — and in particular, the lack of available residual fiber for pulp — has led us to the difficult position forcing us to curtail. The continued fiber supply problem is a source of disappointment for our employees, our suppliers, the Castlegar region and the province at large," said CEO Juan Carlos Bueno.
Lumber support
Dustin Jalbert of cross-commodity price reporting agency Fastmarkets predicted that "lumber demand will drop again in 2023," calling for US softwood lumber consumption to fall by 4-5% as a function of a decline in US housing starts.
"A 2.2 BBF drop in US lumber demand would be the largest decline in volume seen in a single year since 2009, though for perspective, 2009 saw a whopping 8-BBF drop in a single year, reflecting the utter collapse of demand during the heart of the housing bust," Jalbert wrote.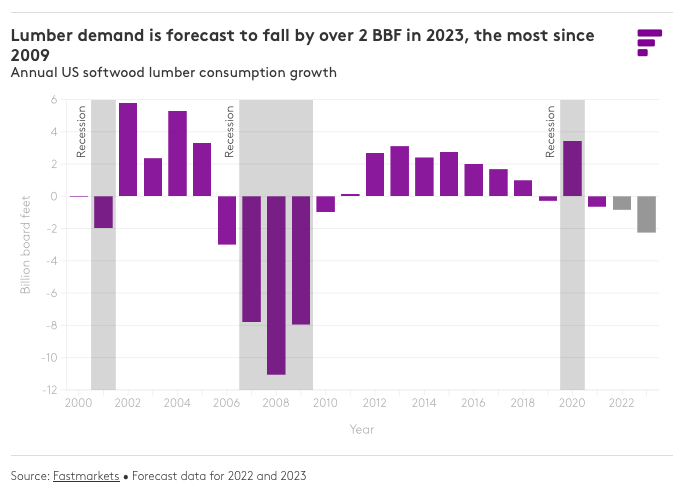 The lumber prices are also predicted to normalize by the end of 2023, hovering around the $400-mark–way below its peaks in May 2021 and March 2022–noting that "abating pandemic-related supply shocks and falling demand means a much lower equilibrium price for lumber compared with the last three years."
"Our current forecast is for 1.5 BBF of capacity to indefinitely or permanently close in British Columbia specifically," said the Fastmarkets prediction, attributing the closures to "increasing concerns over fiber availability, US anti-dumping and countervailing duties on Canadian lumber, and a stubbornly slow stumpage pricing mechanism in the [BC] province."
In a statement, Minister of Forests Bruce Ralston and Minister of Jobs Economic Development and Innovation Brenda Bailey said that the "government is committed to supporting forestry workers impacted by closures."
"Forestry is and will remain a foundation of the B.C. economy. Our government has made recent investments as part of our ongoing work and commitment to ensure that forestry remains a strong and sustainable industry in British Columbia," said the cabinet ministers in a statement.
They took note of the $90-million BC Manufacturing Jobs Fund announced last week that aims to "promote value-added innovation in the forestry sector," including $50 million in funding to increase fibre supply.
The government officials also relayed that the Annual Allowable Cut–the annual amount of timber that can be harvested on a sustainable basis–has "declined due to the end of the beetle kill harvest and unprecedented wildfires around the province."
---
Information for this briefing was found via Fastmarkets and the sources mentioned. The author has no securities or affiliations related to this organization. Not a recommendation to buy or sell. Always do additional research and consult a professional before purchasing a security. The author holds no licenses.