Lumber In Slumber: More Sawmills To Close As Prices Poised To Hit 5-Year Low
Chicago lumber futures hit a two-year low of below $350 per thousand board feet, erasing the solid gains traders made when prices were as high as $1,400 per thousand board feet during the height of the recent price spike.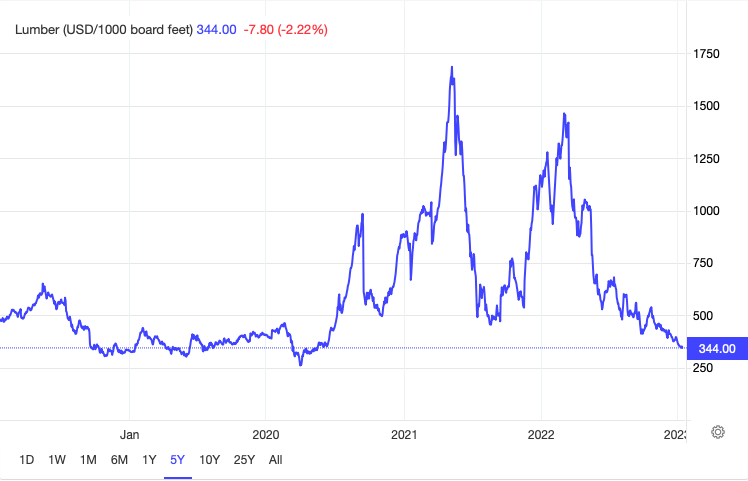 Lumber's drop, which made it the worst-performing commodity last year, was a sharp reversal from all-time highs recorded in 2021, when shut-in North Americans who were building or repairing homes during pandemic lockdowns scooped up scarce supplies.
Rising interest rates
Higher borrowing rates are likely to hamper home construction in North America, including British Columbia–the first lumber-producing region in the continent poised to reduce production when lumber prices fall.
The Bank of Canada raised the target for its overnight rate by 50bps to 4.25% in its last meeting of 2022, pushing borrowing costs to the highest since 2008. The Federal Reserve also raised the fed funds rate by 50bps to 4.25%-4.5%, pushing borrowing costs to the highest level since 2007.
While large suppliers are reducing output, purchasers are nonetheless concerned about rising interest rates and passing up low-cost supplies, meaning any price recovery is "not going to go very far," said Russ Taylor, president of global wood market consultant Russ Taylor Global in Vancouver.
Rising interest rates have also pushed mortgage rates to go up, dragging down sales and reining in home price growth while putting a severe dent in homebuilder confidence. According to the most recent US Census Bureau report, new permits for home building fell more than 10% to 1.351 million units in November, the lowest level since June 2020.
Taylor said that new house starts in the US will be roughly 1.2 million in 2023, down from about 1.55 million in 2022–with one major homebuilder expecting the figure to be just one million.
"This is the second largest homebuilder in the U.S.," Taylor said. "It sounds like it's going to be worse than all the forecasters are thinking."
Forecasters predict that lumber prices will range between $475 and $595 per thousand board feet in 2023. Taylor said the break-even price for most sawmills in B.C. is $450 to $500 per thousand board feet.
"I would say it's going to be in the high 400s," Taylor said. "I'm quite pessimistic for the year. I think it's going to be much better a year from now, but we're going to have to go through a tough time until we get supply and demand finally balancing out, and that's going to take some low prices, I think."
Closures and curtailments
B.C.-based lumber producer Canfor Corporation (TSX: CFP) announced in December a temporary reduction in production "due to very weak market conditions." The move was then expected to remove approximately 150 million board feet.
"Due to the significant decrease in demand for solid wood products and challenging economic conditions, we are temporarily curtailing production in Canada," said CEO Don Kayne.
At the start of this year, Canfor then had to extend sawmill curtailments as the unfavorable market conditions continue, removing an additional 21 million board feet.
As part of the ripple effect in the supply chain, Canfor's pulp and paper producing subsidiary Canfor Pulp Products (TSX: CFX) also recently announced its decision to permanently close the pulp line at its Prince George Pulp and Paper Mill, a reduction of 280,000 tonnes of market kraft pulp annually.
"In recent years, several sawmills have permanently closed in the Prince George region due to reductions in the allowable annual cut and challenges accessing cost-competitive fibre. This has had a material impact on the availability of residual fibre for our pulp facilities and we need to right-size our operating platform," said CEO Kevin Edgson.
This follows after the pulp and paper producer curtailed production at its Intercontinental Pulp Mill, also due to the lack of available economic fibre as a result of sawmill curtailments. Approximately 24,000 tonnes of market kraft pulp will be removed during the four-week downtime.
Around the same time Canfor Pulp announced curtailment, West Fraser Timber (TSX: WFG) also said it will indefinitely curtail its Perry Sawmill in Florida, attributing its decision to "high fiber costs and softening lumber markets." The move will reduce lumber production by 100 million board feet and will impact approximately 126 employees.
Earlier in August, West Fraser already permanently curtailed approximately 170 million board feet of combined production at its Fraser Lake and Williams Lake sawmills and approximately 85 million square feet of plywood production at its Quesnel Plywood mill.
Only a day prior to West Fraser's announcement, Interfor (TSX: IFP) also reduced its lumber production output in the first quarter of 2023 by at least 100 million board feet, around 8% of its total capacity, citing "economic conditions and market uncertainty" impacting lumber demand. This is on top of the curtailment the sawmill announced in the previous quarter when it relayed a reduction of approximately 200 million board feet.
In addition, Western Forest Products (TSX: WEF) announced in November that it will temporarily reduce its lumber production by approximately 20 million board feet.
"This is all a function of a high-cost producing region at a point where prices are way too low," Taylor said.
With the regulatory impediments that B.C. is placing on logging, Taylor anticipates that two or three of the temporary curtailments will become permanent in 2023, depending on the state of the American housing market.
"There are going to be a few more [permanent] curtailments because of all this endless government policy," added Taylor. "Primarily it's going to be the old-growth deferrals, all the caribou habitat protection that they have to still implement, they have all these tenure transfers… and then they're introducing core landscape planning. Now there's a commitment by the government to preserve 30 per cent of B.C. forests by 2030, up from 15 per cent currently. And on and on it goes."
In the first half of 2022, wood product exports from B.C. were valued at $8.6 billion, accounting for 30% of the value of all commodity exports from the region.
---
Information for this briefing was found via Bloomberg, Business in Vancouver, and sources mentioned. The author has no securities or affiliations related to this organization. Not a recommendation to buy or sell. Always do additional research and consult a professional before purchasing a security. The author holds no licenses.