Ucore Rare Metals: Developments Could Prove Positive For Company
The prices of rare earth metals rallied sharply in 2020 and have continued to climb in 2021. The figures below show the approximate doubling in 2020 of the price of neodymium (Nd), one of the most widely used rare earth metals; and the double-digit percentage increases for many widely used rare earth elements over the first 1 ½ months of this year.
The 17 total rare earth elements (REEs) are generally categorized as light or heavy elements. The heavy elements, such as dysprosium and terbium, are generally rarer and sell for significantly higher prices as they are less common and much more costly to separate. In contrast, light REEs are produced in larger quantities because they occur naturally in greater quantities. Producers strive to meet the high demand for neodymium and praseodymium, which necessitates the over-production of all associated light REEs, like low-priced cerium and lanthanum.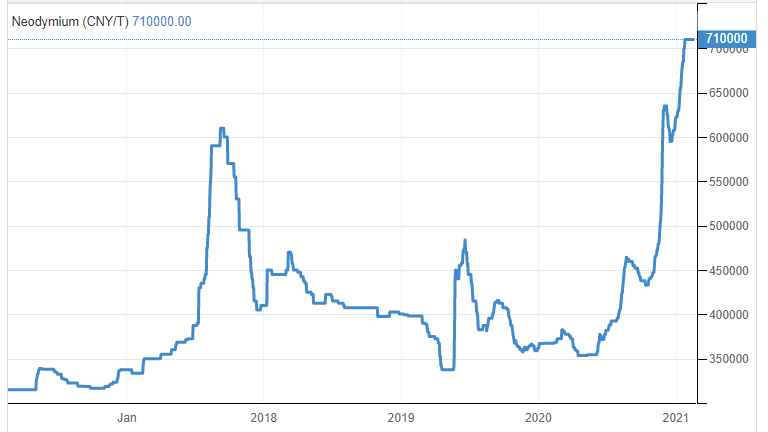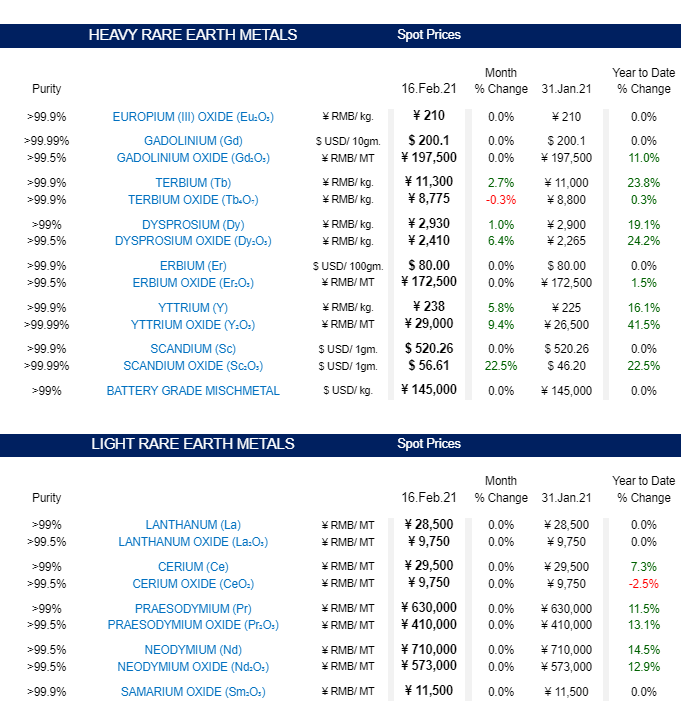 Several recent geopolitical and financial developments could cause rare earth prices to continue to rise, and in the process could bolster the stock price of Ucore Rare Metals Inc. (TSXV: UCU), the Canadian-listed rare earth mining company with the largest stock market capitalization. Consider the following developments.
Myanmar Military Coup
The early February 2021 military coup in Myanmar could have a significant impact on both the availability and prices of rare earth metals and oxides. On a global basis, China produces 80+% of those materials. Myanmar supplied China with about 50% of its heavy rare earth concentrates in 2020, according to Adamas Intelligence. Myanmar's rare earth mines are reportedly under the control of independent militia groups. No disruption of imports to China have yet been reported.
Potential China Rare Earth Export Curbs to U.S.
On February 15, the Financial Times reported that Chinese government officials are considering curbing the sale of rare earth minerals to U.S. defense industry contractors. More specifically, China is gauging how serious the impact would be on those companies if sales to them were reduced. Military applications for such minerals include jet-engine coatings, missile-guidance systems, satellites, and communications systems. About 80% of all U.S. rare earth imports come from China.
Huge Potential IPO Valuation for Rare Earth Miner
In early February, Reuters reported that a private company called USA Rare Earth is considering going public via an IPO or Special Purpose Acquisition Corp (SPAC) process. The company would reportedly be valued at more than US$1 billion. USA Rare Earth is developing the Round Top Mountain Mine in Texas, which contains one of the largest deposits of heavy REEs in the United States.
While the development of the mine would be a step in the right direction to limit America's reliance on China for rare earth materials, it would not by itself represent a solution. The capability to process and convert rare earth minerals into oxides, compounds, and alloys is the linchpin to the global rare earth industry. China controls more than 80% of this refining capacity; no rare earth refinery is operational in North America.
Ucore's Pilot Plant Project
Ucore's principal asset is the Bokan-Dotson Ridge REE Project located in southeast Alaska. Bokan contains 4.8 million tonnes of mineral resources. About 40% of these resources contain the highest-grade heavy REEs in the United States.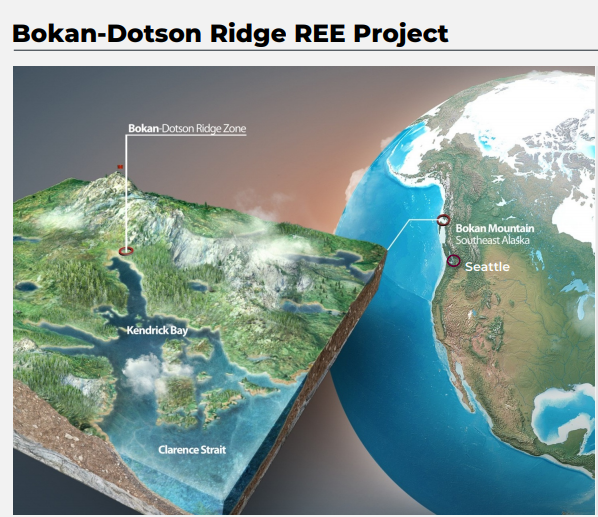 In addition, in 3Q 2021, Ucore plans to begin operating an Ontario, Canada-based pilot facility that would separate and purify both heavy and light REEs. Valuable REE oxides would be produced. The company would employ its RapidSX™ solvent-extraction-based separation technology in the pilot plant. Full commercialization of the facility could occur in 1Q 2022. If Ucore can produce REE oxides economically, that could represent an important step forward for the North American rare earth industry.
Strengthened Balance Sheet
In February 2021, Ucore strengthened its balance sheet by raising $6.7 million in a private placement of stock and warrants. As of September 30, 2020, the company had about $2 million of cash and $2.75 million of debt, including convertible debt.
Ucore, a pre-revenue company, reported average quarterly operating cash flow deficits of about $1.25 million over the last five quarters. The company completed a one-for-ten reverse stock split in December 2020. The share count in the table below reflects this share consolidation.
If rare earth materials prices were to reverse lower, Ucore's share price would likely suffer. Another risk: if the company were to announce disappointing operating results at its pilot REE separation facility, investors could be discouraged.
| | | | | | |
| --- | --- | --- | --- | --- | --- |
| (in thousands of Canadian $, except for shares outstanding) | 3Q 2020 | 2Q 2020 | 1Q 2020 | 4Q 2019 | 3Q 2019 |
| Operating Income | ($1,239) | ($1,822) | ($1,175) | ($1,184) | ($633) |
| Operating Cash Flow | ($901) | ($1,646) | ($858) | ($2,295) | ($111) |
| Cash – Period End | $1,995 | $2,934 | $1,874 | $2,814 | $167 |
| Debt – Period End | $2,754 | $2,781 | $1,299 | $1,204 | $4,060 |
| Shares Outstanding (Millions) | 41.1 | 41.0 | 36.5 | 36.5 | 28.4 |
Given the likelihood of continued steady increases in rare earth commodity prices and the lofty valuations being accorded to rare earth companies, Ucore could be an interesting play in the sector. Moreover, if over the next year the company were able to begin to produce valuable REE oxides, first on a pilot basis and then on a commercial scale, Ucore's shares could potentially be revalued significantly higher.
Ucore Rare Metals Inc. is trading at $1.75 on the TSX Venture Exchange.
---
Information for this briefing was found via Sedar and the companies mentioned. The author has no securities or affiliations related to this organization. Not a recommendation to buy or sell. Always do additional research and consult a professional before purchasing a security. The author holds no licenses.