UPDATES: Nikola, Hyliion, Dana And Palantir Find Their Way Through A Market That's All About Profile
It's time for a look at how Mr. Market has been treating some of the stories we've been covering, along with a friendly reminder that The Deep Dive does not make recommendations, set targets, or provide investment advice. If we could tell you what the market was going to do, we wouldn't have to blog about it for a living.
More like Hiccup-burg: Nikola's stock unbothered as the company embarks on mission impossible.
Aspiring Hydrogen truck maker Nikola Corporation (NYSE: NKLA), still dealing with the legal and PR meltdown from Hindenburg's September fraud allegations, having recently lost its key-man, Executive Chairman, and founder following the the aforementioned fraud allegations and the emergence of sexual abuse allegations, in a week following quarterly disclosures that revealed that a much-anticipated and legitimizing deal with General Motors (NYSE: GM), hasn't yet been finalized… has gained $6.79 to close at $25.63 (+36.5%) yesterday.
Nikola has plans to build a full factory and assembly line in Phoenix by the spring of 2021 to crank out hydrogen powered semi trucks for which a fueling network has yet to be developed or built. The last five news items on its feed are solicitations for litigants in investor class-action suits.
Would someone please take Thomas Healy out on a bender, and get him a bad tattoo?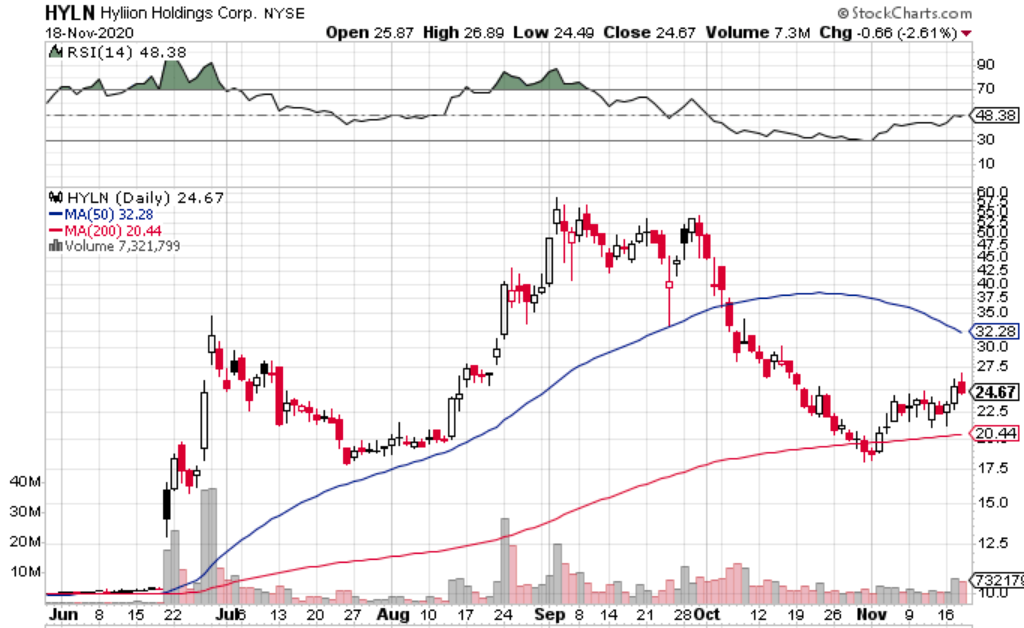 Meanwhile, in Cedar Park, TX, unassuming go kart enthusiast and mechanical engineer Thomas Healy, the architect of hybrid drive-train developer Hyliion Holdings Corp. (NYSE: HYLN), and its pragmatic plan to sell hybrid electric drive trains as components that bolt on to existing OEM tractors and run on fuel from a network of filling stations that already exist took a good, long look at the sluggish performance of Hyliion's stock following its November 12th earnings release, and decided to make a splash… by hiring a compliance officer.
HYLN has churned out a net movement of $1.18 (+0.5%), since releasing its quarterlies, and was off $0.66 yesterday to close at $23.49 on the news that it had hired the well-pedigreed Jose Oxhalm (formerly of Lojack, Ford Motor Co., and Goodyear) to be its General Counsel and Chief Compliance Officer. On balance, it would appear that this venture transport market is more interested in gunslingers than sheriffs.
Tight ships like Hyliion are generally unconcerned with the stock price, confident that it will come along as the growth becomes apparent in their revenue and earnings prints which… we'll see.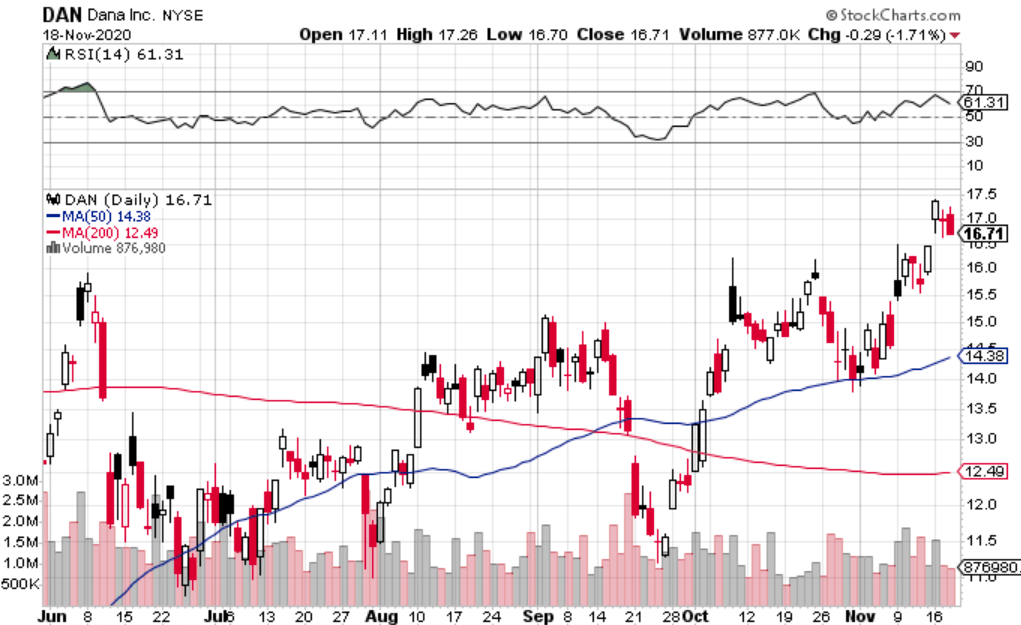 Hyliion-adjacent component-co Dana Inc. (NYSE: DAN), maker of the differentials integral to Hyliion's systems is quietly up 14% since news of a banger Q3, in which sales were up 85% over last year's Q2. Dana yields 4.43% at this price, if you're into that sort of thing.
Palantir Finds Your Lack Of Faith Disturbing…
Our October 28th overview of Palantir Technologies (NYSE: PLTR) described a recently IPO'd company that found itself in a standoff with the street, with a stock stalled between $9 and $10, having declined to sacrifice any portion of its treasury upon the altar of Wall St. to summon the Gods of the Sales Desk, confident that the company's performance would draw open market buying on its own.
The stock got un-stuck ahead of a November 12th quarterly financial release that printed a 52% bump in revenue compared to 2019's Q3, while announcing some major renewals, and new contracts. It also bumped guidance, projecting between $1.07 and $1.072 billion in total revenue for 2020 and, if there were ever a company whose internal guidance ought to be dialed in, it's this one. Palantir closed at $17.90 yesterday, up $3.72 (+22.7%) since filing the quarterlies November 12th.
Bloomberg reports that Palantir got its brand-name backer in Q3, as 13F filings reveal that Steve Cohen's Point72 Asset Management amassed a 29.9 million share position in the company in the period. No word on whether Point72 or any of Cohen's other companies are using Palantir systems for organizational planning, or how they would even go about orchestrating a positive drug test for a 38 year old second baseman to free up $24 million worth of salary.
---
Information for this briefing was found via Sedar and the companies mentioned. The author has no securities or affiliations related to this organization. Not a recommendation to buy or sell. Always do additional research and consult a professional before purchasing a security. The author holds no licenses.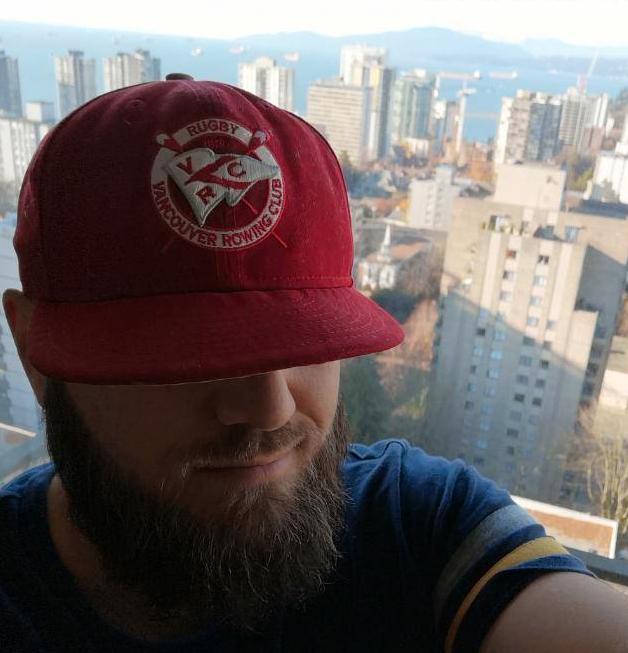 Braden Maccke is a freelance writer from Vancouver, B.C.
You can read all of his Deep Dive articles here.
He can be reached at braden@fundamentalhype.com.