Uranium Prices Hit 15-Year High As Demand Continues To Rise For Nuclear Energy
Spot uranium prices are trading at US$74 per pound as per Trading Economics, a 15-year high, amid strong and unrelenting global demand, supply concerns, and volatile prices of competing fuels like natural gas and oil. Importantly, many of these constructive elements promise to be long lasting, suggesting further potential upside.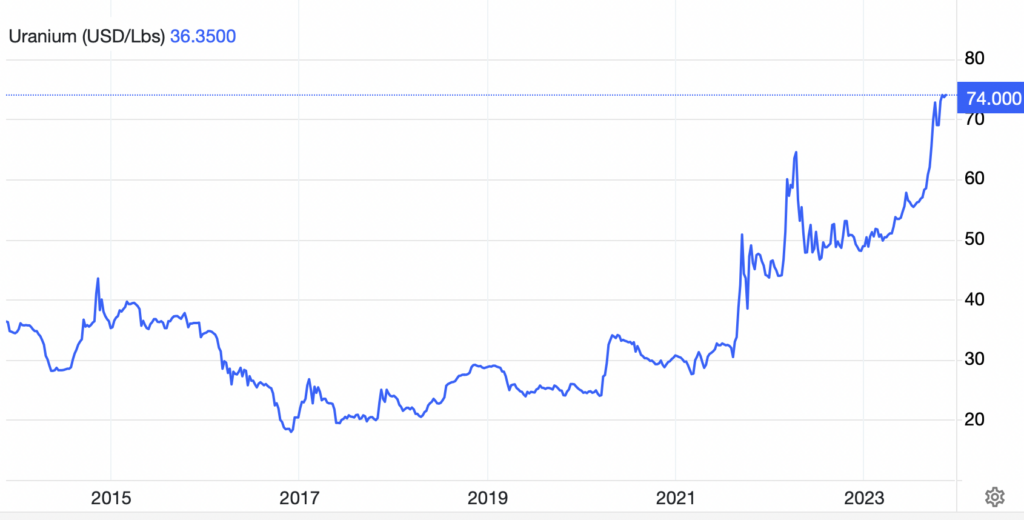 Numerco meanwhile currently has bids on both the November and December 2023 contract at a price of $76.50 per pound, while the offer currently sits at $78.00 per pound on both contracts. Prices are higher yet on the January and February 2024 contracts.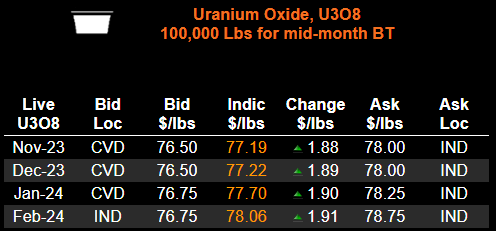 For example, in late September, China's state-owned media outlet Xinhua reported that the nation plans to authorize the construction of six to eight nuclear units per year for the foreseeable future. Indeed, China plans to develop its nuclear power capacity as part of its efforts to add to its renewable generating capability and to increase domestic energy security. An official at the China Nuclear Energy Association notes that China hopes to achieve 400 gigawatts (GW) of installed nuclear energy capacity by 2060, a dramatic increase from the current installed base of 57 GW. 
The U.S. cannot hope to match China's pace of nuclear plant construction, but America could also begin building new nuclear capacity at some point. Indeed, adding nuclear capacity is one of the only issues on which Democrats and Republicans seem to find some degree of common ground. Per a recent survey conducted by Pew Research, 57% of Americans favor the construction of new nuclear plants, up markedly from 43% in 2020.
READ: Cameco Signs Uranium Supply Agreement With China, Details Muddied
Also in September, the Japanese utility company Kansai Electric Power restarted the 780-megawatt Takahama-2 nuclear facility, the 12th unit to be restarted in the country since the 2011 Fukushima-Daiichi nuclear plant disaster. Takahama-2 began generating power on a commercial basis in mid-October.
Uranium usage could increase substantially over time in Japan. In May 2023, the country's Parliament passed a bill that allows nuclear reactors to be operated beyond the previous limit of 60 years. Before the Fukushima incident, Japan's 54 operating nuclear plants produced about 30% of the country's electricity. Today, 33 plants are in service in Japan; in aggregate they produced just 7.2% of the country's electricity in 2021. 
Another factor benefitting uranium prices is the reduced levels of uranium inventory held by western utilities. In October the Euratom Supply Agency, the body responsible for the supervision of uranium supply and demand in the European Union, reported that uranium inventories were 21% lower at year-end 2022 versus December 31, 2018 levels. More specifically, Europe's utilities had 35,710 tonnes of uranium inventories as of December 31, 2022, down from 45,342 tonnes four years before.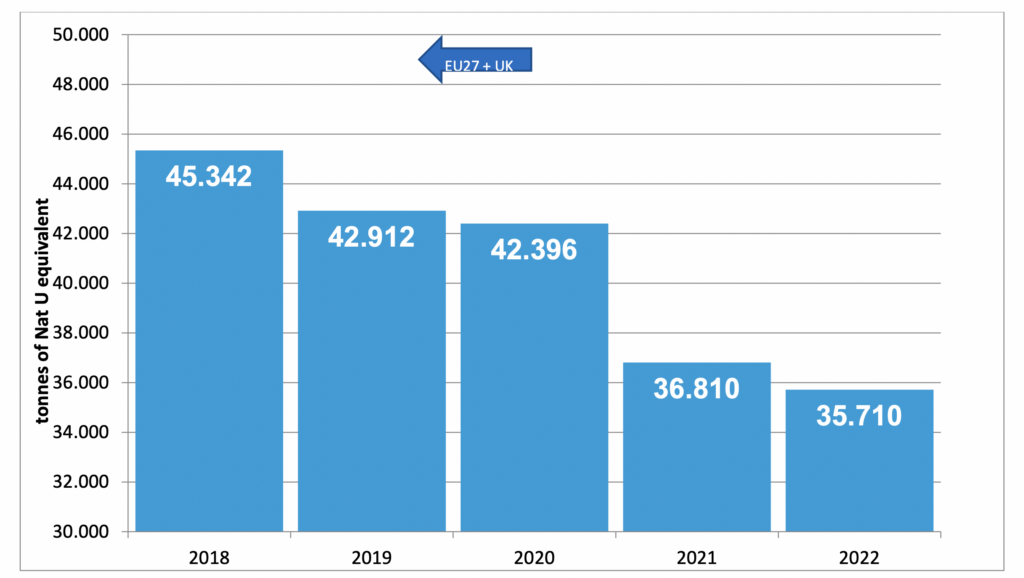 A final factor boosting uranium prices is the supply uncertainty from the late July military coup which overthrew the president in Niger, a major uranium producing country in West Africa. Niger produces about 5% of the world's uranium. Furthermore, Europe sources about 20% of its uranium from this country. 
---
Information for this story was found via the sources mentioned within the article. The author has no securities or affiliations related to the organizations discussed. Not a recommendation to buy or sell. Always do additional research and consult a professional before purchasing a security. The author holds no licenses.