VentriPoint Diagnostics: Corporate Overview
VentriPoint Diagnostics Ltd. (TSXV: VPT) is a small-cap medical device company that develops and commercializes cardiac diagnostic tools. VentriPoint is considered an industry leader in echocardiography, a test which produces live images of a patient's heart. 

More specifically, the company's VMS™ products, powered by its proprietary Knowledge Based Reconstruction (KBR) artificial intelligence algorithm, creates accurate heart volumetric measurements and a 3-D image of the heart from a 2-D electrocardiogram in just minutes. VentriPoint's VMS™+ 3.0 System interfaces with all standard echocardiograph 2D ultrasound machines, including those made by GE, Siemens, Philips, and Toshiba.
In turn, this affordable alternative to a costly magnetic resonance imaging (MRI) procedure provides a cardiologist the ability to determine the severity and progression of the disease with real-time information. (MRI machines utilize a magnetic field and computer-generated radio waves to create detailed images of organs and tissues.)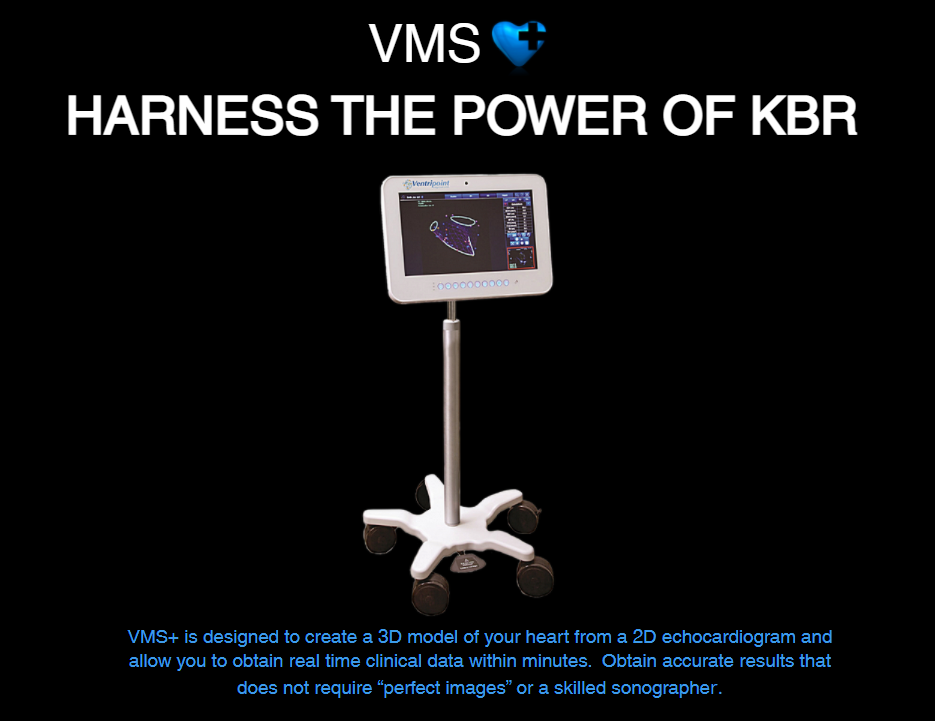 The Investment Thesis 
The investment thesis for VentriPoint is based on the following:
VentriPoint's VMS™ products are fully developed and have received regulatory approval from some of the world's most respected medical authorities. 
VentiPoint's technology is gaining broad acceptance in the medical field.
VentriPoint's joint venture (JV) partner in China, Yutian Medical Shanghai Inc, is likewise having significant success installing VentriPoint's technology in hospitals in China.
It has been found that COVID-19 may have significant long-term effects on the heart, which will require annual monitoring going-forward for recovering COVID-19 patients.
The company has seen its tech verified by healthcare giant General Electric, which has included the firm in its innovator program.
The Model 
VentriPoint's business model consists of the following: 
The VMS™+ 3.0 System.
Sales and distribution in China via its joint venture arrangement.
VMS™+ 3.0 SYSTEM
Presently, Ventripoint has the only technology available that is able to provide an accurate model of the right ventricular via 2D imaging from an echocardiogram. Most imaging of the right side of the heart has to occur via MRI's that are time consuming, present longer lead times due to fewer devices being present at hospitals, and are as a result far costlier than Ventripoint's offering.
VentriPoint's VMS™+ 3.0 System, which can be installed remotely and be immediately operational and integrated into a hospital's infrastructure, creates an extremely accurate 3D model of a patient's heart from almost any 2D electrocardiograph device. The company's KBR algorithm uses an MRI shape catalog and anatomical landmarks to create the 3D model. Notably, the model provides data regarding the performance of the heart's right ventricle, which pumps blood under low pressure through the pulmonary artery. The blood then moves to the lungs where it receives fresh oxygen.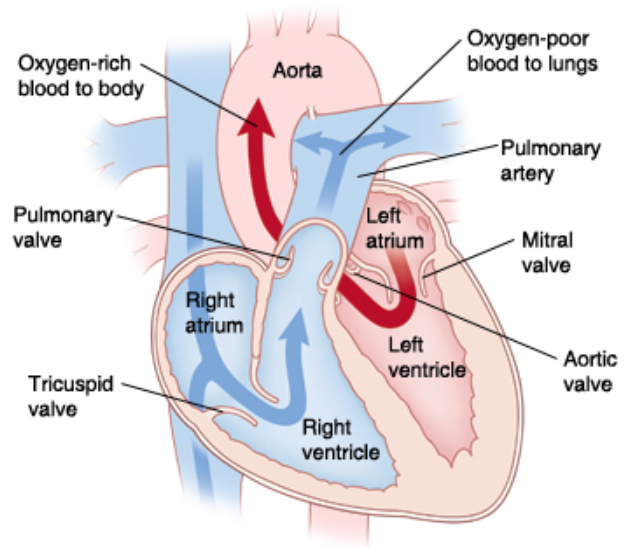 The system calculates the key ejection fraction, EDV and ESV statistics of the right ventricle within 10% of that determined by an expensive MRI test with a 95% confidence level. The ejection fraction measures how well the right ventricle pumps blood with each heartbeat. The EDV is the filled volume of the ventricle prior to contraction (around 120 milliliters of blood in a typical heart), and the ESV is the residual volume in the ventricle after ejection (about 50 milliliters of blood in a healthy heart).
The VMS™+3.0 system has U.S. FDA pre-market clearance (October 2019), a Health Canada license (June 2019), and a European CE mark (June 2019) for all patients where volumetric heart measurements are needed. The CE mark, which means that a product meets the essential requirements of all relevant European Medical Device Directives, is required in order to sell a medical device in the European Union.
By the fall of 2020, ten VMS™+ 3.0 systems were installed, including three at some of world's most well-known hospitals in the world, over the six-week period from late September 2020 through early November 2020: the Erasmus-Sophia University Medical Center in Rotterdam; the Netherlands; the University of Texas MD Anderson Cancer Center in Houston, Texas; and the Peter Munk Cardiac Center in Toronto, the largest cardiac center in Canada.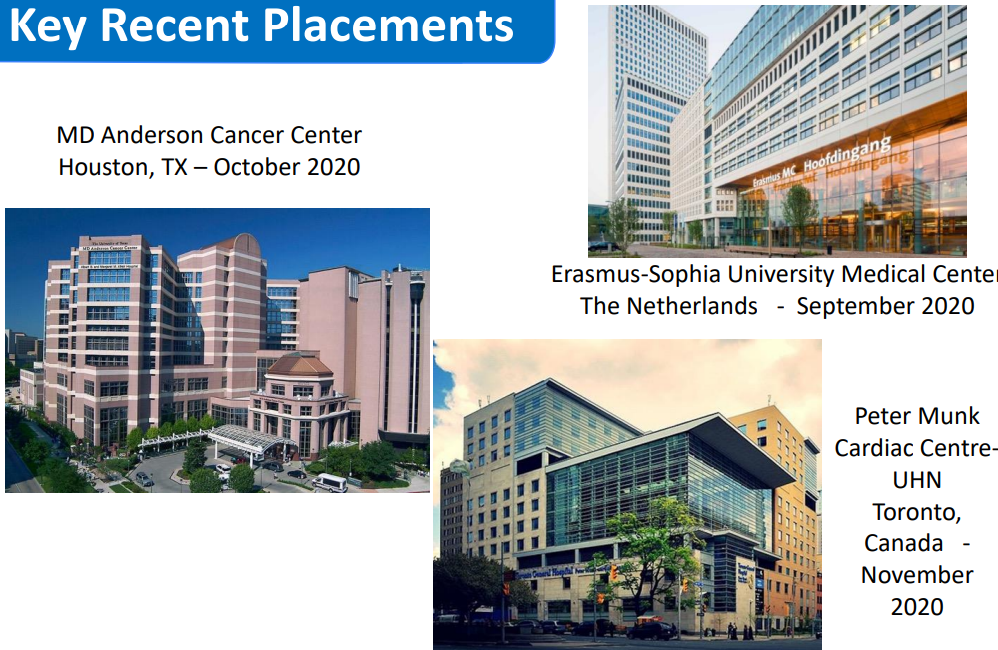 Additionally, the VMS™+ 3.0 System may have particular use treating four types of patients:
Congenital Heart Defects (CHD). According to the website mendedhearts.org, 40,000 babies are born in the U.S. each year with this affliction, and about a quarter of them will need heart surgery to survive. Perhaps 2-3 million U.S. citizens are living with CHDs.
Pulmonary Arterial Hypertension (PAH), which is caused by a thickening and narrowing of tiny arteries in the lung. About 500-1,000 new cases are diagnosed each year in the U.S.
Cardiotoxic Effects of Chemotherapy. Studies suggest that 20%-30% of oncology patients experience heart damage.
COVID-19 Patients. Reports say that some afflicted patients also experience heart damage.
The latter patient category may be the most pronounced going forward in a post-pandemic world. It seems the company has developed the right tech at the right time, given recent findings published in JAMA, a clinical medical journal, related to the impacts of COVID-19 on the heart.
The findings, headlined as "COVID-19 and Heart Failure With Preserved Ejection Fraction," pertains to the finding that myocardial injury (in layman terms, injury to the heart) may occur in some individuals with COVID-19. In particular, the journal article identifies that in a study of 100 patients with COVID-19 in Israel that had an echocardiogram conducted, the most common abnormalities were right ventricular dilation at 39%, and left ventricular diastrolic dysfunction at 16%.
We know that this likely sounds confusing to those of us that are not medical-terminology inclined. To rephrase this in a simplified manner, a study of 100 patients with COVID-19 in Israel took place, with patients having ultrasounds (echocardiograms) conducted on their hearts. Of those that participated, 39 were found to have had the right side of their heart enlarged as a result of the disease. Furthermore, 16 of the patients studied had an issue with the left side of their heart where the heart was having trouble relaxing between heart beats, meaning the heart had to work much harder to pump less blood through the body.
SALES AND DISTRIBUTION IN CHINA
In 2020, VentriPoint's Chinese JV partner, Yutian Medical, installed the QAS™ System (the VMS™ name in China) in eight leading hospitals in China, including in the heavily populated cities of Shanghai, Hangzhou, Wenzhou, and Zhengzhou; and in three medical universities in the Anhui Province. Yutian has appointed distributors in other regions of China as well. According to statista.com, there are around 34,000 hospitals in China, and 1,000 new facilities are built each year.
In the time since, the company has expanded distribution in the region significantly. The company meanwhile has also begun certification for the use of the technology for COVID-19 patients within the country.
The World Heart Association reports that China has one of the highest rates of cardiovascular deaths in the world, as hypertension and alcohol and tobacco use are quite common among its citizens. Perhaps 20% of all Chinese have cardiovascular disease.
The Management
Dr. George Adams – Chairman. Dr. Adams is a scientist, a serial entrepreneur and financier. He was previously CEO of Amorfix Life Sciences (TSX: AMF) from 2005-2010. He was Chairman of Sernova Corp. (TSXV: SVA) and President and CEO of the UT Innovations Foundation from 1999 until 2004. Dr. Adams has been instrumental in founding over 30 companies which have raised in excess of $100 million; he has been a Director of ten venture capital funds and ten start-up companies.
Robert Hodgkinson – Director. Mr. Hodgkinson has over 40 years of experience in public and venture capital markets. He has raised $150,000+ of capital for numerous companies and is an experienced corporate director, senior executive and adviser.
Peter Weichler – Board Secretary. Mr. Weichler is a partner in the Calgary firm Candela Capital. His background in finance includes commercial banking, stock brokerage, investor relations, and investment banking with national Canadian firms.
The Risks 
We would advise investors to consider the following risks:
VentriPoint's Reported Revenues to This Point Are Quite Modest and Will Likely Have to Raise Additional Cash Through Stock Sales. The company as of March 31, 2021 reportedly has $2.6 million in cash, however it is notably debt free, having recently converted all outstanding convertible debentures.
Potential Medical Advances in Medical Technology by Competitors. VentriPoint's AI-based VMS™ system produces detailed and reliable images of a patient's heart at a much lower cost than an MRI test. However, it is possible that a competitor could at some point introduce a technology which could rival the effectiveness and costs of VMS™+ 3.0.
The Comparables 
Below we list a few comparable medical technology companies to VentriPoint.
| | | | |
| --- | --- | --- | --- |
| Company   | Ticker | Market Capitalization (C$ in millions) | Comments |
| Neovasc Inc. | TSX: NVCN | $77.6 | Makes minimally invasive device for treatment of refractory angina. |
| SQI Diagnostics, Inc. | TSXV: SQD | $70.3 | Makes organ transplant, autoimmune disease and Covid-19 tests. |
| VentriPoint Diagnostics | TSXV: VPT | $50.2 | Developed revolutionary tech to create 3D models of the heart via 2D imaging. |
| Theralase Technologies Inc. | TSXV: TLT | $47.0 | Develops drug compounds intended to destroy cancers, bacteria and viruses. |
| Nanalysis Scientific Corp. | TSXV: NSCI | $43.5 | Manufactures nuclear magnetic resonance spectrometers. |
| MedX Health Corp. | TSXV: MDX | $25.4 | Focused on skin health with its SIAscopy telemedicine platform. |
The Potential Catalysts 
Some potential catalysts that could have a significant impact on VentriPoint's share price include: 
Additional Sales of VMS Systems to Hospitals, Including to Hospitals in China. VentriPoint has successfully placed its systems in some of the most well-known hospitals worldwide. Further such installations, particularly by its JV partner in China's giant hospital market, would be well received by investors.
 
Tremendously Unfortunate on a Human Level, the Huge Number of COVID-19 Infections on a Worldwide Basis Will Likely Help VentriPoint. COVID-19 infections seem to damage the heart muscle in many patients. Such patients could ultimately need VentriPoint's technology to diagnose the extent of this damage.
Conclusion
In a fairly broad affirmation of the effectiveness and reasonable per-patient costs of VentriPoint's VMS™ technology, a number of leading hospitals in the U.S., Canada and China have installed this system. If additional hospitals sign on as well, particularly in China, investors could assign a much higher valuation to VentriPoint's shares. Furthermore, the company in that case could become an attractive takeover target.
Outside of this, the trailing effects of the global COVID-19 pandemic, while unfortunate, may carry significant tailwinds for VentriPoint given the lasting impact that this virus has on a large portion of patients. If approved for such use, the impact could be large for this small cap firm.
---
FULL DISCLOSURE: Ventripoint Diagnostics is a client of Canacom Group, the parent company of The Deep Dive. The company has been compensated to cover Ventripoint Diagnostics on The Deep Dive, with The Deep Dive having full editorial control. Not a recommendation to buy or sell. Always do additional research and consult a professional before purchasing a security.