World's Biggest Lithium Reserve Discovered In Nevada, But Is It Really Economically Viable?
Geologists have made a groundbreaking discovery that could potentially reshape the global lithium market. They have identified what is believed to be the world's largest lithium deposit, nestled within an ancient supervolcano along the Nevada-Oregon border in the United States.
This vast lithium deposit, estimated to contain up to 40 million metric tons of the precious metal, is spread across the McDermitt Caldera, nearly doubling the previously record-holding lithium deposits found in the salt flats of Bolivia, the country with the world's largest lithium reserve. The presence of high lithium concentrations in the caldera has been known since the 1970s, although no drilling has taken place to confirm the exact amount.
As of 2022, battery-grade lithium carbonate was priced at an average of $37,000 per metric ton, implying a staggering potential worth of $1.48 trillion concealed beneath the caldera. Canada-based Lithium Americas Corporation has plans to commence mining operations as early as 2026 within the region at its Thacker Pass project, with a vision to mine the region for the next four decades while also implementing pit backfilling as a reclamation strategy.
Lithium is a critical component powering a range of modern technologies, from smartphones to electric vehicles and solar panels, and China has long dominated the lithium market, as the majority of the metal mined worldwide is refined there.
Anouk Borst, a geologist at KU Leuven University, who was not involved in the study, commented, "If you believe their back-of-the-envelope estimation, this is a very, very significant deposit of lithium. It could change the dynamics of lithium globally, in terms of price, security of supply, and geopolitics."
The lithium caldera
The approximately 45-kilometer long and 35-kilometer wide McDermitt Caldera, believed to have formed around 19 million years ago with its last eruption occurring 16 million years ago, holds clues to its lithium-rich legacy. The eruption is thought to have pushed minerals from the depths to the surface, resulting in lithium-rich smectite clay deposits. Faults and fractures created by the explosion provided pathways for lithium to rise to the crater's surface. Subsequently, a lake formed within the caldera after the last eruption, with sediment analysis revealing high lithium concentrations.
In a study published in Science Advances, the research team handpicked claystone samples from the McDermitt Caldera, confirming their high lithium content. Nearby Thacker Pass, owned by Lithium Americas, was previously known as the largest lithium deposit in the US, boasting 13.7 million tons of lithium carbonate equivalent.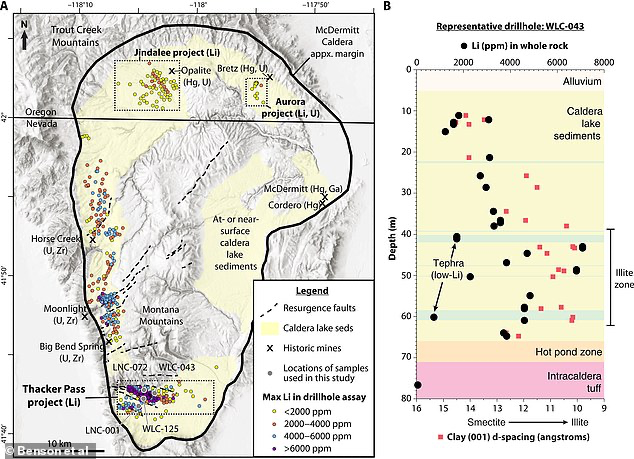 To identify the most promising supervolcanoes for lithium sources, researchers examined the original lithium concentrations in the magma, a notoriously challenging task due to lithium's volatile nature. They scrutinized tiny bits of magma trapped in crystals within the magma chamber, known as "melt inclusions," which preserved the original lithium concentrations. This information, coupled with data from whole-rock samples and clay separates, helped pinpoint the caldera's lithium enrichment degree.
Tom Benson, affiliated with Lithium Americas and Columbia University, embarked on studying the McDermitt Caldera in 2012, shifting his focus to understanding the origin of the lithium deposit. Benson explained that the lithium-bearing sediments are near the Earth's surface, making the mining process relatively non-invasive. Strip mining would be used, gradually migrating eastward while backfilling the pit to minimize environmental impact.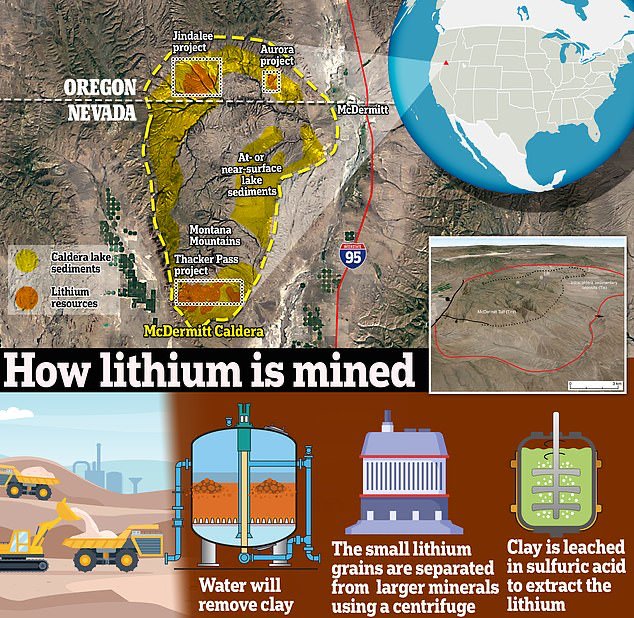 Phase one of the Thacker Pass project aims to mine 40,000 tons annually, generating $1.6 billion in yearly revenue and providing the US with a domestic source of lithium. This move aligns with the nation's efforts to reduce reliance on other countries, particularly China, for essential materials as it transitions from gas-powered to electric vehicles.
Local challenge
However, this plan has faced criticism due to environmental concerns and allegations that the site holds sacred significance to Native American communities.
While the potential economic benefits are evident, the project has sparked controversy due to its impact on Native American tribes. The Paiute, Shoshone, and Bannock communities are opposing the mining operation, citing concerns about environmental disruption and the desecration of culturally significant sites. The People of Red Mountain organization, representing these tribes, emphasizes the site's cultural importance and the need to protect it.
"The global search for lithium has become a form of 'green' colonialism," People of Red Mountain said in an August statement. "The Caldera holds many first foods, medicines, and hunting grounds for tribal people both past and present."
The extraction of lithium, while essential for clean energy transitions, poses environmental challenges. The lithium extraction process consumes substantial amounts of water, often leading to long-term ecological damage. Examples from China, Argentina, and Chile illustrate the negative consequences, such as contaminated water sources and environmental degradation.
For instance, onservationists and tribal leaders attempting to halt the construction of the lithium mine in Thacker Pass faced a setback as the 9th U.S. Circuit Court of Appeals rejected their bid in July. A three-judge panel from the San Francisco-based appellate court dismissed six legal arguments presented by the opponents in their appeal, which aimed to overturn the approval granted by federal land managers for the lithium project.
This marks the culmination of a two-year-long legal battle waged by critics who assert that the open-pit mine, equivalent in depth to the length of a football field, would contravene numerous environmental regulations and desecrate lands held sacred by tribal members. They argue that these lands were the site of a massacre in 1865, where dozens of their ancestors lost their lives.
Economic challenge
While the discovery speaks massive repercussions in the lithium space, what's glaringly missing is the lithium grade of the possible resources that can be dug up at the caldera. Lobo Tiggre, CEO of Independent Speculator, pointed this out in an X (fka Twitter) post saying, "Just as one might expect from so-called science reporters, there's no mention of grade or cost."
"Even #lithium uber-bulls know it's not rare. The challenge is finding economic deposits, not just big ones," he added.
The discovery comes at the height of the race towards lithium production and supply chain building. Major US oil companies are shifting their focus to lithium, with the likes of Chevron and Exxon Mobil. The latter, in particular, has ambitious plans for a large lithium processing facility near Magnolia, Arkansas, aiming to produce up to 100,000 metric tons of lithium annually, which would account for 15% of current global production.
This shift in focus towards lithium sets US oil majors apart from their European counterparts who have been more aggressive in pursuing renewable energy sources like wind, solar, and power services. In contrast, US companies are focusing on adjacent areas of their fossil fuel business, including carbon capture and storage, hydrogen, and lithium.
According to statistics compiled by the UN Comtrade Database, China dominated the US battery import market in the previous year, tallying a substantial trade value of $9.3 billion. Additionally, South Korea and Japan emerged as significant contributors, supplying batteries valued at $1.3 billion and $1.0 billion, respectively, to the US in 2022.
It's noteworthy that the overall import value of lithium-ion batteries has surged nearly threefold since 2020, reaching an impressive $13.9 billion last year.
Projected data suggests a staggering demand for approximately one million metric tons of lithium by 2040 to meet global needs, representing an eight-fold increase compared to the total global lithium production in 2022.
In September, lithium carbonate prices continued their decline, falling below the threshold of CNY 205,000 per tonne for the first time since May. This trend brings them closer to the lowest point seen in two and a half years, which was CNY 165,500 recorded in April. These price drops are exacerbated by mounting indications of reduced demand from major battery manufacturers.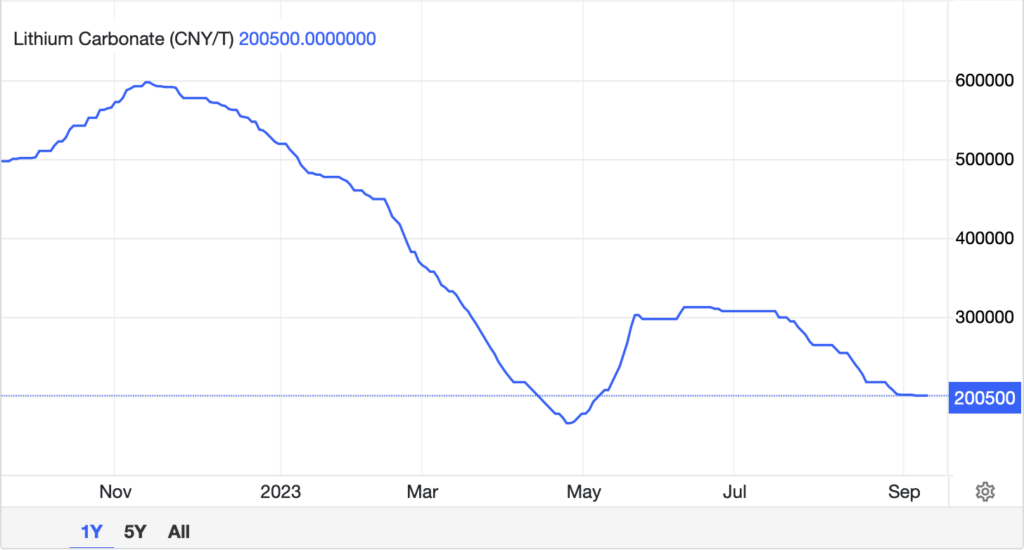 ---
Information for this briefing was found via Daily Mail, Phys.org, and the sources mentioned. The author has no securities or affiliations related to this organization. Not a recommendation to buy or sell. Always do additional research and consult a professional before purchasing a security. The author holds no licenses.