Acreage Holdings Versus Canopy Growth, Who's Sandbagging Who?
"The trend is your friend," and in the Cannabis sector, the trend has not been friendly to longs, a classic spring slide having turned into a hard, extended skid. New lows across the board, and the whole sector taking its cue from a leader without a leader. This author remains short Canopy Growth Corp (TSX: WEED) (NYSE: CGC), because it's an over-extended, bubbled-up public venture just like the rest of these pigs, and size doesn't make it immune to the problems that come with that sort of thing, it just makes them bigger.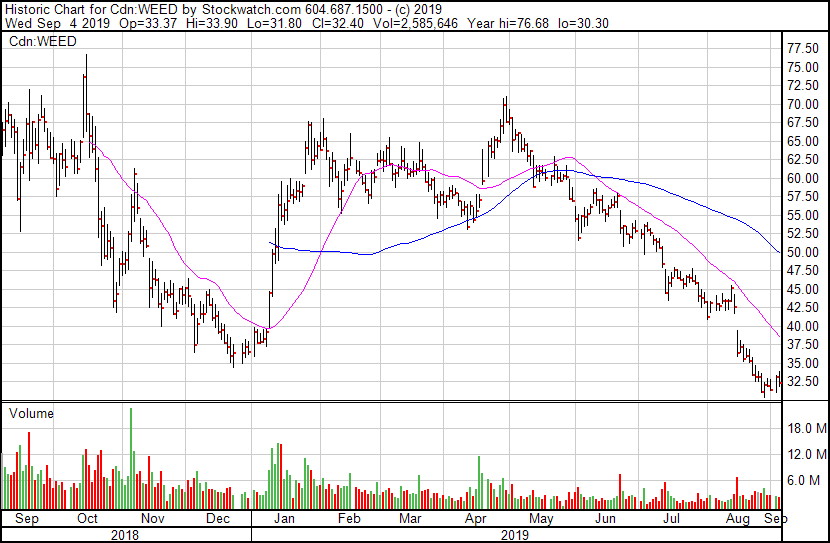 Marijuana ventures are no different than any other business: They need outside cash to sustain themselves until they consistently produce positive earnings, and are no longer technically a venture. Nobody was worried about the availability of outside capital when the market was a big blue sky without a ceiling, and nobody was less worried about it than Canopy Growth.
They still aren't worried, because the backers that made them a permanent fixture are the type of investors who want to own the business for practical purposes. True believers as opposed to speculators. They've got their control position, they've got their board seats. Constellation Brands (NYSE:STZ) sees the same potential in commercial consumer marijuana as the rest of us, and they've made this move to buy themselves an entrenched position in the sector.
They know that it's a low-margin pig chomping away on their cash faster than it'll ever pay out. It was like that when they bought it, and they didn't care then. It's becoming obvious that it will need more money before the market matures and its size starts to matter. That, too, was obvious when they bought it. Ever practical, they're in no particular rush.
Dis-parity
Since Canopy's April deal to purchase US Multi-state operator Acreage Holdings (ACRG.U), Acreage is nominally worth .5818 shares of Canopy, the price that Canopy agreed to pay to take on the tangle macrame quilt that Acreage's lawyers continue to weave out of the American legal marijuana yarn. Presently, with Federal legalization still a distant notion, the market is only valuing Acreage at .307 shares of Canopy Growth Corp.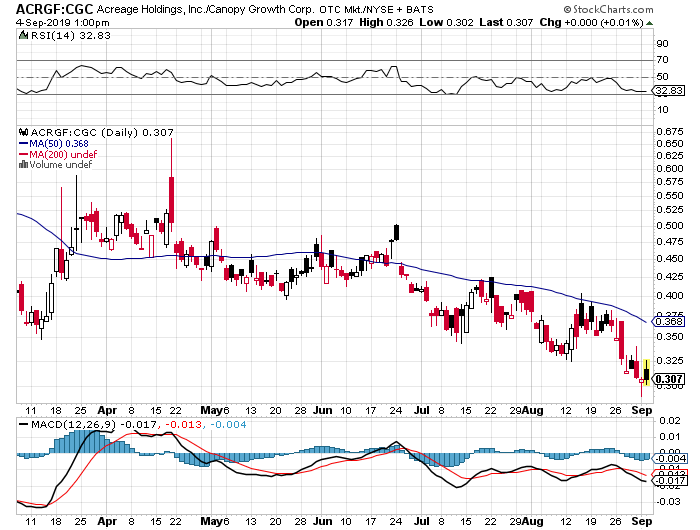 Which, depending on perspective, might be considered a tremendous value or a terrible omen. Let's have a look at the fundamentals of this mess.
They named it "Acreage" for a reason
Canopy's investment in Acreage is a microcosm of the same thesis that Constellation appears to be working with in its investment in Canopy; find a way to gain territory ahead of the shift. Pay whatever it costs to hang on to it, because odds are the largest portion of a consumer market with a 10,000 year track record of making money is going to end up being worth more than it costs to get there first and keep it. It's clever, but it isn't complicated or even original.
Acreage Holdings was created to give its investors exposure to a stateside version of this same strategy. The balkanized US marijuana environment is made up of various jurisdictions whose laws are deliberately hostile to the commercial development of the marijuana trade, preferring to preserve the control held by medical collectives; cultivators whose civil disobedience of destructive drug laws in the name of a patient's right to chose their own medicine became a sort of proto-legalization.
To Acreage, the ongoing prohibition against for-profit ownership in states like New Jersey and Maine is a barrier that they're able to out-maneuver, and a way to consolidate ahead of the pack of wolves who will surely follow when owning and operating cannabis businesses is allowed in those locations. ACRG.U has used management agreements, property leases and lending to secure a notional title to these various operations at such a time that the laws allow for them to be owned. The near-term profitability of the businesses that Acreage has an option to own, and the ones they presently own, isn't one of their primary concerns. Acreage was built to gain territory.
Is the slack accounting for future dilution?
And, since April, the territory they gain and the cost rate at which they gain it has been academic to everyone but Canopy Growth. WEED's option to purchase Acreage caps the .5818 share-of-Canopy-per-Acreage-share purchase price out at a total of 188.2 million Acreage shares. After that, the ratio goes down as they dilute. Presently, Acreage's options and RSUs put the company at a fully diluted 131.6 million shares outstanding, leaving them 56.6 million shares to work with as they finance the rest of this land grab.
At a 0.5818 exchange rate, 188.2 Acreage shares costs 109 million shares of Canopy which, at yesterday's closing price, works out to $2.7 billion. If ACRG doesn't print another share, the deal works out to Canopy buying them for $1.8 billion. Since Acreage is presently worth about $1 billion, the projected dilution can't account for all of the slack.
Acreage's cash balance June 30th was $84 million. It's costing them around $30 million per quarter to run this show, giving them another six months before they need to either raise money or slow down.
Canopy still has a release hatch. They can forfeit the $300 million they paid directly to Acreage shareholders and keep the 76.5 million – 109.4 million shares they would have to print to buy Acreage for a $150 million break fee. So far, they haven't mentioned doing that, and whether they will or not comes down to the math. So what's Acreage worth?
It's a harder answer than it should be, because of Acreage's off-balance-sheet acquisitions strategy, and the cagey reporting that comes with it. There is territory here. It's worth something when legalization comes around.. but what? How much? There are no unit sales for Acreage. The businesses they won and are buying are opaque.
ACRG gives a pro-forma revenue figure for their optioned dispensary assets, but not a pro-forma cost. $30 million in context-free revenue is a difficult thing to understand. There's no telling what it's doing for margin, unit sales or even harvest. The fact that they don't tell us much doesn't make it seem good.
By the time the legalization that makes Canopy's option good comes along, there's no telling what the landscape will look like, or what competition ACRG's dispensaries will face in their home jurisdictions or federally. The concept is that they have a head start, but it's hard to say whether or not they do for sure.
It might not be that complicated
The $6.42/share slack in the ratio could be interpreted as a discount accounting for the triggering event being a long way off, combined with an accounting for the dilution that Acreage will take on in the interim. One way or another, the market isn't showing much optimism for the idea that buying Acreage will be accretive for Constellation Brands' Canopy Growth. $2.7 billion could buy a lot in this beat up marijuana market. It would only cost them $150 million to use it to buy something better than Acreage.
Then again, Acreage could be leading this trade. The discount might be a simple reflection of Canopy's declining share price which – in and of itself – isn't a ringing endorsement of their option on Acreage.
Bruce Linton was the architect of the Acreage deal. He sold everybody on it, including Constellation and, in the process, reminded this market what it had to dream on; the cannabis sales generated by the enormous US consumer market. Typically, Linton successfully played it for all it was worth in the near term. The details would work themselves out in the future. This is that future, or at least a slice of it.
Things change quickly. 2020 is an election year. A front runner who gets there with a marijuana legalization promise would be good for multi-state operators. But, at that point, or even ahead of it, is Acreage still the horse Canopy wants to back?
---
Information for this briefing was found via Sedar, Canopy Growth Corp and Acreage Holdings. The author has no affiliations related to this organization. The author is currently short Canopy Growth Corp. Not a recommendation to buy or sell. Always do additional research and consult a professional before purchasing a security. The author holds no licenses.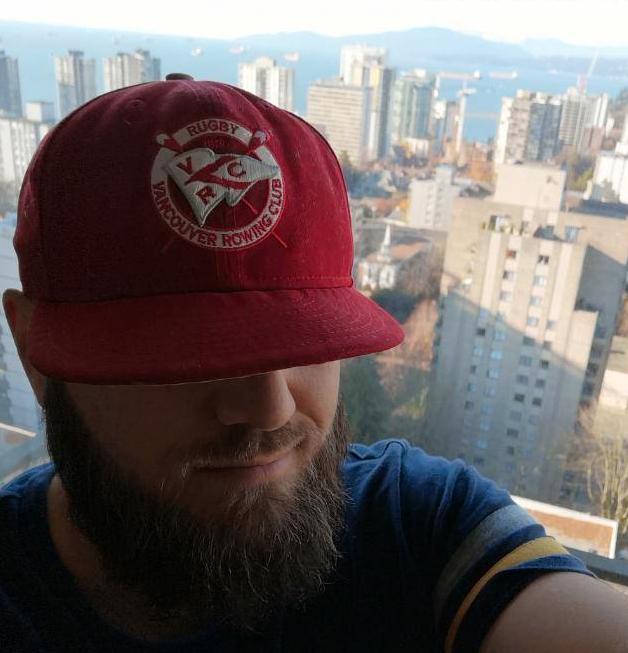 Braden Maccke is a freelance writer from Vancouver, B.C.
You can read all of his Deep Dive articles here.
He can be reached at braden@fundamentalhype.com.