Federal Wage Subsidies Granted to Publicly Traded Cannabis Companies Eclipses $100 Million
On June 1, 2021, total wage subsidies doled out to publicly traded cannabis companies from the Canada Emergency Wage Subsidy ("CEWS") program crossed the $100M mark, after Canopy Growth Corp. (TSX: CGC) disclosed that they had received $11 million in subsides over their most recent fiscal year.
Despite the overall explosion in cannabis sales throughout the COVID-19 pandemic and the program's general mandate to assist companies with declining revenue, at least 37 publicly traded cannabis companies, 2 of which have since been acquired, were able to tap the program.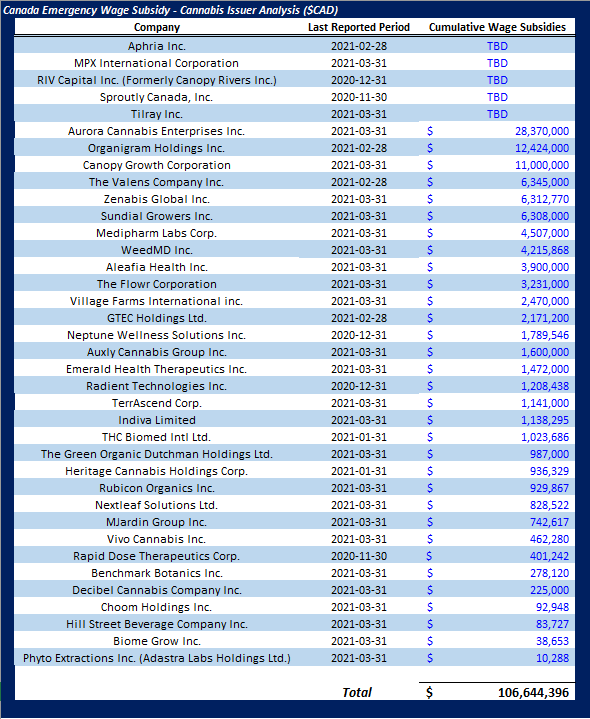 Disclosed amounts received by public cannabis companies ranged from as much as $28.4 million booked by Aurora Cannabis Enterprises Inc. (TSX: ACB) to just $10.3 thousand received by Phyto Extractions Inc. (CSE: XTRX). While 37 companies have thus far received funds from the program, approximately half the total disclosed subsidies, totaling $51.8 million, flowed to just 3 companies, Canopy, Aurora, and Organigram Holdings Inc. (TSX:OGI).
The total subsidy amount granted to public cannabis companies has nominally cleared $100 million, however, the actual amount received is likely far higher due to inconsistent disclosure practices. While the majority of companies that received the subsidy did provide a granular disclosure in their financial statements as to the exact amount of money they received, several companies opted to simply obfuscate the amount.
Aphria Inc., which has since merged with Tilray Inc. (TSX: TLRY) to form the "New Tilray", first disclosed in their fiscal 2021-Q2 financial statements, filed on January 14, 2021, that they had been receiving money from the program. Rather than spell out exactly how much money they received from the CEWS, Aphria chose to consolidate that amount within a single line item on their income statement titled "other non-operating items, net." As a result of this disclosure practice, it is unclear what other items are included within that single aggregated line item and how much money Aphria actually received from the program.
Other cannabis companies, such as MPX International Corporation (CSE: MPXI), simply acknowledged in their financial statements that they had collected money from the program, but provided zero guidance as to how much they received. This becomes particularly frustrating when you realize that the benefits of this subsidy provided an unknown boost to MPX's adjusted EBITDA figure, which many analysts and investors rely on to make meaningful comparisons between companies. 
The accounting rules do provide companies with the freedom to deduct the amount received from government subsidies against a specific line item, such as a company's general and administrative expenses. This is how companies like MJardin Group Inc. (CSE: MJAR) were able to book a payroll and benefits expense of negative $9,972 on their most recent quarterly financial statements. What can be extremely challenging, however, is when companies choose to make this quiet deduction against their expense accounts while providing zero guidance as to how much is being deducted.
Given that the most recent federal budget extended the CEWS from its prior end date of June 5, 2021, to September 25, 2021, investors and analysts need to be mindful of the impact of these subsidies. With another half year to tap the program, we are likely going to see further material increases in the subsidies flowing to public cannabis companies.
---
Information for this commentary was found via Sedar and the companies mentioned. The author has no securities or affiliations related to this organization or any organization mentioned. Not a recommendation to buy or sell. Always do additional research and consult a professional before purchasing a security. The author holds no licenses.