After Ukraine, Is Moldova Next?
Moldova has encouraged civilians to keep calm after Russia's defense ministry stated Ukraine was preparing to take over a Moldovan breakaway region that houses a significant munitions depot.
The statement from Moscow refers to Transnistria, an area under its authority that split away from Moldova in the 1990s after an armed conflict. The region still has 1,600 Russian soldiers stationed there and one of the largest munitions stores in the former Soviet Union.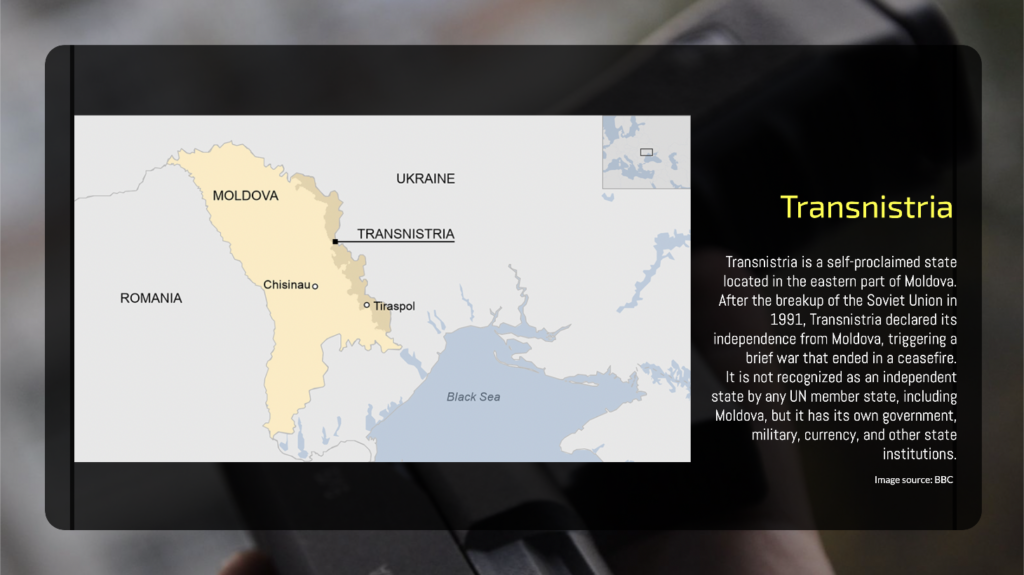 But, the Moldovan government on Thursday claimed it "does not confirm the information issued this morning by the Russian ministry of defence," adding that the pronouncements are merely "an element of a psychological operation."
Russia's hostility toward Moldova has risen in recent weeks, after President Maia Sandu's pro-Western government revealed intelligence of an alleged Russian attempt to destabilize her, a concern she discussed in talks with senior EU and US officials. Sandu met US President Joe Biden in Warsaw on Wednesday, and he pledged his support for her country.
The crisis in Ukraine has made it more difficult for Moldova, which has applied for EU membership but maintains a neutral defense policy, to contain long-standing tensions with Russian-backed separatists in Transnistria.
The fighting has also highlighted Moldova's fear of being drawn into a direct confrontation with Russia. Sandu verified the Russian scheme only days after Ukraine's president, Volodymyr Zelenskyy, made it public.
This heightened after the Ukrainian Security and Defense Council recently stated that its military is considering diverting a portion of its forces to the Moldova and Transnistria border region in the event of regional instability.
Former Moldovan President Igor Dodon, known to be pro-Russia, is suggesting to take the other route, urging Ukraine to stay away from Transnistria.
"I'd like to appeal to our Ukrainian neighbors. They are our brothers. We do not need your help with Transnistria. Deal with your problems," Dodon said in a chance interview. "Any step by Ukraine towards Transnistria will be aggression against the Republic of Moldova."
Observers are noting that Russia might be angling to use the supposed Ukraine attack on Moldova to justify its own military movement in Transnistria under the guise of defense. The same tactic was used when Russian President Vladimir Putin invaded Ukraine on the basis of defending the four regions in the country that Russia claimed to be within its territory.
Overthrowing Sandu
Sandu recently accused Russia of planning a coup in Moldova with the support of foreign citizens who have received military training.
"The plan involves the use of people from outside the country for violent actions. For example, the materials contain instructions on the rules of entry into the Republic of Moldova for citizens of the Russian Federation, the Republic of Belarus, Serbia and Montenegro," Sandu said of the alleged plot in a speech.
Although Moldova's EU membership application is still pending, it scored support from Poland in denouncing ploys of a coup.
The speech follows Sandu nominating former Interior Minister Dorin Recean to take the place of Prime Minister Natalia Gavrilita, who resigned from her position following an 18-month tumultuous tenure marked by an economic crisis and ripples from Russia's war in neighboring Ukraine.
Recean's recent pronouncements call for ending Russian occupation in Transnistria, saying the region must be de-militarized and the Russians expelled.
Last April, tensions in Moldova escalated following a series of explosions in Transnistria, where Russia has approximately 1,500 troops, raising fears that it would be drawn into Russia's war in Ukraine.
Military experts saw Transnistria as a potential launch pad for Moscow to seize southern Ukraine at the start of the war. However, with Russian soldiers being pushed back in the country's south-east, Russia's ability to use the Moldovan breakaway region militarily or build supply lines across Ukrainian territory is greatly curtailed.
Despite this, it is estimated that 22,000 tonnes of munitions are stored in Transnistria, while Kyiv and Moscow are scrambling to replenish their own decreasing ammunition stores.
A significant portion of Transnistria's store dates back to the early days of the cold war, when ammunition was brought in from as far away as East Germany, and it is unknown if the oldest explosives can still be used. The Organization for Security and Cooperation in Europe performed the depot's last western inspection in 2006, although access was prohibited at the time due to Russian forces stationed there.
---
Information for this briefing was found via Financial Times and the sources mentioned. The author has no securities or affiliations related to this organization. Not a recommendation to buy or sell. Always do additional research and consult a professional before purchasing a security. The author holds no licenses.