Argentina: Newly-Elected President Javier Milei Promises To Dollarize Economy
Javier Milei secured victory in Argentina's presidential elections, signaling a shift to the right amid a vehement anti-establishment campaign, drawing parallels to former US President Donald Trump. Sergio Massa, his rival, conceded the run-off vote prior to the official results, stating, "Milei is the president elected for the next 4 years" while extending his congratulations.
Preliminary results, with over 94% of votes counted, indicate Milei with a majority of over 55% (13,781,154 votes). The National Electoral Chamber has yet to declare an official winner.
Milei's ascent from a TV pundit to the presidency reflects a commitment to "break up with the status quo," epitomized by his opponent, Sergio Massa. His proposal to dollarize Argentina, if implemented, would be an unprecedented move for a country of Argentina's size, relinquishing control of its monetary policy to Washington decision-makers.
The decision is particularly polarizing given the fact that Argentina's foreign exchange reserves is at its lowest in 7 years, ending at $21.5 billion in September. The move will also spell momentous adjustments for mining firms focused in developing and operating projects in the South American country like Argentina Lithium, Lithium Chile, and Cerrado Gold, to name a few.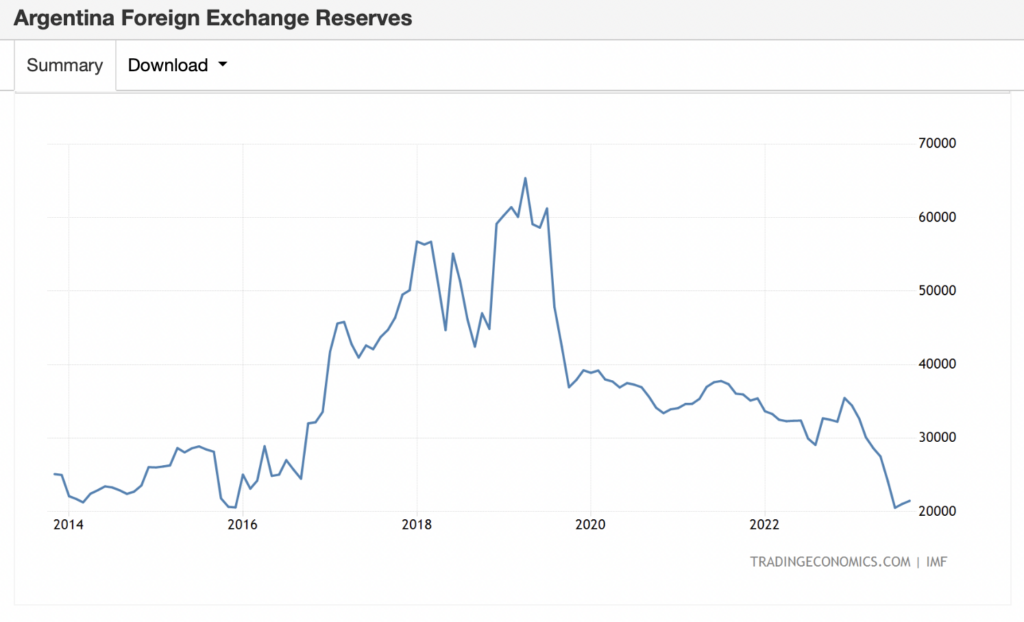 However, Milei is a big supporter of crypto, pledging to launch a central bank digital currency (CBDC) if elected to "solve" Argentina's long-lasting inflation crisis.
"We have to understand that the central bank is a scam," said Milei earlier this year. "What bitcoin is representing is the return of money to its original creator, the private sector."
A social conservative with ties to the American right, Milei opposes abortion rights, dismisses climate change as a "lie of socialism," and pledges to reduce government spending by closing ministries and eliminating public subsidies. Former US President Trump expressed support, posting on Truth Social, "Make Argentina great again! I am very proud of you."
Drawing parallels with Trump, Milei's unconventional political style and positions have garnered attention both domestically and abroad, with supporters echoing the Trumpian slogan, 'Drain the swamp,' shouting, "¡¡Qué se vayan todos!!" or "May they all leave!" expressing frustration with politicians from all sides. Argentina's left currently governs, following right-wing rule from 2015 to 2019.
Apart from his controversial dollarization plan, Milei advocates for deregulation on gun control, transferring authority over the penitentiary system to the military, and using public funds to support private education. His unexpected rise raises global concerns about a potential resurgence of far-right populism in the region.
In a conciliatory speech, Massa acknowledged Milei's victory, stating, "The model of decadence has come to an end." Milei, in a defiant address, acknowledged the challenges ahead, including inflation, unemployment, and poverty, emphasizing the need for decisive measures.
Milei's economic shock therapy plans include shutting the central bank, abandoning the peso, and implementing spending cuts, resonating with voters dissatisfied with the economic downturn. While challenges loom, including government debt, an IMF program, and high inflation, Milei's supporters view him as a catalyst for positive change.
The newly-elected president faces an economy on a brink of collapse, marked by breaching 100% inflation rate this year.
The victory marks a significant departure from Argentina's political landscape, challenging the dominance of the Peronists and the conservative bloc. Milei's political program faces scrutiny, but his supporters believe he is the catalyst for breaking the political status quo that has plagued Argentina for years.
---
Information for this briefing was found via CNN, Reuters, and the sources mentioned. The author has no securities or affiliations related to this organization. Not a recommendation to buy or sell. Always do additional research and consult a professional before purchasing a security. The author holds no licenses.