Aurora Earnings Part 2: The Spend.
The Deep Dive outlined Aurora Cannabis' (TSX: ACB) (NYSE: ACB) ops this past Saturday and, as dismal as it made their P&L look, the company would have us believe that it can be fixed with a reduced spend. Both last week's pre-earnings release that cleaned house and this week's earnings release were all about reigning in SG&A costs and capital spend.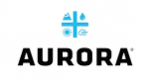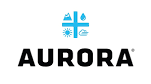 Interim CEO Michael Singer came in hot in paragraph two of the earnings release, letting the world know that "being a profitable cannabis company for our investors is the singular near term focus for Aurora," emphasis added to give Singer credit for acknowledging that nothing this big or this expensive keeps going for this long without someone making money.
Former CEO Terry Booth, the subject of an exclusive interview with Bloomberg BNN's David George-Cosh published Friday, showed no sign of regret about the open-throttle approach that landed Aurora where it is and made him a great deal of money along the way.
"[Aurora] never had a crime committed by any of our executives."

Former Aurora CEO Terry Booth
It's an odd thing to bring up but, as far as we know, technically true.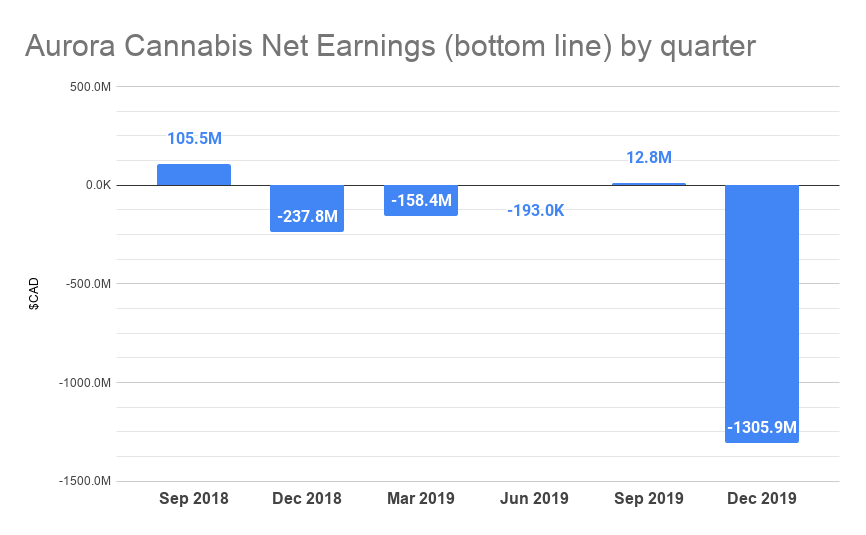 It's a good thing the bottom line isn't a very good way to evaluate venture stage companies, because Aurora's bottom line is ugly. Its relevance, much like Aurora's market cap, is mostly a function of its absolutely MUTANT size relative to ACB's ops.
Most of the loss is non-cash charges incurred on asset impairments, so it isn't like ACB put $1.3 billion through a shredder in three months. It's just that they picked this quarter, unsolicited by auditors, to admit that much of the assets they'd bought aren't worth their carrying value, their worth having suffered from the same mutation as ACB's market cap. It's been dead money walking for quite some time now, and we'll get around to whose money it is and used to be after we go over the specifics.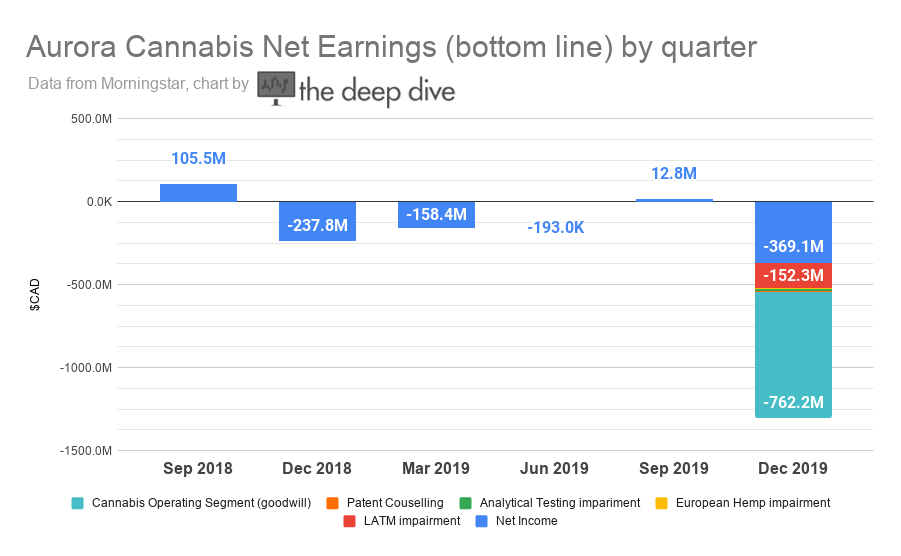 ACB impairment charges (Q4 2019)
Latin American assets
$153 million, including $143 worth of intangibles they had attributed to the licenses of the Uruguayan division, the former ICC labs, bought by Aurora in an all-stock deal in November of 2018. ICC labs had done $315,000 in sales in the 6 months reporting period prior to their acquisition at a -$1 million gross loss.
Euro-hemp and analytics
The European hemp division, analytical testing labs and patient counselling division took a $20 million hit between them. Mostly, these divisions are accessories to the main event. Side bets placed on total coverage of the verticals in the dream they were selling, but the big hit came from the last place they wanted it, and the only place it could reasonably go:
Cannabis operations
$762.2 million worth of goodwill was written down from the cannabis operating segment which, naturally, seems kind of important to a cannabis operation. Here, Aurora should be given credit for what Hunter S. Thompson called "an agonizing re-appraisal of the situation."
The credit doesn't go beyond taking their belated medicine, because Aurora were the ones inflating these assets in the first place, and it's easy to see why. Nobody ever banked a fat stock option package by acknowledging the speeding train that the company managed to catch is a runaway.
The formula for assessing the value of the assets included, possibly for the first time, a cash flow estimate based on actual operating results and, crucially, the weighted average cost of capital.
There's no such thing as perpetual motion
When a company's expenses exceed its revenue, the capital markets are essential to that company, and never mind its size. Aurora's ambitions to build an industrial scale company out of the gate had them acting like Bayer AG or Anheuser Bush. Operating 15 facilities in four countries gets expensive. That expense is defensible in a paradigm that has them all pumping out high-test that can be sold at a premium, but the money to buy and operate it all has to come from somewhere, and money costs money.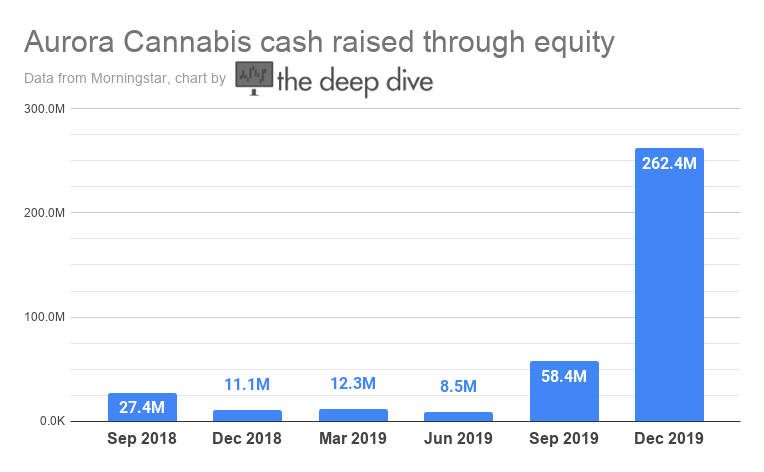 Aurora raised $380 million through the issue of shares for cash in the past five quarters, as per Morningstar, net of issuance costs. That big spike in the December quarter represents a November early conversion opportunity, offered to holders of debentures meant to convert at $7.23, to convert at $3.28. The holders all took them up on it. There are still $301 million worth of principal and interest owed by ACB on convertible notes to go along with the $141 million owed under their various credit facilities…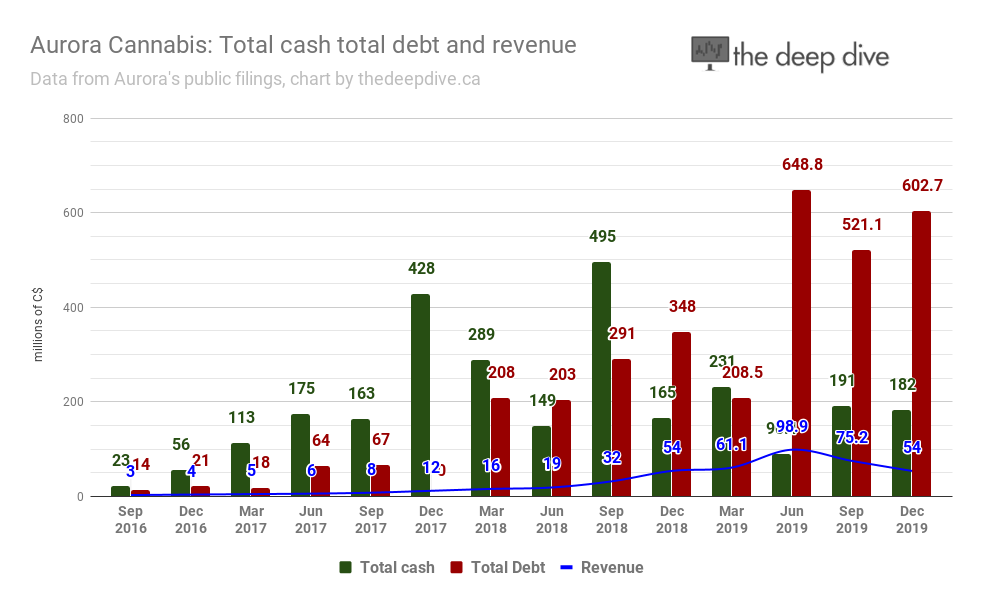 … which, of course, also cost money…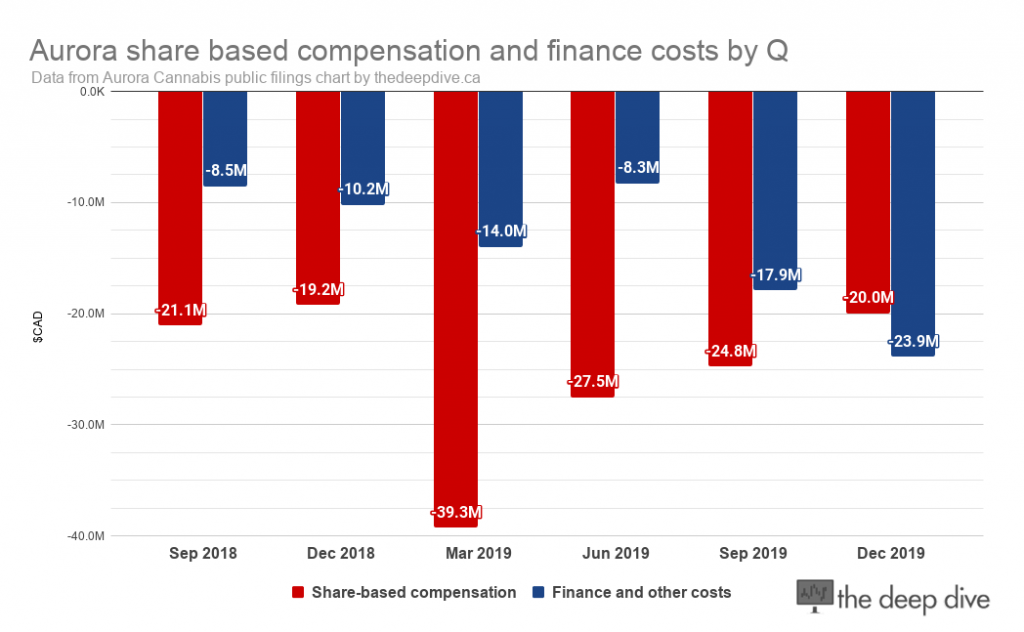 … and have everything to do with why this went on for so long.
While it's incumbent upon management to take care of the shareholders' interests, those shareholders all put up their money because they were interested in building a fully automated cannabis machine, suitable for taking over the world at the very dawn of modern cannabis legalization. These executives weren't banking fat option and restricted stock unit packages to execute an aggressive global roll out cautiously. The financial industrial complex that sells them their operating capital wouldn't be able to sell stock or debt with that kind of pitch, and why would they want to, anyhow? What would be in it for them?
Presently, the new-look Aurora is relying on an at-the-market (ATM) capital prospectus to finance its operations. It raised $7.5 million since December 31 through the issue of 3.6 million shares at an average price of $2.07. No word on the commission payable for that raise.
---
Information for this briefing was found via Sedar and Aurora Cannabis. The author has no securities or affiliations related to this organization. Not a recommendation to buy or sell. Always do additional research and consult a professional before purchasing a security. The author holds no licenses.