Block: Cash App Users Consist of Criminals & "Jack Dorseys," As Per Hindenburg, While Company Cries Foul To SEC
Famed short selling research firm Hindenburg Research released yet another report; this time, the focus is on fintech firm Block Inc (NYSE: SQ), f/k/a Square Inc. The research mainly questioned the firm's touted user base, highlighted its questionable composition, and accused the company of predatory tactics.
According to Hindenburg Research, a two-year investigation into Block discovered that the company "obfuscates" the true user numbers of its Cash App service by reporting misleading metrics "filled with fake and duplicate accounts." It also accused the company of exploiting the demographics it claims to serve—lower-income people and minorities—with "predatory loans and fees."
Block is best known for its trademark white credit-card readers, which allow companies to accept payments using a smartphone or tablet, but its Cash App peer-to-peer payment service has been a crucial driver of the company's recent development. During the Covid-19 outbreak, the simplicity with which Block made it possible for people to obtain stimulus payments and unemployment benefits in Cash App helped to boost its adoption.
As of December, Cash App has more than 51 million monthly active users, more than double its pre-pandemic user base. Inflows exceeded $203 billion in 2022, about four times what they were in 2019. Cash App's fourth-quarter gross earnings eclipsed that of Block's small-business-focused Square segment.
Hindenburg said the research "involved dozens of interviews with former employees, partners, and industry experts, extensive review of regulatory and litigation records, and FOIA and public records requests." After conducting the research, it took a short position on Block.
Following the report, Block's shares fell almost 15% on the day. Block CEO Jack Dorsey's personal fortune fell by $526 million, his greatest single-day loss since May. According to the Bloomberg Billionaires Index, he is now worth $4.4 billion following an 11% decline.
Misleading user acquisition numbers
One of the points Hindenburg highlighted is that "Block has wildly overstated its genuine user counts and has understated its customer acquisition costs." In its interview with former employees, it is estimated that "40%-75% of accounts they reviewed were fake, involved in fraud, or were additional accounts tied to a single individual," contrasting the touted expectations of 51 million monthly transacting active users.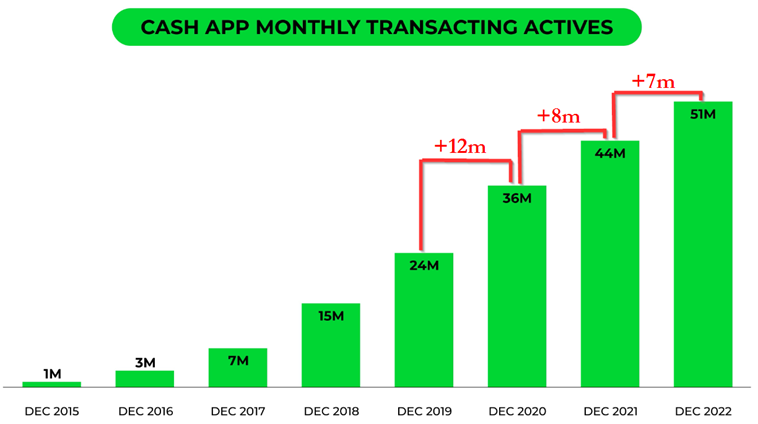 A former employee said: "The people that you see that just have like 10 or so other accounts tied to them, it's, you know, the assumption is that they must be doing something, you know, risky."
Such accounts indicate that a person may have created multiple accounts using stolen information, that they were moving money through a series of accounts to conceal its origin, or that they were kicked off the system and returned multiple times for policy violations such as attempting to defraud other users or the company.
Hindenburg also hit Block's lax user acquisition policy, saying "Block created a system in which users could join the platform multiple times, even after getting kicked off for fraud."
According to one former employee, Cash App did not restrict users based on Social Security numbers, and users could easily create new phone numbers or email addresses to re-enter the network.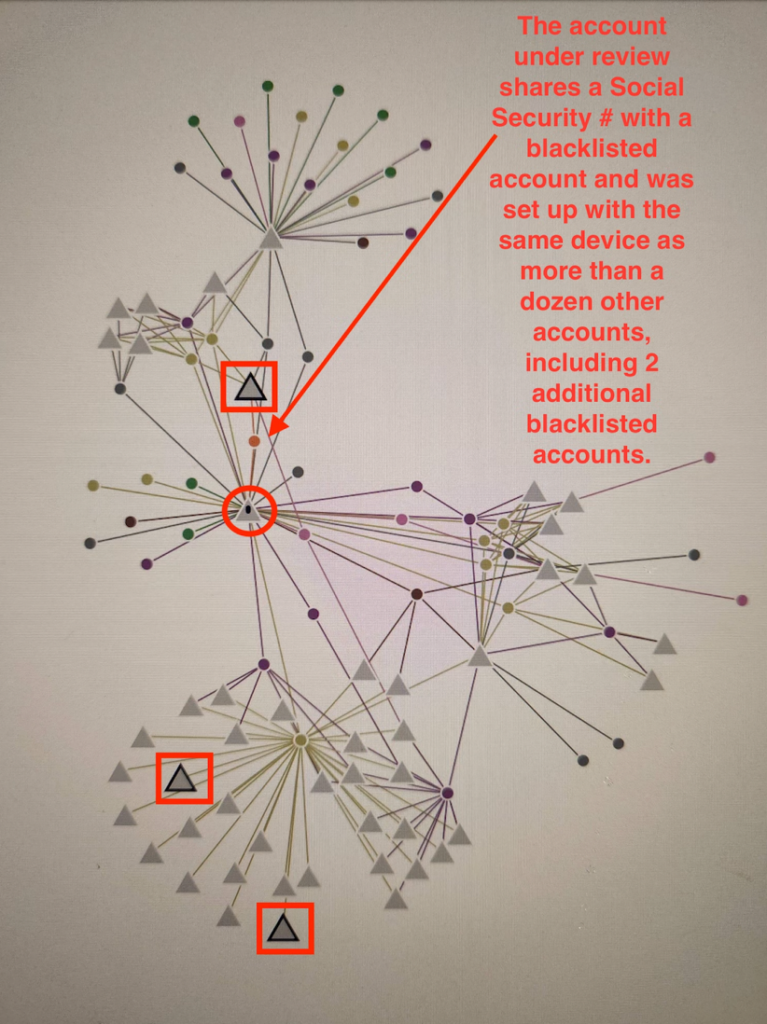 Jack Dorseys, Donald Trumps, and Elon Musks
To prove the point of multiple inauthentic accounts, Hindenburg showed that there are Cash App accounts sharing the name with CEO Dorsey, former US President Donald Trump, and Twitter CEO Elon Musk.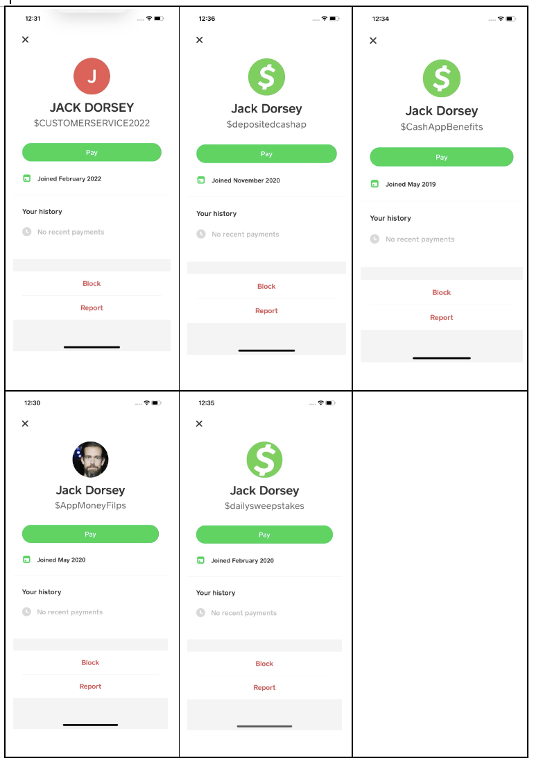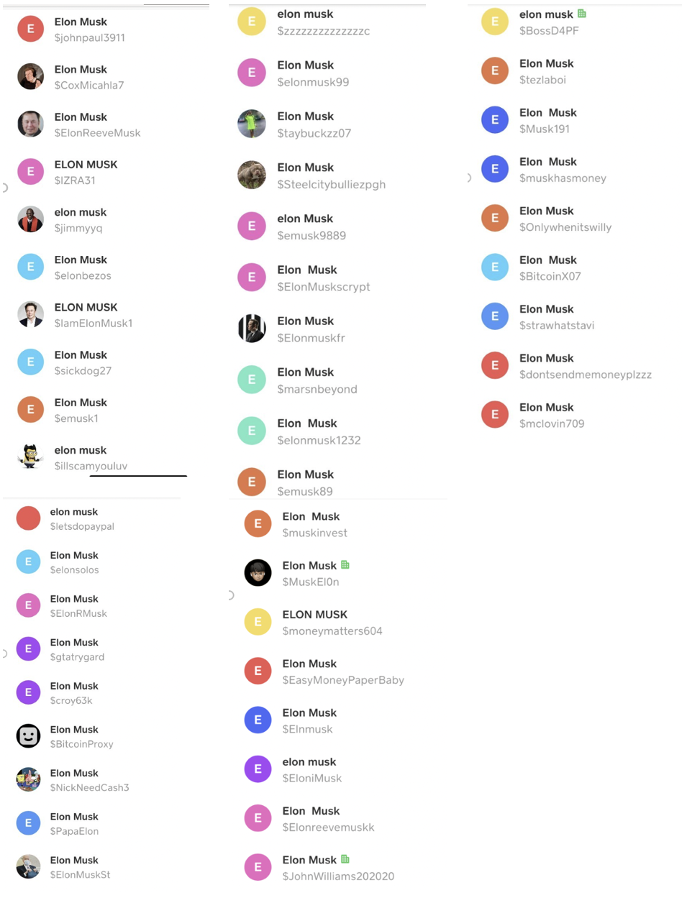 "We found 50 Cash App accounts under the name 'Donald Trump"' in late November, including ones with cash tags such as '$donaldtrump24' and '$TrumpApproveDonation'," the research firm revealed.
While Block's terms explicitly state that users "may not select a $Cashtag [account name] that misleads or deceives others as to your business or personal identity or creates an undue risk of chargebacks or mistaken payments," Hindenburg was able to easily change their created Block accounts' names to Donald Trump and Elon Musk.
"To test this (1) we created two Cash App accounts (2) changed our outward facing personas to Elon Musk and Donald Trump and (3) successfully exchanged funds," Hindenburg explained.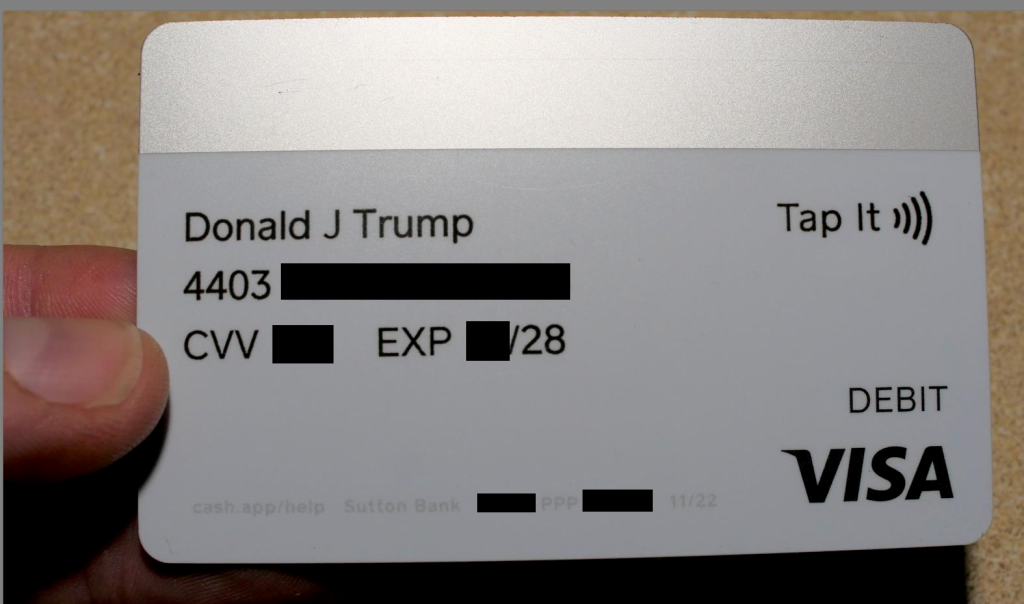 Criminals and rap songs
"Our research shows that Block has embraced a traditionally very underbanked segment of the population: criminals," Hindenburg said, citing one former employee saying, "every criminal has a [Cash App] account."
The research elucidated that Cash App's acceptance of non-compliance begins with making it simple for users to sign up for the platform, simple for them to re-register if their accounts are closed, and simple for them to stay anonymous or operate under plainly fraudulent identities.
According to a Baltimore news story and criminal records, in 2021, Baltimore officials apprehended members of the "Cash App" gang, who were charged with distribution of fentanyl and cocaine in a West Baltimore neighborhood.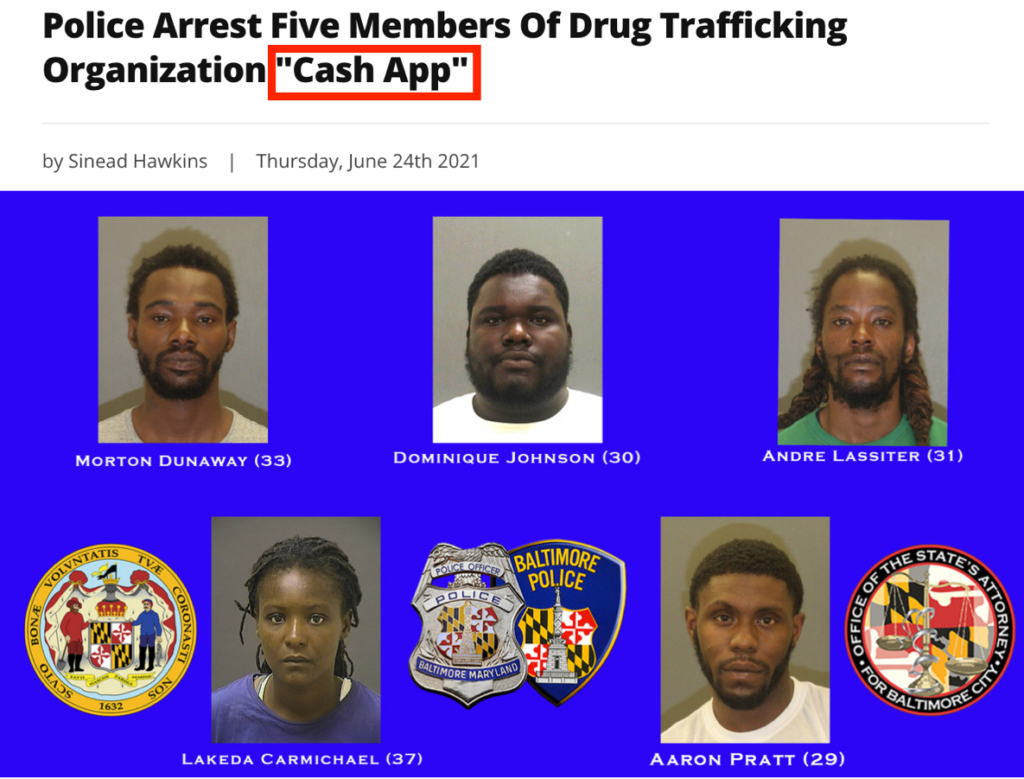 Hindenburg cheekily highlighted Dorsey saying that "the number of hip-hop songs that include the phrase Cash App or even named Cash App is pretty incredible." The short seller reviewed songs mentioning the app and found a host of these have lyrics describing "how easy it is to move money through Cash App to facilitate fraud, traffic drugs, or even pay for murder."
Of course, Hindenburg had to compile all these rap songs in one music video.
In one instance, Block promoted the video for 22Gz's song "Cash App," which detailed a turf war in which the artist uses Cash App to employ hitmen to murder his opponents and then stuffs their remains in garbage bags.
The lyrics specifically go: "I had a gun in my backpack / Blicky, the blicky, run down, where that stash at? / I pay them hitters through Cash App. / Shooters like Mitchell, put holes in his snapback. / We stuffin' bodies in trash bags."
22Gz was later arrested and charged with attempted murder in June 2022 after reportedly shooting in a crowded Brooklyn bar, injuring three people.
Sara Crowe, a senior director of Polaris Project, stated in a November 2021 article, "…when it comes to sex trafficking in the United States, by far the most commonly referenced platform is Cash App."
While Cash App responded by saying it rejects all payments tied to sex trafficking and other crimes, Hindenburg found numerous indictments by the Department of Justice where the app is referenced as a means to pay related crimes.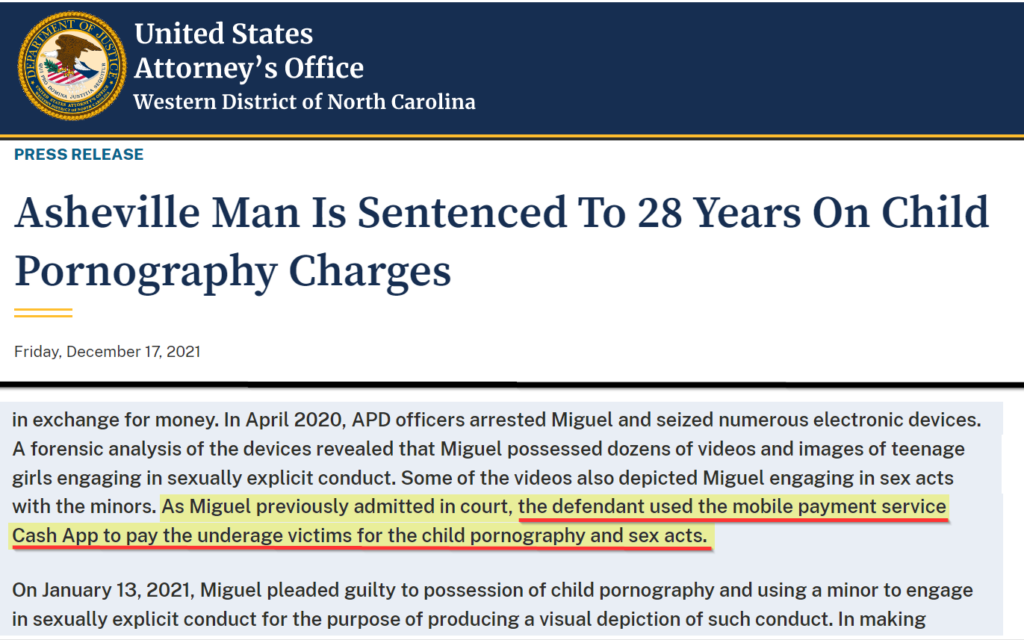 Blocking Block
"Block has misled investors on key metrics, and embraced predatory offerings and compliance worst-practices in order to fuel growth and profit," Hindenburg said in its report.
Hindenburg drew attention to Consumer Financial Protection Bureau and state attorney general investigations into Cash App's business practices, particularly the treatment of customer complaints and disputes. Block reported these problems in public filings and stated in court documents that the CFPB's probe requests were "overly burdensome."
Block immediately responded to the report with a short release, saying it has "reviewed the full report in the context of our own data and believe it's designed to deceive and confuse investors."
"Hindenburg is known for these types of attacks, which are designed solely to allow short sellers to profit from a declined stock price," said Block. "We are a highly regulated public company with regular disclosures, and are confident in our products, reporting, compliance programs, and controls. We will not be distracted by typical short seller tactics."
The fintech firm also said it intends "to work with the SEC and explore legal action against Hindenburg Research for the factually inaccurate and misleading report they shared about our Cash App business today."
With the dip in Block's shares–its lowest price this year–after the report, Ark Invest's Cathie Wood decided to buy more shares, continuing the hedge fund manager's strategy of buying dips in disruptive tech firms.
CNBC correspondent Kristina Partsinevelos recently tweeted about Block's non response to their inquiries. The reporter also cited Wall Street analysts coming to defend Block.
Hindenburg is known for targeting what it deems to be "fraudulent" firms. In its latest installment prior to Block, Hindenburg allegedly exposed one of New Delhi's largest conglomerates, Adani Group, as a firm that "has engaged in a brazen stock manipulation and accounting fraud scheme over the course of decades."
---
Information for this briefing was found via The Wall Street Journal and the sources mentioned. The author has no securities or affiliations related to this organization. Not a recommendation to buy or sell. Always do additional research and consult a professional before purchasing a security. The author holds no licenses.