Hindenburg vs. Adani Group, Explained
In a economic situation marred by recessions and fraudulent schemes left and right, we found ourselves in yet another massive public skirmish coming all the way from India.
Financial research firm and short seller Hindenburg Research exposed one of New Delhi's largest conglomerates Adani Group as a firm that "has engaged in a brazen stock manipulation and accounting fraud scheme over the course of decades."
"Gautam Adani, Founder and Chairman of the Adani Group, has amassed a net worth of roughly $120 billion, adding over $100 billion in the past 3 years largely through stock price appreciation in the group's 7 key listed companies, which have spiked an average of 819% in that period," the report said.
In its 413-page response–which some has been characterizing as a non-response–Adani claimed that Hindenburg's report is "nothing but a lie."
"The document is a malicious combination of selective misinformation and concealed facts relating to baseless and discredited allegations to drive an ulterior motive. This is rife with conflict of interest and intended only to create a false market in securities to enable Hindenburg, an admitted short seller, to book massive financial gain through wrongful means at the cost of countless investors," Adani responded.
The response also noted that the report's mala fide motive is clear given its timing, which coincides with Adani Enterprises Limited's "planned largest-ever further public offering of equity shares in India."
"This is not merely an unwarranted attack on any specific company but a calculated attack on India, the independence, integrity and quality of Indian institutions, and the growth story and ambition of India," the firm added.
Adani Group
The Adani Group is India's second largest conglomerate, led by Chairman and Founder Gautam Adani, who is presently the world's third richest man, having previously been ranked second. It has a presence in multiple industries including agribusiness, airport operations, energy, logistics, real estate, and more.
Hindenburg alleged that the stock values of the seven key Adani listed firms have strangely increased over the last three years, with several jumping multiple times, putting them among the largest companies in India.
"Even before examining the evidence put forward in this report and based solely on financials taken directly from its companies, the Adani Group appears to be highly overvalued," the report said.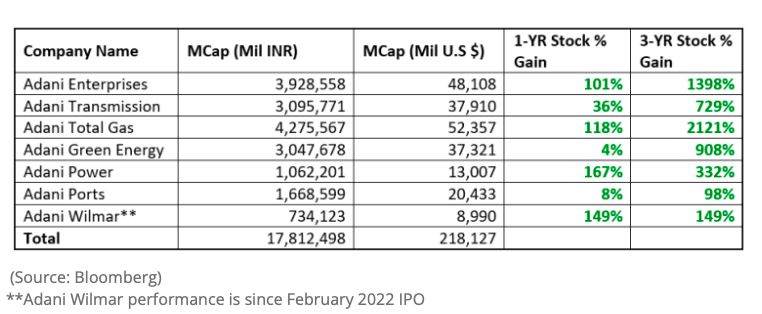 The report also noted that Adani is largely controlled by family members, which creates an environment conducive to unilateral and ambiguous financing decisions.
"The Chairman and Founder of the Adani Group is Gautam Adani, a former school drop-out turned diamond and plastics trader. He is also chairman of 6 out of Adani's 7 publicly listed entities bearing the Adani name," they wrote.
In addition to Gautam Adani, the Adani Group's 22-member leadership team includes at least eight members of the Adani family, according to Hindenburg.
Further, the report suggested that Adani has been accused of corruption, money laundering, and theft of taxpayer funds totaling an estimated $17 billion. Various arms of the Indian government have allegedly either stalled or stonewalled investigations.
In one instance, Rajesh Adani, Gautam Adani's younger brother and then-Managing Director of Adani Exports (later renamed Adani Enterprises), was one of numerous family members accused by investigators of central planning and consultation in a diamond trade import/export scheme in 2004-2005.
"Rajesh Adani has been arrested twice, in 1999 and 2010, for matters unrelated to the diamond trading accusations, according to media reports. The 1999 arrest was over allegations of customs tax evasion, forging import documentation and illegal coal imports, according to one media report," Hindenburg wrote.
Despite these, Rajesh Adani now serves as Adani Group's managing director, characterized as a "vital" part of the Adani Group, adept at "developing its business relationships".

The Hindenburg allegations and Adani's responses
Towards the end of the Hindenburg report, the research firm asked Adani 88 questions regarding the two-year investigation it conducted.
"Given Gautam Adani's claims to welcome criticism and embrace transparency, we hope the Adani Group will be pleased to answer the following 88 questions," the report posed.
In their response, Adani said that while they are "under no obligation whatsoever to respond to these baseless allegations," they provided responses "in the spirit of good governance, transparency to our stakeholders and to avoid false market."
"There are three key themes from the Hindenburg Report: i) selective and manipulative presentation of matters already in the public domain to create a false narrative, ii) complete ignorance or deliberate disregard of the applicable legal and accounting standards as well as industry practice, and iii) contempt for the Indian institutions including the regulators and the judiciary," the company said.
In the interest of brevity, our team summarized key allegations launched by Hindenburg and the collective response Adani wrote.
Hindenburg allegation
Adani response
Members of the Adani family have allegedly played a prominent part in the group's suspected illicit activities, especially in the diamond trading import/export scheme. Regardless, family members have been promoted, and import-export trade has persisted.
Said cases have been closed and dismissed in Adani's favor. These are revealed in the public domain, and all stakeholders are aware of them.
"These have been cited solely in an attempt to further the narrative of lies."
Directorate of Revenue Intelligence (DRI) investigation records link Adani family members to the diamond trading scam in 2004-2006.
The Appellate Tribunal (CESTAT) ruling of August 2015 dismissed all DRI claims and confirmed that all diamond export and import transactions were legitimate and authentic. The Supreme Court of India upheld this in a subsequent appeal.
Between 1999 and 2005, the Securities and Exchange Board of India (SEBI) investigated and convicted more than 70 businesses and persons, including Adani promoters, for manipulating Adani stock.
There are no ongoing procedures against the Adani promoters before SEBI over this matter, and all previous matters have been closed.
Given that the promoters of the Adani Group pledge shares as collateral for loans, stock manipulation would artificially inflate the collateral and borrowing base for such loans.
Large reputable financial organizations and banks make these loans based on a thorough credit investigation of the underlying assets in the listed company as well as a careful assessment of the liquidity of the company stock pledged as collateral.
"Hindenburg's narrative of alleged stock manipulation on account of pledge of shares has no basis and stems from ignorance of the securities laws in India."
Vinod Adani, Gautam Adani's elder brother, has been regarded as "an mysterious figure" by the media. He has frequently been discovered at the core of the government's Adani investigations for his suspected participation in managing an offshore network used to enable fraud.
Vinod Adani holds no managerial positions in any Adani listed entity or its subsidiaries and has no involvement in their day-to-day operations.
Adani was accused of overvaluing coal imports via shell companies in Dubai, the UAE, Singapore, and the British Virgin Islands (BVI).
Adani said it has already submitted the appropriate documents to the regulator in accordance with the DRI guidelines, and has yet to get a show cause notice.
Vinod Adani and Subir Mittra are linked to at least 38 Mauritius-based businesses (the head of the Adani private family office), as well as related firms discovered in tax haven jurisdictions such as Cyprus, the UAE, Singapore, and several Caribbean islands. Several of these entities appear to have transacted with Adani entities without declaring the related party nature of the transactions, which appears to be a breach of the law.
All transactions entered into with entities that qualify as'related parties' under Indian laws and accounting standards have been duly disclosed, are publicly available to all regulators and stakeholders, and have been duly verified and audited by independent third parties who are competent and have the necessary expertise.
Hindenburg uncovered a sequence of transactions from 2013 to 2015 in which assets were moved from a subsidiary of publicly traded Adani Enterprises to a private Singaporean corporation controlled by Vinod Adani, with no disclosure of the related party nature of the transactions. The Singaporean firm then almost instantly wrote down the value of the transferred assets, averting an impairment loss.
The transactions concern the transfer of costs to a specific project organization formed for rail businesses (Carmichael Rail Network Trust incorporated on September 17, 2014).
"The amounts transferred included:
(i) Exploration and Evaluation Assets (i.e. Capital works in progress); and
(ii) Amounts already expensed to profit and loss account and an arms length management fee charged by Adani Mining (a step-down subsidiary of Adani Enterprises)."
Vinod Adani-controlled firms and other offshore companies controlled by Adani executives have invested or lent financing to private Adani entities without disclosure of it being a related party. Most of the firms have no verifiable online presence and undisclosed source of funds.
The transactions with the aforementioned overseas firms and 'private Adani entities' do not qualify as 'related party transactions' under Indian law or accounting rules. Adani is likewise unaware of their 'source of funds' and is not compelled to be aware of it.
Emerging Market Investment DMCC, a Vinod Adani-controlled UAE corporation, lists no workers on LinkedIn, has no significant internet presence, has disclosed no clients or deals, and is based out of an apartment in the UAE. It made a $1 billion loan to an Adani Power affiliate.
Emerging Market Investment DMCC (an affiliate of Adani Power Limited, the successful bidder for this asset) acquired the unsustainable debt from Mahan Energen Limited's former lenders for a consideration of USD 100 as part of the debt resolution plan of Mahan Energen Limited (earlier named Essar Mahan Limited), which was duly approved by the National Company Law Tribunal (NCLT) under the Indian Bankruptcy Code.
Four Adani Group firms lent AdiCorp Enterprises around $87.4 million, or more than 900 years of net income in 2020. 98% of those loans were almost immediately re-lent by AdiCorp to listed Adani Power.
AdiCorp is not a related party, and transactions with AdiCorp are not 'related party transactions' under laws of Indian or accounting standards and these have been undertaken in compliance with applicable law.
Adani Enterprises, a publicly traded firm, transferred US $100 million to a corporation ultimately managed by a private trust of the Adani family in the BVI, a known Caribbean tax haven, ostensibly to pay a security deposit to utilize an Australian coal terminal.
North Queensland Export Terminal (previously Adani Abbot Point Terminal) is a related party of Adani Mining, and any transactions between them are related party transactions. Adani Mining paid a "security deposit" to NQXT in order to secure its responsibilities under the long-term take or pay contract. The sum was neither 'charged' nor a 'fee,' as stated inaccurately in the report.
Given that the listed firms' business is also infrastructure management, why have listed Adani companies paid private Adani entity "Adani Infrastructure Management Services" INR 21.1 billion (US $260 million) during the last 5 years?
This allegation stems from a complete lack of understanding of how large companies in these sectors conduct business, with suggestions that simply because they manage infrastructure business, they cannot outsource parts work or enter into contracts to obtain such services from other related parties who specialize in providing such services.
What are the Adani Group Companies' and other Vinod Adani-related entities' dealings with Jatin Mehta?
Mehta is regarded as an Indian fugitive diamond merchant, standing accused of fraudulently siphoning $1 billion from multiple Indian banks via standby letters of credit before fleeing the country. Mehta's son is also married to Vinod Adani's daughter Krupa.
There are no business relationships or business dealings with Mr. Jatin Mehta.
Adani has substantial experience working with Amicorp, an international incorporation firm that played a key part in the 1MDB international fraud scandal.
Adani said it is not concerned with these completely unrelated "scandals" that Hindenburg allegedly brought up in an obvious attempt to create a false narrative about the company.
Adani picked Monarch Networth Capital to manage the OFS offers, a minor firm previously suspended and sanctioned by SEBI for market manipulation charges. An Adani private company also owns a small part in Monarch, and Gautam Adani's brother-in-law previously acquired an aircraft with the company.
Monarch Networth Capital was chosen for their credentials and ability to enter the retail market (as fully revealed in the public domain). Monarch's "suspension," as said, was for one month in 2011, more than a decade ago, and has no bearing on their appointment to the OFS.
Over the last 12 years, listed Adani companies have paid INR 63 billion to private contractor PMC Projects to assist in the construction of significant projects. According to a 2014 DRI inquiry, PMC Projects was a "dummy firm" for Adani Group.
In August 2017, the DRI adjudicating authority thoroughly investigated the claims and decided that they were baseless, holding that all imports were genuine and conducted at arm's length. The authority also concluded that the declared value is correct and does not need to be re-determined.
Pan Asia Coal Trading of Singapore won a coal supply tender announced by Adani Group in 2019. The website of Pan Asia Coal Trading contains no information about the company's coal trading experience, nor does it identify any of its employees. According to corporate records, a previous Adani Group firm director was also a director and shareholder of Pan Asia.
The transaction with Pan Asia has been explicitly reported in the financials, thus any suggestion that these transactions should be made public is ludicrous given that all key stakeholders have had access to this information for nearly 4 years. To be clear, no Adani corporate director was a director or shareholder in Pan Asia at the time of, or even near to the time of, the aforementioned bidding process.
According to Bombay Stock Exchange (BSE) records, Adani's seven core listed firms have 578 subsidiaries and have engaged in a total of 6,025 unique related-party transactions in fiscal year 2022 alone. Why did Adani choose such a complicated, interconnected corporate structure?
In India and many other jurisdictions, corporations must normally operate under a ring-fenced project finance structure, in which each project is housed in its own company and funding is raised against the individual project assets.
Adani Enterprises has had 5 chief financial officers in the last 8 years, which is a major red flag indicating probable accounting problems. Adani Green Energy, Adani Ports, and Adani Power have each had three CFOs in the last five years, while Adani Gas and Adani Transmission have all had four CFOs in the last four years.
The truth is that numerous of the CFOs who Hindenburg says have gone are still employed by the company in various capacities, including taking on larger or more important roles as part of our development narrative. The other CFOs mentioned in the report have left to pursue personal goals, including entrepreneurship, which we as an organization are glad to encourage.
Shah Dhandharia, the independent auditor for Adani Enterprises (AEL) and Adani Gas, had only four partners and eleven staff. The only other listed corporation that the firm examines has a market capitalization of approximately INR 60,000 (US $7.8 million). Both of the audit partners that sign off on Adani Gas and Adani Enterprises' annual audits are merely 28 years old.
Adani Portfolio companies all have a strong governance system. Each listed company's Audit Committee is made up entirely of Independent Directors and is led by an Independent Director. The Audit Committee makes recommendations to the Board of Directors for the appointment of Statutory Auditors.
Shah Dhandharia does the AEL entity's statutory audit. Shah Dhandharia & Co is a peer-reviewed Chartered Accountancy business that has been registered with the Institute of Chartered Accountants of India since 1999 and has over 20 years of expertise.
Adani Power's auditor, an Ernst Young affiliate, issued a "qualified" opinion in its audit, stating that there was no way to establish the value of INR 56.75 billion (US$700 million) in assets and loans held by Adani Power.
The 'qualifications' mentioned were completed by the auditor in accordance with the law and while taking into account numerous circumstances that affect the business from time to time. This is also completely stated in our financial accounts, and all of our stakeholders are well aware of it.
Multiple offshore and public companies, some deemed related parties, as well as firms connected to known fugitives, hold concentrated positions in Adani stock accounted for up to 30%-47% of the yearly delivery volume.
Each of the entities mentioned in the preceding queries is a public shareholder in one of the listed companies in the Adani Portfolio. Innuendos that they are in any way tied to the promoters are false.
Adani Green Energy (AGEL) faced delisting in 2019 because public shareholders accounted for only 13.5% of the float. Adani Green Energy made two offerings through OFS in May and June 2019 to prevent losing vital access to the public markets. These offerings led in the sale of 11.58% of the firm, just missing the 25% mark.
All listed firms in India are required by law to have a public shareholding of at least 25%. AGEL was expected to comply with the requirements of Regulation 38 within 12 months of the date of listing of its shares after the demerger from AEL in June 2018.
The OFS process is a regulated process that is implemented through an automated order book matching mechanism on the stock exchange platform. This is not a controlled procedure, and the purchasers are not visible to anyone on the platform.
Growmore Trade and Investment of Mauritius made an overnight profit of $423 million from a stock merger with Adani Power. Chang Chung-Ling, an individual who shared a residential address with Vinod Adani and was mentioned in DRI fraud charges as the director of a crucial intermediate business used to siphon funds out of Adani Enterprises, controls Growmore, according to court records.
The alleged stock merger was carried out in accordance with the Companies Act and all applicable regulations, including SEBI regulations. An impartial third party respected valuers validated the shares merger valuation. The value report was supplied by Ernst & Young and was supported by an ICICI Securities fairness opinion.
Gautam Adani said in an interview, "I always introspect and try to understand the others' point of view." Given this, why has Adani Group filed legal suits against journalists and activists, which have been condemned by media watchdogs? Why did it have an activist in Australia followed by private investigators?
Being open to introspection or understanding others point of view does not mean giving up the legal right to defend ourselves, our businesses and other employees through proper legal channels. Adani has exercised its rights in this matter in due compliance with law and through proper judicial processes in this respect.
A matter of nationalism?
After Adani's lengthy response, Hindenburg clapped back saying, "fraud cannot be obfuscated by nationalism or a bloated response." In particular, the research firm addressed the Indian conglomerate's characterization of their report as a "calculated attack on India."
"The Adani Group has attempted to conflate its meteoric rise and the wealth of its Chairman, Gautam Adani, with the success of India itself," Hindenburg answered. "We disagree."
Hindenburg added: "To be clear, we believe India is a vibrant democracy and an emerging superpower with an exciting future. We also believe India's future is being held back by the Adani Group, which has draped itself in the Indian flag while systematically looting the nation."
Instead, the firm said that Adani's response just largely confirmed their findings while ignoring its key questions.
"Our report asked 88 specific questions of the Adani Group. In its response, Adani failed to specifically answer 62 of them," said the research firm. "Of the few questions it did answer, its responses largely confirmed our findings, as we detail."
The research firm also noted that "Adani's '413 page' response only included about 30 pages" related to the report while the "remainder of the response consisted of 330 pages of court records, along with 53 pages of high-level financials, general information, and details on irrelevant corporate initiatives, such as how it encourages female entrepreneurship and the production of safe vegetables."
Hindenburg also reported a short position in Adani Group Companies via US-traded bonds and non-Indian-traded derivative instruments, following its research on the Indian company.
Adani's response gathered critical views online, mostly characterizing the firm's summation that the Hindenburg report is an attack on India as an attempt to deflect on the accusations of fraud.
Adani Ports & Special Economic Zone's 2027 bond has dropped in value and reached a new low following a selloff in the company's market value, resulting in a loss of over $50 billion. This drop in value follows an 11 cent drop from the previous week.
---
Information for this briefing was found via the sources mentioned. The author has no securities or affiliations related to this organization. Not a recommendation to buy or sell. Always do additional research and consult a professional before purchasing a security. The author holds no licenses.