Bluesky: The New Twitter? | Exploring Jack Dorsey's New Venture
Remember "Big Head" from the show "Silicon Valley"? You know, the lucky and lazy tech guy who always seemed to stumble into success as a direct result of his lazyness?
Well, picture him as the real-life Jack Dorsey, aka, the founder of Twitter.
Just like Big Head, Jack's complacency and laissez-faire approach to monitoring speech on Twitter may have been the key ingredient to Twitter's success. Now, it seems that Big Head, or should we say Jack, is back in the game with a new Twitter-like venture, after Elon Musk shelled out a cool $44 billion to buy Twitter.
But before we get into the juicy details of Bluesky, let's address the elephant in the room: Bluesky is essentially the exact same thing as Twitter.
Yes, you heard that right. Despite its claims of being decentralized and community-led, Bluesky is essentially a Twitter clone.
Let's dive in.
Jack's history with Twitter & Musk
Oh, the tangled web we weave when billionaire tech moguls decide to play in the social media sandbox.
Let's start with Elon Musk. Once upon a time, in 2009, Elon joined Twitter, mainly to promote Tesla and SpaceX. However, it wasn't until a few years later that he became the tweeting machine we know today. Fast-forward to 2022, and Musk began investing in Twitter, eventually amassing a 9.2% stake in the company, making him the largest shareholder. 
After a whirlwind of events that started with a knee jerk reaction following a dispute with the former CEO wherein Elon declared he would buy Twitter. This was followed by an insane decision to waive the right to due diligence during the buyout offer, a poison pill, and a lawsuit after Musk tried to back out from the deal due to concerns over bots, despite the fact he said he was buying Twitter to solve bots, Musk finally acquired Twitter on October 28, 2022, for roughly $44 billion.
Which thanks to the interest rate environment, the $44 billion price tag is multiples of what the company would have been trading at in the fall of 2022, had the offer not been in place.
Since then, Musk has been causing a commotion in the Twitterverse. He's slashed staff, reinstated rule-breaking accounts only to re-ban them, introduced paid "verified" status, and pushed for a subscription model. Let's just say it's been a roller coaster of changes, and some big names like Elton John, Jim Carrey, and MTA got off Twitter.
Now, let's talk about Jack Dorsey. Remember him?
Initially, he was all for Musk's takeover, trusting in Musk's mission to "extend the light of consciousness." But lately, Dorsey's tune has changed. Dorsey recently criticized Musk's leadership, saying things went south after the Twitter acquisition.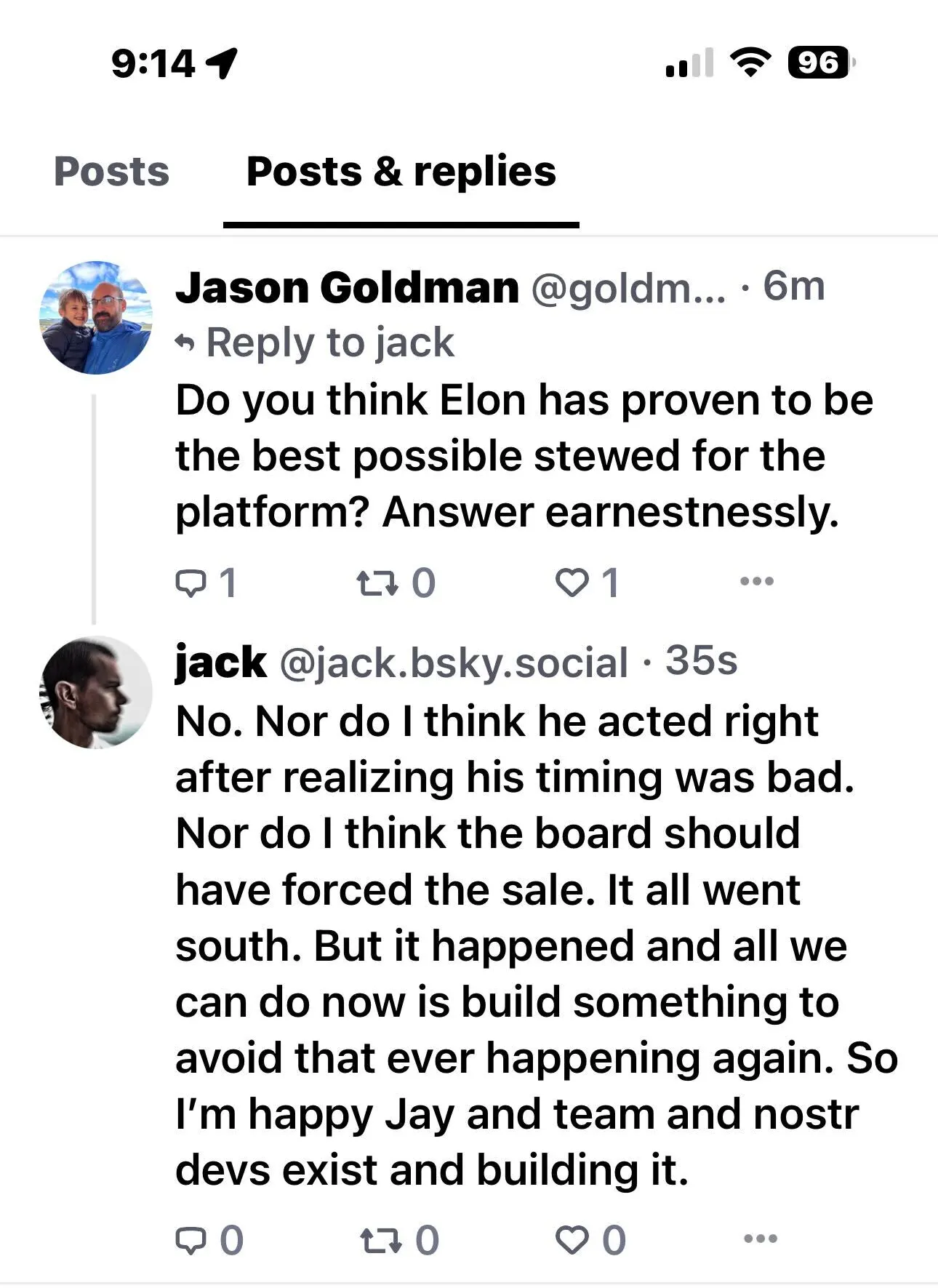 Dorsey while no longer in control of Twitter, did, however, play a role in backing Bluesky, which is now a separate company with its own CEO.
The story of Twitter's creation
Let's take a stroll down memory lane and revisit the early days of Twitter, back when Jack Dorsey was its fearless leader. In Jack's younger years, he dropped out of college from New York University to chase his passion for creating tools to help people communicate online. 
After a stint at a startup called Coschedule, Dorsey decided to give college another go at Columbia University. But the call of the digital world was too strong, and soon enough, he was back in the trenches, working on a little project that would eventually become one of the world's most popular social media platforms.
Dorsey, along with Noah Glass, Biz Stone, and Evan Williams, toiled away in his San Francisco apartment to bring Twitter to life. By March 2006 Dorsey sent out the first tweet: "just setting up my twttr." The rest, as they say, is history.
The inspiration for Twitter came from Dorsey's childhood fascination with emergency dispatch centers in St. Louis. As a kid with a speech impediment, Dorsey spent a lot of time at home, tinkering with computers and listening to police scanners. Those short, concise bursts of communication used by emergency personnel eventually laid the groundwork for Twitter's 280-character limit.
The idea was essentially to create a text messaging app, that would broadcast your texts to the world.
Under Dorsey's leadership, Twitter evolved into the influential platform it is today. It became a tool for activists, journalists, and everyday people to share their thoughts and opinions with the world. And, of course, it's been a breeding ground for memes, viral challenges, and let's not forget, celebrity feuds.
What is Bluesky?
Enter Bluesky, birthed from the mind of Jack Dorsey, a platform that is on a mission to create a "decentralized" social media system. Where no single person or company can control the user experience, which is basically like giving everyone the power to be their own social media czar.
Sounds great for characters who keep getting banned for saying offensive stuff.
Currently in its invite-only, super-secretive phase, Bluesky operates using an open protocol. Think of it like email or HTML, but with a social media twist. The goal? To become a decentralized hub for multiple federated servers, each with its own unique moderation practices. 
So, how does Bluesky look and feel? Well, at first glance, it's like Twitter's long-lost cousin. It has a "What's hot" and "Following" feed, and lets you post text or pictures. But instead of Twitter's signature "What's happening?" prompt, Bluesky asks the more casual "What's up?"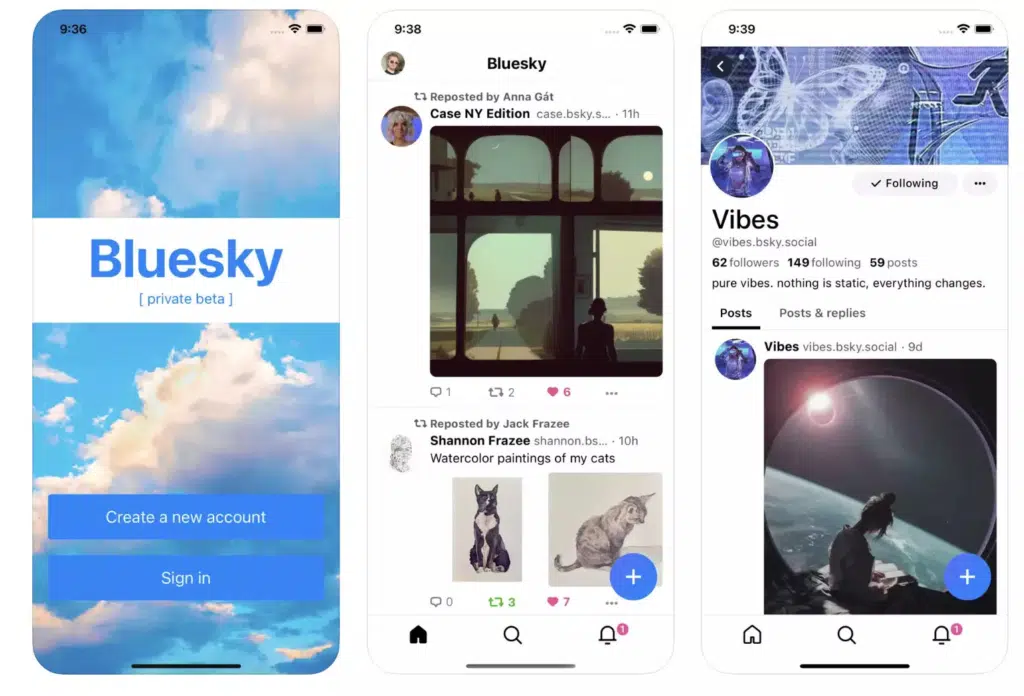 With 1.2 million people on the waitlist and a current user base of about 50,000, Bluesky is generating some serious buzz. And while it may not yet have all the bells and whistles of its more established counterpart, it offers a refreshing escape from Twitter's mean tweets, crypto scams, and endless pursuit of internet fame.
Bluesky's development
Now get this, what if we told you that much of Bluesky's funding came from none other than… Twitter. 
From a fledgling project in Twitter's nest to a soaring independent entity, Bluesky has taken a unique path since it's inception in 2019.
Bluesky's development has been nothing short of impressive. After transitioning to a public benefit LLC in 2021, the company gained both freedom and financial backing, with Twitter reportedly providing a cool $13 million to kickstart its R&D.
The goal? To develop technologies enabling open and decentralized public conversation.
As for the big names behind Bluesky, Jack Dorsey's fingerprints are all over it. Not only is he on the company's board, but he's also been instrumental in funding its growth. Today according to the Financial Times, Bluesky is owned by the development team, and Twitter no longer has a stake.
Starting with a humble few hundred in February, the platform quickly amassed over 50,000 users by the end of April. And with more testers gaining access through the invite-only beta, it's only a matter of time before Bluesky takes flight in the public domain.
The Bluesky buzz
Since May, Bluesky's popularity has been skyrocketing. With celebrities and influential figures flocking to the platform, it's no wonder this startup app is making headlines. It's like the cool kids' table in high school, and everybody wants a seat.
From politicians like AOC to celebrities such as Chrissy Teigen and internet icons like Dril, Bluesky is quickly becoming the new "it" place to be seen. With a fun, loose culture and users rebuilding their social graphs from scratch, it's no wonder that Bluesky is being hailed as "The New Hotness."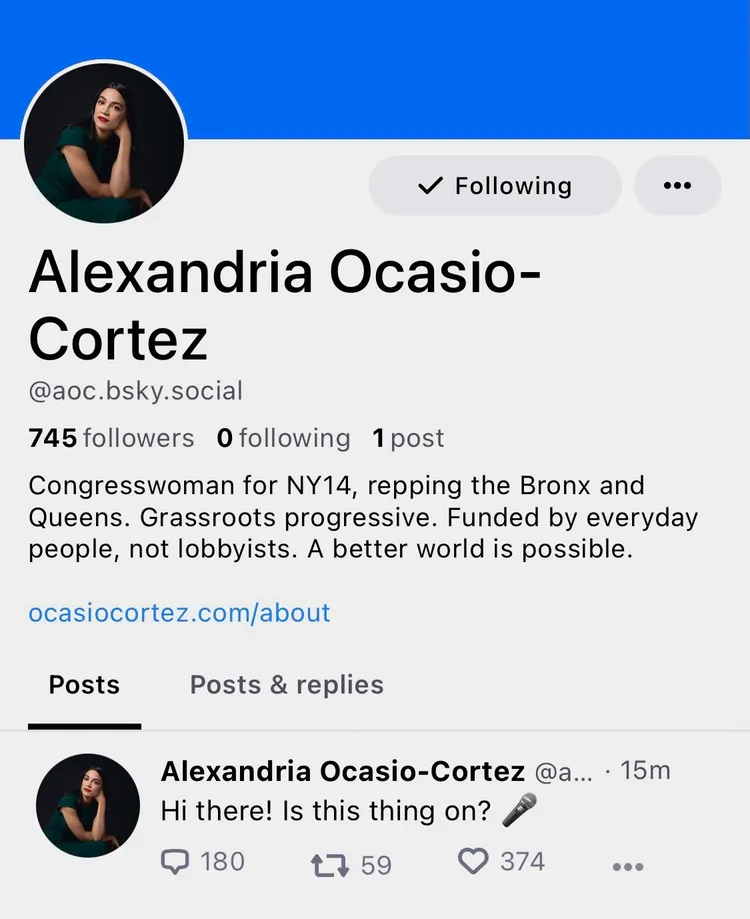 At the time of recording, the iPhone app has been downloaded more than 375,000 times. Plus, it's now ranked at #8 in social apps by iOS downloads, while the Android app holds the 22nd spot in U.S. Google Play downloads.
With such a large inflow of users already creating a buzz, the question becomes if it's only a matter of time before the masses follow suit.
Challenges and opportunities for the new platform
So far, users say Bluesky has nailed the tone and feel of Twitter – but, of course, there are still some bugs in the system.
Twitter itself is not that complicated of a platform. In fact, Elon was able to cut a great deal of staff, and yes there were a few hiccups, and we can argue how our feeds look different, but the platform is mostly the same.
The number one challenge still remains, can they bring over a large and diverse enough audience, for most people to feel the need to switch over?
I recently hypothesized over on the Deep Dive channel, that if Substack wanted to take a run at Twitter, they would be wise to get big media on board, via equity stakes, and run a Spotify type model with companies like Bloomberg, ESPN, Fox News, TMZ, etc all owning part of the company. They would then tell their staffs, they need to migrate platforms.
This would also be wise for Bluesky.
Breaking news is what drives these platform, not aggregators. Big media has the infrastructure to employ boots on the ground. And for the most part, these people are the value add for a breaking news type platform.
In conclusion
Let's wrap it up.
And so, just like Big Head from "Silicon Valley," Jack Dorsey is back at it, ready to bask in the warm glow of success – or perhaps it's just the reflection of his computer screen as he hits the Ctrl+V button to replicate Twitter. Bluesky might be wearing the mask of decentralization, but let's be real, folks.
As we watch this tale of tech drama unfold, it's hard not to wonder if Jack is just pulling a fast one on all of us, repackaging Twitter with a shiny new label and calling it "innovation." But hey, if we've learned anything from Big Head's story, it's that sometimes being lucky and lazy is all it takes to strike gold in the wild world of social media.
When it comes to moderating free speech, having a quiet leader, who is slow to react, and doesn't feel the need to hop on a soap box every 10 minutes to tell us where they stand on every issue, is likely the best path from an optic standpoint.
Regulating hate speech while trying to maintain free speech is complicated.  And it's easy to step over that line where people feel like they have an agenda being pushed on them. Perhaps, Jack's complacent, "well I don't know" attitude is what we ultimately need.
So sit back, relax, and enjoy the show as we watch the battle of the tweets rage on between Twitter and its doppelgänger, Bluesky.
---
Information for this briefing was found via Reuters, Bloomberg, and the sources mentioned. The author has no securities or affiliations related to this organization. Not a recommendation to buy or sell. Always do additional research and consult a professional before purchasing a security. The author holds no licenses.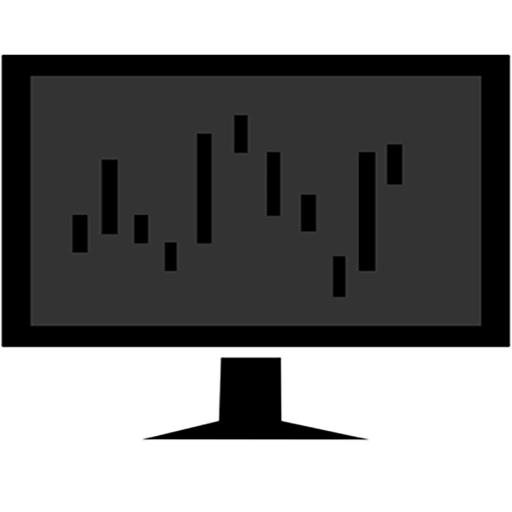 As the founder of The Deep Dive, Jay is focused on all aspects of the firm. This includes operations, as well as acting as the primary writer for The Deep Dive's stock analysis. In addition to The Deep Dive, Jay performs freelance writing for a number of firms and has been published on Stockhouse.com and CannaInvestor Magazine among others.