BRIEF: Emblem Corp – Why the Selling Pressure?
Emblem Corp (TSXV: EMC, EMC.WT) is one of the few stocks that has not seen a run this fall. While all other stocks have launched into orbit, Emblem seems to be stuck on the ground in reality. This in turn has resulted in Emblem Corp becoming undervalued relative to that of its peers.
There are benefits to this though. While other equities come down in value after this massive November run up, Emblem may be seen as the "safe haven" equity, resulting in investors flooding in. This is similar to what happened to Volkswagen stock during the financial crisis of 2008. With this new money, there's the potential for a short squeeze of great proportions – but more on that later. Irregardless of what "may" happen, it is unlikely that a heavy sell off will occur when others in the sector start to get a dose of reality.
For now, lets focus on one question: why the selling pressure?
Emblem Corps' Decreasing Prices for Equity Raises
Perhaps one of the most significant reasons for the current selling pressure, is that the company has angered their base of investors. Due to its declining stock price, the company has been forced to do cheaper and cheaper equity raises.
Most recently, it issued a bought deal at a unit price of $1.75 per share. Each unit consisted of one share and one full purchase warrant. The exercise price on the warrant is $2.15. It's previous raise conducted in March for special warrants gave investors a whole warrant exercisable at a price of $4.75. A significant gap exists between these two raises, and as a result it angered a number of large investors in the company.
The news of this latest raise is really what sent Emblem Corp in to bearish territory. On the release of the news, the stock gapped down significantly the next day. From its close of $1.96 on October 16, the stock gapped down to open at $1.68 on October 17. It moved to close some of the gap during the session, but it ultimately closed at $1.65, leaving a gap of $0.19 on the chart.

It took over a month for this price gap to begin to fill, and is one of the reasons for the gains the stock has experienced in the last two trading sessions. Now that the void has been entirely filled, the stock can return to its typical performance.
Investors should use this instance as an example of the effects of raises. If the raise is done in poor taste for previous investors, the market will react appropriately.
Poor Recent Financials for Emblem Corp
The latest financials for Emblem Corp were less than stellar. As a result of product shortages, on a quarter by quarter basis revenues were down approximately $1.2 million. This in turn lead the company to stop accepting patients for a period of three months, which may have longer term consequences for the company.

Total revenues for the quarter totaled $538,475, with cost of sales being $1,111,310. As previously addressed, a product shortage resulted in these poor revenues. The company estimates going forward that this will not occur again, and that it was simply a result of poor timing for its growth cycles. Additional moves have been completed to assist in alleviating these issues, such as obtaining its license to sell cannabis oils, which should help equalize quarter to quarter revenues.
Overall, the company reported a loss of $2,954,340 for the quarter. This compares to a loss of $1,691,828 for the same time period in the previous fiscal year. The significant issue here being that the company had no revenues during the comparison time period, yet had a more significant loss this fiscal year.
The latest financials are expected to be release within the next four days. It is anticipated that quarter over quarter earnings will be up significantly. If this is the case, it is likely that the bulls will step in and drive the price higher.
Emblem Corp's Cheap Shares from Previous Financing
Another reason behind the constant downward pressure the stock has seen relates to previous financing that occurred. When the company that would become Emblem Corp initially required funds for the transaction to go through, a series of raises were completed to satisfy capital requirements. These equity raises are summarized as follows:
Brokered subscription receipt offering: Consisting of 6,690,000 subscription receipts being issued at a price of $1.15 per unit. Additionally, 50,000 broker receipts were issued. Each unit consisted of one full share, and one half warrant with an exercise price of $1.75. Total funding came to $8,004,000.
Non-brokered subscription receipt offering: Consisting of 11,784,396 subscription receipts being issued, also at a price of $1.15 per unit. Each unit consisted of one full share, and one half warrant with an exercise price of $1.75. Total proceeds came to $13,552,055.
Under both of these offerings, there were identical escrow periods attached. The units would be issued to purchasers on the date the transaction (the transaction being the purchase of Emblem) closed. This date was December 6, 2016. The shares issued were subject to a four month lock up period, which lapsed in April 2017. The warrants associated with these raises are subject to a one year lock up, which expires on December 6, 2017.
Emblem Corp: The Short of it.
As a result of this cheap paper existing for Emblem Corp, it created a perfect situation for those who know how to play the market. By holding cheap paper in the company, large investors who bought in to the original subscription receipts are able to use the stock to their advantage. With the latest financing that was at a price of $1.75 that angered many long term investors, it created the perfect scenario. Let's outline this advantage for those who may not understand.
Your a large investor purchases $10,000 in subscription receipts at a price of $1.15 per unit. You receive one share and one half warrant per unit. Total shares from this purchase is equal to 8,695. Total purchase warrants is equal to 4,347.
The stock opens after the transaction at a price of $2.99, so your investment has gone up over 100% in a matter of six days. However, your subject to a 4 month hold period for your shares, and twelve months for your warrants. As such, your stuck sitting on your hands.
The day your shares become free trading, your shares are worth approximately the same after new highs were put in months ago. You keep holding as a result of faith in the company. Raises have still been above your entry price, so you aren't concerned.
On the evening of October 16th, its announced that a new offering was established at a price of $1.75, the same price as your warrants. With your warrants coming free trading in under two months, this really gets on your nerves. Your potential profits have evaporated.
As a result of still having your shares in one investment account, you use your secondary account to short sell the company at a price of $1.70. In the event you need to cover your short, you have shares available in your separate account to cover the short.
You see the price of the stock go below $1.50, so you cover your position to be safe. You in turn pocket $0.20 per share.
This scenario likely played out hundreds of times, creating the immense bearish activity that we have seen on Emblem Corp in the last month. Large investors make their money work for them, and this is one way to do it.
After the most recent raise was performed, it was clear that investors became bearish on the stock as a result of crossing long term investors. There is little doubt that short sellers also capitalized on this opportunity to make easy money. The data speaks for itself. Here is the short activity, provided by ShortData.ca: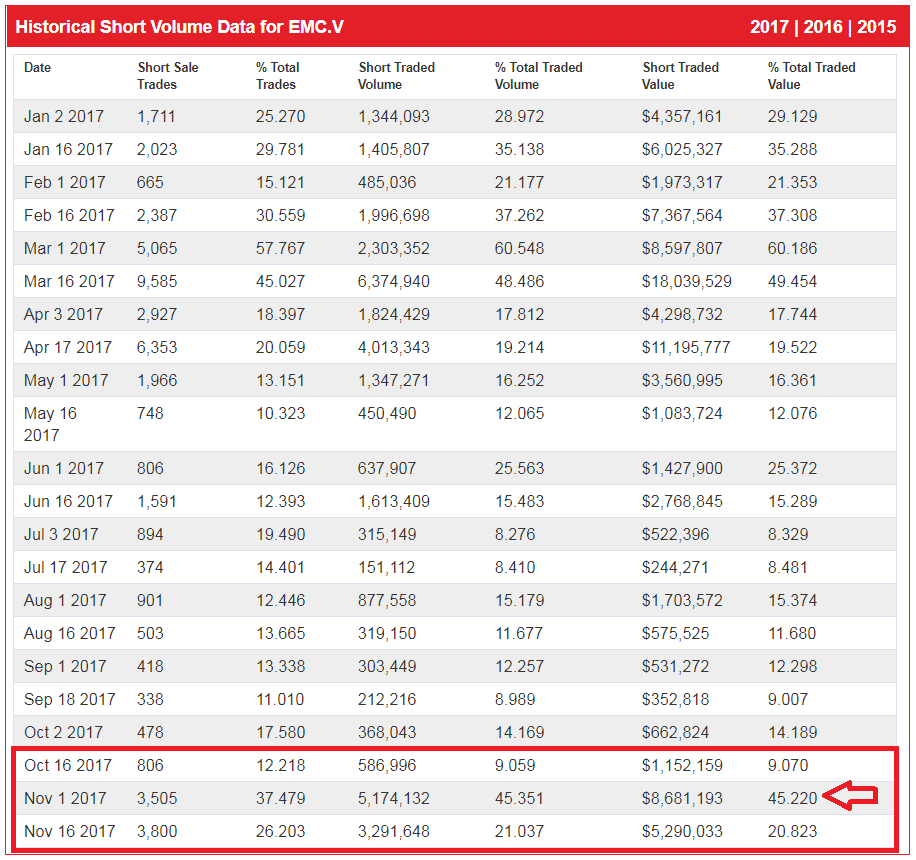 Short data is released to the public two times every month. In this instance, the timing happened to line up perfectly for our analysis. Between October 16, and November 1, 45% of the total volume traded on Emblem Corp was that of investors taking short positions on the company. For the following period, this figure dropped to 20%. This in turn verifies our theory that short sellers piled heavily on to Emblem Corp as a result of this poorly executed financing.
Closing Statements
For now, it appears that the selling pressure has been alleviated from Emblem Corp. It managed to fill the gap put in place by a poor quality raise over the last two trading sessions, and is now looking bullish yet again. Shorts appear to have left the arena, allowing the bulls to turn up the heat again. The financials due out this week should almost certainly assist with this.
An additional catalyst may be related to regulatory actions taking place. On Monday evening, the House of Commons in Canada will vote to pass a bill related to that of legalization. If it passes, the market may see some positive momentum this week. It may also potentially be the final spike before the sector begins to sell off s it typically does for the month of December.
However as previously alluded to, this may not be a bad thing for Emblem Corp which has remained bearish while all others in the sector flew high. After the experience Emblem Corp just went through, there may be no more room for continued selling pressure. Emblem Corp may just become the safe haven the sector will undoubtedly be in need of.
Read the charts. Map the release dates. Dive deep.
---
Information for this analysis was found via Sedar, Canadian Insider, ShortData.ca, Emblem Cannabis, and Emblem Corp. The author has no securities or affiliations related to this organization. Not a recommendation to buy or sell. Always do additional research and consult a professional before purchasing a security.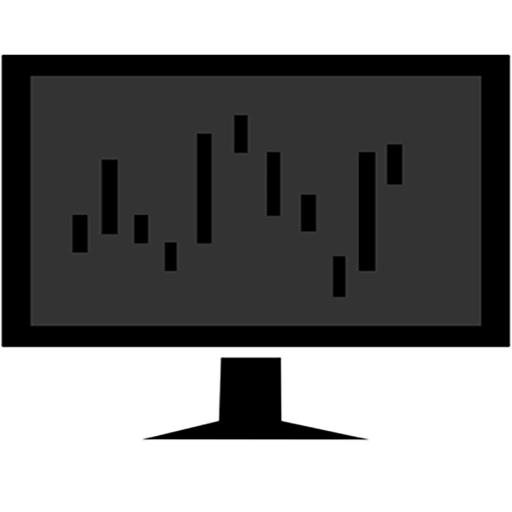 As the founder of The Deep Dive, Jay is focused on all aspects of the firm. This includes operations, as well as acting as the primary writer for The Deep Dive's stock analysis. In addition to The Deep Dive, Jay performs freelance writing for a number of firms and has been published on Stockhouse.com and CannaInvestor Magazine among others.