BRIEF: Liberty Leaf Holdings – Four Facts to Know
Liberty Leaf Holdings (CSE: LIB) has seen excellent gains the last two weeks. Like many players in the cannabis sector, Liberty Leaf had several double digit days in terms of percentage gain. And in the last two weeks, its up close to 100%. Not a bad return for long term investors over a short time frame.
However, these gains also mean that high volatility is present. There has been an incredible amount of volume on this stock over the last two weeks. Long term investors should be aware that this in turn leads to daytraders swarming in on the stock, with no intention to hold the stock for much time.
For those new long term investors however, we've compiled a quick cheat sheet of the four most important items regarding Liberty Leaf Holdings. Lets dive in!
1. Liberty Leaf owns 100% of an ACMPR applicant
To start, lets look at the basics of the company. On October 19, 2016, Liberty Leaf Holdings acquired 100% of North Road Ventures. The deal had been over a year in the making, with the initial letter of intent dated July 21, 2015. Originally, the letter of intent was only for a 50% acquisition in the applicant. However, on April 28, 2016 this was up-sized to 100%.
Under the terms of the deal, the shareholders of North Road Ventures would receive 12,000,000 common shares of Liberty Leaf. In addition to this, the shareholders are entitled to $1,500,000 upon certain conditions being met. The vast majority of this figure, $1,000,000 is to be delivered upon the applicant becoming fully licensed.
Although its been difficult to locate the description of the facility outlining its size, it indicates that as a result of it's focus on distribution, it will be able to distribute 7,500 KG of cannabis annually. This focus on distribution was issued under a news release on October 19, 2017. It is believed that the facility is currently in the final stages of receiving its license to cultivate.
In addition to the distribution of cannabis, the facility expects that 50% or more of its revenue will come from the manufacture and sale of cannabis oils.
2. The GR8 Track partial acquisition was cancelled by Liberty Leaf
On February 2, 2017 it was announced that Liberty Leaf Holdings had signed a letter of intent to acquire 27.5% of GR8 Track Inc. As a licensed producer for the state of California, GR8 Track would of been the first foray into the American cannabis markets.
Under the terms of the agreement, Liberty Leaf was to forward $50,000 to the company within seven days of signing the letter of intent. Financially, $1.5M worth of shares were to be issued to GR8 Track upon certain milestones. Additionally, a total of $1.5 million was to be loaned to the company by Liberty Leaf, which would be paid back over a period of two years.
This cash advance was completed on February 8, 2017. Further to this, an equity raise for $500,000 was then completed by Liberty Leaf Holdings. After this occurred, there were no announcements from the company regarding the acquisition.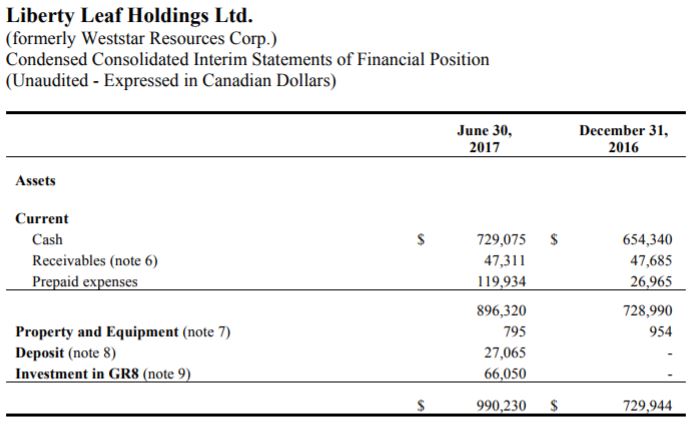 However, in the latest financials issued by the company it was revealed that the company had walked away from the transaction after performing its due diligence. Curiously though, it still lists the money delivered to GR8 Track as an "investment" as seen in the above snippet. It is not clear if the full amount will be returned.
3. Liberty Leaf Holdings is involved in pet-related CBD pharmaceuticals
Liberty Leaf wants to help heal your pets with cannabinoids. This is the result of a collaborative agreement signed with ESEV R&D on march 2, 2017. ESEV R&D is an Israel-American research and development company focused on pharmaceuticals. As a result of this agreement, research will be conducted related to healing common pet ailments through the use of CBD.
The agreement itself is for a span of three years. As a result of it, Liberty Leaf will acquire up to four CBD formulations that are geared towards healing specific ailments for pets. This will be completed at a cost of $160,000 USD to Liberty Leaf. Additionally, there will be a 5% royalty fee that exists for six years for any formulation that is successfully commercialized.
In relation to this agreement, a study began that focuses on canine osteoarthritis on June 1st. It is understood that they are working on completing the final formulation for the first clinical trials, which will take place over a six to eight month period. All regulatory approvals are in place for this study.
4. This week will be a technical struggle for Liberty Leaf
We don't look at much technical analysis here at The Deep Dive, however it is an equally important aspect of doing research on a company. Technical analysis is an excellent tool to help you understand where a stock has been and where it may be going. Stock prices move based on psychology more often than many investors give it credit for. As a result of that, we're going to take a look at the technicals for Liberty Leaf, on a daily as well as weekly time frame.
The Daily Time Frame

Lets start with the daily time frame. The first item to note is the rapid increase in share price the stock has encountered. As a result of this, it breached the upper bollinger for three days in a row beginning on November 14. Finally, on November 17, it closed below the upper bollinger band.
This can signal two things. First, it indicates that bulls are becoming tired. There's a weakening desire to continue to purchase the stock at increasing prices. However, as can be seen over the past several days, it may continue to bounce off this upper band before making another hard drive through it. Although the price decreased on the 17th, the volume decreased as well, indicating bears weren't quite ready to step in.
With this drop, it allowed the relative strength index to drop as well. On this index, levels over 70 typically indicate overbought conditions. As it sits, the RSI has come down slightly, and the stock is graded as being just slightly overbought. At these levels it is possible that the bulls step in yet again if they so desire. It should also be noted however that the stock has distanced itself from its moving averages, which doesn't last for long periods of time.
Also of note is that the current resistance level is at $0.25, while the support level is at $0.19. If either of these levels break, expect price action to occur.
The Weekly Time Frame

On the weekly time frame, things look a bit more gloomy. As it sits, we are currently highly extended off of the upper bollinger band, which resides at $0.17. It is natural for the price of a stock to return below this line. Periods spent above the upper bollinger, and below the lower bollinger never last for long.
We've outlined the resistance level of $0.25, and the support levels of $0.19, and $0.14. Watch for these levels to break for increased volatility in the stock. As it stands, there will likely be some volatility this week as a result of the stock wanting to get back below the upper bollinger.
We've seen increasing volume the last several weeks on Liberty Leaf Holdings. If the volume fails to come in this week, it could be detrimental to those that are investors in the company for a short time frame.
Closing Statement
Liberty Leaf Holdings has experienced an excellent couple weeks for long term investors. For those that have been around for a while, congratulations on your profits. For new long term investors to the company, we hope that this quick summary helped you understand what the company is all about, and where it may be headed. As it stands, it has several projects in the works. With any luck, they'll pan out in your favour.
The cannabis sector as a whole has gone on a wild ride as of late. Expect it to stay on the crazy train as we near the date of recreational legalization on July 1st, 2018. As a result of the legalization, the cyclical nature of the cannabis sector will likely be slightly out of whack in the coming months, making it difficult for investors of all experience levels to predict where the market is headed. Best of luck in your investing strategy.
Check the fundamentals. Review the technicals. Dive Deep.
---
Information for this analysis was found via Sedar, North Road Ventures, Questrade and Liberty Leaf Holdings. The author has no securities or affiliations related to this organization. Not a recommendation to buy or sell. Always do additional research and consult a professional before purchasing a security.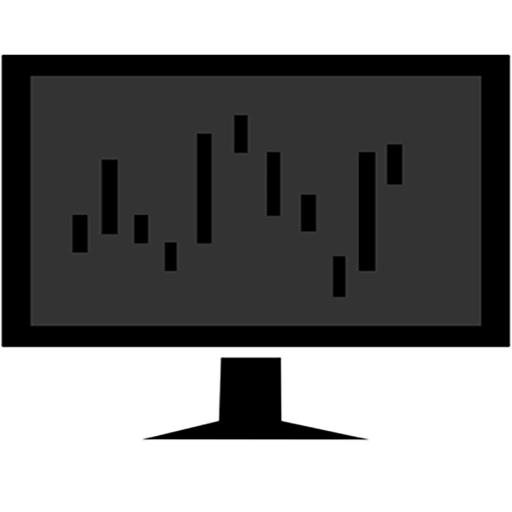 As the founder of The Deep Dive, Jay is focused on all aspects of the firm. This includes operations, as well as acting as the primary writer for The Deep Dive's stock analysis. In addition to The Deep Dive, Jay performs freelance writing for a number of firms and has been published on Stockhouse.com and CannaInvestor Magazine among others.