Canada Jetlines: A Desire to Succeed
Lets talk ultra low cost carriers. Specifically, Canada Jetlines Ltd (TSXV: JET, JET.WT, JET.WT.A). Lets face it: all Canadians want something done about the current duopoly in the air travel space. Having only two major air carriers in the country has done a disservice to Canadians. As consumers, we are at the mercy of the two behemoths that are Air Canada and WestJet.
This is where Canada Jetlines comes in. In an attempt to shake up the current air space regime in Canada, Canada Jetlines has elected to enter the market as an ultra low cost carrier. The end result, is airfare that is claimed to be up to 40% cheaper than that of what Canadians are used to. This is done through a series of standard procedures for ULCC's, such as standardized seating, operating only one style of plane, and minimal complimentary services. In addition, think of the fee structure that has plagued Canadian airfare as of late.
However, has the desire for a shake up to the sector driven Canadian investors to have clouded judgement?
Canada Jetlines: A Desire to Succeed
The under served Canadian market
First and foremost, the vast majority of Canadians recognize that the current air travel market is under served. The largest piece of evidence for this, is the fact that 86% of current air travel is facilitated by Air Canada and WestJet. This in turn has effectively resulted in a duopoly, with minimal competition resulting in poor pricing for Canadian travelers.
The fact that this market is under served has been identified by these two major carriers as well. To combat it, they've begun operations on their own low cost carriers – for Air Canada, they operate the Jazz line of turboprop planes utilized in smaller centers. For WestJet, they recently established a subsidiary entitled Swoop, which will be a direct competitor to Canada Jetlines. More on that in a moment.
One location that Canada Jetlines has identified as being particularly under served is that of Southern Ontario, as outlined in the diagram below.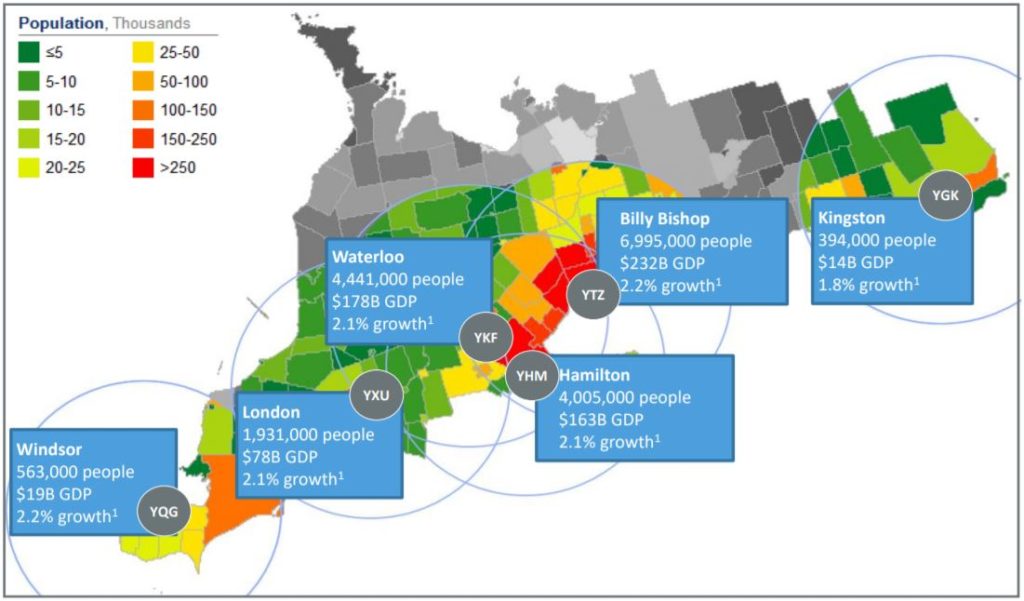 In total, the company has identified that roughly 10.2 million people live in what they define as the catchment region of Southern Ontario. By providing service at these regional airports, it will open the company up to a largely unserved market. Further to this, Canada Jetlines has already made moves in this regard – Hamilton has been identified as its base of operations in the region, with regular flights to be scheduled to and from this airport. Operations at the Waterloo airport are expected to be established in the near term as well.
Canada Jetlines brushes off the threat posed by Swoop
Swoop, the ultra low cost subsidiary of WestJet, was initially announced a little less than a year ago on April 20, 2017. It's intention, much like that of Canada Jetlines, is to address a currently under served market that exists within Canada. And to do so, it appears that it has taken aim directly at Canada Jetlines. Don't believe us? Here's a side by side comparison of the airports in which the two will be serving.
| | |
| --- | --- |
| Canada Jetlines Flight Paths | WestJet's Swoop Flight Paths |
How similar is that? Of particular note, is both operations have selected Hamilton as their Southern Ontario base of operations, thus putting themselves in direct competition for almost all flights. In the case of Swoop, this was likely by design – they have the financial backing of parent WestJet, so they can afford to take out the competition early on.
To Canada Jetlines credit however, they've stood tall regarding the developments set before them. Upon the announcement of WestJet entering the ultra low cost marketplace, they landed a punch on the same day of the announcement.

It's comments such as this that likely caused Swoop to directly target the firm, hitting them directly where it hurts most. Further to this, Swoop also beat them to market – ticket sales commenced on February 1, 2018 for flights beginning in June. How did Canada Jetlines react? By including this slide in their latest investor presentation, issued yesterday on March 12, 2018.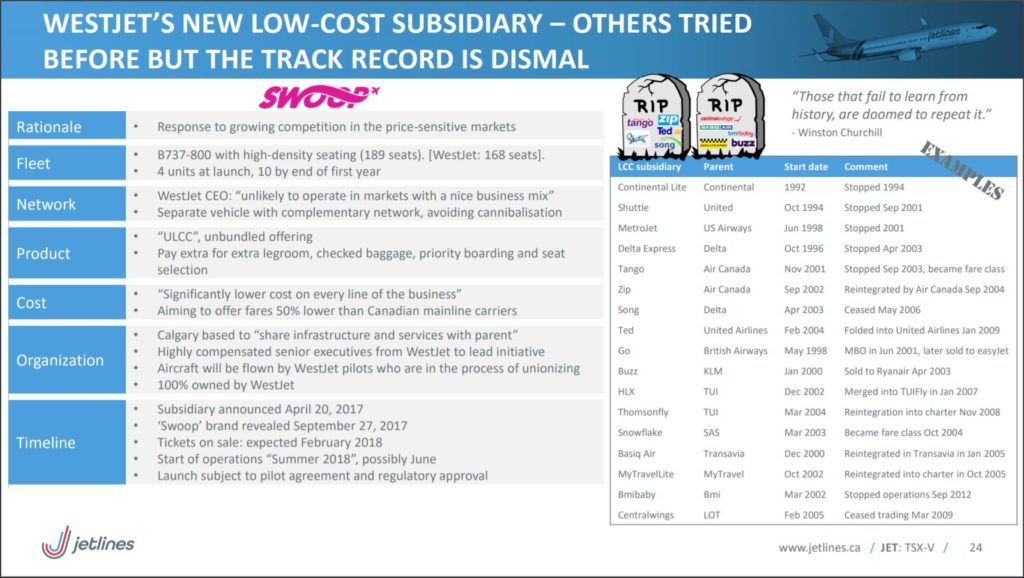 As seen above, Canada Jetlines pulls no punches when it comes to attacking WestJet for their Swoop venture. The company even goes so far as to place immature headstones on the presentation. More than anything, it identifies that the company widely feels threatened by the operation. Considering they are offering the same service flights with the same proposed model of airplane, it's easy to see why. However, it's not widely recommended to go head to head with the second largest airline in the country in this manner – especially when your operation isn't yet off the ground.
Does Canada Jetlines still have agreements to acquire airplanes?
We have one major concern with Canada Jetlines. If you follow us on Facebook, you likely already know what this is pertaining to. Our concern, is that the company may not have access to any airplanes by its previously announced launch date.
What leads us to believe this? On September 7, 2017, it was announced that Canada Jetlines had signed a letter of intent for the leasing of two aircraft. These aircraft are to be delivered in April 2018, to enable operations to begin in the summer of 2018. However, this letter of intent was to result in a lease agreement by December 31st, 2017. Additionally, a $500,000 deposit was to be paid at the time of the signing of the lease, with two more equal payments to occur on February 1, 2018, and March 1, 2018. The issue here, is that we have received zero information regarding this agreement – pointing to the likely scenario that no agreement was signed.

In addition to these deposits, a $150,000 deposit was due on February 1, 2018 related to the purchase of 5 aircraft from Boeing. These aircraft are expected to have a delivery date of 2023, provided all deposits are paid. In total, $1,905,700 is due and payable to Boeing by the end of the year in relation to the purchase of these aircraft. Although less of a looming threat to the current operations of the company, this is still significant data to be aware of.
Closing Remarks
Even with these misgivings, we still find ourselves rooting for Canada Jetlines. Maybe it's the underdog story behind it, or maybe it's purely being naive. Regardless, we still find ourselves wanting Canada Jetlines to succeed. The Canadian air travel market desperately needs a new name, which is not associated with the same old parent companies. A fresh face can do wonders.
This desire though does not make certain things a reality. As investors, we can dream. However, we need to keep our feet firmly planted on the ground, and analyze each potential investment from a position of objectivity. As it stands, things aren't looking so rosy for Canada Jetlines. In addition to the above, it still needs to secure financing for a healthy future – which is something that was supposed to be completed by the end of Q4 2017.
Lastly, it should be noted that the above analysis was conducted utilizing what is available to any investor – information found on SEDAR, TMX Money, as well as through fervent Google searching. It was not obtained through long individual discussion with investor relations, nor through contacting the company directly. We like to perform our analysis in this manner so as to show what anyone can find if they take the time to do so. However, we desire to know more on the company after what we have seen and are thus in the process of contacting investor relations. Expect us to get back to you with any information we discover. With any luck, it will result in an operational update from the company.
Desiring that a company succeeds isn't a bad thing. Ensure you're investing in reality. Dive Deep.
---
Information for this analysis was found via Sedar, TMX Money, and Canada Jetlines Ltd. The author has no securities or affiliations related to this organization. Not a recommendation to buy or sell. Always do additional research and consult a professional before purchasing a security.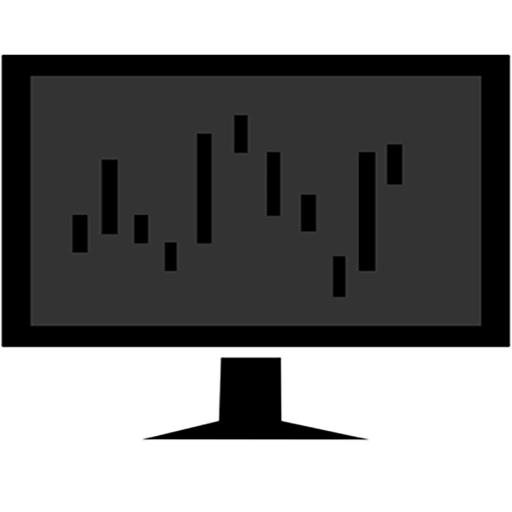 As the founder of The Deep Dive, Jay is focused on all aspects of the firm. This includes operations, as well as acting as the primary writer for The Deep Dive's stock analysis. In addition to The Deep Dive, Jay performs freelance writing for a number of firms and has been published on Stockhouse.com and CannaInvestor Magazine among others.