Canadian Population To Hit 100 Million, Thanks To Immigrants
According to the Century Initiative chief executive Lisa Lalande, Canada "has reached the point of no return" when it comes to embracing more immigrants, as their modeling shows Canada is on course to more than quadruple its population to at least 100 million by the turn of the century.
However, Lalande cautioned that the current high levels of popular support for further immigration should not be taken for granted.
"If public opinion shifts on immigration, policy will shift, and ultimately that will be detrimental to the future of the country," she said.
In 2021-2022, Canada saw record population growth of 703,404 persons, with immigration accounting for 94% of the increase.
The Century Initiative, a non-profit lobbying organization, wants Canada's population to increase from 39.5 million to 100 million by 2100. More investment, according to Ms. Lalande, is needed to address issues like housing shortages so that Canada "grows well" and can absorb more people.
Current high levels of immigration and government policy changes, such as making it easier for foreign students to obtain permanent residence, are putting Canada on course to achieve or perhaps exceed its target for the first time, according to the Century Initiative's modeling.
Canada's population last year saw the highest annual population growth rate since 1957 at 2.7%. The government said that if Canada maintained its 2.7% annual growth rate, its population would double in 26 years.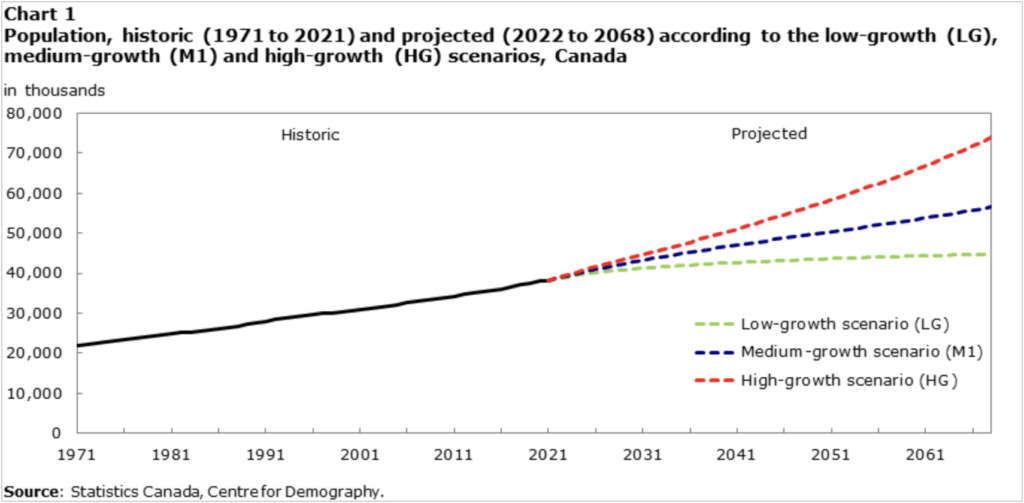 According to the various projection scenarios, Canada's population, which is estimated to be 38.2 million in 2021, will rise over the next few decades to between 44.9 million (low-growth scenario) and 74.0 million (high-growth scenario) by 2068. The population would reach 56.5 million in 2068 under the medium-growth (M1) scenario.
Since taking office in 2015, Prime Minister Justin Trudeau has made attempts to recruit more immigrants to Canada. The administration unveiled a goal last year to welcome 500,000 immigrants each year by 2025.
According to Lalande, the Century Initiative is more than merely in favor of a numerical goal. Its research focuses on housing, infrastructure investment, and climate adaptation, with the goal of "making sure we are making investments that accommodate population growth."
The Century Initiative, co-founded by former Liberal government adviser Dominic Barton, has come under fire in Quebec this month, with Premier François Legault calling its proposal for 100 million Canadians a threat to the province.
Following the unveiling of a federal plan for 500,000 more newcomers to Canada in 2025, some in the province said it was part of a government bid to meet the lobby group's 100 million ambition. In response, Lalande stated that polls shows that support for immigration is expanding in Quebec, as well as across the country.
According to a poll conducted last October, 69% of Canadians disagreed that there was too much immigration, while just over one-quarter agreed. Quebeckers in general were no less welcoming of immigrants than Canadians elsewhere in the country.
Those who thought there is too much immigration believe it threatens Canadian or Quebec culture, drains the economy and welfare system, and takes jobs away from other Canadians.
Lalande said Canada has "reached the point of no return" in terms of population growth, and immigration is a solution to fill job shortages, notably in health care and retail.
"We are too late to say let's put a pause on growth so that we can address all these issues," she said. "Our demographic realities are such that we are already feeling closures of hospital emergency rooms. There's some pretty serious issues. And immigration is one way to address them."
However, Lalande believes it is incorrect to blame the growing number of immigrants for a lack of affordable housing and rising living costs, allegations that have crept into the public discourse in recent weeks during Quebec's immigration debate.
"It's easier to scapegoat, point the finger at immigration when there are much more complex issues, "she says. "You need to have that big picture… Even if we pulled back nationally on immigration, we'd still have significant housing shortages."
Instead, Lalande maintained that Canada cannot rely merely on existing support for more immigration, saying the latter is "a Canadian advantage and we must seize on that advantage."
---
Information for this story was found via The Globe And Mail, Statistics Canada, and the sources mentioned. The author has no securities or affiliations related to the organizations discussed. Not a recommendation to buy or sell. Always do additional research and consult a professional before purchasing a security. The author holds no licenses.