Look for Constellation to Write Off Significant Amount of Canopy Investment
On October 30 2017, Constellation Brands (NYSE: STZ) and Canopy Growth Corp. (NASDAQ: CGC) jointly announced their new "groundbreaking strategic relationship" which would see Constellation invest an initial C$245 million into Canopy. Since that initial announcement, Constellation has continued to add to their position in Canopy with their total cash investment growing to over $4.4 billion USD through the purchase of common shares, warrants, convertible debt, and the exercise of warrants.
The move was like watching the 2013 Toronto Blue Jays announce they were trading for Jose Reyes, Josh Johnson, Mark Buerhle and RA Dickey. Yup, things were suddenly about to change with a single news release. Excitement was in the air. Blue Jays fans were expecting to win the World Series. There was just one problem, the season hadn't even begun.
While Constellation was likely thrilled with the initial gains they made on their Canopy position, including a net gain of $1.97 billion in fiscal 2019, Canopy's reversal of fortune soon sent their investment racing in the wrong direction.

Just one year later, at the end of Constellation's fiscal 2020, their collective gains since the date of their initial investment in 2017 had been wiped out. To date, Constellation has booked cumulative losses of more than $2 billion from their Canopy positions and related expenses, as Canopy's share price has withered by over ~94% since the introduction of adult-use consumption in Canada.
Despite these booked losses, as of their 2023-Q1 end, (prior to the recent debt for shares exchange), Constellation held 142.3 million common shares of Canopy with a carrying value of $2.35 billion. Based on Canopy's closing share price of $3.44 on August 23, 2022, this figure exceeds Canopy's current market capitalization of $1.65 billion by more than 42% despite making up just 29.6% of Canopy's common equity. At a $3.44 share price, these shares would only have a fair value of $489 million – a delta of almost $1.86 billion between the carrying value and fair value. The reason for this disparity is due to the fact that Constellation accounts for their position in Canopy's common shares using the equity method, where Constellation's proportionate share of Canopy's profit or loss is used to mark this position up or down.
When companies use this method, there are times when special impairments can be required if the carrying value of the assets far exceed the fair value. Constellation has thus far resisted a special impairment of their Canopy common shares noting, among other factors, that they expect Canopy's results to improve and that they expect the stock price will recover in the near-term. Such a scenario would require the share price to increase by ~380% to have the fair value catch up to the carrying value. Even with this justification, Constellation did point out that there may be a future impairment of their Canopy common shares if "Canopy records a significant impairment of goodwill or intangible assets or other long-lived assets."
This key impairment event may have come when Canopy reported their most recent 2023-Q1 results on August 5, 2022. Canopy's net loss for the quarter of $2.08 billion was driven primarily by the impairment of $1.73 billion of goodwill – a figure that represented the totality of the goodwill assigned to Canopy's cannabis operations reporting unit and 92.4% of the company's total goodwill from the prior quarter. This impairment was likely supported by the fact that Canopy's total cannabis revenue fell by ~28.7% year-over-year and gross margins were negative in the same quarter.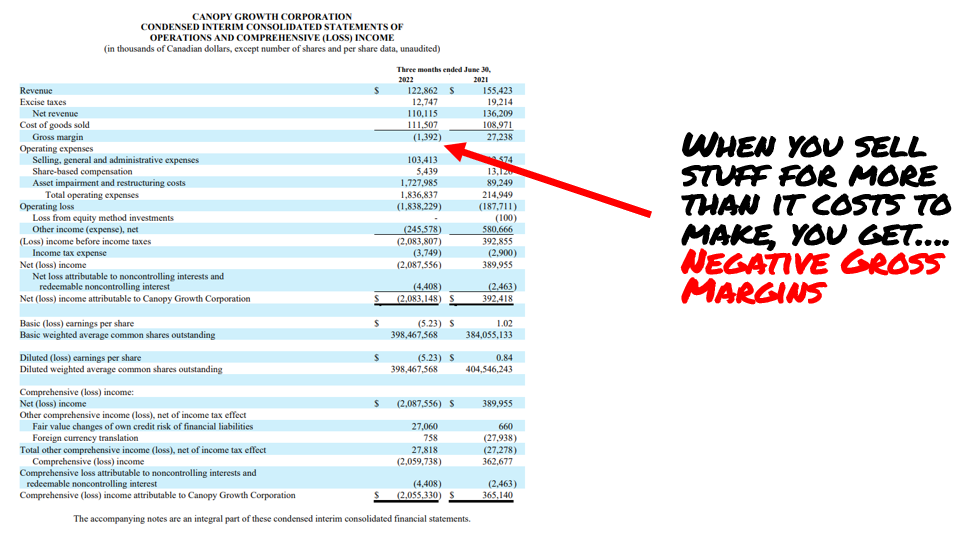 The combination of Canopy's deteriorating balance sheet, flagging cannabis sales, extended share price weakness, and the total goodwill impairment of its cannabis operating unit may finally force Constellation to impair the carrying value of their Canopy shares.

Constellation Brands is a company that generates over $9.0 billion a year in annual revenue, alongside $3.0 billion in operating income and $2.7 billion in operating cash flow. Writing off most of their Canopy Investment will hurt, but in the end, it only means around 1.5 years of income. They'll be fine.
Options traders may like to gamble on the market's short-term overreaction to the sticker shock. I'm betting on red.
With Constellation's second quarter coming to an end this August 31, 2022, and a likely earnings-call in early-October, there is potential for a net loss headline well outside the norm that captures this major impairment even if it doesn't hit the cash flow. If you read our site, you probably already know this.
As I tell my wife after a bad investment, "baby, at least I didn't sink $4.4 billion dollars into Canopy."
---
Information for this briefing was found via SEC.gov, Sedar, theStar, MLBtraderumors, and Yahoo Finance. The author has no securities or affiliations related to this organization. Not a recommendation to buy or sell. Always do additional research and consult a professional before purchasing a security. The author holds no licenses.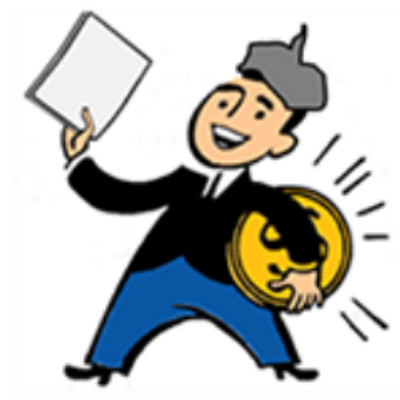 SmallCapSteve started blogging in the Winter of 2009. During that time, he was able to spot many take over candidates and pick a variety of stocks that generated returns in excess of 200%. Today he consults with microcap companies helping them with capital markets strategy and focuses on industries including cannabis, tech, and junior mining.