Car Buyers Start Splurging, Breaking Records for Monthly Payments of $1000+ As Cost of Financing Soars
Financing a new or used vehicle has become more expensive for consumers, driving up the share of monthly payments over $1,000 to record highs in the last quarter of 2022, according to new data from Edmunds.
"Just as new and used car prices finally started to cool off in Q4, rapidly rising interest rates created an even greater barrier to entry for consumers who rely on financing — which is the vast majority of car shoppers," said Ivan Drury, Edmunds' director of insights.
In Q4 2022, 15.7% of new car buyers who financed their vehicles agreed to pay monthly payments of $1,000 or more, versus only 10.5% of new car buyers in the same period the year before, and just 6.7% in 2020. The Q4 2022 numbers are the highest the share of $1,000+ monthly payments has ever been.
The rising costs are driven largely by higher interest rates. The average annual percentage rate (APR) on new vehicles has gone up to 6.5% in Q4 2022 from 5.7% in Q3 and 4.1% in Q4 2021. New cars, and in effect used cars, have also started becoming more widely available again towards the fourth quarter of last year, coming from a slowdown in production due to a global supply chain bottleneck.
Buying used vehicles remains increasingly expensive, even as used car values are cooling. The share of those committing to $1,000+ monthly payments has also risen to a record high of 5.4% in Q4 2022 from 3.9% the year before, and 1.5% in 2020. The APR on used vehicles also went up to 10% in Q4 2022 from 9% in Q3 2022 and 7.4% in Q4 2021. 
To offset the rising costs of financing, Edmunds found that consumers are paying bigger down payments. The average down payment for new and used vehicles also reached record highs in Q4 2022 at $6,780 and $3,921, respectively.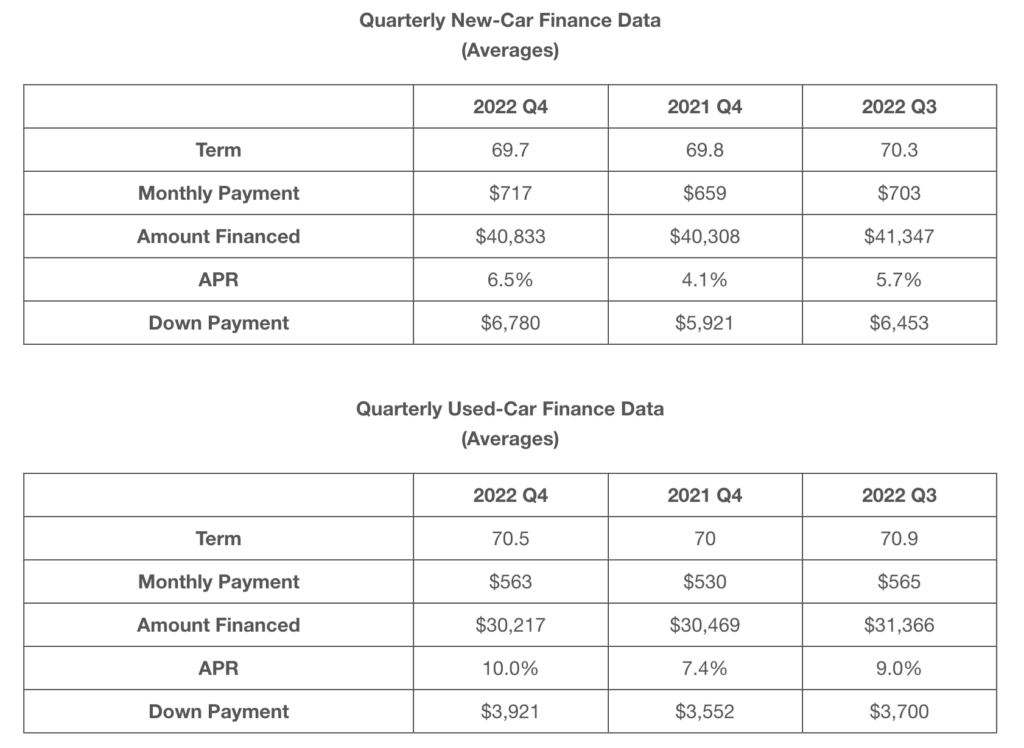 Drury also pointed out a change in pattern for luxury shoppers towards the end of the year. A growing number are opting to buy the vehicles instead of leasing them. New-vehicle lease penetration dropped to 16% in Q4 2022, when it was at 29% in Q4 2019. The penetration rate for luxury new-vehicle lease also fell, from 53% in Q4 2019 to just 26% in Q4 2022.
"Although the last quarter of the year typically skews toward luxury vehicle purchases, this near-record percentage of vehicles that are being purchased rather than leased reflect tougher market conditions far more than affluent consumers shelling out a bit more than usual to treat themselves over the holiday season," Drury added.
The company's analysts warn that the combination of more expensive financing and cooling used car values could lead to headaches for some consumers.
In Q4 2022, 17.4% of new vehicle sales with a trade-in had negative equity, compared to 14.9% in Q4 2021 and 31.5% in Q4 2020. The average amount owed on upside-down loans was $5,341 in Q4 2022, compared to $4,141 in Q4 2021 and $5,059 in Q4 2020.
Drury explained that "at the onset of the pandemic, consumers benefited from low interest rates and elevated trade-in values, helping shield even the more questionable financing decisions from resulting in negative equity. But as we shifted toward an environment with diminished used car values and rising interest rates over the past few months, consumers have become less insulated from those riskier loan decisions, and we are only seeing the tip of the negative equity iceberg."
---
Information for this briefing was found via Edmunds, CNBC, and the sources and companies mentioned. The author has no securities or affiliations related to this organization. Not a recommendation to buy or sell. Always do additional research and consult a professional before purchasing a security. The author holds no licenses.