Caught Between a Rock and a Hard Place: India Mulls Importing Russian Gas Despite Ukraine Crisis
As the list of countries denouncing Russian President Vladimir Putin's military mission in Ukraine continues to grow, India faces an uncomfortable crossroad: will the country forego its historic military reliance on Russia in exchange for cozier relations with the US, or boost cheap crude supplies from the post-Soviet nation?
As major countries around the world come together in unison to criticize Russia's military operation in Ukraine, the world's largest economy has yet to abandon its strategic partner. In fact, the United Nations has tabled four major votes since Russia's entrance into Ukraine on February 24— all denouncing Putin's actions— and India abstained from voting on all of them.
India's refusal to cater to mounting pro-Western pressure in support of Ukraine comes from a long history and strategic economic alliance with Russia, and Washington's unreliable geopolitical policies. Although India has thus far refrained from voting against Russia, the country did make several comments on the situation in Ukraine, mostly hinting at its disapproval of Moscow's latest military excursion. But, despite that, New Delhi is likely going to remain at odds with its other "Quad" security partners— those being the the US, Japan, and Australia when it comes to Moscow.
That is because India's modern history is shaped by support from the Soviet Union, which during the 1960s and 1970s voted in favour of foreign and security policies backing the country during the 1971 war that ultimately created Bangladesh. Indeed, Russia's sympathy for India has been unwavering; the Soviets met the country's various needs without any strings attached, including diplomatic and political aid, and most importantly— military equipment transfers. Meanwhile, support from the US was inconsistent, and riddled with catch 22s.
However, India's friendliness towards Russia is largely based on a material relationship, due to its strong dependence on Russian-made weapons. Although New Delhi has over the past 10 years attempted to source its defence equipment from other suppliers, about 86% of the country's military equipment currently in service— including weapons and platforms— are of Russian origin.
Meanwhile, the Russia-Ukraine conflict and subsequent sanctions on Russia's economic, financial, and industrial sectors have forced the country to strengthen strategic alliances elsewhere— that being namely with China. The problem is, though, that India has been locked in a territorial row with neighbouring China, which has sparked numerous border clashes over the past several years. But India faces a tough situation, because even if it wanted to distance itself from Russia and bolster ties with Quad members, its reliance on Russian military equipment must continue for the time being due to military upgrades and modernization.
Although the West would ultimately like to see New Delhi cut ties with Russia and elevate cooperation in countering China, India is still caught between a rock and a hard place: recently imposted Western sanctions on Rosneft Oil Co. has made the price of Russian crude more attractive for India, which has been battling rising energy costs as of recent. Although India imports about 80% of its crude supply, only about 20% is imported from Russia. Given that crude prices have surged by about 40% since January, though, the country's government is looking at alternatives.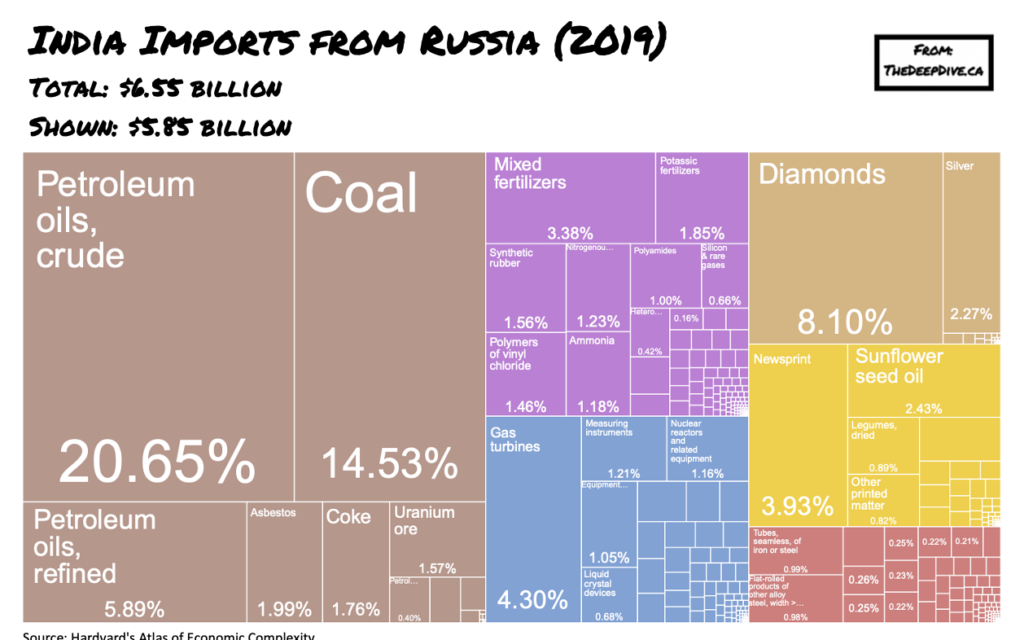 "Russia is offering oil and other commodities at a heavy discount. We will be happy to take that," said an Indian government official, as cited by Reuters. However, given the severity of sanctions imposed on Moscow, India must first take several preparatory steps, including figuring out logistics and insurance and determining which blend of crude it wants before such a trade can commence.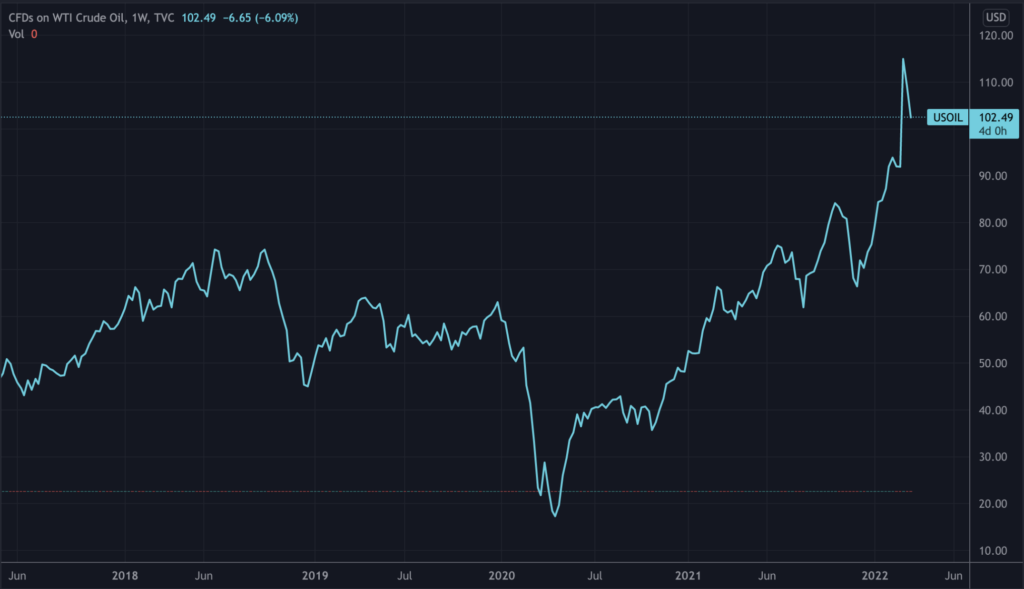 In fact, India and Russia are even exploring a different payment system to conduct bilateral trade, one that would circumvent the US dollar and Euro altogether. According to the Mint, which cited government officials familiar with the matter, Moscow and New Delhi are considering using a rupee-ruble trade mechanism that would allow Russia to pay for imports from India with rupees rather than dollars or euros. "Rupee-ruble trade is very much on the cards. We are working on a currency arrangement to facilitate trade, especially as we also plan to increase oil purchase from Russia," said the government official.
If the arrangement comes to fruition, an Indian bank will have to open an account in Russia, while a Russian bank will be required to open an account at an Indian bank. "We can look at a floating exchange rate system. A third currency can be taken as a point of reference, maybe yuan," added the official. He explained that the arrangement would not be dependent on an exchange rate pegged to a currency, citing the recent sharp drop in the ruble, which is down almost 40% against the US dollar since January.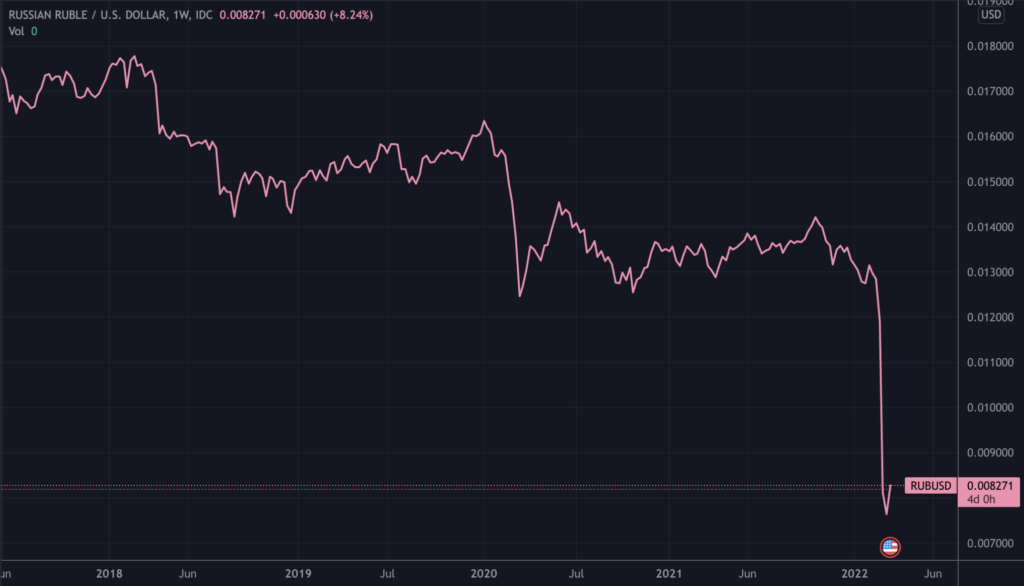 Information for this briefing was found via Reuters, the Mint, and the sources mentioned. The author has no securities or affiliations related to this organization. Not a recommendation to buy or sell. Always do additional research and consult a professional before purchasing a security. The author holds no licenses.