Charting The Storm and Watching The Water – Featuring The VIX And Barstool's Own Davey Day Trader
Our best efforts to keep our readers in content that doesn't figure to come unglued in the coming days has yielded a desk full of eraser dust, because this market is a wild one.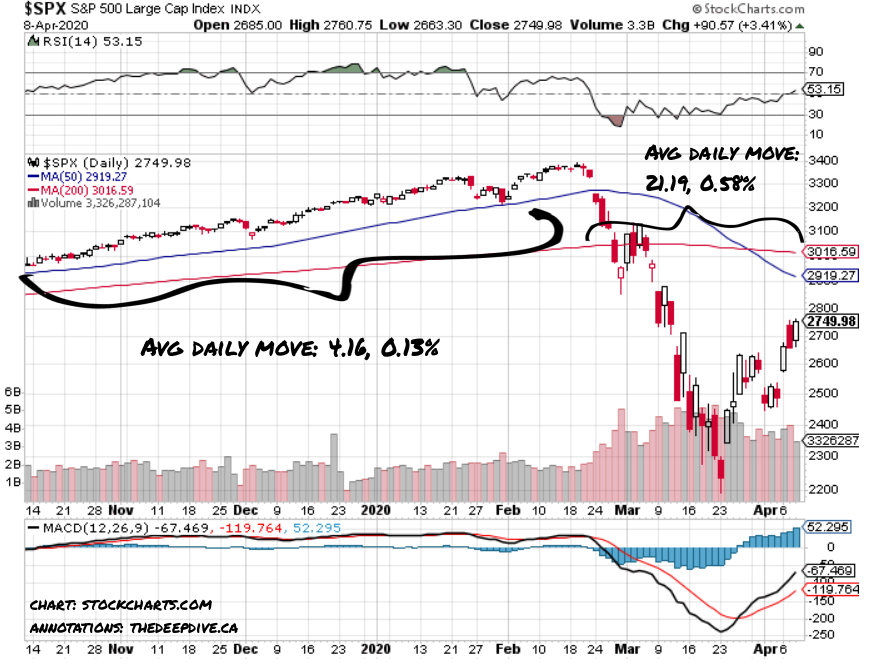 Our stubborn roots in fundamental analysis are keeping us out of this upside down rally, as we remain plagued by the old-fashioned concept that the stock market has anything at all to do with the economy.
Between a central bank boost and a sudden abundance of free time among income earners, major equities markets have managed to defy gravity at the very moment they've stepped into a larger spotlight, watched by legions of anxious people, all wondering if their 401-k will make them rich in quarantine… or broke. Sentimentally speaking, there doesn't seem to be an in-between.
How hard could it possibly be?
With sports cancelled, the markets are the only action left and, for that displacement and other reasons, this remains a trader's market. Witness Dave "Davey Day Trader" Portnoy, founder of popular and successful merchant of internet sports content Barstool Sports.
Back in January, when sports were still a thing, Portnoy sold a stake in his empire of bro counterculture to Penn National Gaming (NASDAQ: PENN) for cash and stock. Between the bump in profile and PENN's sudden exclusive access to its core audience of chronic sports gamblers, the news sent PENN shares on a +61.5% tear from $26 to $38 in less than a month, setting the equities market hook in the seasoned sports gambler.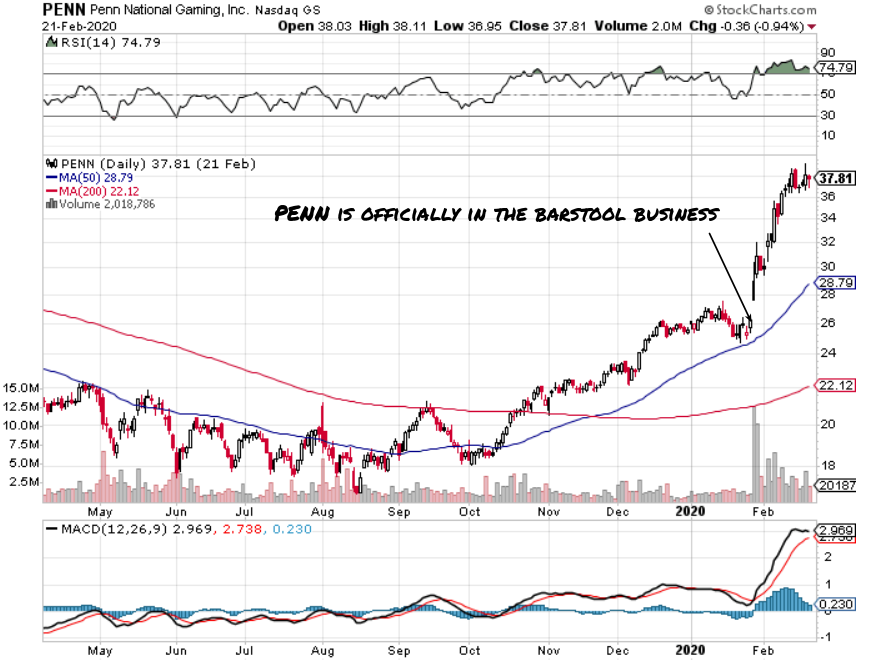 When the pandemic environment took away sports and the capacity to gamble on them, PENN's core business and Portnoy's main pass time all went away at once. It left the young entrepreneur starting at a core position worth 40% less than he got it for, and 60% less than the peak he rode it to in about half the time he took to ride it there… but he had a plan.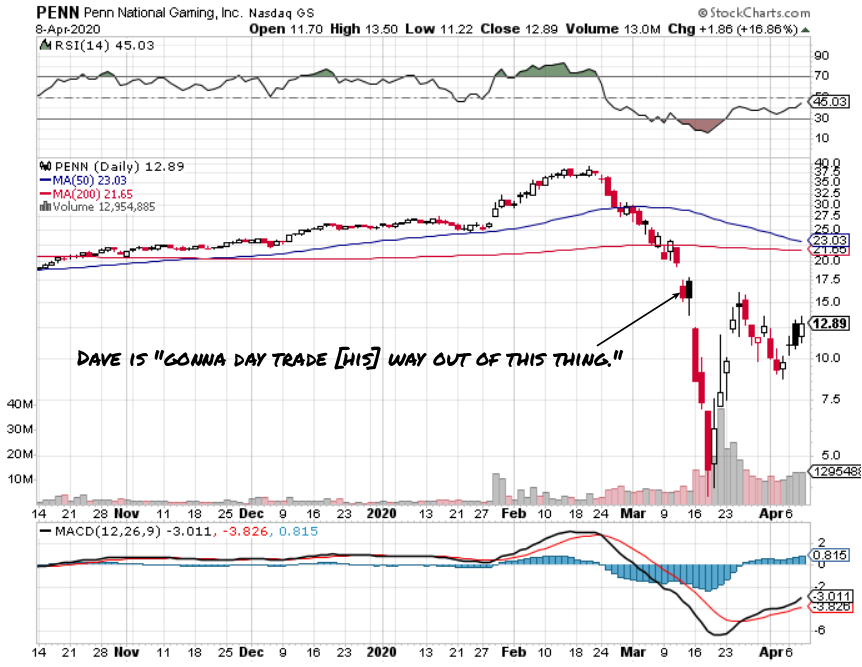 Portnoy, who is a lot smarter than the chowderhead he plays on the internet, leaned into his core competency and love of attention, and made his day trading adventure into a spectacle to fill part of the content hole left in his main business.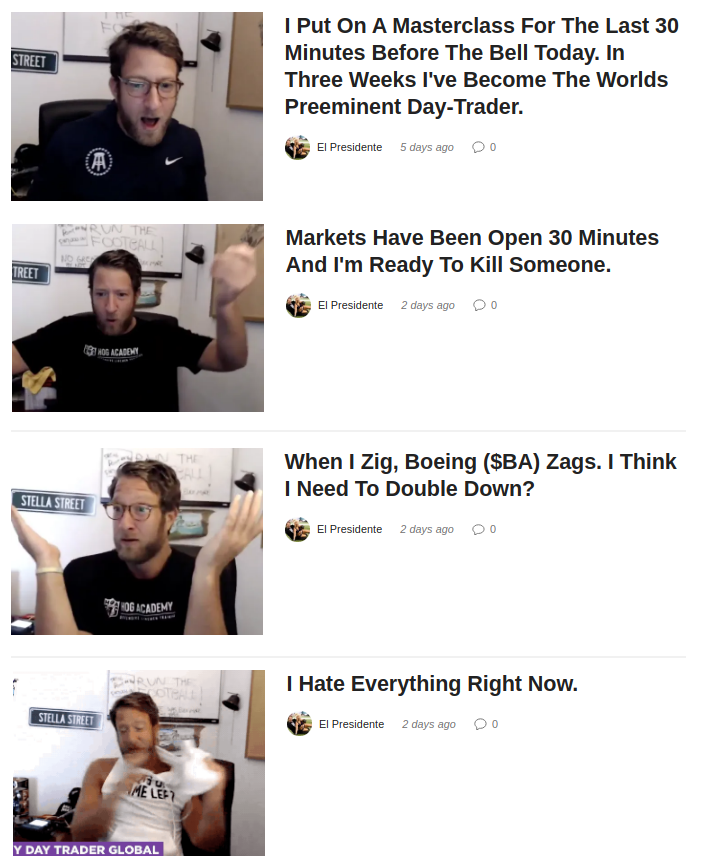 Those interested can follow this unfolding lesson in humility at https://www.barstoolbets.com/topics/davey-day-trader.
Portnoy's razor sharp cultural instincts led him to this particular content venture at the perfect time; there may have never been a more quintessential trader's market.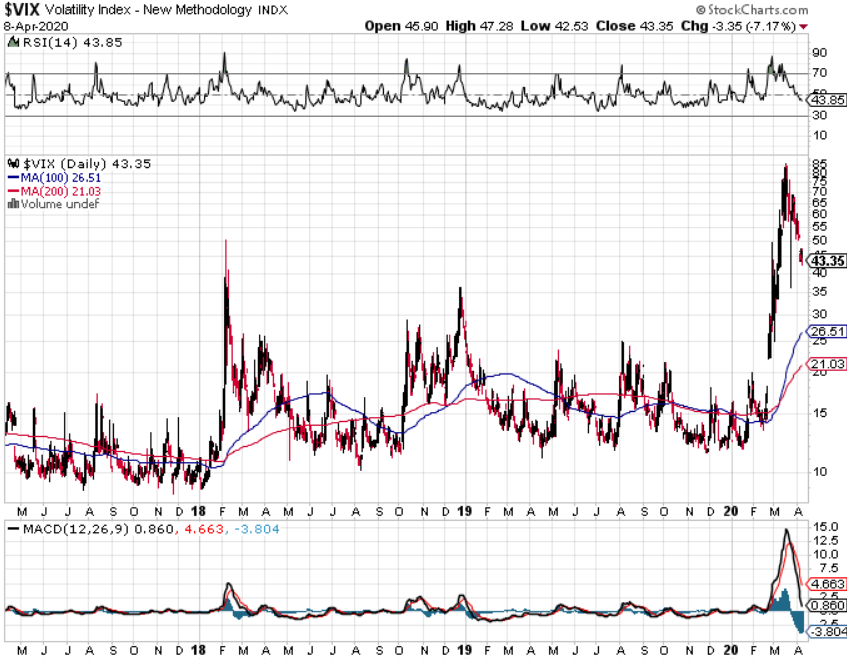 This is a three year chart of the volatility index – "the VIX."
The VIX is an index that tracks the traffic in equities options on the CBOE. Puts and calls' original use were as hedges against big short term swings in equities prices, but they were soon adopted by action junkies like Portnoy to gain low cost exposure to those short term moves. By tracking options trends, the VIX approximates the market's tendency towards big swings: it doesn't track which way the traders think it will swing, just how big the swings are.
The VIX just spent 14 trading sessions drifting from an all-time high of 82.96 through its (intra-day) high from Feb 6th, 2018. Market-afflicted minds may recall an algo-driven crash of leveraged VIX exotics that took the VIX from 15 to 50 for a minute before everyone realized the problem was in the derivatives market, not the actual market, but I digress.
In Eddy's defense, it was a hell of a week
"The Market can stay irrational longer than you can stay solvent."

-unknown
The equities markets seeming detachment from the real economy is nothing new. Ultimately, they're a reflection of the biases of their participants. That's why we use the VIX to track the implied volatility instead of mathematically calculating it through a backward looking standard deviation. (Those interested in watching the actual volatility and comparing it to the VIX can find the calculated volatility at https://www.realvol.com/).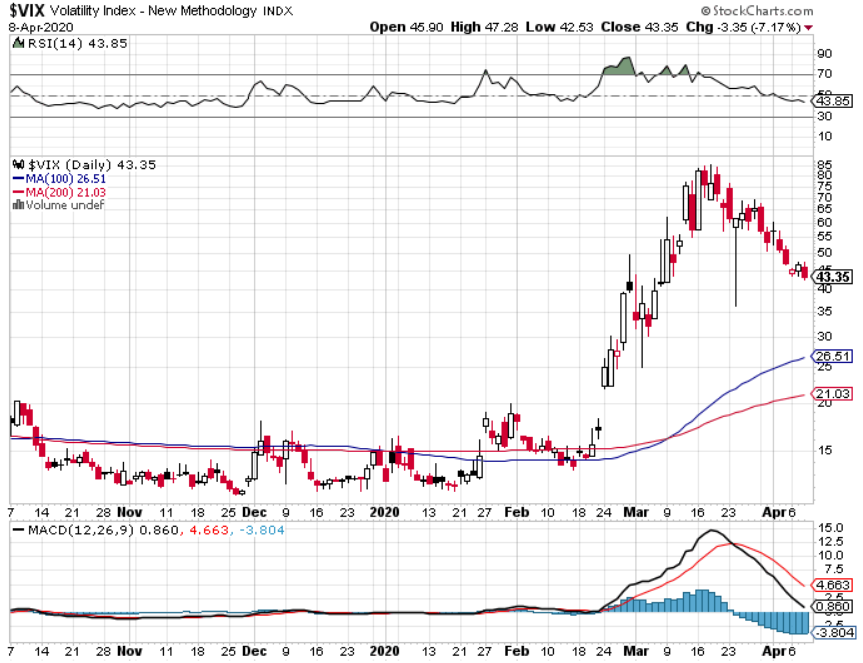 The VIX is the closest thing there is to a market barometer. Right now, it's telling us that the high-pressure system causing this storm is still here, and it's going to hang around for a while. This indicator is going to make friends with its 200 day and 100 day moving averages one way or another; the question is whether the index is going to come down to meet them, or hold on to make the averages creep up to meet it. On February 21st, the last day before the bottom fell out, the VIX's moving averages were at 15.15 and 14.17.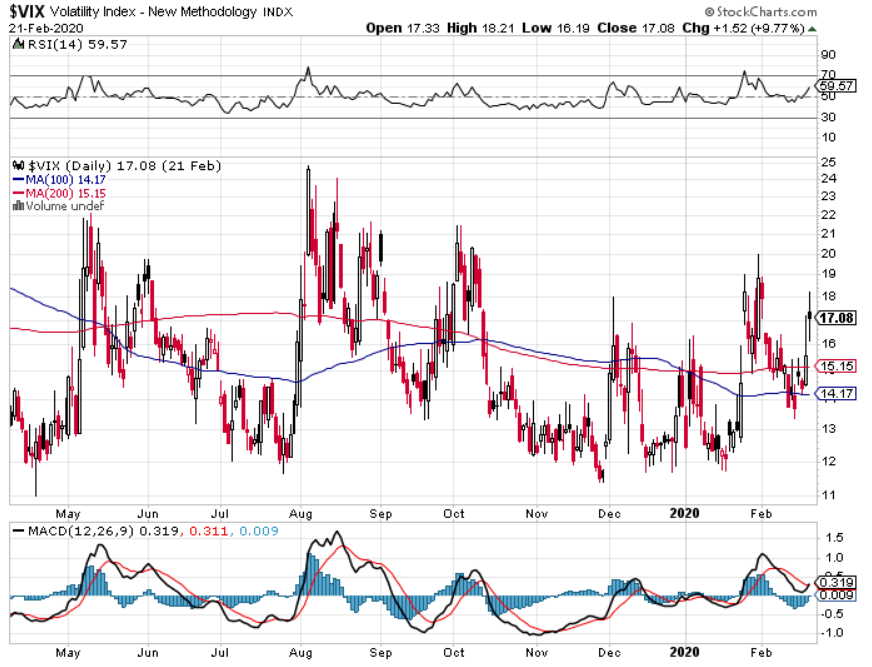 For now, the VIX is telling us that the market is still looking for a new normal. There's little doubt this rally has been helped by artificial buoyancy, but there's no telling how much of that momentum carries. The public may adjust its expectations and the way it values certain equities, or all of them, as money follows money to keep the trend moving up through the same widespread delusion that brought it to February's all-time highs in the first place. It could just as easily fall apart in a sudden rush towards an IPO of a hot new refrigerated morgues company.
Since nobody – and I do mean nobody – has any clue how long that takes, what sort of production we can expect out of a shut-down, yet internet-enabled economy, how much printed money is going to be fed into it to keep it afloat, how that money will manifest itself and if or when the bans might decide that enough is enough… this remains a trader's market. It behooves us to maintain a defensive position; cash and gold until this storm blows over.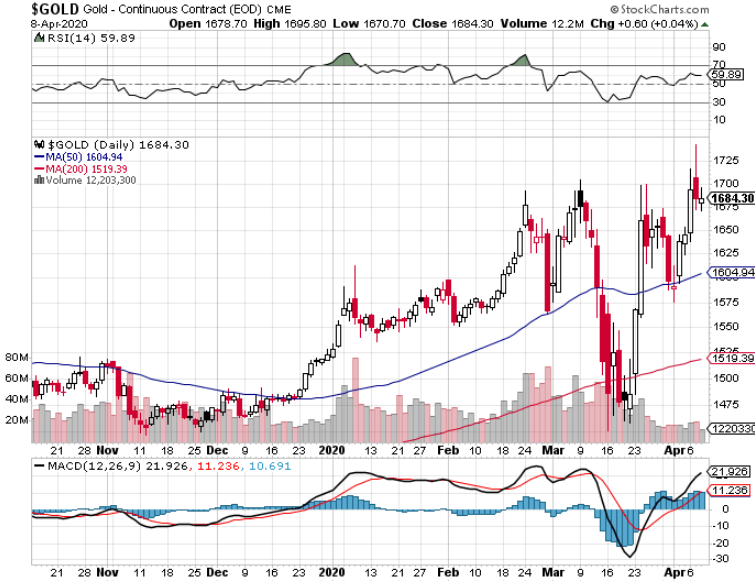 ---
Information for this briefing was found via Sedar and iAnthus Capital Holdings Inc. The author has no securities or affiliations related to this organization. Not a recommendation to buy or sell. Always do additional research and consult a professional before purchasing a security. The author holds no licenses.