Coffeezilla vs. Logan Paul & CryptoZoo, Explained
Arguably, 2022 was the most challenging year for the crypto space, marked by a continuing crash in prices, firms falling into bankruptcies, and big names being figured into scams and frauds.
The new year, however, isn't promising to be the new leaf everybody's hoping it would be. A fresh feud brewing with a non-fungible token (NFT) crypto project at the center chips another layer of confidence in the digital asset space.
It starts with the YouTube channel Coffeezilla, run by Stephen Findeisen, which touts itself to be an "internet detective exposing scams." Some of his well-known stories revolved around "Save the Kids Token", Safemoon, and the interviews with FTX founder Sam Bankman-Fried.
In his latest installment, Coffeezilla looked into CryptoZoo, a game-like platform designed to allow users to breed, collect, and trade exotic animal hybrids on the blockchain. Each animal is treated as an NFT and the whole system will use CryptoZoo-exclusive tokens, ZOO.
The main personality attached to the project–as he claimed the project to be his own in numerous interviews–is celebrity influencer Logan Paul. The once-promising idea, which had started getting investment from retail crypto through its ecosystem's digital asset, ended with a game that has never been played, losing actual money in the process for investors.
"CryptoZoo was supposed to be a fun blockchain game that can earn you money… but millions of dollars of investor money later, things are still broken," Coffeezilla wrote.
CryptoZoo: Closed before it opened
The concept for CryptoZoo was born in 2020 during an episode of Paul's Impaulsive comedy podcast. Paul himself promotes the game, claiming that the crew had spent six months crafting "handmade" NFTs that would be the project's highlight. According to him, $1 million would be raised to fund the development of the game and the creation of one-of-a-kind NFTs.
In 2021, CryptoZoo featured some of its so-called NFT animals. The game consists of "eggs" that users have to purchase with ZOO tokens. Eggs are then supposed to be hatched and then "bred" with other NFT animals to create hybrids, with the platform putting a premium on more unusual combinations.
The hype for the platform did not live up to its promise–"handmade" art was just simply pictures that could be easily accessed on the Internet and then modified. Furthermore, it was proved impossible to hatch the eggs, acquire the animal NFTs, or recover the money.
However, around $2.5 million of the NFT eggs were sold at the time of the launch–even before the game began.
By October, the Zoo had lost almost all of its value.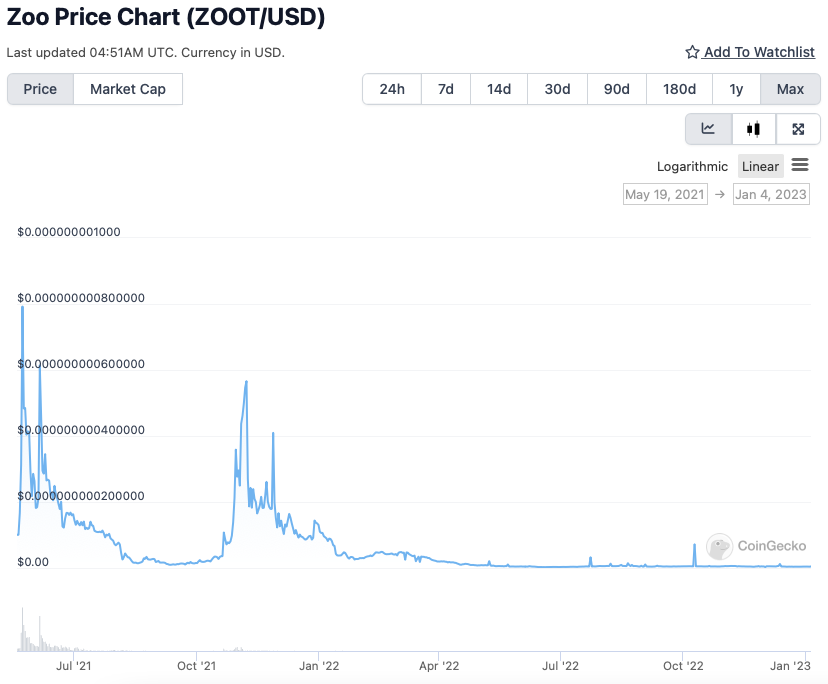 CryptoZoo was slated to open in September 2021, but the project is currently dormant. The website merely states that it is still under construction and will be upgrading the ecosystem's primary infrastructure, although it has been at a halt for months. Since May 28, 2022, there has also been no activity on the official Twitter account, until yesterday when the account retweeted Logan's response video.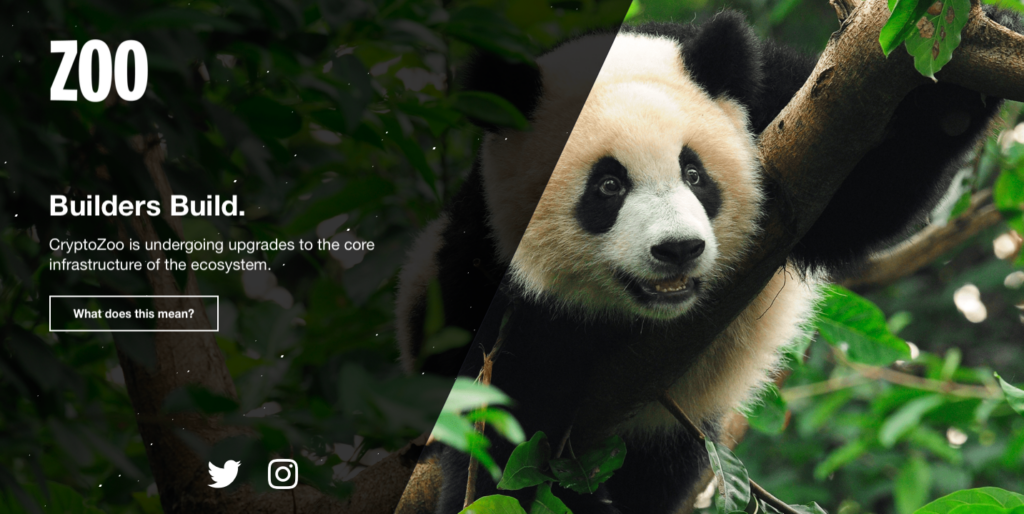 Paul then broke his silence, accusing the project's chief developer, who allegedly stole the code and fled to Switzerland, refusing to return it until he was paid a million dollars. He added that he got involved with the wrong individuals, who made blunders and stumbles, and that the project was being worked on by a new team.
However, the developer later alleged that Paul recruited a team to construct the game, but then failed to pay them and lost the code due to a failed agreement.
Coffeezilla spills tea: Stealth launch
Towards the latter part of December 2022, Coffeezilla started uploading its three-part series on "investigating" CryptoZoo, which Findeisen said was a year in the making.
In the first part, the video featured interviews with users who bought the eggs but are complaining that they can't hatch the so-called NFTs–the very notion of the digital asset. The YouTuber also interviewed the developer who Paul claimed had taken the CryptoZoo code hostage, who claimed the celebrity influencer didn't pay the developer at all, which is the reason he took the source code private.
Coffeezilla also reached out to Paul's manager, Jeff Levin, to clarify the situation, which the latter did not comment on but doubled down on his point that the YouTuber should be reporting "based on facts."
"Jeff seems to be implying that I'm not allowed to repeat allegations his own development team made even though Logan can go on podcasts and publicly accuse those developers of stealing his code," Findeisen said.
The second part focused on a certain Eddie Ibanez, who the developer also tied into the project as a middleman between them and Paul–partly pinning on the former as to why they haven't been paid. Aside from Ibanez apparently misrepresenting his background (including claiming responsibility for the Philadelphia Eagles' Superbowl win through data analysis which the team denied) to gain big ticket connections with the likes of Burch Creative Capital CEO Chris Burch and Guggenheim Partners co-founder Todd Morley, he also used these to vouch for him to get into projects like CryptoZoo.
Crypto personality Jake The Crypto King, who's an advisor in CryptoZoo, also spoke to Coffeezilla, saying Ibanez is the reason that the project fell.
"I don't want it to ever be thought that Logan's the reason it failed… Logan wasn't smart enough for what he tried to build. And then when it was built and was failing, [he] didn't have the ability to correct it," Jake said, adding that it was more convenient for Paul to pull out of the project to "save face and reputation."
Coffeezilla, however, pointed out that Ibanez was kicked off the project months ago but the project is still offline. The new development team–who signed on after Ibanez left–also quit because they haven't been paid for over a month. Blockchain records show that they were only paid, via Levin, a day after they quit.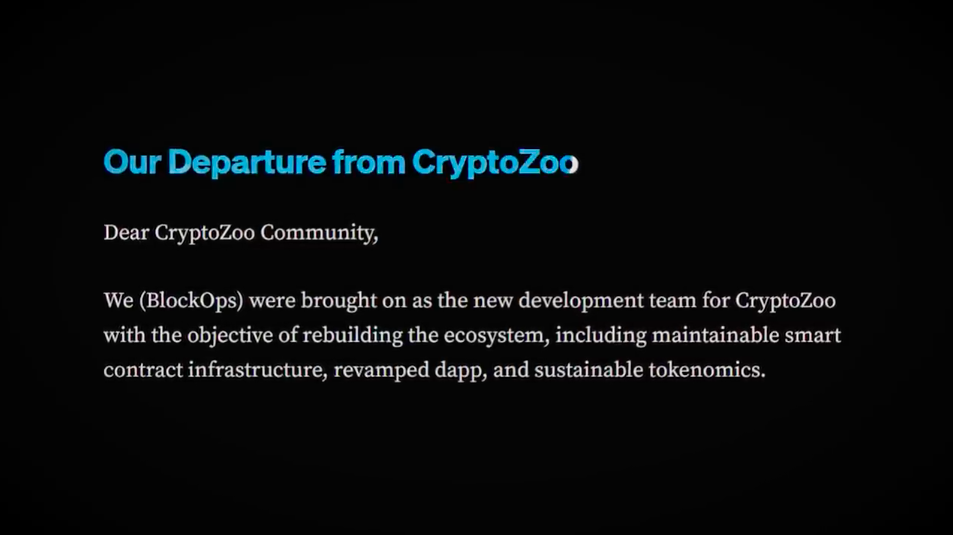 In the final installment, Coffeezilla disclosed leaked conversations among Paul, Levin, Ibanez, and Jake on Discord–characterizing the birth and demise of CryptoZoo. In March 2021, the foursome were trading messages about a project that Jake would like to be an imitation of Ethereum-based blockchain game Cryptokitties. It was then named CryptoPets, tied to a PETS token, with Jake predicting a valuation of $20 million in just six months.
"Pretty early on it became clear this was all about money, how they were gonna sell this thing to investors," Findeisen said.
Further on, a list of investors were made, with Ibanez committing around $100 million in investment from his connections. Coffeezilla tried to verify with the investors; only Ryan Kavanaugh replied, denying the insinuations and saying he hasn't heard of the project until recently.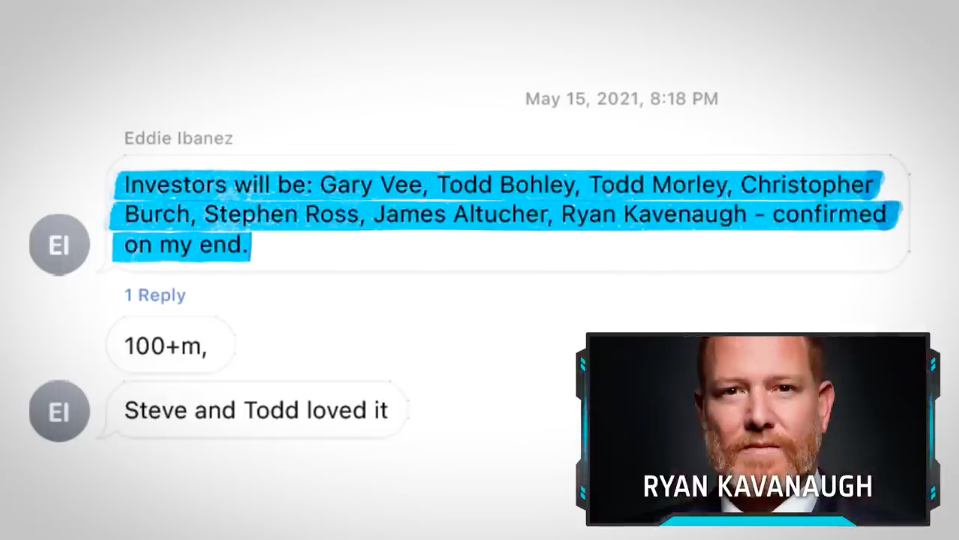 Another exchange pointed out the foursome's worry on pre-selling the ZOO token as it would be subject to the Securities and Exchange Commission (SEC). What they did instead is launch the token covertly and only made the public announcement two months after. They would buy the tokens from the liquidity pool–still at a discount like what it would be with a presale since the token wasn't publicly launched yet.
"The idea here was that doing this, the team could get these tokens extremely cheaply, which is kind of like a presale but without all the SEC troubles," Coffeezilla surmised.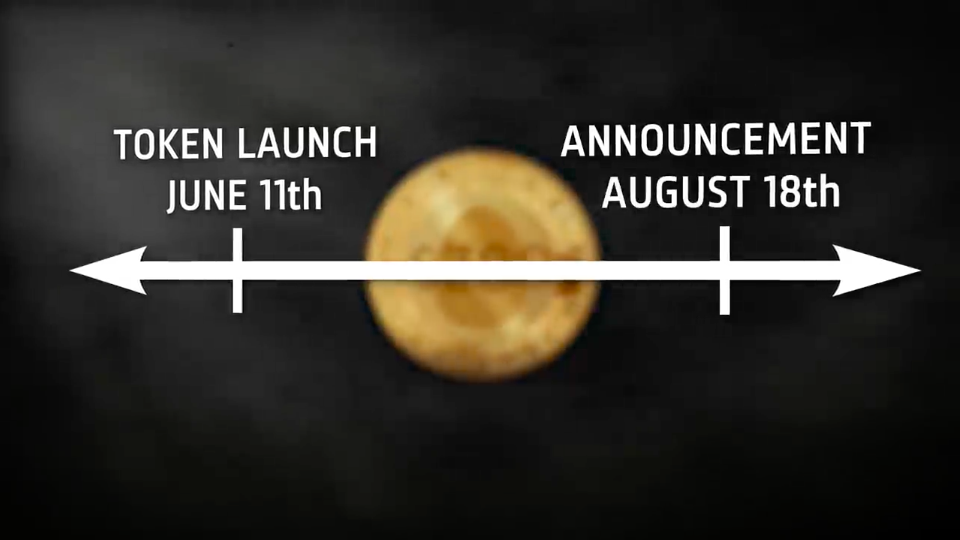 Once the token is announced publicly, the valuation is expected to shoot up, generating massive gains for the early holders like the four of them.
"I highly recommend [everyone to] get a few hundred to a few thousand in ZOO when it goes live. It will likely [be] 10-1000x based on how the market adopts," Jake wrote in their private conversation.
Coffeezilla spills tea: Paul vs. Jake
However, after the token was launched, supposedly just for the benefit of the CryptoZoo founders, many wallets were found buying ZOO tokens. At one point, the market cap fell from around $130 million to just $26 million in under two hours. Jake told the team that it was bots and traders making the trades but Coffeezilla revealed that among the top five biggest buyers of the token on the day of the stealth launch, the top two wallets are associated to the self-proclaimed crypto king.
These two wallets alone bought over $260,000 worth of tokens when–according to internal notes–the founders agreed they would buy as much as $100,000 worth to trade in circles until they max out.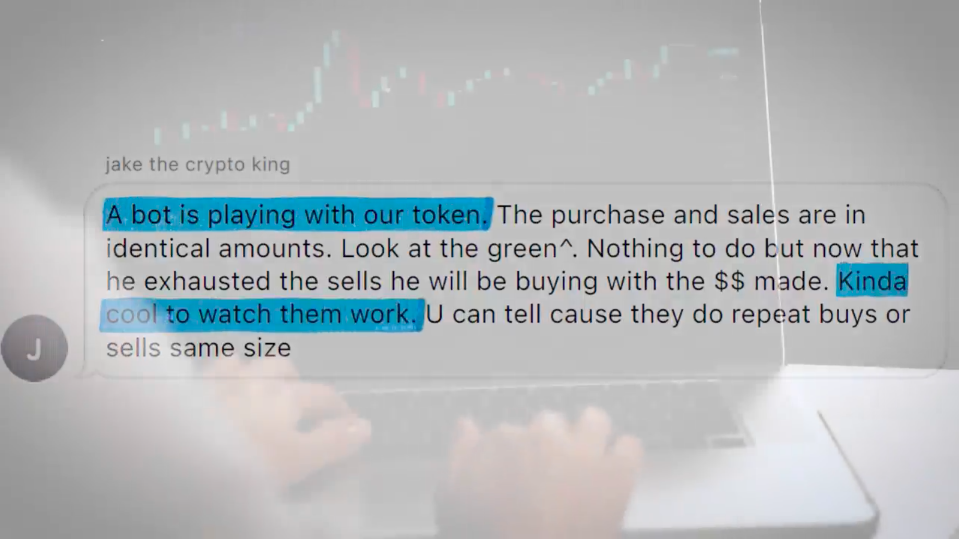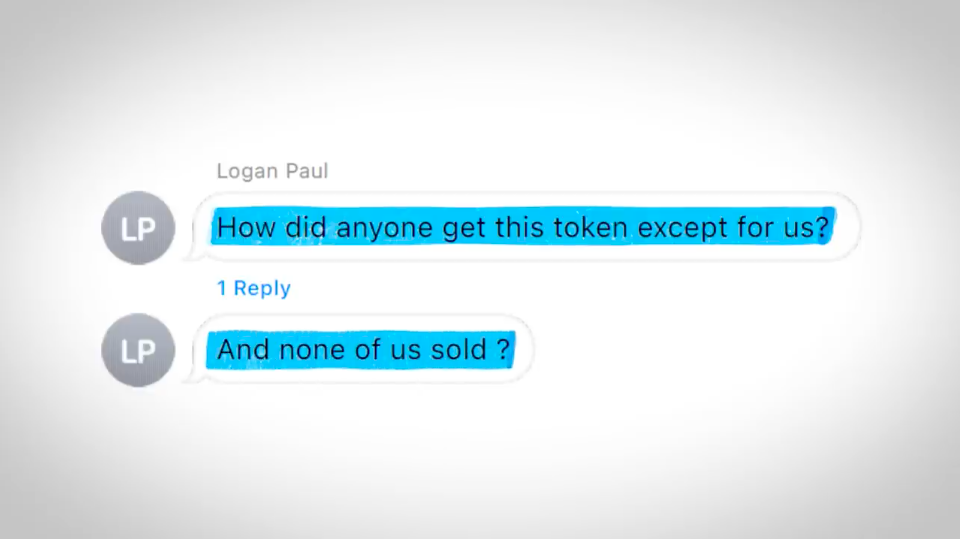 This is further contrasted by the fact that Jake is a mere advisor to the project and only has 5% share.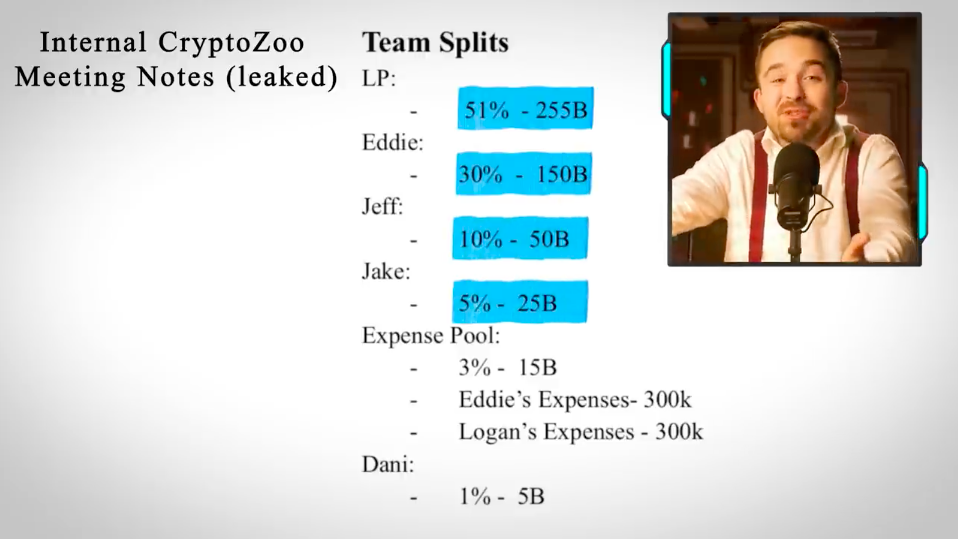 Following the official launch of the token in September 2021, CryptoZoo created another ZOO token with the same name and airdropped the same amount of tokens to current token holders–but not all of them, including Jake. Around 11,250 wallets were holders before the transfer but only some under 11,000 received their respective ZOO tokens–which Jake said in a leaked message was a decision by Paul and Ibanez and he had no part in it.
Jake then messaged Paul in the chat, accusing the influencer of stealing $40 million from him.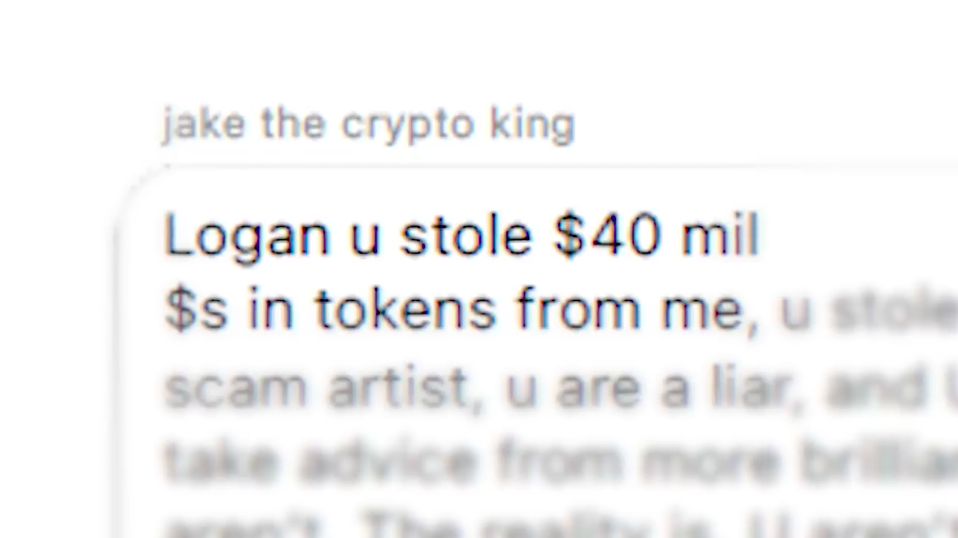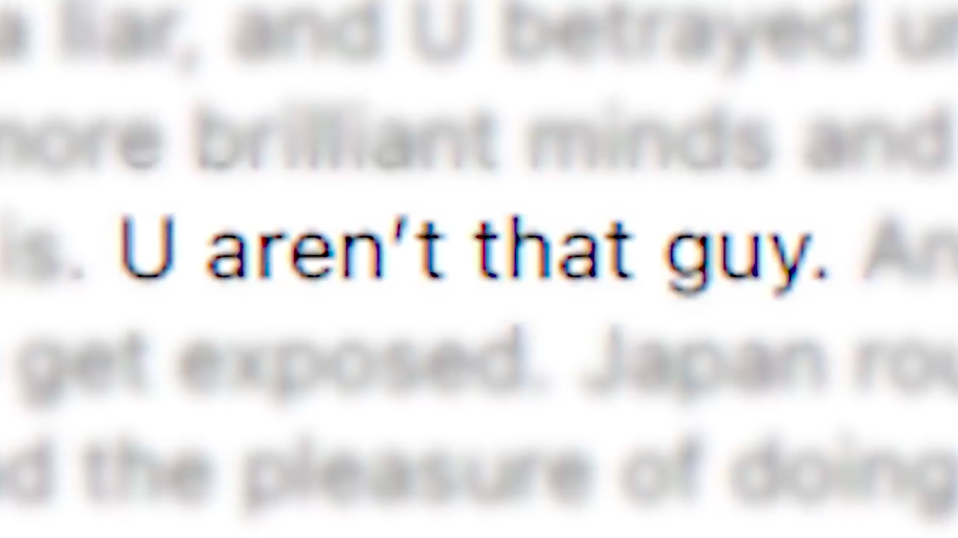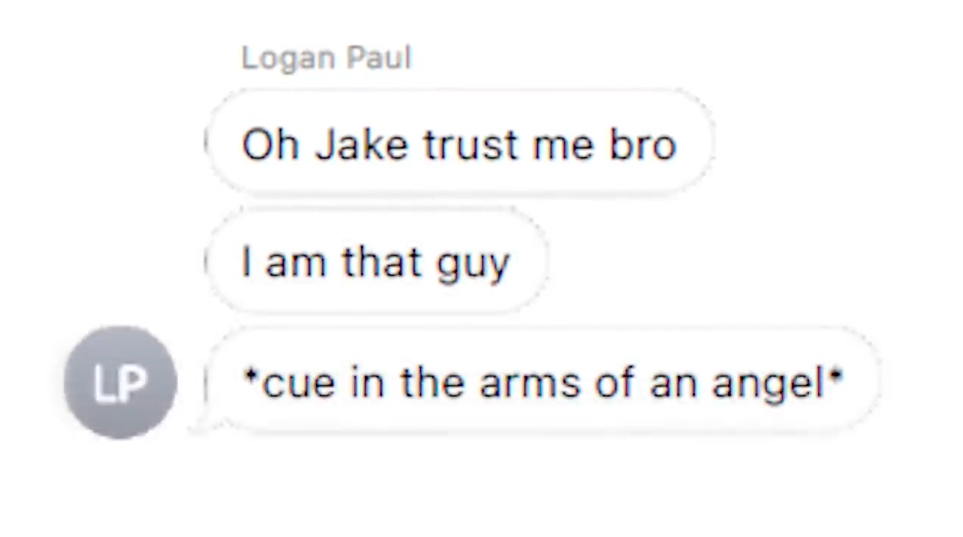 Upon perusing the blockchain records, Coffeezilla disclosed that Jake was able to sell around $6 million worth of ZOO tokens, coming from the remaining wallets of his that weren't blacklisted, as well as the tokens that the CryptoZoo team returned to him.
"He did this by sending out tokens from these larger wallets to dozens of smaller wallets selling it, and then sending the money to final cash out wallets," explained Findeisen.
In a call with Findeisen, Jake confirmed that he did sell tokens but disputed that the total amount reached $6 million.
"You can say that I did sell, which is true. As long as that's accompanied with [that] 'he was a founder that was supposed to be given 5% of the project and was never given the [founder] tokens or paid, worked for almost a year on the project…' as long as that goes in with it, then at least that tells my side of the story," Jake said to Findeisen in a recorded call.
Jake did admit to selling tokens for a "few million" from the game platform that hasn't even started yet, but he reiterated that he did nothing illegal.
"The reality is I bought tokens open market and sold them open market. So there was nothing illegal about that. Ethically, arguable," Jake added. "The rest that Logan did to me was ethically wrong and illegal."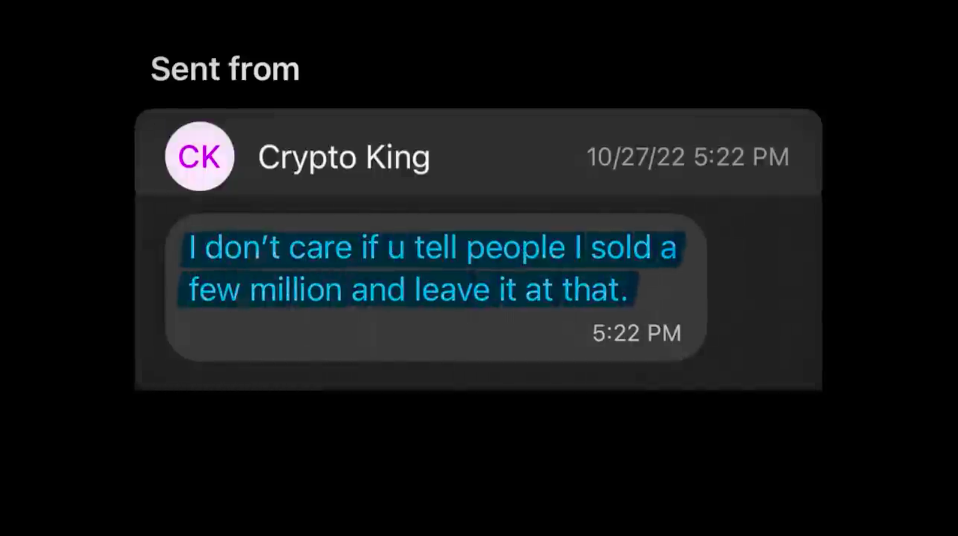 Coffeezilla added that while they can't track Paul or Levin selling their tokens, Ibanez did sell his for about $1.7 million based on his calculations; however, the middleman can't be contacted to confirm.
The YouTuber then argued that among the founders, "no one was innocent" since the game wasn't built and the developers weren't paid, but some people made money while investors lost theirs.
"So unsurprisingly, it turns out a lot of these guys backstabbed each other," Findeisen said. "Yes, it's a huge problem: people stole millions of dollars. But it's a symptom of a larger issue which is people didn't actually care about the game… they just cared about the money."
Paul responds: "I'll see you in court"
In response, Paul published a video directly addressed to Coffeezilla, basically disputing the characterization that the CryptoZoo project was his scam.
"Coffeezilla, I watched your three-part series called 'Investigating Logan Paul's Biggest Scam' and like many on this platform, you have successfully used my name for views and money," Paul started.
Paul first revealed the identity of the developer who allegedly stole the CryptoZoo code and fled to Switzerland: Zach Kelling. He noted Kelling serving time in prison for multiple robbery-related felonies and also said that the developer only has three engineers on his team, disputing Kelling's claim in Coffeezilla's video that he has 30 engineers and a $50,000-per-week burn rate.
"I know what you're thinking: what type of idiot would work with an unsavory individual like Zach Kelling? I guess that's what I get for trusting the team that I relied on to vet and manage Eddie's hiring process–who has turned out to be a professional con man," Paul said.
The influencer also clarified that "one second of research" would prove that the NFT eggs in the ecosystem can be hatched and owners can breed the animals.
Paul also pointed out that the Coffeezilla may have violated the law by posting a recording of Levin's call with Paul with Levin's permission.
On "the crypto king", Paul said that the team removed him when they realized "he was a bad actor and his motives were purely financial." The same reason was invoked by the influencer in explaining why they kicked out Ibanez–whether true or not that the two sold $6 million and $1.7 million of ZOO tokens, respectively.
"I repeat, Jeff and I made no money and will never make any money on CryptoZoo. In fact, we only lost money trying to pick up the pieces," Paul reiterated.
He further explained that he was not cleared from legal to discuss much of the issue, including the legal proceedings and the criminal investigations, hence his apparent silence.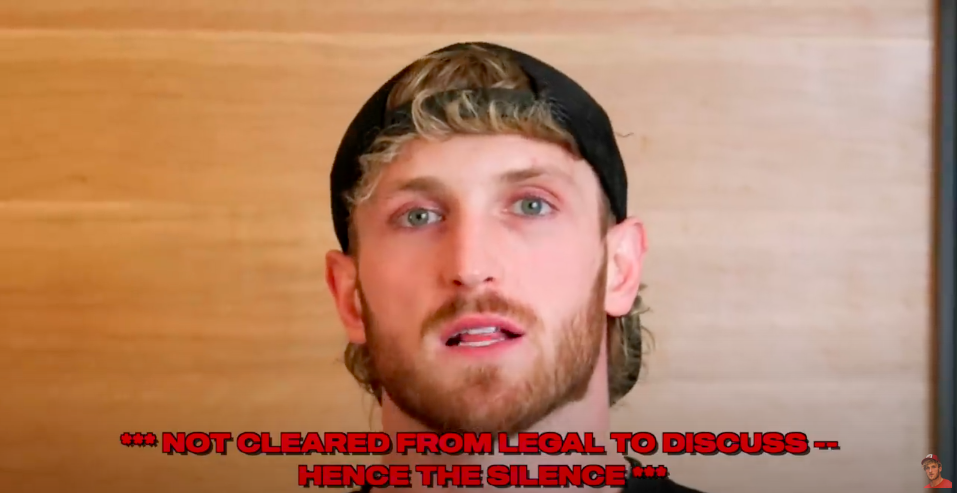 "But, even after 12 months of work, you've still managed to overlook one crucial piece of information. Even though, I've said it's coming so many times, you've assumed that CryptoZoo isn't being made," Paul said. "Who are you to decide when the development timeline ends?"
Paul added that had Coffeezilla reached out to him, personally, they could've talked about the issue. But, he revealed that Findeisen first reached out to him on Christmas Eve, the day after the video series was released.
"I suggest you use the money you got from pumping your Patreon to hire a good lawyer. You're gonna need it," he added.
Paul also reiterated that "CryptoZoo is coming" in 2023 or 2024 and he will make "damn sure of it."
Twitter fallout
Unsurprisingly, the feud spilled out to Twitter from YouTube. After apparently seeing the Coffeezilla videos, Paul tweeted claiming that the material is "simply not true." Findeisen shot back, doubling down on Paul apparently "refusing" to talk to him and to address the investors.
Paul did support Coffeezilla's Patreon account which Findeisen apparently refunded.
Paul then tweeted his invite for Findeisen to come on to the Impaulsive show, but the YouTuber answered back by inviting Paul instead to his platform.
After Paul uploaded his video response, Coffeezilla clarified that he did reach out to Paul prior to Christmas Eve–contrary to what the influencer claimed that Findeisen only reached out to him that day for the first time.
Paul answered back by pointing out that if Findeisen was able to get ahold of Paul's personal mobile number, he could've gotten the influencer's professional email to reach out to.
"No, I don't expect you to see every DM, which is why I reached out to your manager, and explicitly said I was trying to reach you because I hadn't gotten a response," Coffeezilla tweeted back.
Findeisen also sarcastically noted that the CryptoZoo is finally coming in 2023/24, as Paul said in his response video, commenting that it is "definitely not because [he] made a video series about it."
With Paul's insinuation of legal actions against Coffeezilla, it seems the feud is nowhere near the end–whether in front of their green screens or a court judge.
---
Information for this briefing was found via Cryptonomist and the sources mentioned. The author has no securities or affiliations related to this organization. Not a recommendation to buy or sell. Always do additional research and consult a professional before purchasing a security. The author holds no licenses.