Coinbase Plummets After SEC Sues Crypto Firm
A Wells notice has finally materialized into a lawsuit as the Securities and Exchange Commission (SEC) has formally charged Coinbase Global (NASDAQ: COIN), one of the largest cryptocurrency exchanges, with operating its crypto asset trading platform as an unregistered national securities exchange, broker, and clearing agency.
The SEC has also accused Coinbase of failing to register the offer and sale of its crypto asset staking-as-a-service program. The charges stem from Coinbase's alleged violation of federal securities laws.
"We allege that Coinbase, despite being subject to the securities laws, commingled and unlawfully offered exchange, broker-dealer, and clearinghouse functions," said SEC Chair Gary Gensler. "In other parts of our securities markets, these functions are separate. Coinbase's alleged failures deprive investors of critical protections, including rulebooks that prevent fraud and manipulation, proper disclosure, safeguards against conflicts of interest, and routine inspection by the SEC."
Coinbase shares fell more than 14% in pre-market trading following the news, following a decline after the SEC sued fellow crypto firm Binance yesterday.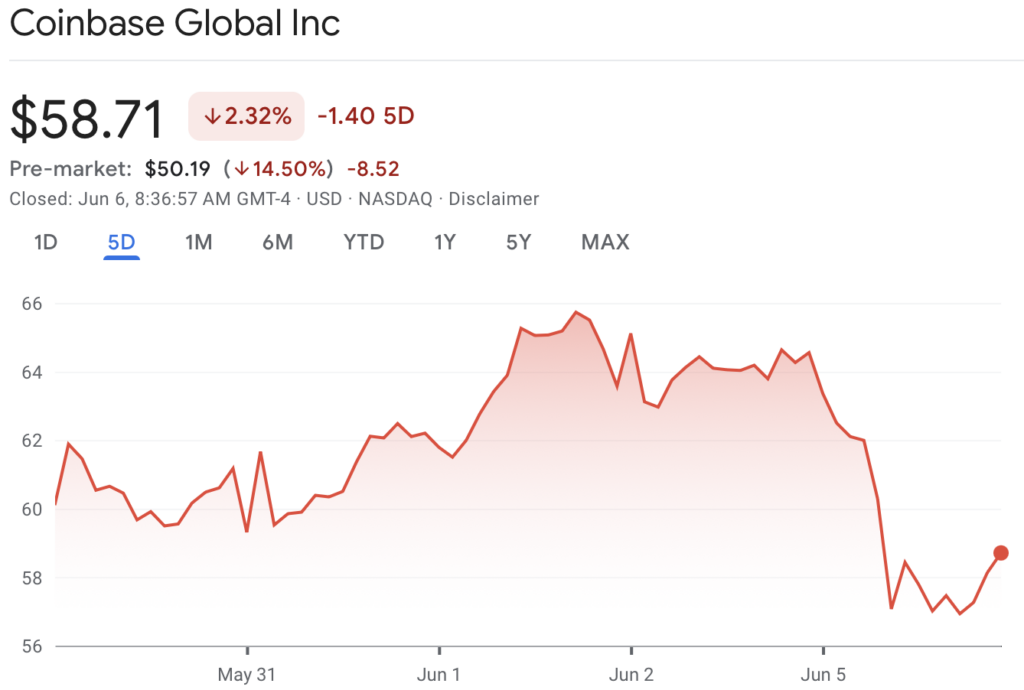 The regulatory body's suit reprises majorly the issues it has raised in the Wells notice it sent Coinbase earlier this year. The firm answered at the time with its own Wells response, categorically denying the agency's allegations and even demanding the SEC to respond to Coinbase's attempts to clarify regulatory rule making on crypto assets.
According to the SEC's complaint, Coinbase has been facilitating the buying and selling of crypto asset securities without proper registration since at least 2019. The agency asserts that Coinbase combines the functionalities of an exchange, broker, and clearing agency without obtaining the necessary registrations mandated by law.
By offering these unregistered services, Coinbase is alleged to have engaged in various activities, including providing a marketplace for securities transactions, executing securities transactions for customers, and serving as a securities depository.
The SEC contends that Coinbase's failure to register has deprived investors of essential protections, such as oversight by the SEC, compliance with recordkeeping requirements, and safeguards against conflicts of interest, among others. The complaint also names Coinbase Global Inc. (CGI), the holding company of Coinbase, as a control person responsible for certain violations committed by Coinbase.
In addition to the charges related to the unregistered exchange and brokerage services, the SEC has accused Coinbase of conducting an unregistered securities offering through its staking-as-a-service program. This program allows customers to earn profits through the "proof of stake" mechanisms of specific blockchains.
Coinbase allegedly pooled customers' stakeable crypto assets, validated blockchain transactions, and distributed a portion of the rewards to participating customers. The SEC asserts that Coinbase failed to register this staking program as required by law.
The SEC has accused Coinbase of offering at least 13 crypto assets that it considers to be "crypto asset securities." Among these assets are Solana's SOL token, Cardano's token, and Protocol Labs' Filecoin token.
Gensler expressed concerns about Coinbase's alleged failure to comply with securities laws. The SEC chair emphasized the importance of separating the functions performed by exchanges, brokers, and clearing agencies to protect investors from fraud and manipulation. He further criticized Coinbase's lack of registration for its staking program, noting that investors were deprived of critical disclosure and other safeguards.
With the SEC consequently suing two of the largest cryptocurrency firms in the world, Binance and Coinbase, in days, Gensler announced that he is set to appear as guest in a series of talk shows to discuss crypto and securities laws.
The SEC's complaint, filed in the U.S. District Court for the Southern District of New York, alleges that Coinbase and CGI violated registration provisions outlined in the Securities Exchange Act of 1934. Coinbase also stands accused of violating the securities offering registration provisions stated in the Securities Act of 1933. The complaint seeks injunctive relief, disgorgement of unlawfully obtained gains, penalties, and other equitable remedies.
The charges against Coinbase highlight the regulatory challenges faced by the rapidly evolving cryptocurrency industry. As authorities strive to balance innovation and investor protection, the outcome of this case will have implications for the broader crypto ecosystem and its compliance with existing securities laws.
---
Information for this briefing was found via the sources mentioned. The author has no securities or affiliations related to this organization. Not a recommendation to buy or sell. Always do additional research and consult a professional before purchasing a security. The author holds no licenses.