Company Overview: Gold Mountain Mining Corp
Gold Mountain Mining Corp. (TSXV: GMTN) is a Vancouver-based advanced-stage junior gold exploration company that is developing its flagship Elk Gold Property in British Columbia. The 21,187 hectare property is host to the past-producing high-grade Elk Mine, which is located 35 minutes southeast of Merrit and 45 minutes west of Kelowna, and is easily accessible by road and can be operated year-round.
Gold Mountain is in the process of preparing the high-grade Elk Mine for open-pit production and has already commenced stripping waste rock while it awaits its mining permit, which it expects to receive by early August and followed shortly thereafter with its environmental permit. The Company will then begin production with a goal of delivering its first ore shipment by October 2021 and generating revenue.
The Investment Thesis
We base our investment thesis on the following factors:
British Columbia is a very mining-friendly jurisdiction.
The area has very well established infrastructure to support all aspects of large-scale mining operations including a reliable workforce and services..
The Elk Mine is a past-producing mine that GMTN is commencing production on in early-August 2021.
The Elk Mine Project's PEA shows measured and indicated gold equivalent resources of 651,000 ounces at an average grade of 6.1 g/t gold.
GMTN is continuing exploration work on 7 other mineralized zones on the property to expand its resources to over 1 million ounces of gold.
The Deep Dive views Gold Mountain Mining Corp. as an advanced-stage exploration company with considerable upside potential and relatively modest risk. The company is well funded and has a very experienced management team with a business generation mindset. The PEA is being constantly upgraded as new results come in. If the drill programs are successful, additional resources can be added to the indicated mineral resource estimates in the PEA and increase the valuation of the Elk Mine Project.
Furthermore, the company expects to deliver its first gold shipment from its production by October 2021, and annual production is expected to increase from 19,000 ounces in Year 1 to 65,000 ounces per year by Year 4. The revenue and profits will enable Gold Mountain to self-fund its operations internally, therefore reducing the need for dilutive financings. We see the potential for GMTN to eventually become a takeover target or joint venture as the project's valuation increases.
The Elk Gold Project
The  21,187 hectare Elk Property is host to the past-producing high-grade Elk Mine, which is located 35 minutes southeast of Merritt, BC and 45 minutes west of Kelowna, BC. The project is easily accessible by road and can be operated year-round. The area has very well established infrastructure to support all aspects of large-scale mining operations, including a reliable workforce within an easy commute distance, and availability of quality technical services.
The Elk project is a hybrid open-pit / underground mine with two established pits. The pits feature high grade mineralization near surface and at depth, while the larger area features an ore pad to facilitate processing, and existing water infrastructure on site.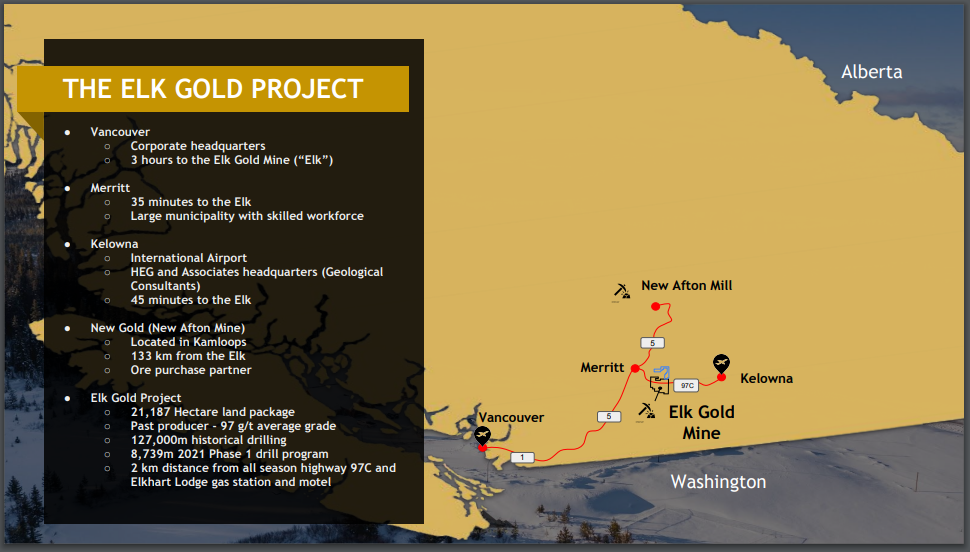 Gold Mountain expects to receive its mining and environmental permits by early-August 2021 and will commence production shortly thereafter, with the expectation of delivering its first gold shipment to the New Afton Mill by early October 2021. The initial production plan calls for 19,000 ounces of gold per year for the first three years, and then 65,000 ounces of gold per year thereafter. The previous mine operators built an underground decline which Gold Mountain will work towards enabling underground production once the decline has been renovated and deemed safe for extraction activities.
Gold production will provide the company with considerable cash flow and profitability to self-fund its ongoing operating and exploration activities without the need for dilutive market financings. With over $15 million in cash, the company has the capital to complete all of its exploration and production milestones.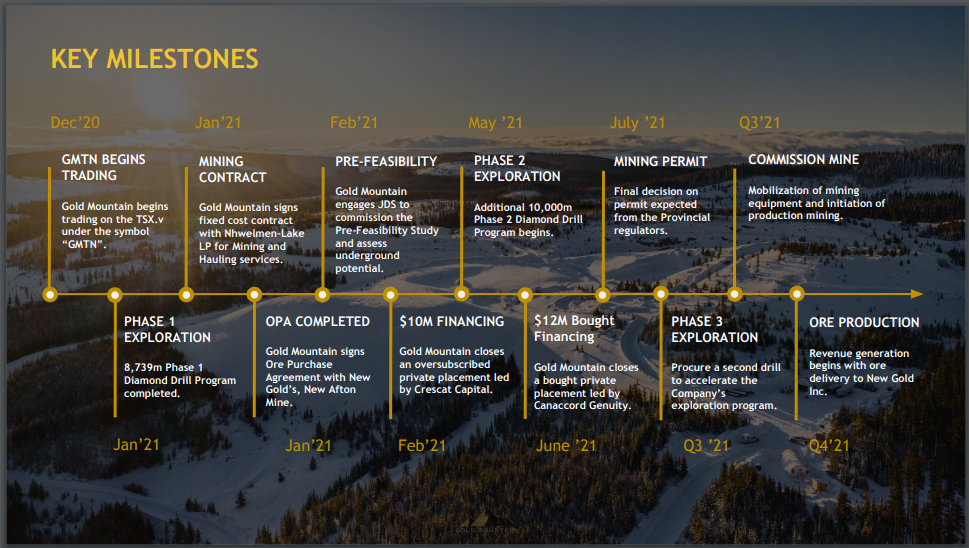 The Geology
The Elk Gold Project is located in the Intermontane tectonic Belt of south-central BC. The underlying geology is predominantly a mesothermal quartz and Volcanogenic Massive Sulfide (VMS) with granitic intrusions, with high-grade gold occurring within pyritic quartz veins, which themselves occur in fractures and shears in granitic intrusions. The mineralized zones strike in an east-west direction with most of the gold veins consistently occurring west of the granitics.
According to the Company's NI 43-101 report, the western third of the property is thought to be underlain by Triassic-age Nicola Group volcanic–sedimentary rocks. The eastern two-thirds of the property are underlain by Jurassic-age granitic rocks of the Osprey Lake Batholith. The southwest claim area consists of Feldspar-porphyry stocks and dykes of the Upper Cretaceous period and cut both the Nicola Group volcanic rocks and Osprey Lake granitic rocks
Exploration At The Elk Gold Project
Fairfield Minerals Ltd. explored the area for gold from 1986 to 1991 and identified and drille nine separate zones containing gold-mineralized quartz vein systems. In 1992, Fairfield became the operator of the property to mine a bulk sample open pit, and subsequently 51,500 ounces of gold were produced between 1992 and 1995. The pit was also drilled and tested for underground mining potential.
There has been 135,808 metres of historic drilling and extensive geochem and geophysics work conducted on the Elk property. Gold Mountain plans to further drill the eight gold mineralization zones that were previously identified and indicated that they were within a consistent geological structure throughout most of the property. Future drilling programs will better determine if the various mineralized zones are part of a much larger overall deposit, which would have a significant impact on the value of the project.
Unexpectedly, a zone on the southwest portion of the property indicates significant porphyry copper potential that will require further drilling during the Phase Two program, because of its proximity to Kodiak Copper's (TSXV: KDK) MPD copper-gold porphyry discovery nearby. If GMTN's drill results suggest a potential copper deposit, it could change the dynamics of the entire Elk Project and its valuation. It could also present strategic options such as a joint venture or sale of this portion of the Elk Property.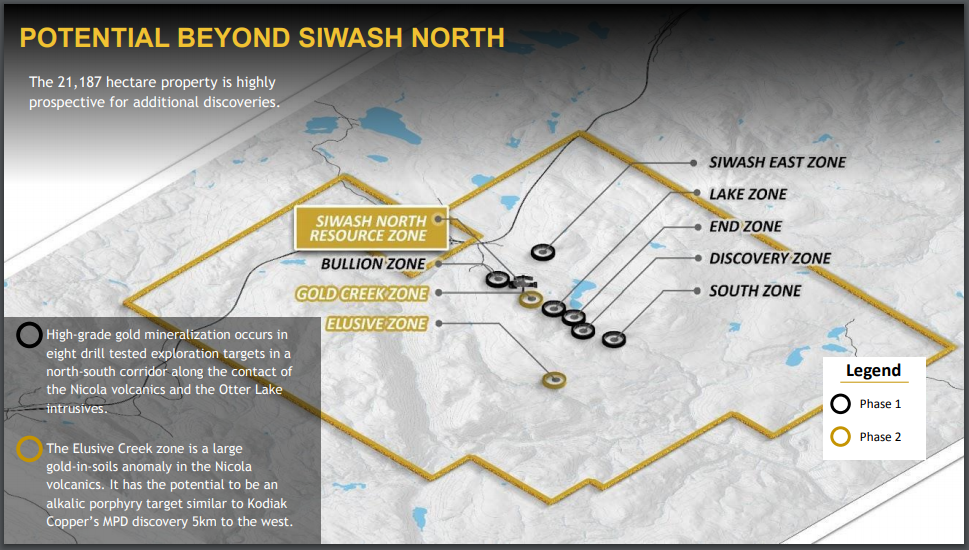 While much attention is being directed at commencing operations at the open-pit, concurrent exploration work will continue, particularly the Siwash North minerals zone. Gold Mountain is in the midst of its Phase Two drilling program, which is conducting step-out exploration on it's Siwash North Zone on the property.
The program is designed to further delineate the size and scope of the Siwash North mineralized zone to define additional resources to surpass the company's overall 1 million ounce gold resource estimate target. According to its NI 43-101 report, the Elk project currently has measured and indicated gold equivalent resources of 651,000 ounces at an average grade of 6.1g/t gold.
The Preliminary Economic Assessment (PEA)
The most recently updated Preliminary Economic Assessment shows that the Elk Gold Project has measured and indicated gold equivalent resources of 651,000 ounces at an average grade of 6.1g/t gold. The combined mine life of the open-pit and underground operations is expected to be 11 years. The initial capital cost to bring the mine into production will be $9 million.
Initial production will be projected at 19,000 ounces of gold per year for the first three years and 65,000 ounces of gold per year thereafter. The PEA estimates that the cost of production will be  a relatively modest USD $554 per ounce. The recovery rate is expected to be 92% and the project will have an after tax payback period of only one year from the start of production.
Gold Mountain has entered into an ore purchase agreement with New Gold to offtake all of its production, negating the need for the company to build a mill onsite at this time, and thereby resulting in significant cost savings. Economics will determine if, as, and when the company would build its own mill. The ore will be trucked to the 15,000 ton/day New Afton Mill located in Kamloops, BC, 133 km from the Elk Gold Project.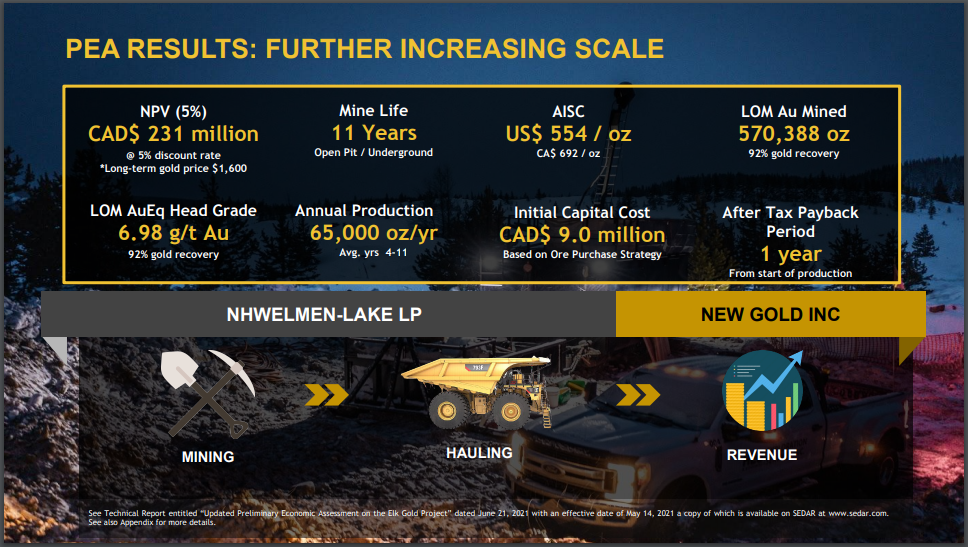 Gold Mountain has eliminated all of its recovery risk under the terms of the ore purchase agreement, which involves a third-party settlement assay umpire to determine the ore to be shipped, and a metals payable split of 89% to Gold Mountain and 11% to New Gold. Upon delivery, Gold Mountain will be paid within 17 days by New Gold for the gold that is delivered to the mill.
Having an up to date PEA helps the company to accurately track the development of the project by building a comprehensive database that prospective investors, joint venture partners and/or potential suitors can readily conduct their due diligence on the project and adds to management's credibility as a serious operator.
The company plans to continue its exploration work to expand the size of the deposit by drilling beyond the known mineralization zones, as well as conduct in-fill drilling to further enhance the known geological data of the property and increase the size of the resource estimate.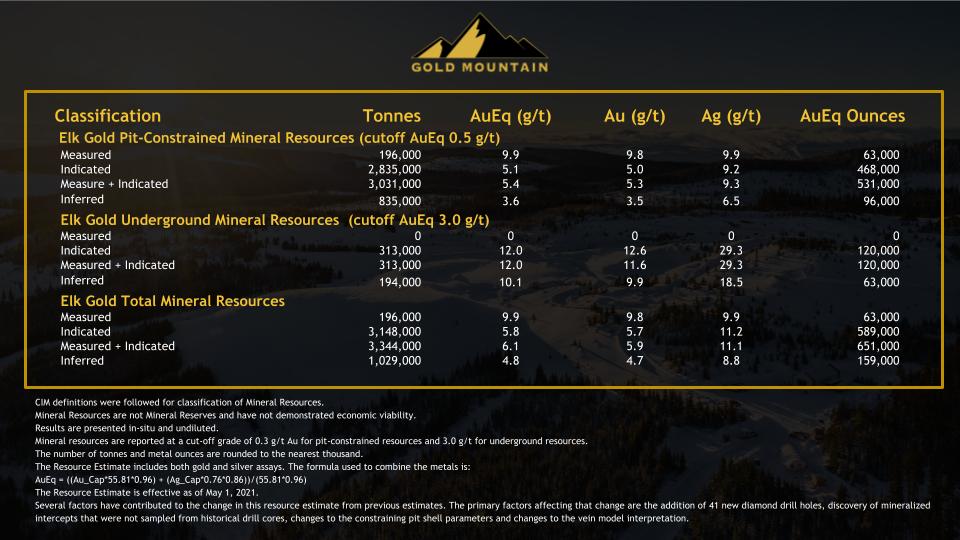 Management Team
Kevin Smith – Chief Executive Officer
Mr. Smith is a seasoned entrepreneur with extensive real estate, construction, project management and finance experience. His operating focus is to build and sustain an operating mining company with strong cash flow and profitability.
Ronald Woo P.Eng., MBA – President
A mining engineer by profession, Mr. Woo has over 20 years experience in the mining industry, having served in senior capacities for a number of mining companies. He was Chief Operating Officer for Rover Metals, Project Manager for Ledcor, Senior Mine engineer for Hunter Dickenson, and Technical Services Manager for Western Coal Corp.
Braydon Hobbs CA, CPA. – Chief Financial Officer
Mr. Hobbs has seven years of accounting and executive experience. He as formerly a Manager at BDO Canada LLP., Manager of Assurance – Private Markets for Deloitte UK LLP, and served as Director of Finance property developer,Woodbridge Homes.
Grant Carlson P.Eng. – Chief Operating Officer
Mr. Carlson holds a B.Sc MiningEngineering from the University of British Columbia and brings over 15 years of experience as a mining engineer to Gold Mountain, having served in that role for Taseko Mines Ltd., and as a consultant for SRK Consulting.
R. Stuart "Tookie" Angus LLB – Advisor
Mr. Angus has over 40 years experience in structuring, financing, mergers and acquisitions of mining ventures. He has served in senior executive, director and advisory roles for numerous mining companies, including Chairman of K92 Mining Inc. , and Chairman of Nevsun Resources Ltd. A lawyer by training, Mr. Angus was formerly Head of the Global Mining Group for Fasken Martineau.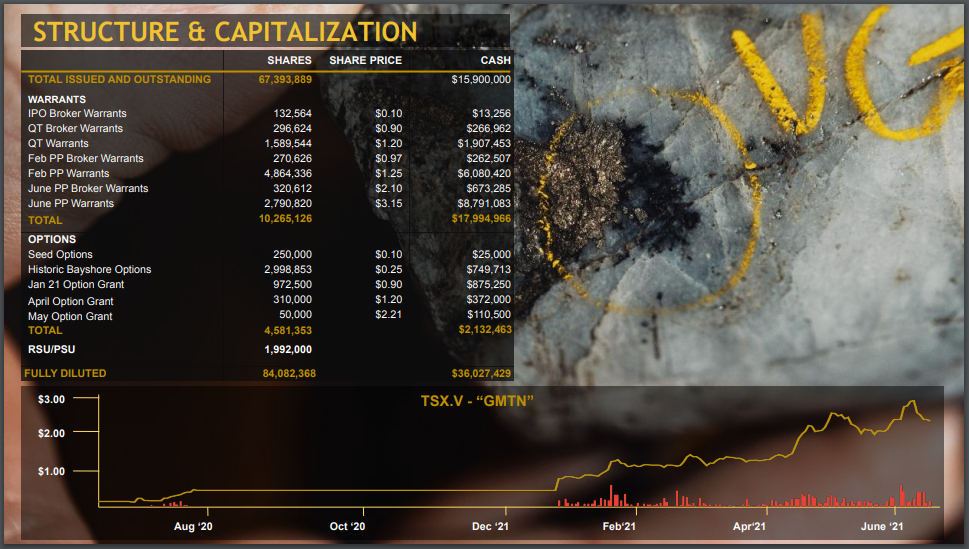 The Risks
From our view the following risks are worth considering.
Price of gold. Just as the gold price can be a catalyst, a potential decline in price would have a negative impact on gold exploration stocks and other precious metals. We are of the mindset that if gold remains above $1800, there will likely be an influx of capital coming into the juniors. However, if it drops below, explorers could likely struggle.
Drill results. Poor drill results could negatively affect price performance of the stock.
Jurisdictional risk. While British Columbia is a highly regarded mining friendly jurisdiction, the Province and local indigenous communities are environmentally sensitive and have the potential to block mining projects due to environmental concerns. 
Market sentiment. Markets can fluctuate wildly as investor expectations can change rapidly depending on the two most common drivers; fear and greed.
The Catalysts
Some of the potential catalysts we see that could have a large impact on the share price include:
Imminent production. GMTN will shortly receive its mining and environmental permits to initiate production in early August. The company expects to deliver its first gold shipment by October 2021.
The results of any future Elk MIne drill programs. GMTN will continue exploring and drilling the Elk Mine property with the objective of expanding the resource and getting a better understanding of the underlying geology. Any meaningful discovery or confirmation of more promising gold mineralization could serve as an upside catalyst for the common shares. 
The price of gold. The most obvious variable for any gold explorer, developer, or producer is the price of gold. As the price of gold rises so does the net asset value of projects rise, which increases shareholder value. 
Broad economic indicators. Given the recent COVID stimulus packages which have seen a massive number of jobless claims, the assumption is that governments and central banks will take on debt funded through quantitative easing (money printing) to fill the gap. Eventually this will likely become inflationary; historically the price of gold increases with an increase in inflation as investors seek a hedge against inflation. In the interim, unexpected negative shocks to the global economy could impact the price of gold from investors seeking a safe haven.
Potential future Merger and Acquisition activity. Due to GMTN initiating production and its continuing efforts to explore the other mineralized zones on the Elk Property to increase its resources for the project, any meaningful additional discoveries on GMTN's property could add to the PEA resource estimates which could present an opportunity for a take out or joint-venture by a larger entity looking to expand into the area.
Conclusion
At the Deep Dive, we like the macro prospects for gold and other precious minerals such as silver, and the underlying fundamentals that would suggest we are in the early stages of a gold bull market. We especially like projects in safe jurisdictions that are located close to existing producing mines or significant discoveries. When juniors get frothy they often trade up to 10% of the price of gold for what they have in the ground.
With 68.72 million shares outstanding and a market capitalization of $103.93 million, Gold Mountain appears to be undervalued when considering that the company completed a $12 million bought-deal financing at $2.10 per share in late June. The company's strong cash position, imminent production, and the strong economics of the project would suggest that it has been significantly de-risked.
As the Company's production and corresponding profitability increases, GMTN could become an attractive takeover candidate for a mid or large tier company seeking an acquisition to bolster their asset portfolio. In the interim, Gold Mountain will continue to explore the seven other mineralized zones on the Elk Mine Property to advance the project by adding additional gold resources to the PEA resource estimate and to continue building shareholder value.
---
FULL DISCLOSURE: Gold Mountain Mining is a client of Canacom Group, the parent company of The Deep Dive. The author has been compensated to cover Gold Mountain Mining on The Deep Dive, with The Deep Dive having full editorial control. Not a recommendation to buy or sell. Always do additional research and consult a professional before purchasing a security.