PowerBand Solutions (TSXV: PBX) is an automotive fintech solution that facilitates transactions and remove unnecessary middlemen providing consumers with the lowest possible price. PowerBand's integrated, cloud-based transaction platform facilitates transactions amongst consumers, dealers, funders and manufacturers (OEMs). It enables them to buy, sell, trade, finance, and lease new and used, electric- and non-electric vehicles, on smart phones or any other online digital devices, from any location. PowerBand's transaction platform – being trademarked under DRIVRZ – is being made available across North American and global markets.
Investment Thesis
The investment thesis for PowerBand is focused on the following main points:
Consumers are looking for a haggle free, online solutions to buy, sell, finance, and lease vehicles.
PowerBand will offer the first end-to-end solution allowing consumers to do an online trade-in, buy or lease a vehicle, and then make payments through their banking portal. Creating a one stop shop.
PowerBand has various multi-billion dollar partners including: the TÜV NORD Group, RouteOne (owned by various OEMs), Tesla (previously through MUSA), and Hunt Automotive (family of JB Hunt's).
The COVID-19 pandemic has put the timeline in fast forward; with social distancing measures, consumers are looking to use virtual platforms wherever possible.
The model is scaleable; allowing the company to complete infinite transactions with minimal capital expenditure requirements.
The comparables for proven auto fintech solutions such as Carvana show a strong appetite for these types of equities; Carvana trades at nearly $100,000 per annualized car sold.
The automotive sales market is highly fragmented. The largest retailers make up less than 3% of the total addressable market.
Overall we feel that PowerBand offers a unique solution that can address a $1 trillion market opportunity.
This pandemic has also highlighted that PowerBand's mission — to allow people to buy, sell, lease and trade cars and trucks as easily as you order a product from Amazon or order an Uber on your smart phone from home — is essential for consumers and the future of the industry."

Kelly Jennings, CEO, President and Chairman, PowerBand Solutions
The Business Model
Powerband's business model is to work with various players to create an end-to-end solution providing the following components:
Online auction: allowing consumers and dealers to auction cars online in under 20 minutes. The company intends to offer success based auctions, with a $350 fee for successfully facilitating a sale.
Leasing solution: PowerBand is in the advanced stages of signing solutions to allow banks, credits unions, and funds to create their own leasing portfolios via flow-through agreements or warehousing credit facilities which can later be securitized and sold to funds.
Inspection system: Powerband's system will include TÜV NORD Mobility's 100 point inspection system; so consumers can access an independent mechanic opinion and sellers can have the inspection done with the click of a mouse.
Financing: PowerBand will be partnered with RouteOne who has a network of 33,000 dealerships and 1,800 lenders. Giving the company access to inventory at the dealership level and additional financing solutions.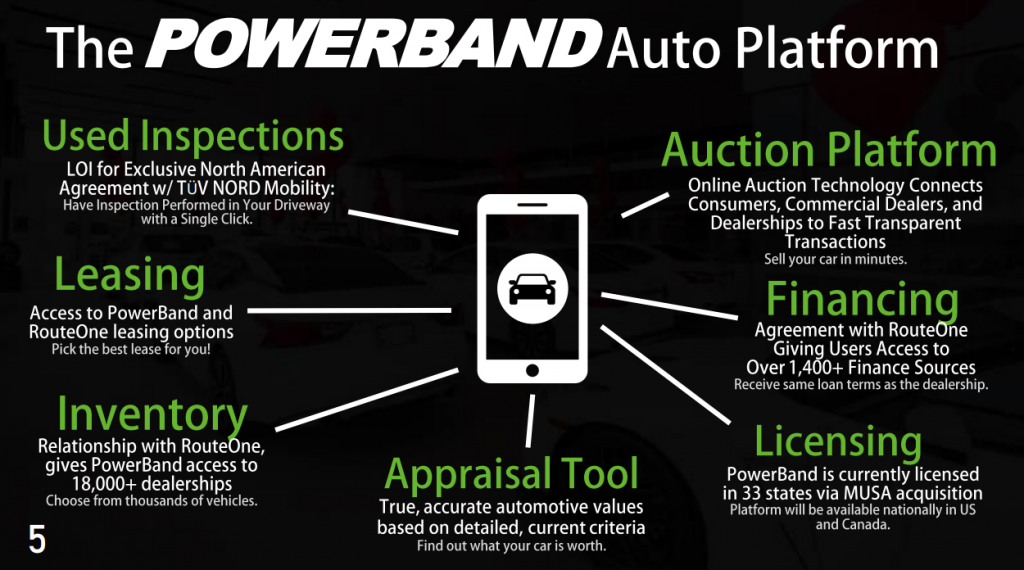 MUSA Auto Finance LLC
PowerBand currently has a 60% ownership interest in MUSA Auto Finance LLC. An auto fintech solution that became Tesla's first non-captive leasing partner in the US. Launced in 2014, MUSA ran into capital raising requirements and had to put the breaks on their leasing solution in 2019 after junior debt partner Crestline was unable to provide haircut capital for the warehouse leasing portfolio.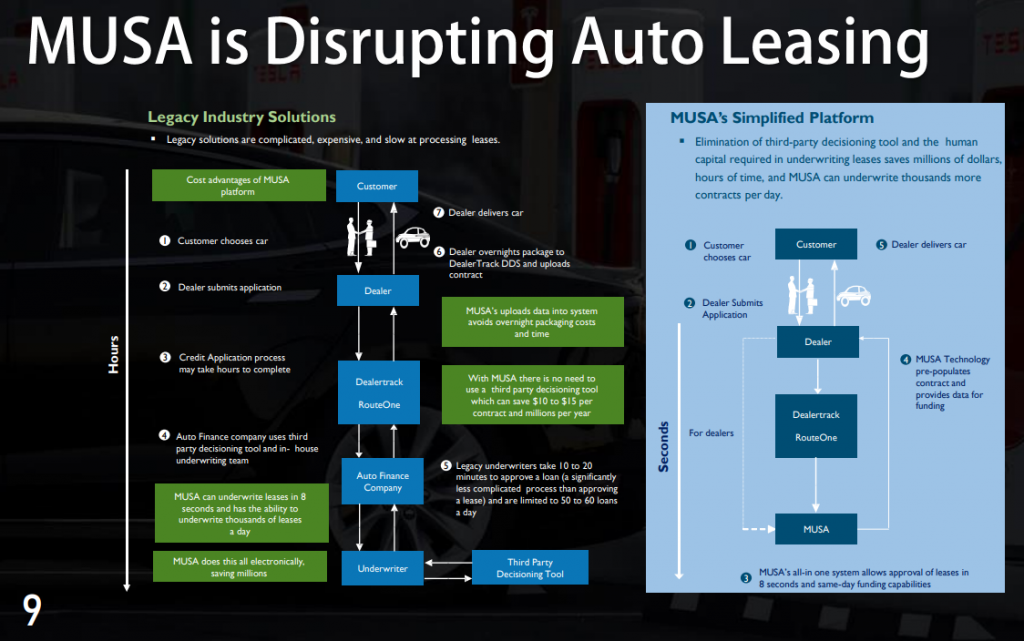 At the time of acquisition, MUSA had a leasing portfolio of over 3,000 cars consisting of over $150 million dollars with an average FICO score over 730 (considered super prime). PowerBand is now in advanced discussions to restart originating leases with MUSA.
Big Industry Partnerships
PowerBand has engaged with the following partners to rollout their plan:
RouteOne: A banking portal owned by various OEMs through their captive leasing solutions. RouteOne is connected with 33,000 dealerships and 1,800 lenders. Giving PowerBand a sales force to work with at the dealership level and giving consumers access to multiple lending options to find the best rate on their financing or lease.
"Our agreement with RouteOne means many thousands of dealers and car consumers across the U.S. and Canada will have PowerBand at their fingertips – revolutionizing how we buy, sell, and trade vehicles by removing unnecessary middlemen and delays. Not only will PowerBand generate revenue from new and used vehicle leases, there will also be revenue generated through PowerBand's online auction platforms as a result of consumers trading in their vehicles for new leased vehicles."

Kelly Jennings, CEO and President, PowerBand Solutions
TÜVNORD Mobility: A subsidiary of TÜV NORD Group, a technical service provider with worldwide activities. Founded in 1869 and headquartered in Hanover, Germany, TÜV NORD Group employs more than 10,000 people in more than 70 countries of Europe, Asia, North and South America and Africa. TÜV NORD is a global authority in the Technical Inspection and Certification (TIC) industry. They perform technical vehicle inspections on millions of used vehicles across Europe every year. Their main activities include independent vehicle inspections for private consumers, dealerships and OEMs. Business inspection services include pre-and-post sale, lease-end, trade-ins, and floorplan audits.
Source Digital: Source is an immersive commerce and advanced advertising platform, designed for the video content creator, brands, and product companies to monetize viewers through real-time engagement of anything in the video. Completely agnostic to any device or screen, Source allows the acquisition of anything in the video through clicking, talking, touching, and listening.
Tesla (partnered with MUSA): An American electric vehicle and clean energy company based in Palo Alto, California. The company specializes in electric vehicle manufacturing, battery energy storage from home to grid scale and, through its acquisition of SolarCity, solar panel and solar roof tile manufacturing. MUSA became the first non-captive leasing partner of Tesla in 2018, and still services many of these loans today.
Management
Kelly Jennings – CEO, President, Chairman
Founder of PowerBand Solutions
Franchise Dealer owner operator
More than 28 years of automotive experience
Darrin Swenson – COO. PowerBand & D2D Auto Auctions
BOD PowerBand Solutions
COO Hunt Automotive Group
More than 25 years of automotive / auction experience
Richard Goldman – VP Corporate Development
Co-founder of AutoSoldNow, later acquired by PowerBand
30+ years capital markets, public company experience
Jeff Morgan – CEO USA Auto Finance LLC
Partner and GM of Vehicle Leasing Inc.
Founder and CEO MUSA, Avert, IAG, and Mortgages USA
Brings more than 25 years auto finance experience to Board
Scott Schondau – EVP Finance & Treasury MUSA
Alex Brown / Deutsche Bank / JP Morgan / Bear Stearns
Brings more than 24 years of financial experience to MUSA
Comparables
It is very difficult to find comparables for PowerBand. The company is an odd duck in the industry and are at the bottom of their ramp looking up. At the moment they don't own dealerships, inventory, or even originate leases. The company is in the early stages of attempting to change the industry with a fintech solution, that if successful could be scaled from inception to millions of transactions annually. We have seen similar models receive large valuations in the US at early stages including Beepi which was once valued as high as $560M or online auction platform TradeRev which was acquired by KAR Auction Services for $125M in a combination of cash and stock.
PowerBand provides a list of comparables to give us an idea of their aspirations. We can quickly see what similar large companies trade at – on a per case basis.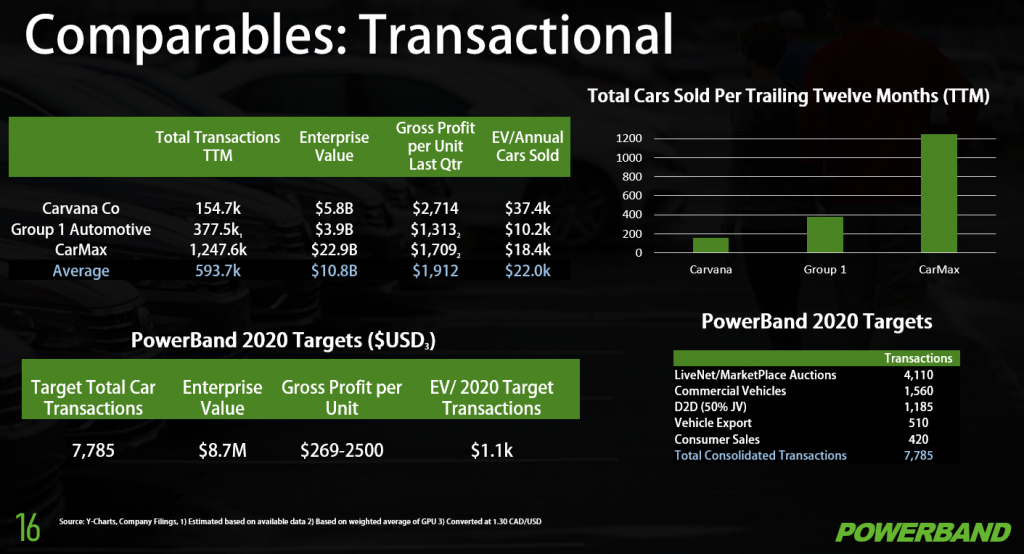 A large percentage of the transactions PowerBand will perform will be $350 online auction fees. The company projects to make somewhere between $1800 to $4000 on fully facilitated transactions. We can see that if the model begins to show traction (lease originations, sales, trade-ins, etc) and PBX receives a similar transaction based multiple, the opportunity for abnormally high shareholder returns is present.
Potential Catalysts
We view PowerBand has opportunites to unlock shareholder value with various potential announcements/events:
Closing of Credit Facility: PowerBand has indicated in multiple news releases they are in advanced discussions to enter into a credit facility agreement; with a goal to cumulatively have over $1B in facilities available. We feel this is the number one catalyst investors are looking for.
Flow Through Credit: PowerBand also has the ability to use their platform to provide third party banks, credit unions and large funds with the ability to create their own leasing portfolios through the application.
Large Partner Adoption: There are many partners who may want to access the application to either buy or sell vehicles. Such as large dealership networks, car manufacturers, fleet dealers, rental car companies, ride sharing companies, etc.
Credit Originations: Once either catalyst 1 or 2 is completed, PowerBand will begin announcing the volume of lease originations. If the numbers are favourable, it will prove to the market the fintech is working and scalable. Opening the door to many new investors who can cross this accomplishment off on their risk checklist.
Strategic Investments: There are many companies that could use an online solution to white label or integrate into their platform. Ranging from insurance companies, auto retailers, manufacturers, digital marketers, etc. The possibility of a large entity wanting to put a stake in PowerBand we view as a real possibility.
Wide Scale Adoption: We view the final catalyst for PowerBand would be if the market shows wide scale adoption, where dealerships and consumers are showing a preference to use the solution.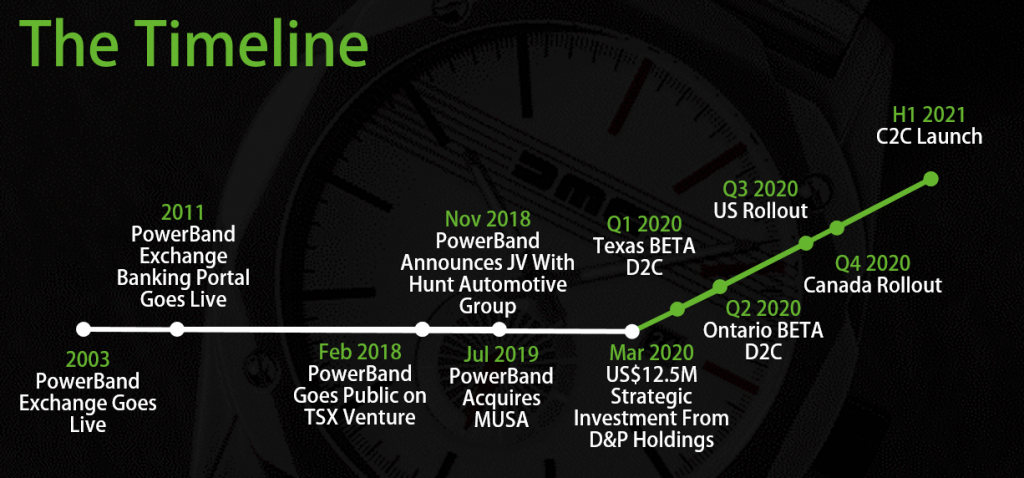 Risks
When compiling these reports, we like to give readers the biggest risks from our viewpoint:
Ability to secure a credit facility or flow-through facility: PowerBand's strategy is to begin offering paperless lease solutions to the automotive market. They need to secure a path to financing these vehicles for consumers in order for the solution to move forward.
Dealership Acceptance: The model relies heavily on dealerships using the solution to sell cars remotely to consumers. Currently the company views RouteOne as their partner at the dealership level. PowerBand will be relying on a sales force they don't control to push the solution; under the assumption the solution will standout.
Consumer Acceptance: One of the common things we heard when diligencing this company was "people won't buy cars online." We view this as a risk, although not the biggest impediment to consumer acceptance. We believe the user friendliness of the solution creates a larger risk; something we can't assess until we see the fully functioning application. In order for this company to be successful, consumers will need to adopt and use the platform. Ultimately, the Company's financial model depends on scale, of which consumers are the key cog in to reaching scale. Having a platform that consumers find trustworthy and easy to use is critical.
Partner Dependence: We view a potential risk here that once gaining traction, PowerBand could become too close with one individual partner. In such a scenario, said partner could have the ability to exert control over the upcoming venture stage company and result in an impediment to growth (as MUSA previously experienced).
Cash Burn: In the last quarter, the company disclosed an average of over $100k/month in operating cash flow burn. Since MUSA has been added to the books, we view that number as considerably higher. The cash burn risk has largely been mitigated by the $3.3M USD invested by D&P Holdings to date. At an equity conversion valuing PowerBand far north of here. The investment from D&P gives shareholders a window to breathe about the possibility dilution risk.
Economic Conditions: The biggest risk the car industry faces at the moment is the COVID-19 economic impact. We have seen over 33M jobless claims in the US over a 7 week period. Many lenders are tightening up their belts and auto sales have plummeted. In some ways, we believe that PowerBand can actually benefit from this risk of auto sales declining. On the online auction side; many individuals may need to liquidate assets, and be forced to find an online provider rather than using a physical auction.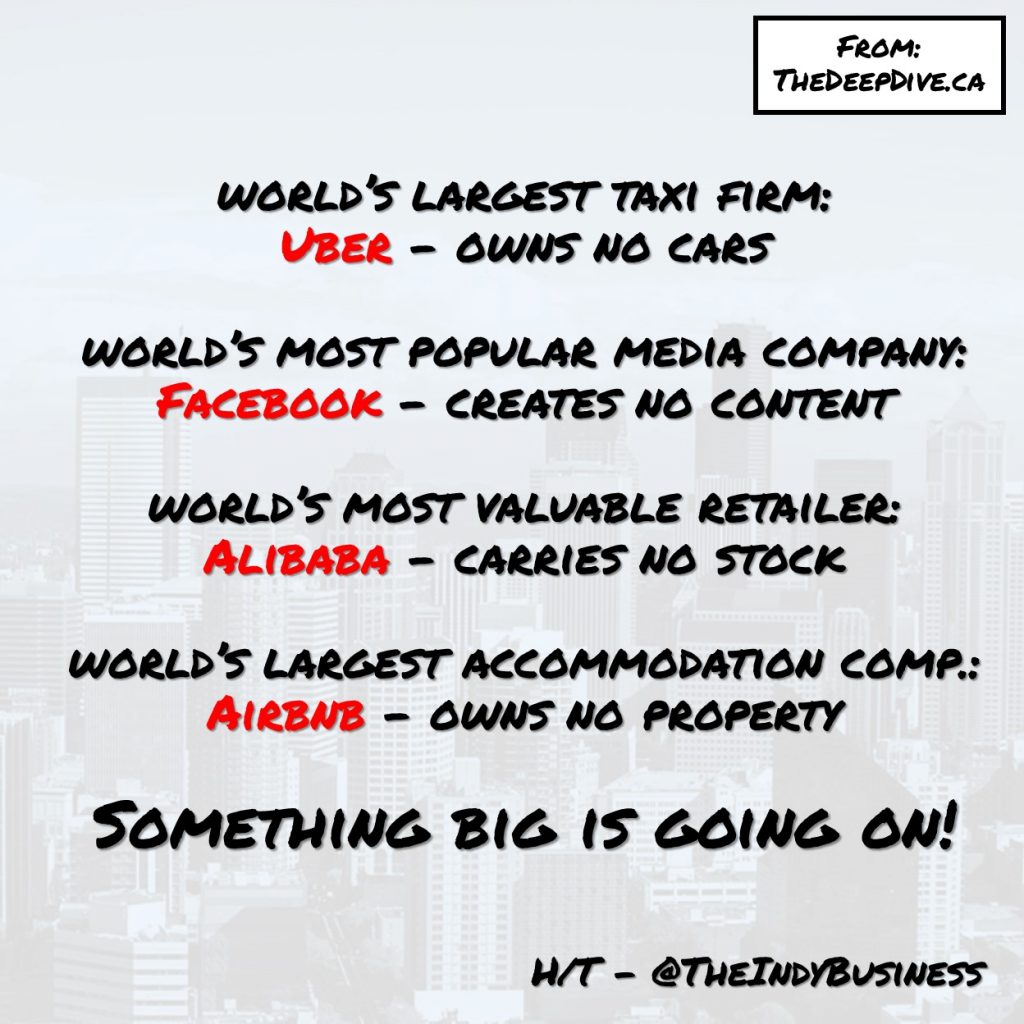 Conclusion
Overall we view PowerBand Solutions as a classic venture investment. They are trying to address a multi-trillion dollar industry; and are still putting together the pieces to roll out their strategy. We feel that once/if the company announces a credit facility/flow-through agreement and start making lease originations, the equity will attract a whole new group of investors. PowerBand has massive comparables. They are attempting to do something many have tried and failed; to be the amazon of car sales. We view this as a highly favorable risk/reward profile and encourage investors to diligence this equity further should it meet their risk appetite.
---
FULL DISCLOSURE: PowerBand Solutions is a client of Canacom Group, the parent company of The Deep Dive. The author has been compensated to cover PowerBand Solutions on The Deep Dive, with The Deep Dive having full editorial control. Not a recommendation to buy or sell. Always do additional research and consult a professional before purchasing a security.