Emergent Metals: Gold Hunting In Nevada & Quebec
Emergent Metals Corp. (TSXV: EMR), formerly Emgold Mining, is a Vancouver, British Columbia-based gold and base metals exploration company. Their strategic focus is centered around acquiring properties in Nevada or Quebec, adding value through exploration work, and eventually divesting of them by a sale, option, joint-venture, and/or retaining a royalty interest. It is essentially a disciplined portfolio management approach to the mining and exploration business, for which the company has had demonstrative success with.
Emergent's portfolio currently includes the New York Canyon, Golden Arrow, Mindora, Buckskin Rawhide East, Buckskin Rawhide West, and Koegel Rawhide properties located within Nevada's prolific Walker Lane structural trend, which is host to numerous past and present gold mines. The company's Quebec portfolio meanwhile includes the Casa South and Trecesson properties that are located near several major gold mines within the Abitibi Greenstone Belt. Emergent's portfolio also includes royalty interests in two other Quebec projects. 
The Strategic Model
The Emergent Metals business model is a multi-faceted approach to increasing shareholder value, focused on three key areas:
Strategic Acquisitions – Emergent looks to acquire undervalued properties that are adjacent to or in close proximity to existing past or present producing mines or acquire advanced-stage projects at steep discounts that have become available due to market downturns and/or commodity price depreciation.  
Value Creation – Emergent applies modern exploration methods and technologies to add value through reinterpretation of historical data, applying modern geophysics, expanding resources through exploration, updating geological models and databases, and advancing properties to create or update Technical Reports that may attract potential suitors.
Strategic Divestitures – Emergent develops its projects in a systematic manner to increase their valuations, and then seeks property sales, joint ventures, options, royalties, or other arrangements that can add value for shareholders..
As an example of the strategy's success, Emergent purchased the Troilus North Property in Quebec in 2018, and subsequently sold it to Troilus Gold Corporation (TSX: TLG) for C$250,000 in cash and 3.75 million TLG shares while retaining a1% NSR royalty interest in the property. Troilus may purchase the royalty from Emergent at any time for C$1 million. The 11,300 hectare property is adjacent to the past-producing Troilus Mine and is considered to be one of Quebec's most exciting gold projects with a target of hosting over 5.0 million ounces of gold equivalent.
A second recent example is Emergent's 2020 acquisition of the East-West Property in Quebec's prolific Val d'or gold camp, strategically located next to O3 Mining's (TSXV: OIII) Marban Property, which has gold reserves of 1.6 Million ounces and is at the pre-feasibility stage. In 2022, Emergent sold the East-West Property to O3 Mining for C$750,000 in cash and 325,000 OIII shares. Emergent retained a 1% NSR royalty which O3 Mining can acquire for C$500,000 within 3 years or C$1 Million in years 4 and 5 from the date of the agreement.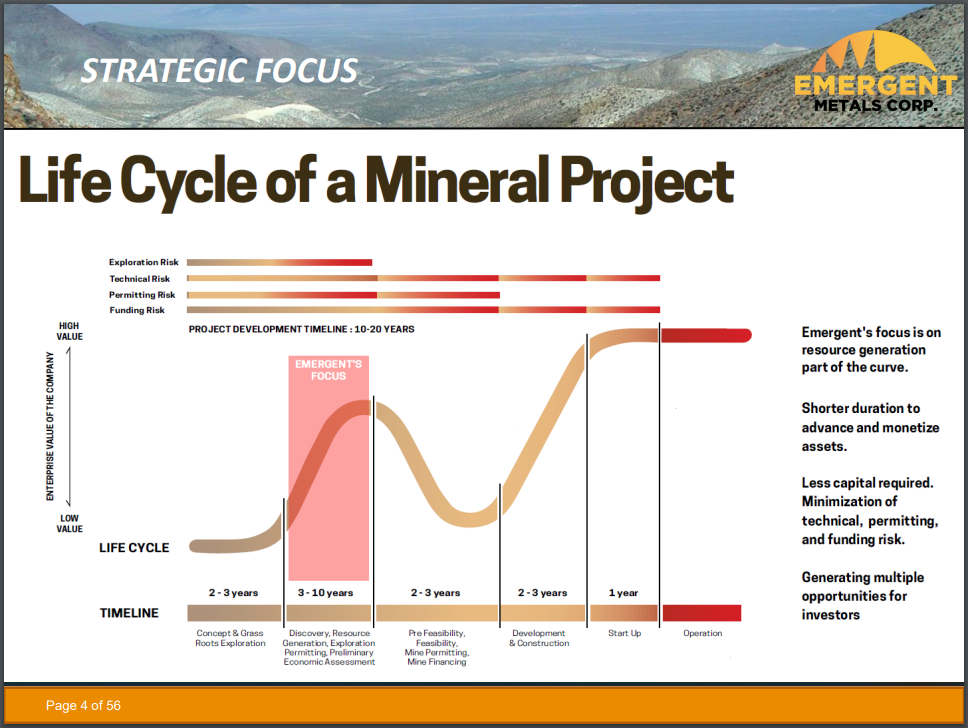 The Jurisdictions
Nevada and Quebec both have a long history of mining, and are very stable mining-friendly jurisdictions. The Fraser Institute's 2021 Survey of Mining ranked Nevada third and Quebec sixth for attractiveness of investment. Both jurisdictions have favorable mining codes and permitting regimens and offer tax incentives for exploration. This is on top of the regions having well established infrastructures for all aspects of exploration and mining.
Nevada produced 4.9 million ounces of gold in 2021, accounting for 77% of US gold production, while Quebec accounted for 27% of Canadian gold production with 1.9 million ounces in 2021.
The Nevada Assets
Emergent Metals primary area of interest in Nevada is the Walker Lane structural formation, a prolific 400 mile long zone of mineralization running along the entire length in a Northwest to Southeast direction. The first major silver discovery in Nevada occurred in 1859 and turned into the Comstock Lode Mine. The discovery prompted a massive silver rush near what eventually became the town of Virginia City, and led to many other discoveries in this area of western Nevada.
The regional geology is volcanogenic and hydrothermal in nature with mineralization that includes epithermal gold, porphyry copper, molybdenum, and copper skarn deposits. The Walker Lane structure hosts a number of major producing and past-producing mines, including:
Round Mountain – 15 Million ounces of Gold and 14 Million ounces of Silver 
Comstock Lode –  8.4 Million ounces of Gold and 193 Million ounces of Silver 
Goldfield – 4.2 Million ounces of Gold and 1.5 Million ounces of Silver 
Bullfrog – 2.3 Million ounces of Gold and 2.2 Million ounces of Silver 
Tonopah – 2 Million ounces of Gold and 175 Million ounces of Silver
Rawhide – 1.7 Million ounces of Gold and 14.1 Million ounces of Silver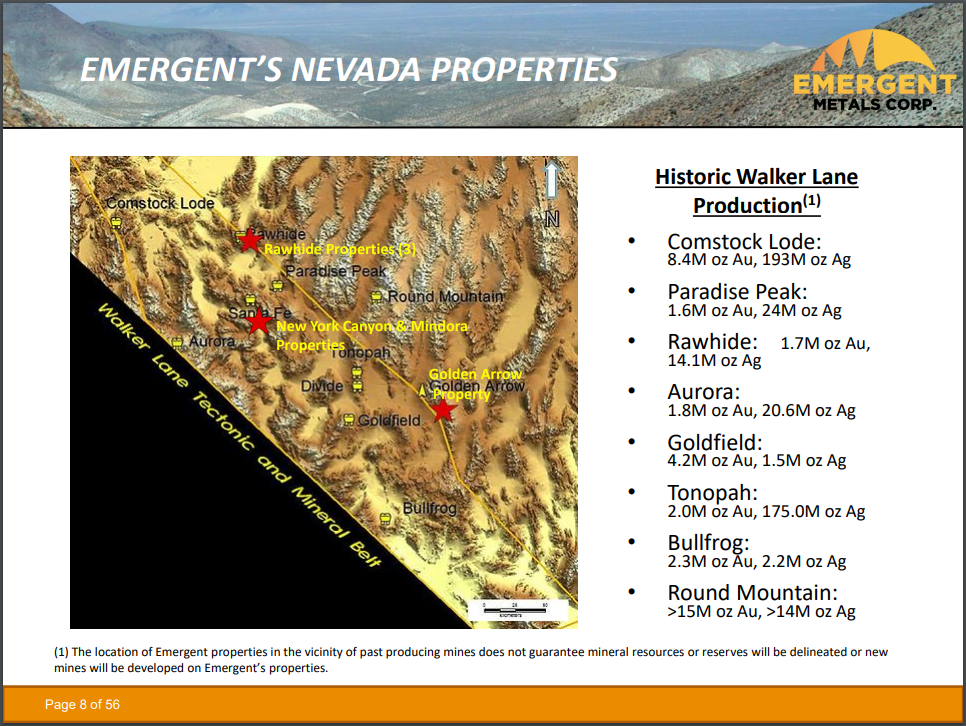 Emergent Metals' principal focus in Nevada are the New York Canyon and Golden Arrow properties. In 2020, the advanced-stage 8,700 acre New York Canyon property, which comprises 21 patented and 417 unpatented claims, was optioned to Rio Tinto subsidiary Kennecott Exploration as a joint-venture. The property is highly prospective for copper and Kennecott can earn up to a 75% interest in the project by spending $22.5 million on exploration over time.
$5 million of exploration spending was completed with the drilling of 10 holes totaling 14,700 feet in 2021. It is very unusual for a mining giant such as Rio Tinto to enter into a joint-venture with a small junior exploration company like Emergent unless they see real potential in the project. Rio Tinto is focused on three main exploration targets on the property which have the potential to be a large copper porphyry deposit.
The advanced-stage 10,000 acre Golden Arrow property, which comprises 17 patented and 494 unpatented claims, has an extensive historical database from 361 drill holes totaling 201,000 feet. This database forms the basis of a 2018 technical report on the property that contains a measured and indicated resource of 296,500 ounces of gold and 4.0 million ounces of silver.
Emergent completed an airborne magnetic and radiometric geophysical survey in 2021, along with an induced polarization and resistivity ground geophysics survey, and a soil sampling program that identified several new exploration targets on the property. An environmental assessment has been completed for the property and a plan of operations is in place for Emergent to conduct a major drilling program with a goal to delineate the size and scope of the mineralized zones and to double the amount of existing resources.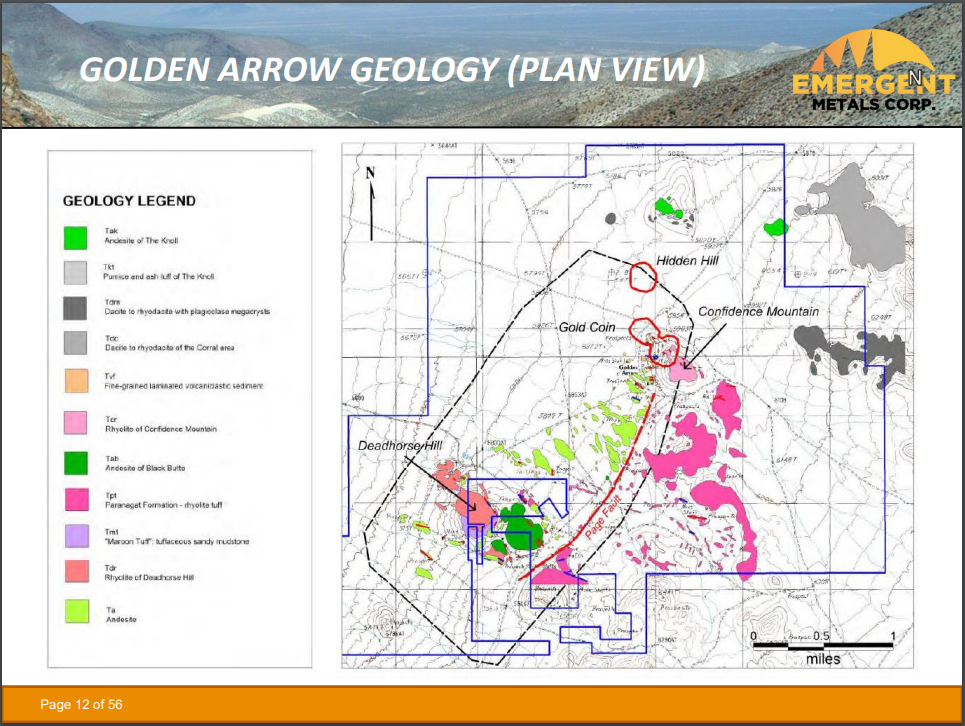 The Quebec Assets
Emergent's principal Quebec asset is the 11,400 hectare Casa South Property that is located adjacent to the southern boundary of the Hecla Mining (NYSE: HL) Casa Berardi Mine and also adjacent to and on the northern boundary of IAMGOLD's (TSX: IMG) Gemini Turgeon property. Since entering production in 1988, the Casa Berardi Mine has produced over 2.4 million ounces of gold and 121,493 ounces of silver.
The Casa South property comprises 204 claims and shares similar geological characteristics with the Casa Berardi property. A comprehensive database of prior exploration data on the property has identified three long gold mineralization zones that are drill-ready targets. The company completed a magnetic survey of these zones and further identified 20 additional drill targets that are currently being followed up in a 3,000 metre drilling program. 
Elsewhere in Quebec, Emergent plans to conduct a drill program in 2023 on its 1,900 hectare Trecesson Property located 50 kilometres north of Val d'Or within the prolific Val d'Or Gold Camp. Previous work on the property identified a Cossett Gold System within the property and drilling identified a number of targets for high-grade vein and bulk disseminated mineralization. Emergent is compiling, reviewing, and modeling the historical data from 154 drill holes totaling 6,700 metres to determine the priority targets for the upcoming drilling program.
In Conclusion
What makes Emergent Metals compelling is its diversified property portfolio in Nevada and Quebec, combined with its portfolio management approach to the mineral exploration business. The company's management and professional teams have many decades of mining exploration and capital markets experience. With a modest market capitalization of $5.62 million, Emergent is an opportunity for junior gold exploration investors interested in a systematic value creation business model.
---
FULL DISCLOSURE: Emergent Metals is a client of Canacom Group, the parent company of The Deep Dive. The author has been compensated to cover Emergent Metals on The Deep Dive, with The Deep Dive having full editorial control. Not a recommendation to buy or sell. Always do additional research and consult a professional before purchasing a security.