General Motors Is Still Not Confident That LG Can Make Defect-Free Batteries For The Bolt EV
Remarkably, General Motors Company (NYSE: GM) has not yet started making the necessary repairs on 140,000+ Chevrolet Bolt electric vehicles (EVs) it has recalled and for which it has set aside US$1.8 billion to cover the cost of battery repairs/replacement. Furthermore, GM has ceased all Bolt EV production.
The reason for this: GM does not believe its battery suppler, South Korea-headquartered LG, can, at this time, make a defect-free battery for the Bolt that does not pose a fire risk, according to an interview with GM spokesman Dan Flores in the Detroit Free Press.
To illustrate this, on September 3, Insideevs.com posted a story that a Bolt which received a recall notice exploded in a parking lot while it was neither running nor charging. The article quoted the owner as saying, "I called Chevy and they told me to wait for someone to call me …" The below picture was posted on Reddit.
Since peaking at around US$64 in early June, GM shares have lost about a quarter of their value over the last three months. The principal culprits for the decline: a disappointing 2Q 2021 earnings release and two separate Bolt recall announcements which, as noted above, carry an aggregate price tag of US$1.8 billion.
Until GM determines the source of the defect that causes some Bolt EVs to catch fire without impact, it is possible that GM shares may continue to underperform. Mr. Flores indicated GM is not yet able to estimate a time frame for this determination.
LG makes the Bolt batteries at its facilities in Holland, Michigan. GM engineers are looking into LG's manufacturing processes and methods and tearing down battery packs to better understand why many battery modules have a torn anode tab and a folded separator. The presence of these two defects in the same battery cell increases the risk of fire.
GM hopes to develop software which allows a technician to determine whether a specific module is defective, and if so, prompts him or her to replace just that battery module. There are five modules in a Bolt battery.  If such decision-making software can't be perfected, GM/LG will have to replace all five modules.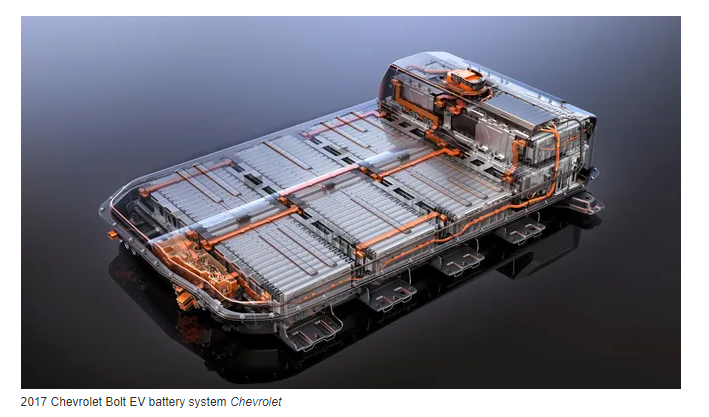 Mr. Flores acknowledged that GM continues to push for LG to reimburse it for some or all of the US$1.8 billion cost of the recall, but he would not comment on the status of these talks.
GM's earnings per share declined sequentially in 2Q 2021 to US$1.90 (US$1.97 adjusted) from US$2.03 (US$2.25 adjusted) in 1Q 2021. The company's balance sheet is very strong with US$29.1 billion of cash and cash equivalents, offset by US$17.3 billion of Automotive Debt.
| | | | | | |
| --- | --- | --- | --- | --- | --- |
| (in millions of US $, except for shares outstanding) | 2Q 2021 | 1Q 2021 | 4Q 2020 | 3Q 2020 | 2Q 2020 |
| Operating Income | $2,882 | $3,277 | $2,767 | $4,424 | ($1,214) |
| Diluted EPS | $1.90 | $2.03 | $1.93 | $2.78 | ($0.56) |
| Operating Cash Flow | $7,162 | $1,266 | $6,693 | $11,231 | ($2,815) |
| Cash – Period End | $29,131 | $29,380 | $29,038 | $36,901 | $37,482 |
| Automotive Debt – Period End | $17,318 | $17,552 | $17,469 | $28,744 | $34,921 |
| Shares Outstanding (billions) | 1.5 | 1.5 | 1.4 | 1.4 | 1.4 |
GM's shares could continue to underperform until it resolves the cause of the Bolt EV battery defects. Unfortunately, it is difficult to predict the timing of this breakthrough.
General Motors Company last traded at US$50.68 on the NYSE.
---